PG | 1h 49min | Comedy, Drama, Romance | 2019
Frankly, heading into my viewing of director Simon Curtis's 2019 film "The Art of Racing in the Rain," I knew virtually nothing about it—other than it featured a dog, his master, and seemed to be focused on racing. Or so I thought. But due to Kevin Costner's fantastic narration as the canine character Enzo, I eventually realized that it focused on the dog's interesting perspectives on life and used racing to provide metaphors.
The film certainly starts off in an unusual way. Enzo (Butler as old Enzo and Parker as the younger version) is an older dog near the end of life. As his owner Denny (Milo Ventimiglia) sits next to him on a couch, we find out that Enzo admires a particular documentary about how dogs are highly admired in Mongolia and fantasizes about being reincarnated (as Mongolians believe) as a human. Although Enzo knows he's lived a full and happy life, Denny doesn't seem quite so ready to let him go.
From there, the film retraces Enzo's steps … or paw prints if you will, from his adoption by Denny as a fresh-faced puppy to when Enzo becomes a beautiful golden retriever with gleaming, soulful eyes.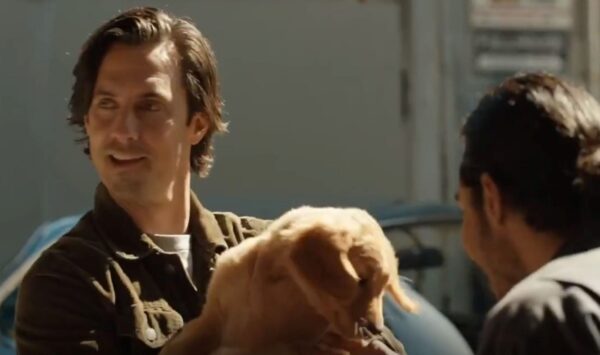 The pup has an instant symbiotic bonding with Denny, who is an affable, aspiring Formula One driver with a crooked smile. The two seem inseparable. Young Enzo watches all of the up-and-coming racecar drivers' matches, proudly barking out encouragement at Denny as he speeds down various tracks.
But then a pretty young lady named Eve (Amanda Seyfried) comes along and captures Denny's affections. They quickly fall in love and get married. The wedding takes place at the mansion of Eve's well-to-do parents, Maxwell and Trish (Martin Donovan and Kathy Baker). Maxwell considers Denny an underachiever since he hasn't made it to the top his profession yet, after years of racing.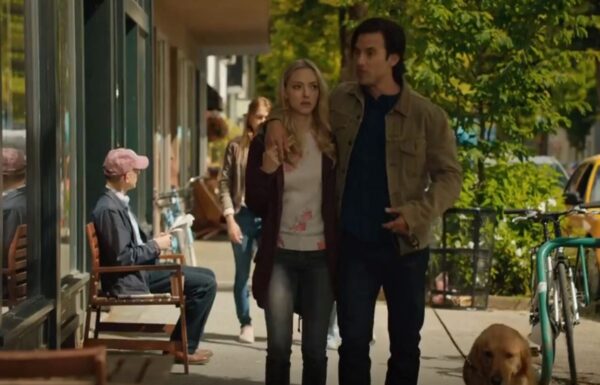 At first, Enzo is somewhat resentful of Denny and Eve's pairing, even knocking over pictures of them together. But Eve soon wins Enzo over, especially when she becomes pregnant with the couple's first child, daughter Zoë (Ryan Kiera Armstrong and later Lily Dodsworth-Evans).
Over the years, Denny's promising racing career means that he frequently has to leave town for matches around the globe, and so he misses goings-on at home. And when tragedy strikes and he may lose custody of Zoë, his world becomes very dark indeed.
As this all plays out, Enzo makes some  astute observations, such as comparing Denny's unusual ability to race high-performance cars in the rain, to his being able to channel calmness and clarity amid the chaos of his deteriorating life.
We also see how loyal and supportive Enzo is during Denny's dark days as the dog recalls many of the things learned, while growing up from a puppy to a now older and wiser companion, through observing Denny. But despite all of this man's best friend's support, will Denny be able to weather the tumultuous storm surrounding his life?
"The Art of Racing in the Rain" is well-paced, with a peppy script, capable direction, and very good acting. But Costner as Enzo is the real hero here, magically drawing together a beautiful tapestry of tribulations and triumphs as if some sort of cosmic, canine guru.
In one racing scene, as Enzo looks on from the sidelines, Denny suddenly turns off the track and into his team's pit. He's behind in the race but oddly has his pit crew change his racecar's tires to those used for rainy weather—only it's not raining. But a few moments after Denny speeds back onto the raceway, a torrential downpour begins, and he soon overtakes all of the other drivers. As his team's leader exclaims from the sidelines, "When it rains, it doesn't rain on him!"
'The Art of Racing in the Rain'
Director: Simon Curtis
Starring: Kevin Costner, Milo Ventimiglia, Amanda Seyfried
Rated: PG
Running Time: 1 hour, 49 minute
Release Date: Aug. 9, 2019
Rated: 5 stars out of 5
Ian Kane is a filmmaker and author based out of Los Angeles. To learn more, visit DreamFlightEnt.com or contact him at Twitter.com/ImIanKane.