Not Rated | 1h 52min |Comedy, Romance | 17 January 1941 (USA)
By all accounts, 1940 was a year of tremendous upheaval and tumultuous change. Hitler's war machine was steamrolling through Europe, crushing all who stood in his way with his blitzkrieg or "lightning war." Stateside, the first peacetime drafting act (Selective Training and Service Act) was put into place, meaning that all men between ages 21 and 36 had to register for possible military service. The television network CBS demonstrated the first color TV system in New York City. And on the West Coast, the first freeway (Arroyo Seco Parkway) in the United States was cleared to open for service in Los Angeles.
Consequently, many Americans looked to entertainment venues, particularly film, to assuage their anxieties and mitigate the stresses of widespread change. Although film noir was arguably at its height during this time, there was also plenty of screwball and romantic comedies that were being produced to lift spirits and bring good cheer.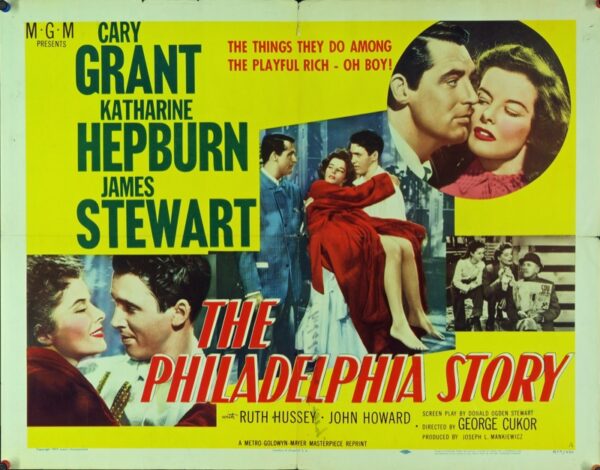 Director George Cukor ("A Star Is Born," "My Fair Lady") had the good fortune of drawing three tremendously talented actors in their primes to star in his romantic comedy "The Philadelphia Story," based on a play by Philip Barry. The film begins with a fiery breakup between upper-crust husband and wife C.K. Dexter Haven (Cary Grant) and Tracy Lord (Katharine Hepburn).
The action really starts as Tracy finds a new husband-to-be in self-made man George Kittredge (John Howard). The stage is set for the wedding of the year, with Tracy's wealthy family insisting that it be an invite-only affair. However, the editor-in-chief of Spy Magazine (think: National Inquirer), Sidney Kidd (Henry Daniell), wants to cover the wedding. He assigns reporter Macaulay "Mike" Connor (James Stewart) and photographer Liz Imbrie (Ruth Hussey) to cover the grand affair, which is to be held at the Lord estate.

The only way that Mike and Liz can hope to gain access to the wedding is through the help of Tracy's ex-husband, C.K., who seems to have some hand in arranging for Spy Magazine to cover the event. C.K. introduces Mike and Liz to Tracy as his friends, but Tracy sees through the charade. C.K. then reveals that unless she cooperates, Spy Magazine will run a hit piece on her father, who has been philandering with a dancer in New York.
The ramifications of such news are not lost on Tracy, who agrees to let Mike and Liz not only cover the wedding but also stay at the family estate during the few days leading up to it. Tracy's mother, Margaret (Mary Nash), and younger sister, Dinah (Virginia Weidler), still absolutely adore C.K., despite his alcohol issues.
Tracy becomes curious about rough-around-the-edges Mike and finds out that he's written a beautiful book of short stories, which she finds at a local library. She becomes drawn to Mike and discovers that his tough exterior is a façade that protects his sensitive, intellectual side. Soon, she finds herself caught up in a dilemma—should she go on with her scheduled marriage to a man she has little in common with?  Should she further investigate her interest in Mike, who seems to be falling for her? And why is she still arguing with her ex, who is trying to protect her family's good name?
Along the way, the men in her life note that she's an untouchable goddess-like, perfect creature—one whose icy strength, it seems, cannot stand others' weaknesses.
A Fabulous Cast
The star-studded cast is mostly on point, with Grant playing witty foil to Hepburn and Howard, Hepburn as a conflicted woman and Stewart as an oft-bumbling, yet deceptively smart fellow. However, Stewart steals the show with perhaps the sole romantic role of his career (which earned him his only Oscar in the Best Actor category, amazingly). His physical posturing, eye movements, and overall comedic timing are impeccable.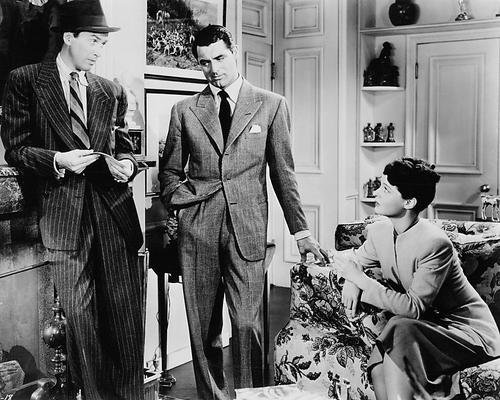 Hepburn's turn as an icy, blue-blooded socialite who learns more about herself as the film progresses was also fascinating. Grant's performance was admirable, although there were some times when he seemed to be a little out-of-touch with his character—as if he were somewhat mechanical in the delivery of his lines. By no means was he terrible (his bad days are still head and shoulders above most actors' good ones); he just didn't seem to embrace his character as much as the others.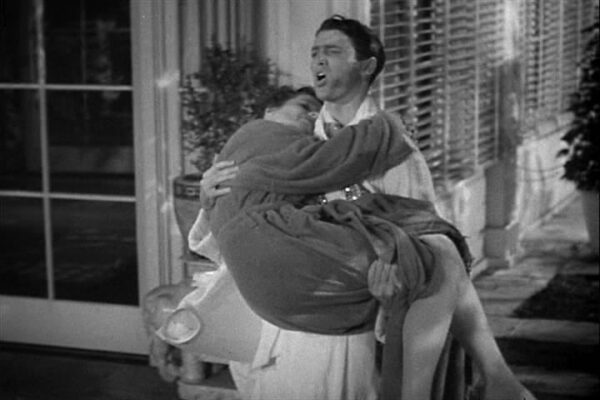 "The Philadelphia Story" is not only a film that sports equal amounts of bubbly comedy and romantic tension, but it also is a film about learning to accept others in spite of their flaws, and then making the right choices based on appreciation for those you truly love and those who truly love you.
'The Philadelphia Story'
Director: George Cukor
Starring: Cary Grant, Katharine Hepburn, James Stewart, Ruth Hussey, John Howard
Rated: NR
Running Time: 1 hour, 52 minutes
Release Date: Jan. 17, 1941 (USA)
Rated: 4 stars out of 5

Ian Kane is a filmmaker and author based out of Los Angeles. To see more, visit DreamFlightEnt.com or contact him at Twitter.com/ImIanKane