R | 2h 49min | Drama, Historical, War | 24 July 1998 (USA)
As the nation prepares to celebrate its 245th birthday this weekend, it is wholly fitting to acknowledge a landmark film that depicted an event which rescued the free world from tyranny over 75 years ago.
While most of "Saving Private Ryan" is fiction, it uses the June 6, 1944, U.S. landing on Omaha Beach in Normandy, France, as its springboard. It is not "revisionist history" as some of its few detractors have claimed, but rather an entirely plausible series of events based on another true-life World War II event (the Nov. 13, 1942, deaths of the five Sullivan brothers on the USS Juneau).
After a brief, then-present-day establishing scene at a U.S. memorial gravesite in Colleville-sur-Mer, director Steven Spielberg, cinematographer Janusz Kaminski, and editor Michael Kahn assemble what most critics, audiences, and, most importantly—the veterans who were actually there—consider to be the greatest extended battle scene in motion picture history.
Because of Spielberg's desire for a newsreel documentary look, Kaminski used unprotected camera lenses, shot at half to a quarter of the usual 180-degree speed, and then treated the negative with a bleach bypass. This desaturation process lent the final product a distinctly nightmarish, otherworldly finish.
Rather than safely witnessing the action from the sidelines or above, the viewers see everything as if they are with the soldiers on the landing boats, at the beach, and under water. This visual approach results in a disquieting, unnerving, and visceral experience that will leave audiences winded and emotionally drained before the end of the first act. For their combined efforts, Spielberg, Kaminski, and Kahn all received Academy Awards.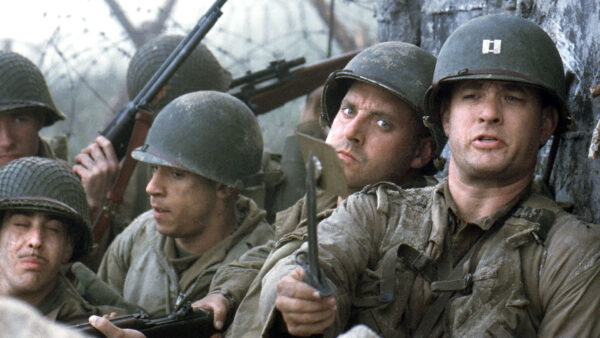 Show-Don't-Tell Filmmaking at Its Purest
During this stretch, the only character we get to know at all is Capt. John Miller (Tom Hanks), and it is limited to recognizing that he has an unspecified nerve disorder. We get glimpses of a handful of the upcoming principal cast, and only two of them are given dialogue. This minimalist, show-don't-tell method of storytelling from screenwriter Robert Rodat flies in the face of the talk-heavy, character-driven narrative, and it's with the start of the longer-than-usual middle act that this offbeat approach pays off in spades.
As near-perfect as the screenplay is, its fate ultimately rests in the hands of the cast. Of the eight principal core members of Miller's squad, only one—Ed Burns (as Pvt. Reiben)—was in possession of traditional Hollywood good looks. Spielberg stated that he wanted these soldiers to have everyman appearances and relatable character traits while avoiding forced movie quirks, something he and casting director Denise Chamian achieved and then some.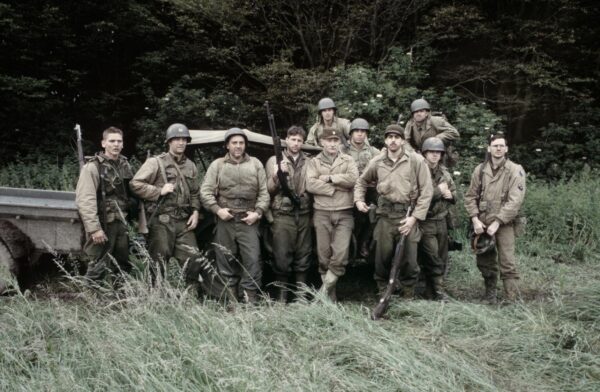 Ironically (or not), Reiben is the only outwardly disagreeable soldier. Argumentative, questioning authority, griping incessantly, and always instigating, he is never fully onboard with the patched-together company's next mission.
With barely a moment for a breather, Miller and his seven underlings are charged with retrieving Pvt. James Ryan from somewhere in France and transporting him to safety. The central question is why dedicating valuable manpower to try and find a single soldier who might already be dead makes sense.
Through Miller's weary eyes and mounting slow-burn frustration, it's clear that he has his own misgivings about the mission, but being a dutiful soldier and a natural leader, he hides his doubts well and keeps his men in check. He leads by example and few words, and earns the respect and undying support of his men, including Reiben.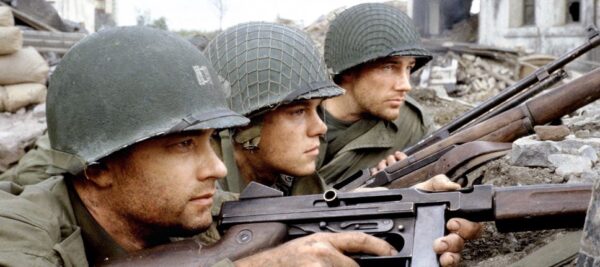 After several potentially crushing roadblocks along the way are successfully navigated, the Miller squad literally by accident finally crosses paths with Ryan (Matt Damon), who when told about the fate of his three brothers and his free trip home, refuses to leave his post.
Ryan's reasons, while emotionally understandable, aren't enough to get Miller to alter the mission, but do force his hand into how to alter his approach in managing the situation and organizing the seemingly unwinnable defense of a bridge. The ensuing closing battle scene easily matches the intensity of the movie's opening salvo.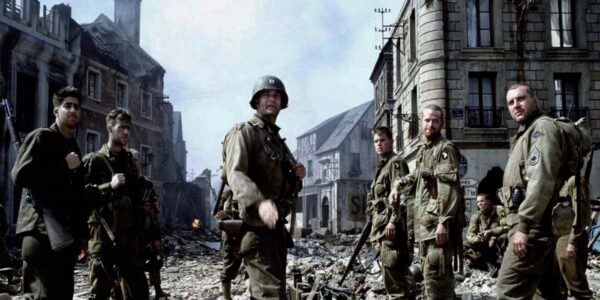 A Distinctly American Film
Fair or not, for the entirety of his career, Spielberg has been considered by his peers and audiences as the premier architect of crowd-pleasing, highly commercial blockbusters. The term "blockbuster" was coined to describe crowds waiting in line to see his "Jaws" in 1975. This in no way belittles his talents. It's just as difficult to make a good mainstream movie as it is to craft something far deeper, artsy, and moving.
Spielberg made his first stab at "meaningful" drama with "The Color Purple" (1985) which, while a critical and commercial success, holds the dubious record of receiving the most Oscar nominations (11) without a single win. It was followed in 1987 with the superb "Empire of the Sun" (which included a 13-year-old Christian Bale), and it sadly flopped. Six years later, Spielberg delivered "Schindler's List," the only film he's ever made that won the Academy Award for Best Picture.

"Schindler's List" is a masterpiece by anyone's definition, and although it differs from "Saving Private Ryan" in many ways, the two films have much in common. While "Schindler's List" might have had wider global audience appeal, "Saving Private Ryan" is a distinctly American movie which, whether intended or not, speaks to American patriotism, sacrifice, and unflappable camaraderie. Sadly, these are ideals our politically divided country does not currently see eye-to-eye on.
The three acts of "Saving Private Ryan" are bookended by almost identical scenes of sun-drenched American flags, waving in fierce winds, accompanied by minimalist musical flourishes composed by John Williams. They introduce and punctuate the finest war film ever made and one that only grows more resonant with the passing years.
'Saving Private Ryan'
Director: Steven Spielberg
Starring: Tom Hanks, Matt Damon, Tom Sizemore, Ed Burns, Barry Pepper, Giovanni Ribisi, Vin Diesel
Running Time: 2 hours, 49 minutes
Rating: R
Release Date: July 24, 1998
Rating: 5 out of 5
Originally from Washington, D.C., Michael Clark has written for over 30 local and national film industry media outlets and is based in the Atlanta Top 10 media marketplace. He co-founded the Atlanta Film Critics Circle in 2017 and is a regular contributor to the Shannon Burke Show on FloridaManRadio.com. Since 1995, Mr. Clark has written over 4,000 movie reviews and film-related articles.