Not Rated | 2h 14min | Drama, Romance, War | 4 June 1942 (USA)
With all of the carefully orchestrated chaos and divisiveness permeating the world these days, many aren't aware that 2020 marks the 75th anniversary of the end of World War II—which the Allies won, of course, or else we'd all be speaking German and Japanese.
As such, I've been watching more than my usual number of World War II films, mainly those that I've never seen before (or don't remember seeing). Some have been well-intentioned but ultimately so-so affairs, while others, such as 1942's "Mrs. Miniver," took me completely by surprise. I'd seen the term "romance" mentioned among its listed genres, as well as the fact that its runtime is over two hours, and thought that it might be a schmaltz-fest. Boy, was I wrong.
Directed by legendary American filmmaker William Wyler, this movie is timely, involving themes of omnipresent, ever-encroaching danger countered by indefatigable resolve and earnest righteousness.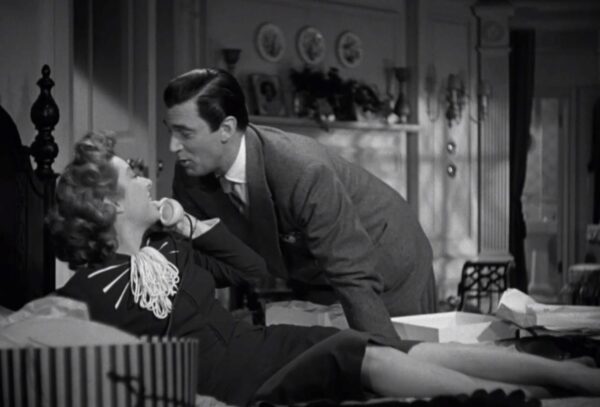 Meet the Family
It opens with the titular character, Mrs. Kay Miniver (Greer Garson), midway through a feverish shopping spree in London. She returns to her beautiful home in the fictional village of Belham, just outside of the sprawling capital. Her tall, dashing husband, Clem (Walter Pidgeon), is a successful architect. And the happy, upwardly mobile couple has three children: Toby (Christopher Severn), Judy (Clare Sandars), and their older son, Vin (Richard Ney).
The first act has a light, comedic tone as Clem and Kay admit to each other that they've probably been spending a little too much on frivolous things: She's purchased a gaudy hat and he, a snazzy sports car. This establishes them as having nouveau riche fever and shows how the free market was making it possible for average folks in England to strive and succeed in life.
However, the film soon introduces Lady Beldon (Dame May Whitty), an elderly blue blood who hails from 800 years of noble lineage. Lady Beldon disregards Kay's nouveau riche ways as inferior to her supposed hereditary superiority, and the famous class system that the country is known for becomes apparent.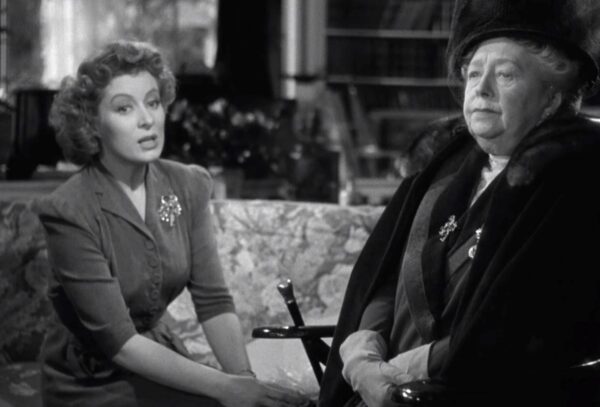 Part of the film's plot revolves around the village's venerable flower competition. Lady Beldon, an overbearing personality in the village, has intimidated the competition's judges to the extent that she miraculously wins its first prize every year with her white roses.
However, a local elderly man by the name of Mr. Ballard (Henry Travers) has become so flattered by Kay's friendliness that he has named one of his carefully cultivated roses after her. They plan to enter the rose into the competition. Lady Beldon eventually finds out about their plan and can't believe that a couple of "commoners" would have the audacity to challenge her for the competition's highfalutin rose trophy.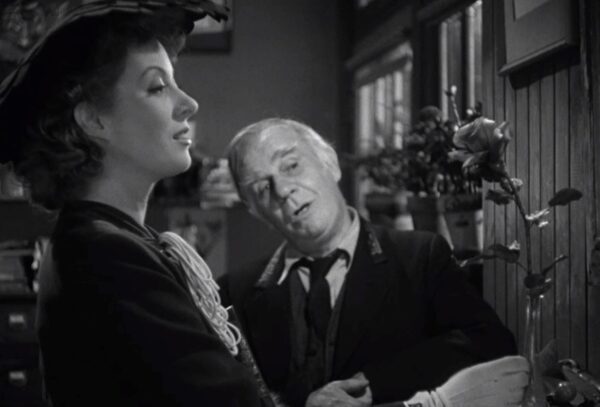 Things get even more complicated when Kay's son Vin comes home for a visit. While he's regaling the family with his newfound idealistic ideas that he's adopted at Oxford, Lady Beldon's granddaughter Carol (Teresa Wright) drops by and politely "encourages" Kay to withdraw her and Mr. Ballard's rose from the competition.
Vin chides Carol on her thinly veiled classist maneuver, but the young lady fires back, revealing that she is heavily involved in charity work while he just talks a lot.
The saying "opposites attract" becomes a reality for Vin and Carol and they eventually fall deeply in love, much to the consternation of Lady Beldon. Soon, Vin informs everyone that he's joined the Royal Air Force because of the encroaching war with Germany.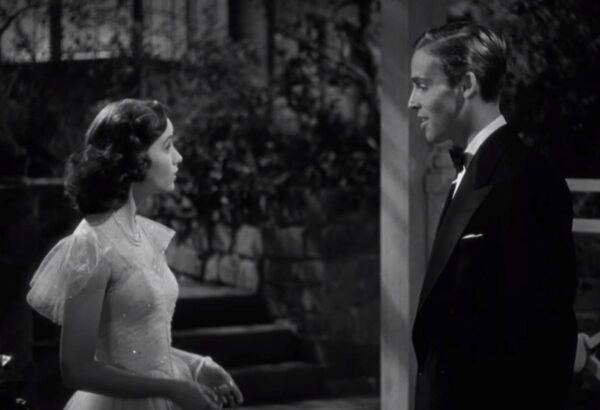 The film is mainly told from the perspective of Kay as she alternates between being a loving and supportive wife, rearing their younger children, and gradually melting the icy Lady Beldon, who reveals that she lost her own young husband to an earlier war.
But for all of her savvy, there is a point when Kay becomes vulnerable. When her husband takes off on his boat along with thousands of other volunteers to rescue soldiers stranded in Dunkirk, and her son is busy fighting the German Luftwaffe, she is left alone wondering if she'll ever see either of them alive again.
During this dark period of contemplation, a certain downed German pilot, whom the entire village has been searching for, makes an untimely appearance.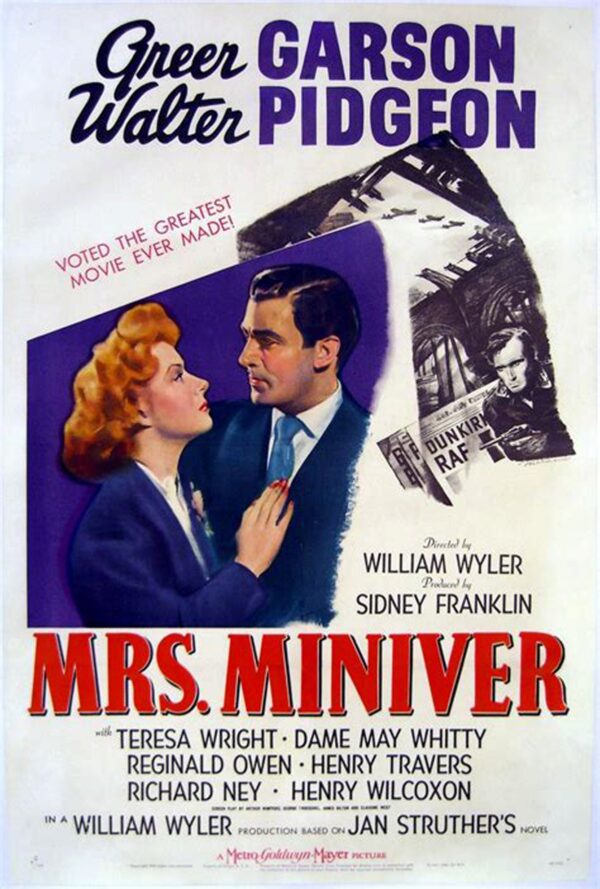 Rich Characters
One of the things that I really appreciated about this film was that Wyler took his time building up each of the characters: the main and the supporting ones. Although I had the overall feeling of impending doom—the bombs finally start to drop during the film's third act—each of the characters was thoroughly interesting, to the extent that I didn't want anything bad to happen to them.
"Mrs. Miniver" is an unabashedly patriotic film that helped to uplift the spirits of the Allied forces during World War II, and the same result can apply to good-intentioned folks during these modern times.
'Mrs. Miniver'
Director: William Wyler
Starring: Greer Garson, Walter Pidgeon, Teresa Wright
Rated: Not Rated
Running Time: 2 hours, 14 minutes
Release Date: June 4, 1942 (USA)
Rated: 4.5 stars out of 5

Ian Kane is a filmmaker and author based out of Los Angeles. To learn more, visit DreamFlightEnt.com or contact him at Twitter.com/ImIanKane.