A polio survivor married the love of his life, but when the happy couple's wedding photos were shared online, the newlyweds were hit by a barrage of bigotry; internet trolls claimed that the woman must have married him for his money.
Speaking to The Epoch Times via email, Akintade "Dammy" Damilola and his wife, Vivian, shared their story to spread their message of love. Their love is real, and their shared faith in divines keeps them strong, come what may.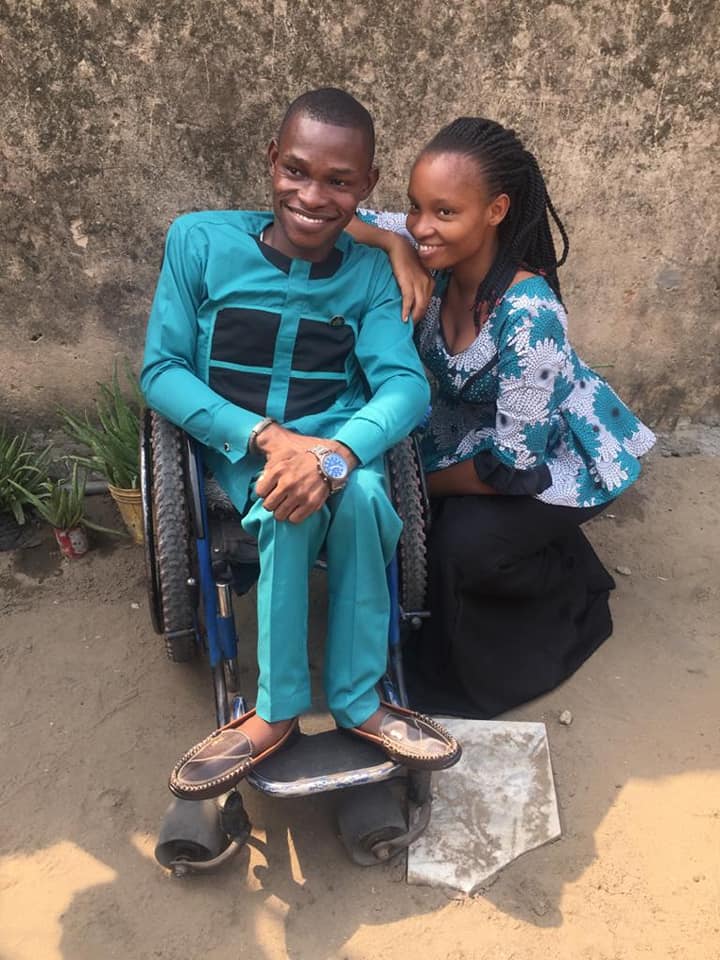 Dammy identified himself as "a wheelchair-user from Nigeria," and a "both-legs polio survivor" since the age of 9 months.
"Growing up was a very challenging experience," Dammy said, "especially due to the fact that I wasn't a silver spoon born and raised man."
Dammy was orphaned and lived with his grandmother growing up, describing her as a "major backbone." Over the years, his Christian faith grew incrementally, cementing Dammy's resolve to make the most of every opportunity.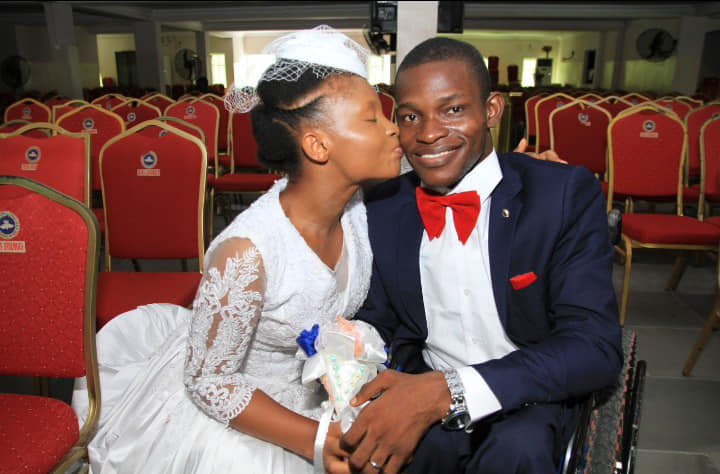 Reflecting on the daily hardships, Dammy said: "Many times I fall; at times I cry. Other times I wished this disability would disappear, especially having to survive in this part of the world."
But even in the midst of deep suffering, Dammy continued to strive.
At Lancy Children's School in Lagos, Dammy was a high-achieving student, earning the title of Assistant Senior Prefect despite his disability. He continued to excel through his secondary education, eventually becoming the only wheelchair-using student in the department of microbiology at the University of Lagos.
After graduating, Dammy became—and continues to work as—a music minister, graphic designer, motivational speaker, content creator, model, and advocate for people with all manner of disabilities.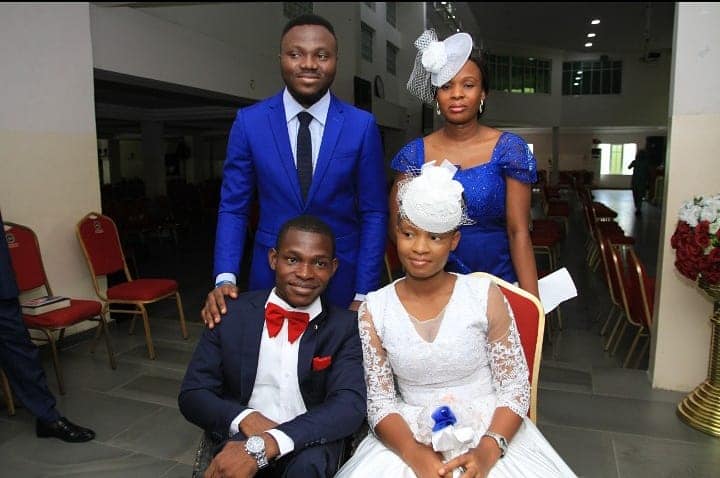 The couple met at church sometime in 2017 while Dammy was singing and working as a music leader. Vivian was a member of the choir under Dammy's tutelage.
They fell deeply in love and married on May 23, 2020.
"Humans are known to be critics, whether of good or bad situations," Dammy said, referring to the hateful comments that he and Vivian received after their nuptials. Comments about the lack of love in their marriage or his inability to provide for his wife are "baseless," he said.
"True love, not money, was the foundation of my marriage," the bridegroom asserted. Vivian said the same.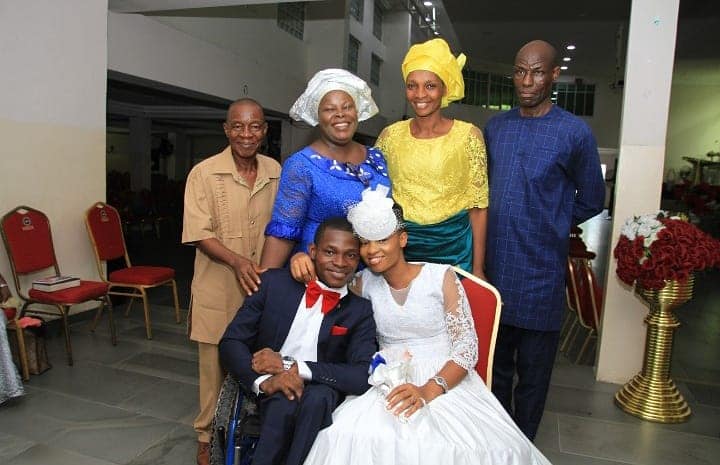 Dammy's blushing bride is a nursery teacher who loves children, handicrafts, baking, cooking, and hairdressing. "I love being around the right network of people," Vivian told The Epoch Times.
In response to the internet trolls who spoke disparagingly about her marriage to Dammy, Vivian said: "Well, I expected such tantrums. They believe that nothing is real in our life due to stories they've heard from other people's experiences."
Vivian lived her life before marriage under the guidance of her parents, but after meeting Dammy, the decision to marry was her own. Vivian cried tears of joy on their wedding day.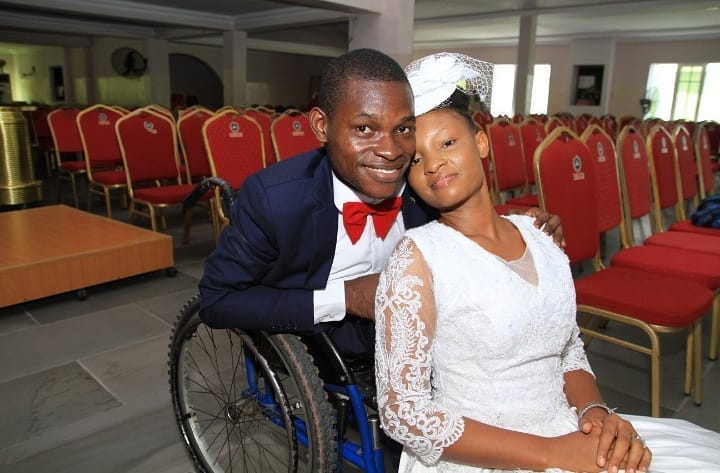 The triumphant love story that Vivian shares with her husband helped her to understand that she can't be defeated, "because Jesus never loses."
"I did not believe that after all the months of crying and begging my family to accept me to marry my husband, that I can still get married to the same man," she said.
"During the time of trials, it was a period of my test of faith in God," she said. "It has really built me up to be the woman I am today … My story helps me to trust God the more."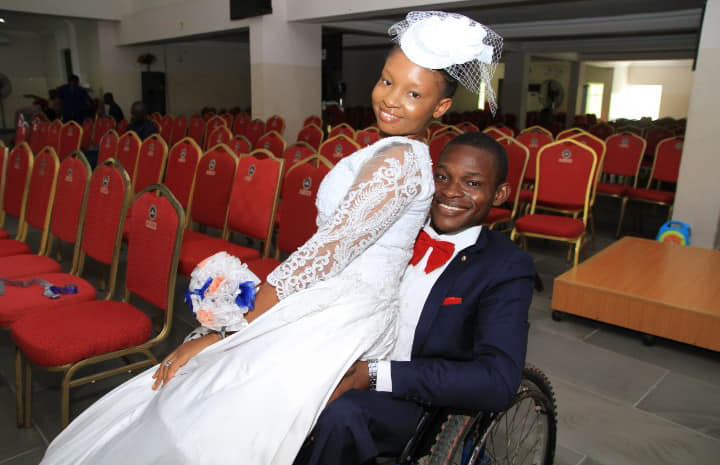 As a couple united by love, faith, and their joint ambitions in life, Dammy and Vivian's success speaks for itself. Today, Dammy uses his experience of overcoming obstacles in talking to others.
"I love to talk and inspire people with my life's challenges and victories," Dammy said.
"My message is simple: Don't be defined by your disability, or life's challenges. You are who you are by the choices you make, so make a choice today to be the best you can be."
We would love to hear your stories! You can share them with us at emg.inspired@epochtimes.nyc