From the archives: This story was last updated in November 2019.
When the staff at the Pima Animal Care Center in Tucson, Arizona, took in two pit bull mixes at the same time, they soon discovered that these two couldn't be separated. "The moment we co-housed them, it was like lost friends that finally found each other," staff member Michele Figueroa told KVOA in Tucson in July 2019.
"When we separated them, they looked for each other like they were lost. 'Oh my gosh, where is the other one, I need her.'" While the shelter picked them up separately and didn't know if they were related, after being introduced during playgroup, this dynamic duo decided to stick together as long as they could.
But in a shelter full to bursting with animals in need of homes, how were the staff going to convince a potential parent to adopt not one but two larger energetic dogs? It took seeing the evidence of these dogs' special bond to seal the deal, and that was what landed them a forever home.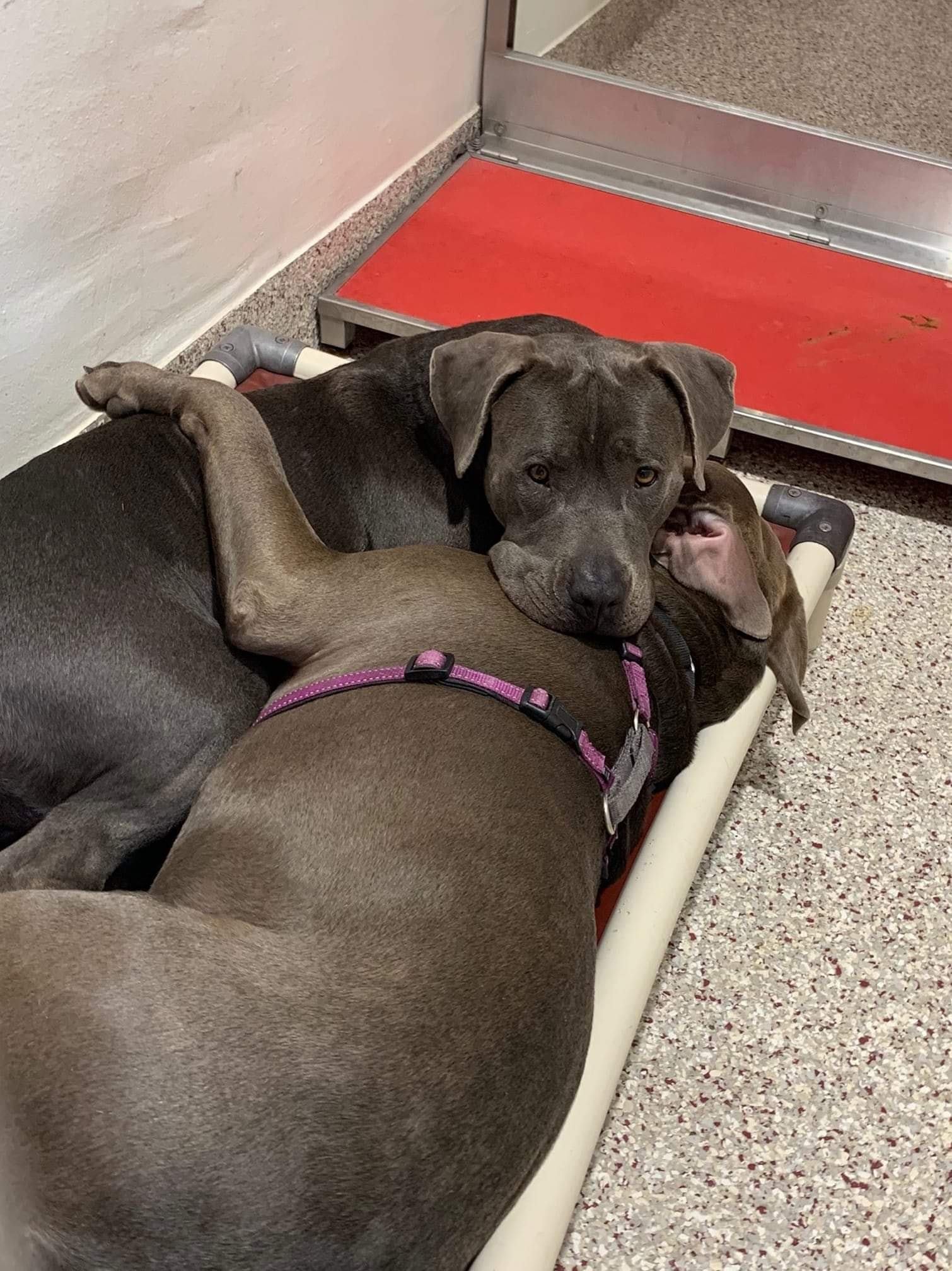 What surprised PACC staff the most was that the two dogs never wanted any room for themselves. Nikki Reck, who is the Public Information Officer at the shelter, was just one of the staff members whose heart was melted by the special bond between the pups. "There's plenty of space for them to stretch out," Reck said to The Dodo, "but they share that tiny little bed together and that's how they prefer it."
As the shelter workers realized the devotion of these two dogs to each other, they couldn't bear the idea of having them adopted separately even if that would increase their chances of getting out of the shelter more quickly. "With these two, we just can't bring ourselves to split them up, so we're hoping against hope that we can find a home for them together because the two of them are meant to be."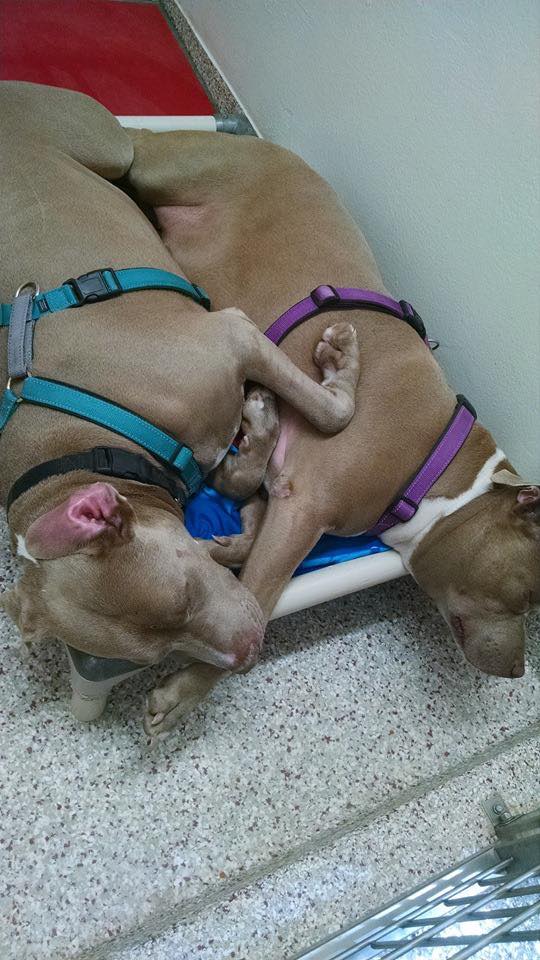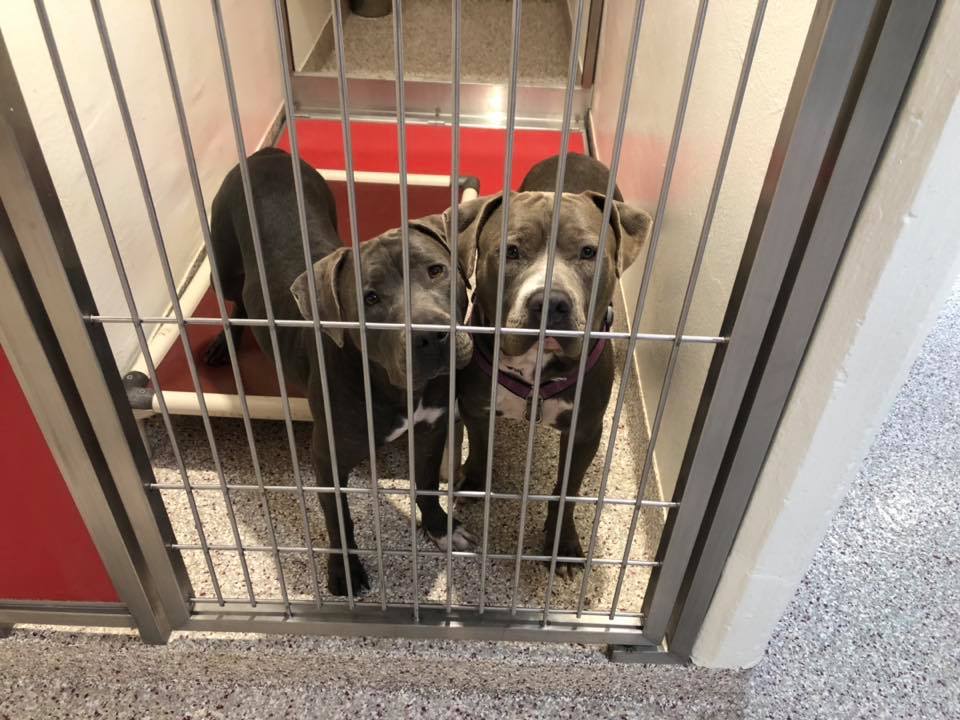 The combination of their size, their breed, and the fact that the adopters would need to take both on meant Jukebox and Agatha were stuck in the shelter for a long time. While they were there, they definitely turned heads with their special bond. "You walk by their kennel and they're always doing one of 20 cute things," Nikki Reck told The Dodo. "They're either laying upside down on their backs together, or one of them is licking the other one."
What changed things for the dogs was a picture that one of the staff members took, which showed them cuddling as they went down for the night. The adorable scene attracted over 2,300 likes and was shared over 12,000 times. All it took was one of those shares to grab the attention of Erin and Ubaldo, a couple from the area who were mourning the loss of their previous pet.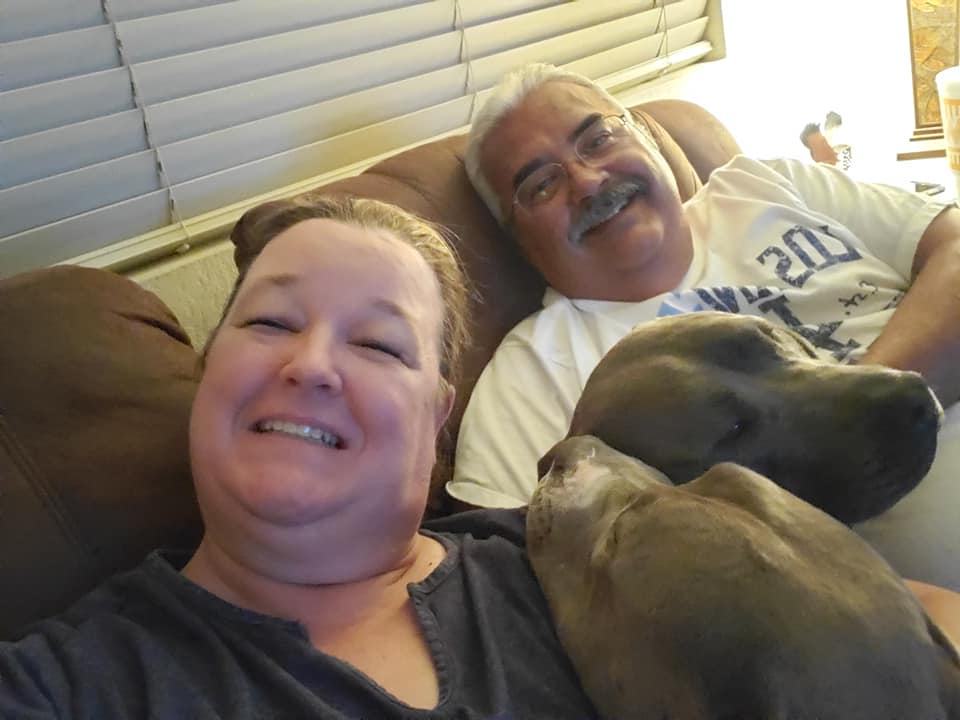 Erin, who works for the state of Arizona, explained to The Dodo, "[T]he house was too quiet since our dog passed." Ubaldo, who is a military veteran, noted the emotional loss he and his wife had been dealing with. "We hope that they will make us whole again," he said.
When the couple met the dogs, they were very touched by their relationship. "Seeing how close they were, there was no way we could break that bond," Erin said. Finally, Jukebox and Agatha were free and headed to their forever home. The dogs' excitement was palpable, as they ran around the house and backyard with tails wagging furiously.
Erin and Ubaldo haven't regretted their decision for a second. "It was nice to be able to put the [dog] beds out and have that wholeness again," Erin told The Dodo. Ubaldo added, "we don't know what they've been through, but we're going to make the rest of their time like this."
"I think people can learn a lot about unconditional love from these two dogs," Erin says.
You may also want to watch this video
New York's happiest dog? Pitbull hasn't stopped smiling after being rescued off the streets