Patsy's, It's About Family, Food, and Frank Sinatra
September 30, 2013 9:51 am Last Updated: October 23, 2013 4:09 pm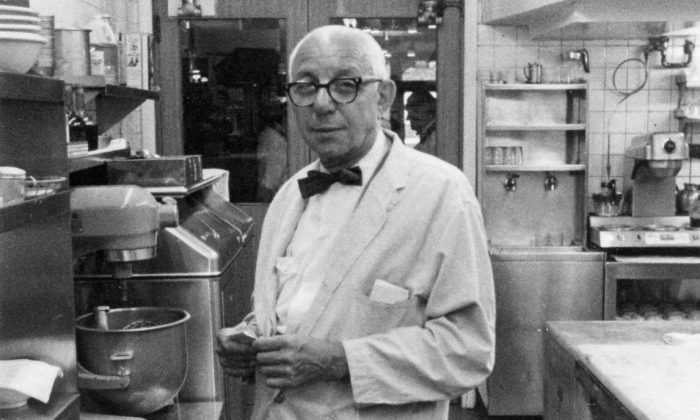 When Pasquale "Patsy" Scognamillo was still alive, he always insisted on wearing a humble gray jacket, looking more like a busboy than the owner of Frank Sinatra's favorite restaurant. He would get asked by relatives why he wouldn't don a suit like the rest of them, but he was adamant.
According to his grandson, chef Sal Scognamillo, he'd say, "You know what? If I do that, people will know I'm the owner, and they'll be afraid to ask me to refill their water glass or their bread. I'd rather they think I'm the busboy so I can take care of them."
The last time Patsy came to his namesake restaurant, Sal recalls, he was retired already. "The whole family was here—30, 40 people. Grandpa walks past all of us, in the kitchen, down the steps, into the refrigerator. Comes up, and then gives us all a big hug.
'Grandpa, what'd you do?'
'I just wanted to make sure you're still buying the same veal I told you to buy.'"
Having been around for decades, the Scognamillos have loyal relationships with their purveyors—they demand the best products and get them. 
"They know not to even bother trying to send us substandard stuff, because they know it's going back," Sal said.
Patsy's is famous for its care of customers and attention to detail.
Getting to New York
When Patsy and his wife Concetta arrived at the immigration center on Ellis Island in the late 1920s from Naples, Italy, they owned next to nothing. 
"The clothes on their backs, a few dollars in their pockets, and Grandpa had recipes in his head," said Sal. The recipes he had learned from his own father, a chef who was killed very young in World War I.
Patsy started his namesake restaurant, Patsy's Italian Restaurant, in 1944 and it's now nearing its 70th anniversary. Hands from every generation are still pitching in.
Patsy got his son Joe into the family restaurant business when he was 16, at a time when he was falling in with the wrong crowd. At 81, Joe now works the front of the house at Patsy's a few days a week, as does his wife Rose, who's 82. 
"He's a fish out of water. He loves the kitchen," said Joe's son, Sal. Joe taught Sal how to cook after college, 29 years ago.
"I feel I'm blessed because I haven't worked a day in my life. All I do is have a good time and enjoy and try to make people happy. The big key to success, I think it's because the family's still here."
Patsy's was the favorite restaurant of Frank Sinatra, who first got acquainted with the Scognamillo family via bandleader Tommy Dorsey. 
"Tommy Dorsey brought him in one day and said, 'Patsy, I got a skinny kid from Hoboken, and I need you to fatten him up for me,'" Sal said.
That was the beginning of a lifelong relationship. Sal said, "I make a joke: we're successful because of the 3Fs. Those Fs would be: family, food, and Frank Sinatra."
"If you look at the wall of fame, all those photos, we call it six degrees of Frank Sinatra."
Sinatra brought in Rosemary Clooney who brought in her nephew George Clooney, who in turn brought in Julia Roberts, for example. Sinatra brought in Jackie Gleason, who brought in Tom Hanks.
Younger generations of stars, like Michael Bublé and Sean "Diddy" Combs, frequent Patsy's.
Sal asked them on separate occasions why they had come to Patsy's. The answer was the same: If it was good enough for Frank Sinatra, it was good enough for them.
Sal recounted a story where Billy Martin, the manager of the Yankees, and his team came in. They were jubilant—they had just won the World Series. 
"He was sitting in one section and the other section is closed off. 
And Billy Martin says to my father, how come we're not going to sit over there? My father—he didn't mean it that way—he said, I've got that saved for somebody really important. 
Billy says, 'Who 's more important than us?'
When Sinatra walked in, Martin understood and asked to be introduced. The whole team lined up to shake hands. They were thrilled. They waved goodbye to him and clapped. Martin then asked for the check.
'Sorry, can't do that'
'Why not?'
'Frank picked it up for you.'" 
"$3,000, Yankees team. He wasn't even a Yankees fan," Sal laughed. "He liked the Dodgers."
Letters would come for Sinatra at the restaurant all the time, from people in need. Joe Scognamillo and Frank Sinatra would go through them periodically and try to determine which were real. 
"There was one, that they thought was real. The letter says, 'I'm dying of cancer, I have no money. I want to make my kids' Christmas special, could you send me just some food for my kids so I can make them a nice Christmas meal.' 
"Not only did he send food, he sent a refrigerator to put the food in, he sent $500, and he sent gifts for the kids. All anonymous. You can tell [these stories] now that he's gone. He had the biggest heart in the world. But if you crossed him, you were through, you were out. But you know, I respect him, what a man he was. It's a bygone era but his music will live forever." 
Continuing the Legacy
The fourth generation of the family has started to work at Patsy's. Sal's cousin Frank DiCola's son Paul works on social media, while Sal's two sons, Joseph 17, and Peter, 14, are showing interest. Peter cooks at home, to the delight of his mother. Joseph is interested in business.
For Sal, after he finishes his prep work, if things go well, he gets to visit guests in the dining room during dinner.
"It's my favorite part. I love to do that. It makes people happy to see the chef come out and say hello."
He'll fill in the gaps at the restaurant if he sees any and everyone is busy.
"It's never gonna be this blow-your-socks-off fancy restaurant. It's here to enjoy a good meal that would be considered a home-cooked meal, and the best compliment I can hear, when I hear it, it just tickles me pink, is, I feel like I'm coming home when I come here. 
"And that really makes me feel good because I think that's really what Grandpa and Grandma always wanted—they always wanted to have a bigger dining room, and now this is a like a bigger version, and a bigger kitchen."
About the Food
Chef Sal Scognamillo is unabashed about Patsy's being a Neapolitan, red-sauce restaurant. 
"These are the foods we ate at home. When we have a day off together, this is the stuff we would eat around the family table. It's good, old-fashioned, hearty," he said.
The portions are generous and the food delicious.
Because everything is cooked to order, it's easy to ask for substitutions, for example a different sauce, or for an ingredient to be withheld.
On a recent visit, chef Sal cooked up some simple linguine with some zucchini and sun-dried tomatoes. Simple but utterly satisfying.
The Clams Arreganata ($15) were also delicious. They were stuffed with breadcrumbs, garlic, Parmiggiano-Reggiano, oregano, and fresh parsley.
There was more than enough of the classic Spaghetti and Meatballs ($25) to take home. It comes with veal meatballs seasoned with garlic, cheese, served in a tomato basil sauce. My toddler quickly polished that off, a rare compliment.
The sauces were so good that customers encouraged the Scognamillos to bottle them, and the jars are now found nationwide. 
The secret to the sauces, especially the tomato basil and marinara sauces, Sal says, is to not cook them too long or you lose the freshness of the tomatoes. "A marinara should take you a half hour. That's it." 
A nice way to sample a few dishes is to order a trio. For example, a trio of raviolis ($26) lets you try the lobster, spinach, and mushroom raviolis, each with a different sauce.
Sal Scognamillo has a sweet tooth, which bodes well for the desserts. He himself occasionally indulges by melting dark chocolate over the ricotta cheesecake.
He is demanding of his ricotta—none of the grainy stuff for Patsy's. He sources a smooth ricotta from a purveyor in New Jersey, for the cannoli cream and the cheesecake.
The latter is fabulous. Augmented with just a bit of orange peel, it's deeply satisfying.
A lighter dessert, but on par on the dessert happiness scale, is the tiramisu—among the best I've had. If it's shaped oddly, it's because it's made in and scooped out of a large bowl. It is more cream than cake, and perfectly balanced in flavors, none overpowering. The cream comes from a purveyor in upstate New York, who delivers twice a week. 
Wines
Among his other duties, Sal's cousin Frank DiCola oversees the wine list at Patsy's, which, at last count, has over 300 wines. DiCola himself favors California Cabernets, and super-Tuscans, blends from Tuscany, especially including Sangiovese. About 75 percent of Patsy's wines are reds, but there are no hard and fast rules. His advice is to go with your mood.
Patsy's Italian Restaurant
New York City location:
236 W. 56th St. (between Eighth Avenue and Broadway)
212-247-3491
patsys.com
Hours:
Sunday through Thursday: 12 p.m.–9:30 p.m.
Friday and Saturday: 12 p.m.–10:30 p.m.