Originally from New York, Tamika "Mika" Rascon and her husband Ryen are avid adventurers. When Ryen was offered a job in Germany, the couple saw their chance to get back on the road and give their four young kids—Noah, Atlas, Briséis, and Tallulah—a childhood to remember.
The prospect of an excursion got even more interesting when they decided that a tiny home on wheels would be the perfect vessel for their journey.
The couple bought a used, 60-square-foot Ford Transit van in March 2020 for $24,000, spending $15,000 on a six-month interior reno project. They knew the obstacles would be intricate and manifold, and spent hours brainstorming the perfect layout.
Mika attributed "old-world European cottages" as the inspiration behind the theme of the interior.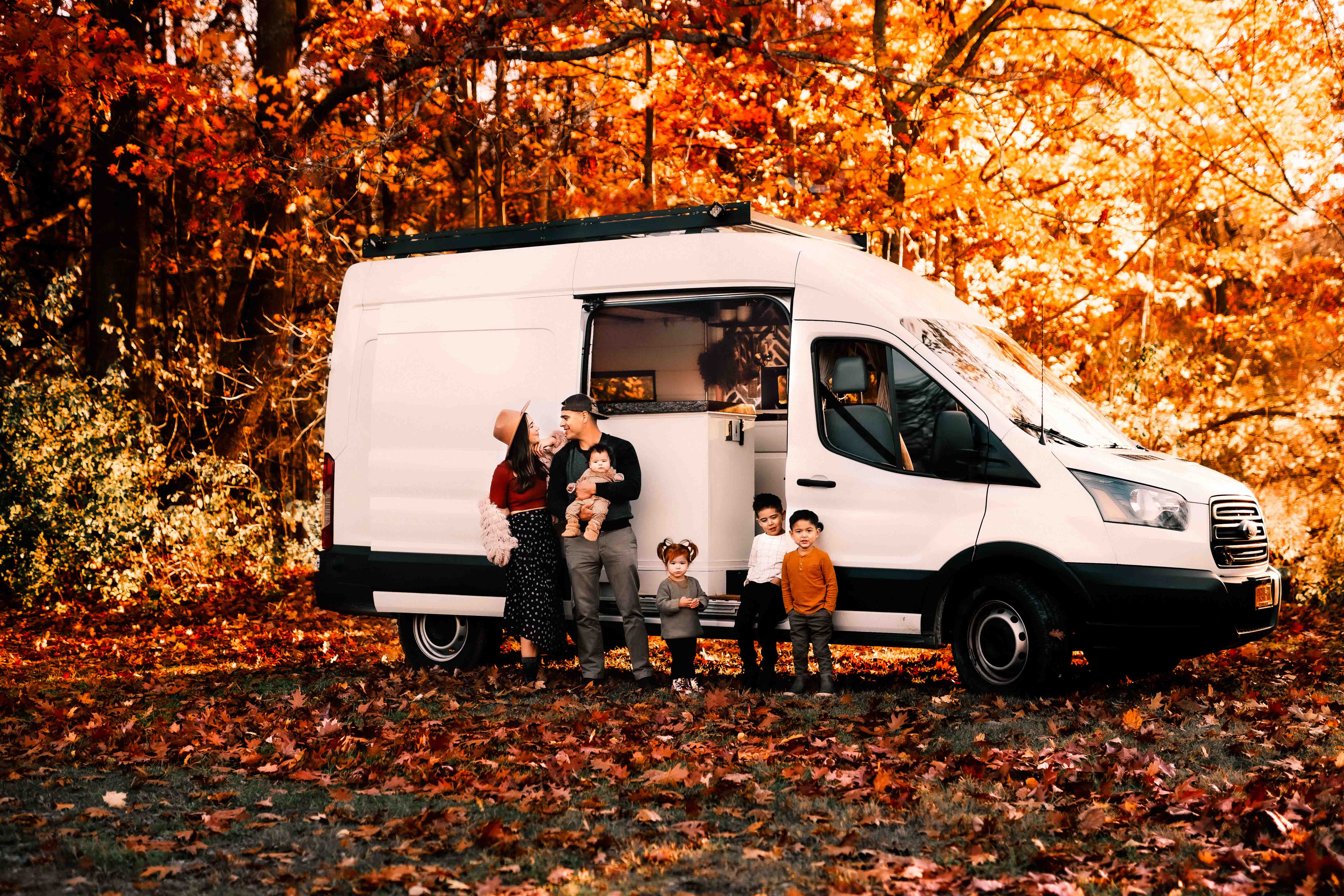 The biggest design consideration of all, the mom of four explained, was figuring out a way to safely secure all four kids' car seats while driving, while using the very same space for sleeping and eating. In the end, they opted for a custom steel bench.
The back of the van sports an electronic, adjustable top bunk bed above the custom bench; the kitchen has a plug-in oven, induction burner, and minifridge; a "pop-up" bathroom comprises a compostable toilet and shower head which hooks up to the kitchen sink.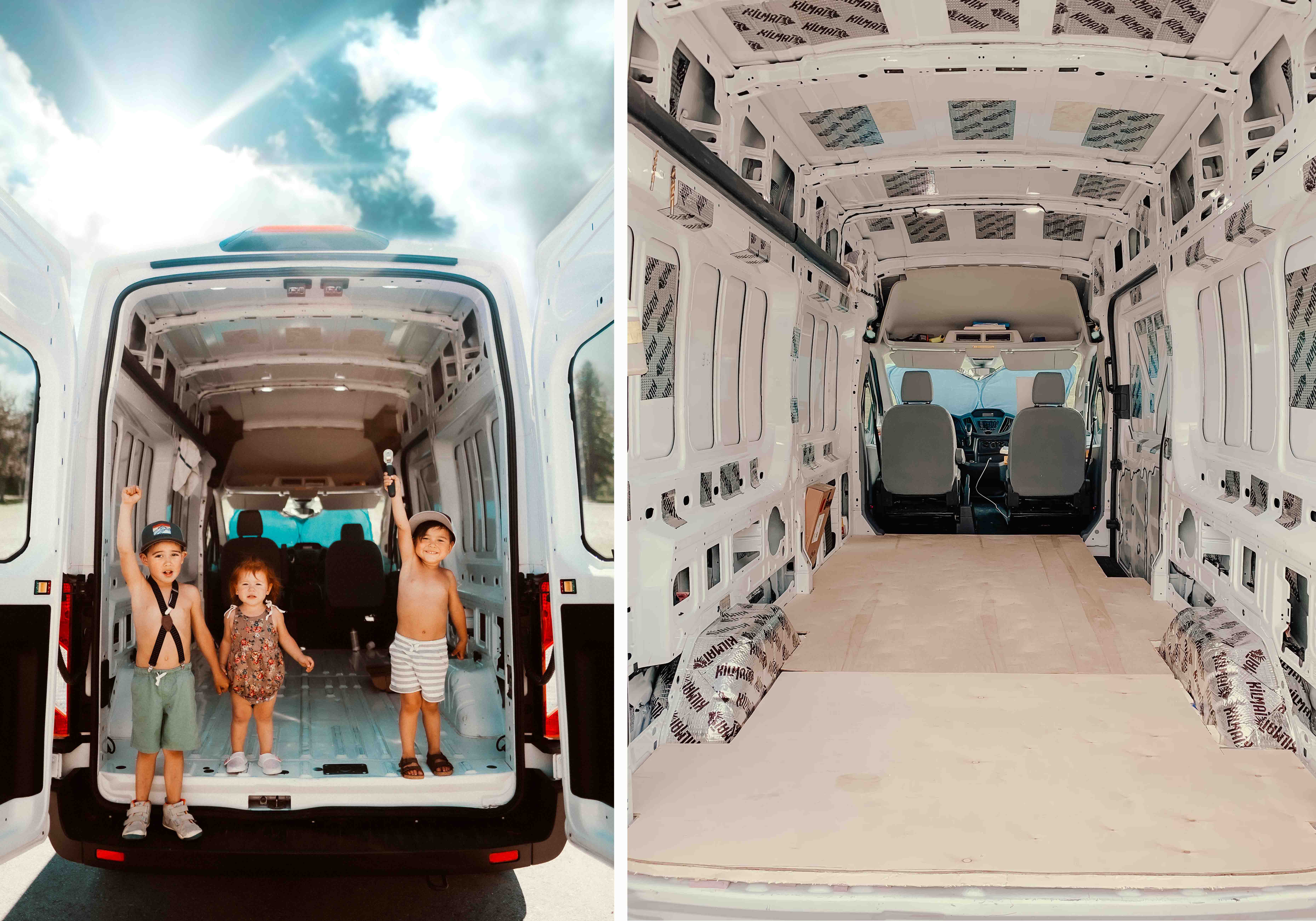 The van was soundproofed and insulated. Other space-saving solutions include compression cubes for the family's minimal clothing haul and microfiber towels, which fold up to one sixth of the size of a typical cotton towel.
Setting up a mobile battery and solar panels was the couple's largest expense. A mini theater was perhaps their biggest indulgence, but the fun addition makes the mini home on wheels a true source of comfort as well as functionality.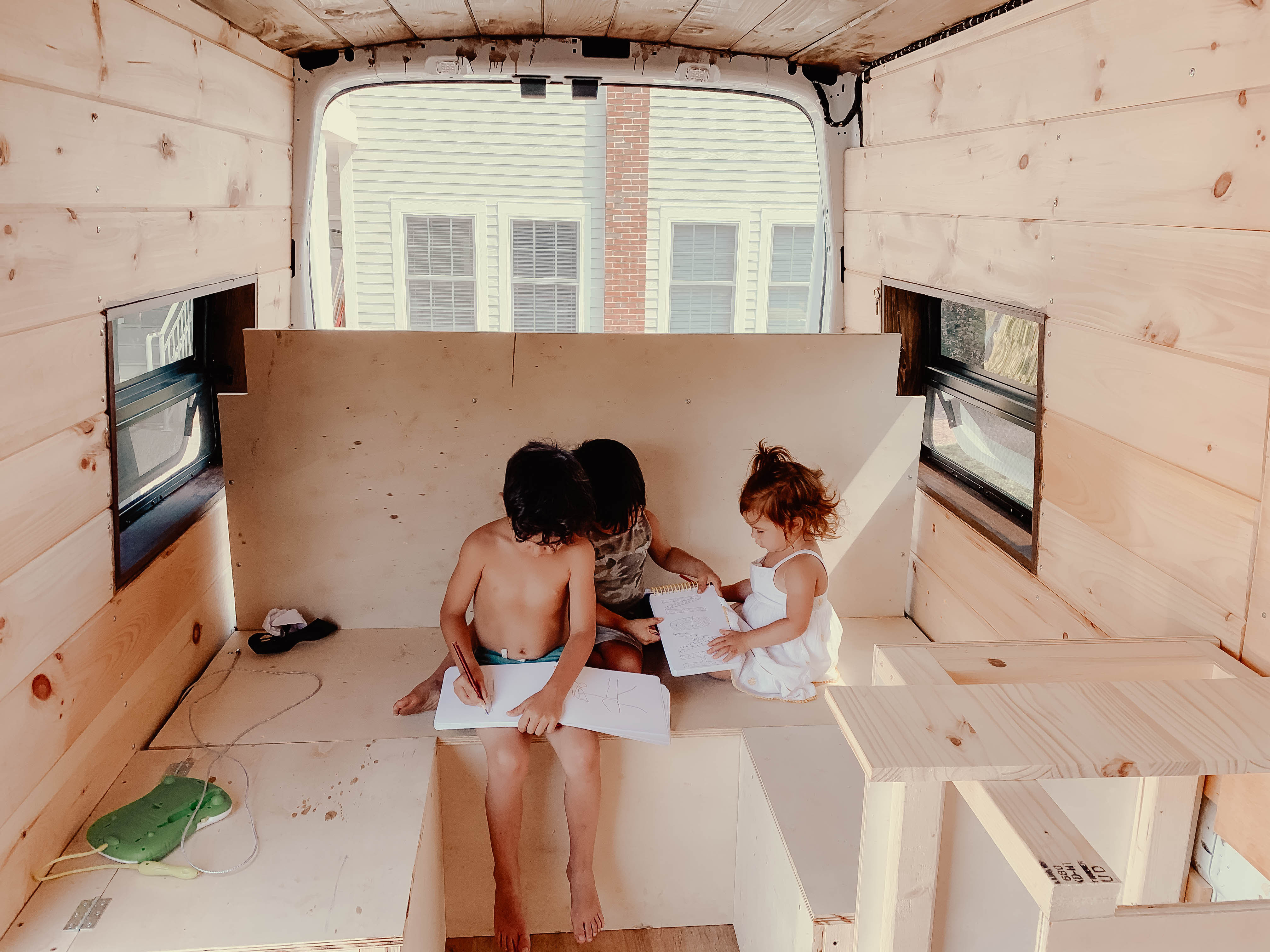 Mika's personal favorite design touches are the herringbone brick wall and raw-edge wooden countertops she installed in the kitchen herself, and the bunk bed designed by Ryen. But most of all, she loves the element of surprise between the typical van aesthetic on the outside and the cozy cottage interior.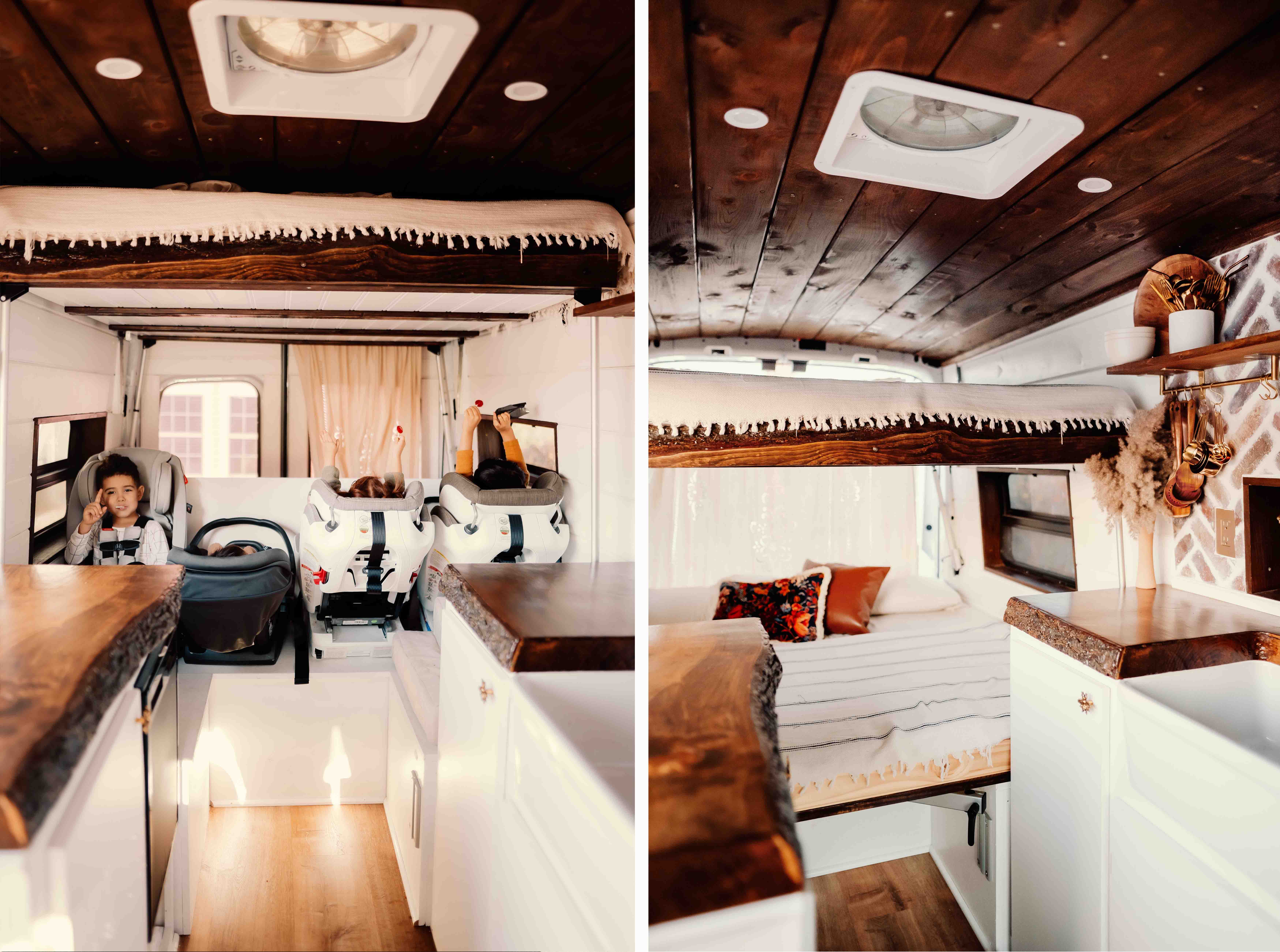 Mika, who was pregnant with Tallulah during the renovation, told Insider, "I feel like the same struggles that you would have inside a house, you can find in a van as well. The only difference is, when we feel claustrophobic in our van, we can all just go outside and explore walking around."
Instead of "drowning our kids in material stuff," she shared on Instagram, she and Ryen have chosen to give their children experiences and adventures that will have a real, lasting impact on their lives.
The family divide their time between their duplex in Germany and life on the road. While the pandemic restricted freedom of movement in 2020, Mika, Ryen, and their kids managed to find a host of other tiny home enthusiasts with whom to swap tips and tales.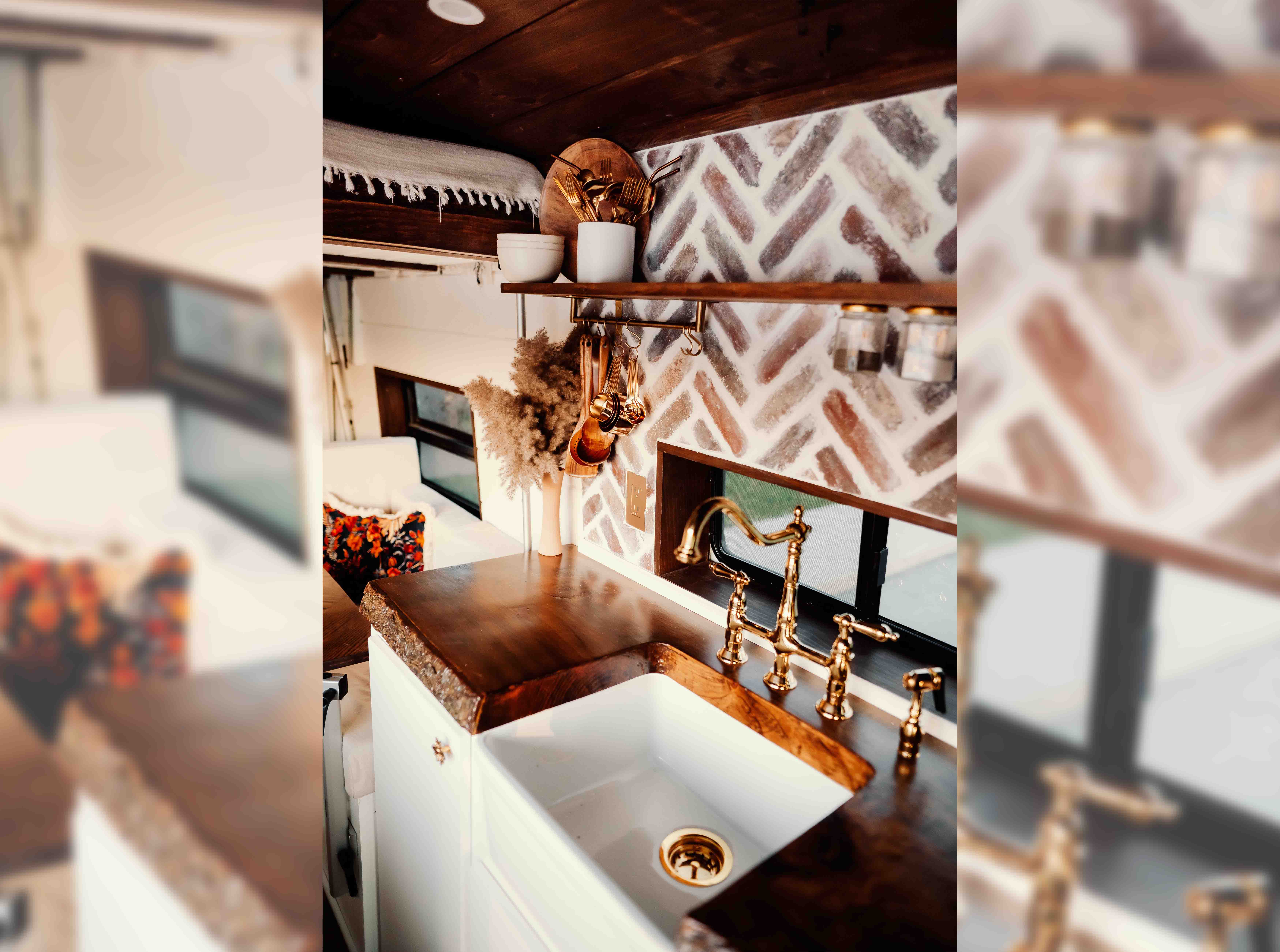 Mika—who runs a photography business, The Greatest Wonders—shares her family's tiny home adventures on Instagram.
"We love the closeness being in our van provides, physically, emotionally, and mentally," she reflected. "It gives our family time to connect and just be present, especially for my husband and I.
"Many may think we're crazy considering we are a family of six in such a small space," she continued, "but it hardly feels small when you have the ability to live anywhere in the country!"
Share your stories with us at emg.inspired@epochtimes.com, and continue to get your daily dose of inspiration by signing up for the Epoch Inspired Newsletter at TheEpochTimes.com/newsletter