When a man from Argentina and his wife welcomed a set of twins, they were surprised to see their little girls were born with snow-white hair, as they were the first twins to have albinism in their country. Now four years later, their proud parents say they're as healthy as can be.

When Gomez Jorge Antonio, 42, and Romero Leila Judith, 39, of Tucumán province, found out in their fourth month of pregnancy that they were expecting twins, they were surprised and, at the same time, overcome with emotion.
At 36 weeks of gestation, Leila gave birth to two beautiful daughters, Catalina and Virginia, on April 12, 2018.
"When they were just born, we found out they had albinism. We were surprised and amazed to see how they were born," Jorge told The Epoch Times. "Having albino children is not unusual, but surprising, since we had never related to albino people."

According to Mayo Clinic, albinism is a group of inherited disorders where there is little or an absence of the pigment melanin. The amount and type of melanin in the body helps determine the color of the skin, eyes, and hair. Thus those with albinism have light skin, hair, and eyes.
After the birth of his twins, Jorge has been keen on dispelling the untruths that surround the condition.
"People's wrong thinking is to believe that albinism is a disability, and that is why bullying exists and being afraid of them when they see them," he told The Epoch Times.
Sharing more about Catalina and Virginia, the father of three explained that their condition doesn't pose any major risks, but their skin still needs to be protected from exposure to the sun, and they need to wear glasses so that they don't hurt their eyes.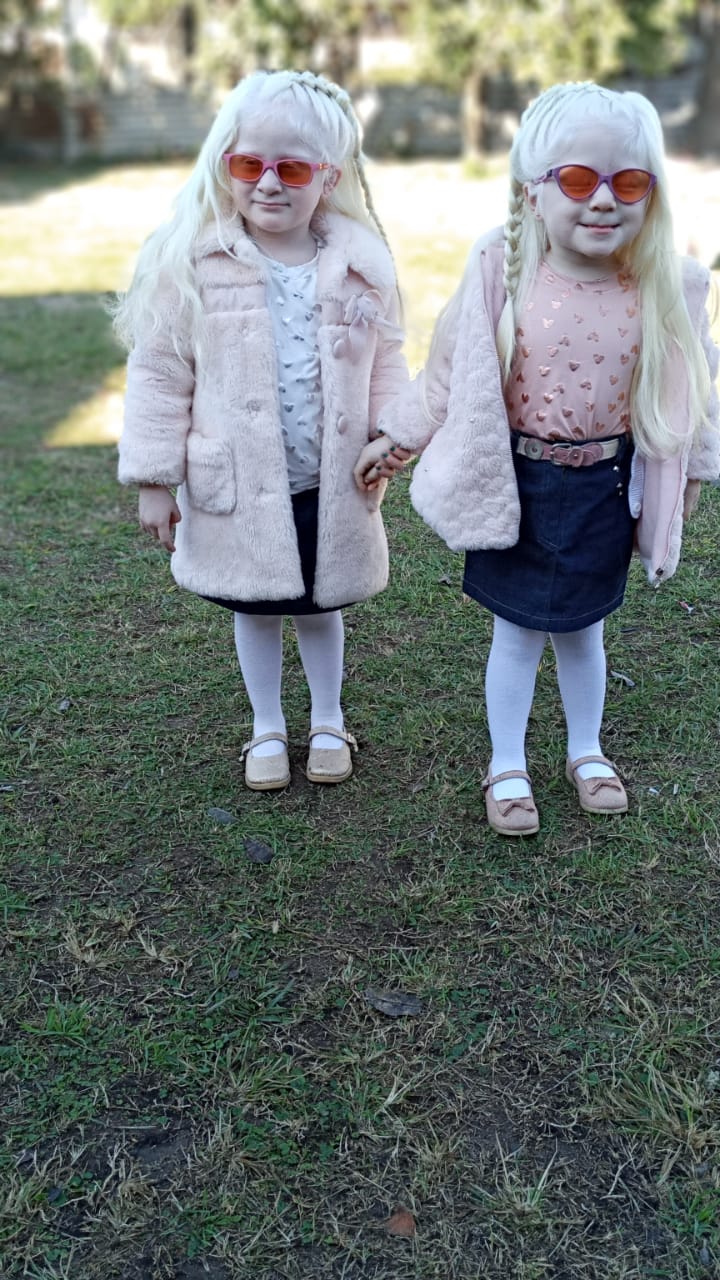 Jorge also expressed his gratitude to God for his children's good health.
Describing both his girls as "very happy and intelligent," Jorge says that their personalities have grown, with Virginia enjoying singing, and Catalina modeling.
For the parents, the best moments with their girls are when they watch them playing and having fun.
As parents of children with albinism, Jorge and his wife are ensuring that they take the most care with respect to their skin and eyes. A loving family, Jorge says they'll always be there for their beautifully unique daughters.


"We'll protect and accompany them at every moment of their lives and always treat them like any other human being," Jorge said. "And also share our immense joy that we have for this beautiful blessing that God and the Virgin gave us."

Share your stories with us at emg.inspired@epochtimes.com, and continue to get your daily dose of inspiration by signing up for the Inspired newsletter at TheEpochTimes.com/newsletter