Pan di ramerino belongs to the Tuscan tradition of sweet bread, enriched with spices, olive oil, raisins, walnuts, black pepper, and rosemary, which is ramerino. Tuscan women knew how to use what they had in the house—our bread dough, so versatile due to being made without salt, was gradually enriched with what the season gave or what was left in the pantry. Extra virgin olive oil was always there, as well as lard, a handful of sweet raisins, and spices.
Just think about schiacciata di Pasqua, developed from the overabundance of eggs that coincides with the arrival of spring and Easter; or pan co' Santi, a Sienese sweet bread made for All Saints' day with red wine, black pepper, spices, raisins, and walnuts. When it's harvest time, we traditionally knead a sweet schiacciata with sugar, olive oil, rosemary, and wine grapes, too.
Pan di ramerino is so typical of Florence that it never reached my hometown in Valdelsa, just an hour's drive away. It was made and eaten exclusively during the Holy Week before Easter. Now, it is possible to purchase and enjoy pan di ramerino in many Florentine bakeries throughout the year, but years ago it was on sale just for Holy Thursday, when it was bought and brought to be blessed in the church.
Its very appearance, a soft bun carved with a cross, recalls this tradition. Be it to bless the bread or to help the rising process, be it for faith or superstition, this is the form that has been passed down from generation to generation.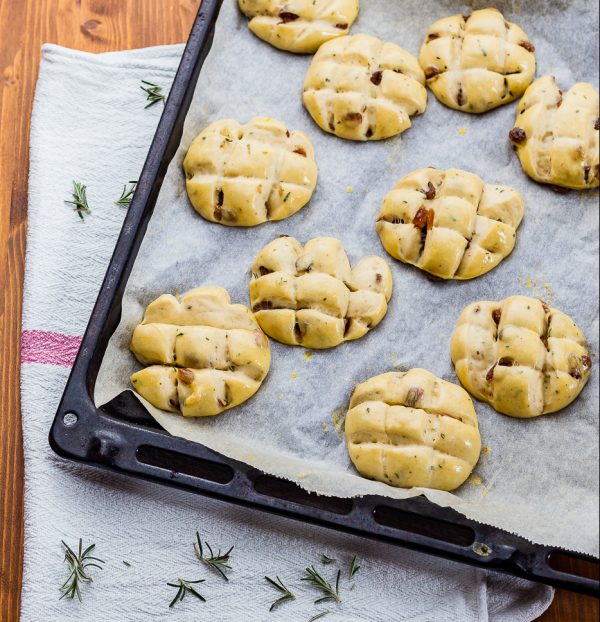 Pan di Ramerino
Prep Time: 1 day and 4 hours
Cook Time: 20 minutes
Makes 20 buns
For the starter:
2 grams (about 1/8 of a 0.6-ounce cake) fresh yeast, or a pinch of active dry yeast

1/3 cup water, at room temperature

1 cup plus 2 tablespoons bread flour
For the buns:
1 1/3 cup raisins

1 small glass vin santo (Tuscan dessert wine)

1/4 ounce fresh rosemary

1/2 cup extra virgin olive oil

2 grams (about 1/8 of a 0.6-ounce cake) fresh yeast, or a pinch of active dry yeast

1 cup lukewarm water

4 cups bread flour

1/3 cup brown sugar

1 1/2 teaspoon salt

1 egg, for the glaze
For the sugar syrup:
1/2 cup water

1/2 cup sugar

Half of a vanilla pod
The day before: Make the starter.
In a medium bowl, dissolve the yeast in the water and mix in the flour until incorporated. Cover the bowl with plastic wrap and leave to mature at room temperature for 20 to 24 hours.
The next day: Make the buns.
Soak the raisins in vin santo and add some water, enough to cover them. Soak for an hour, then drain and squeeze the raisins dry.
Finely chop the rosemary and add it to a pan with the olive oil. Heat the olive oil over low heat. As soon as the rosemary begins to fry, turn the heat off. Let it cool down lightly.
Dissolve the yeast with half of the water. Add the starter, the flour, and the sugar, and mix with a dough hook for about 5 minutes. Add the salt and keep kneading, adding the rest of the water slowly, until the dough is smooth and not sticking. You can also do this by hand, with a lot of patience. It is a long job, but completely doable.
Add the rosemary and olive oil and knead with the dough hook at low speed for about 10 minutes, until the mixture has completely absorbed the olive oil, and has become smooth and not too sticky.
In the last 5 minutes, add the raisins and knead just enough to incorporate them.
Transfer the dough to a greased bowl and let it relax for about 15 minutes in a warm place, such as a closed oven with the oven light on.
After this much-required rest, you can shape the buns, dividing the dough into pieces of about 2 ounces each. Form each piece into a tight ball, folding and tucking the dough into itself.
Arrange the round buns on two baking sheets lined with parchment paper, allowing them enough space to rise.
Beat the egg with a tablespoon of water and brush gently over each bun. Let them rise again for about 25 minutes, then carve them with a cross, just like in the picture, and brush again with the egg wash.
Let them rise again until doubled in size.
Preheat oven to 350 degrees F and bake the buns for about 15 to 20 minutes, until they are golden and well puffed.
Meanwhile, prepare the sugar syrup: Combine the water with the sugar and the opened and scraped vanilla bean in a saucepan, and boil for about 10 minutes over medium heat.
As soon as you take the buns out of the oven, brush them with the hot sugar syrup and let them dry completely.
They are irresistible eaten just out of the oven, but they will keep well for 5 to 6 days in a tin box or in a Ziploc bag.
Giulia Scarpaleggia is a Tuscan born and bred food writer, food photographer, and author of five cookbooks, including "From the Markets of Tuscany." Find her online at her blog, JulsKitchen.com. Excerpted with permission from JulsKitchen.com