As a boy growing up in Northeastern Pennsylvania, Eric Armusik loved to draw. He won his first art contest at the age of 10 and went on to participate in numerous competitions and receive awards.
On Sundays, he stared at the walls and ceilings of his community's large, ornate Catholic churches, filled with elaborate murals and colorful stained glass windows. Ancient stories seemed to come alive in this artwork, with such emotional clarity that even a child could understand.
Although Armusik didn't start painting until the age of 20, he says this childhood experience inspired him to take up classical figurative painting.
"I decided very early on that I really enjoyed figurative work, especially very dramatic and very traditional artwork and traditional themes, like mythological themes and religious themes and historical themes," Armusik said in a recent telephone interview with Epoch Times.
However, after beginning his studies at Pennsylvania State University, Armusik was told by many people that he'd "never have a career" if he continued to pursue this type of old-fashioned art.
Undaunted, Armusik completed his Bachelor in Fine Arts and was fortunate enough to receive a scholarship that funded a semester abroad in Italy, where he finished a minor degree in art history.
Face to face with the work of classical masters such as Michaelangelo, Caravaggio, and Bernini, Armusik said everything clicked.
"I thought to myself, that's the kind of work that I wanted to learn how to do well and to continue to produce," he said. "Over the years I just stuck to it, and I provided a very good career for myself. I've kind of become known for some of that type of artwork."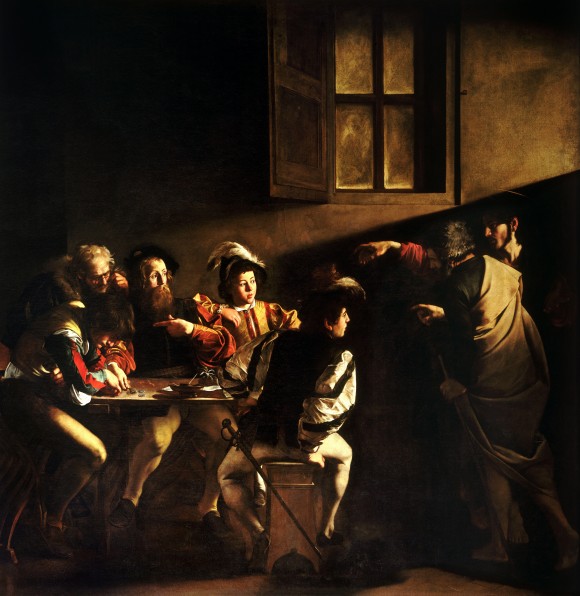 Tradition as Inspiration
During Armusik's first art history course, he was stunned when he saw his first Caravaggio painting, the "Calling of St. Matthew."
"I thought, 'Wow! Now there's a painting! There's something that I would like to aspire to.' It really touched me," he said.
While in Italy, he was able to sit and stare in awe at Caravaggio's original work for sometimes hours, once again feeling like a little boy in church.
While attending university, Armusik was turned off by contemporary art, which seemed to him to be somewhat self-indulgent and elitist. If people weren't moved by a piece of art, then others would say they just didn't understand it.
"My university was [very] grounded in modernism and theory, and painters were doing performance art and installation art and just questioning everything that art had to do with anything," he said. "You start wondering to yourself, 'When is the madness going to end?'"
For many ordinary people, contemporary art is often indistinguishable from everyday objects of the mundane world. Museum exhibits have included monotone paintings, dead animals in formaldehyde, and random objects piled in a corner.
"I just really wanted to paint something beautiful. I wanted to paint beauty and love and something that really could touch anybody. It doesn't matter if they're an experienced collector, if they're a complete novice. I really wanted to communicate something."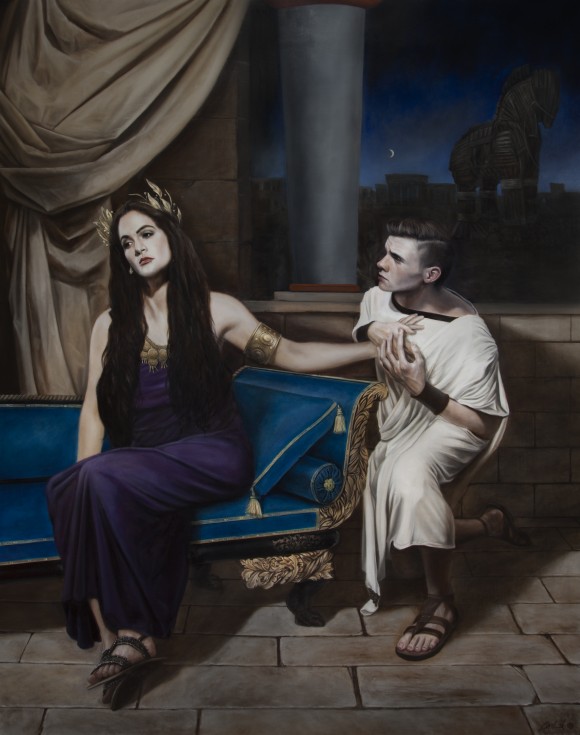 Armusik realized he wanted to paint from real life, with real people who gave him a sense or feeling of certain characters from classic stories as models. He also wanted to closely observe their body language and inner feelings and communicate that to the viewer along with the story, making it feel authentic and accessible to everyone.
"Some of these stories are complex—religious stories, mythological stories—but on a basic level, I wanted to communicate to anybody that this person has experienced something, and maybe that's similar to what you're going through," he said.
During his 22-year career, Armusik has painted large-scale religious paintings for churches and other venues, and people have commented that they were moved emotionally by his work.
"I think that great art communicates to the masses," he said. "I really want to provide something that's uplifting, the way art used to be. Art used to be transcendent. You used to be able to look at art and forget about life and think of something more beautiful and something more spiritual or uplifting or something that would transcend those tough moments."
An Artistic Career
After studying the techniques of classic artists, Armusik further perfected his skills with realism artist and portrait painter Nelson Shanks at Studio Incamminati in Philadelphia.
He was chosen in 2003 to represent the United States and exhibit several of his paintings at the Biennale Internazionale Dell Arte Contemporanea in Florence, Italy.
Armusik was awarded the Chairman's Award for the Sixth International Art Renewal Center competition, out of 1700 submissions from over 30 countries worldwide. His work has been selected as a finalist in four Art Renewal Center International Salons and the 2015 Figurativas International Painting Competition in Barcelona, Spain.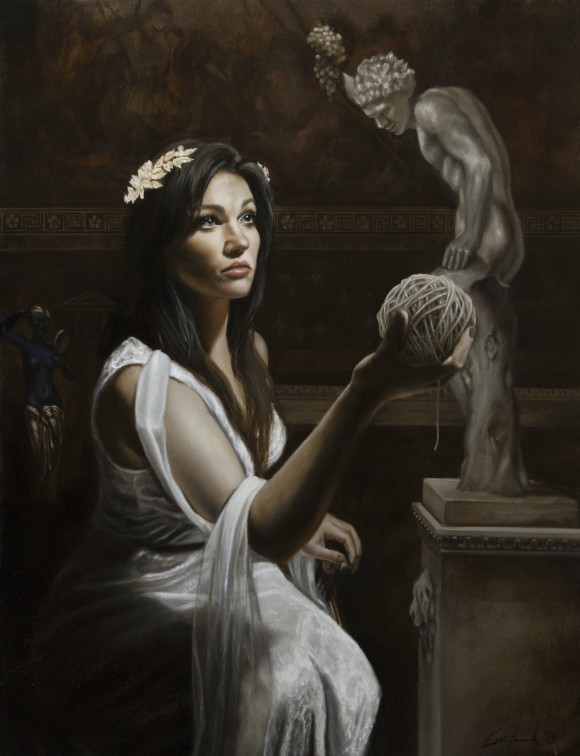 The painter also conducts regular workshops in his studio on traditional painting and has attracted students from around the world.
His work has been shown in numerous galleries, museums, newspapers, and magazines, including the National Arts Club in New York, Allentown Art Museum, the State Museum of Pennsylvania, The New York Times, American Art Collector, and Fine Art Connoisseur, along with many churches and private collections worldwide.
Armusik said he's been very blessed over the years, but it wasn't always easy.
"I've always really aspired to a quote from Aristotle, where it says, 'It's during our darkest moments that we must focus to see the light.' To me, that really is like the impetus in a lot of my work, where some of these people are very introspective, dealing with difficult circumstances, like all of us. I've been through enough of my own challenges to really want to share that. Not to embrace that failure, embrace that sad moment, but to find something triumphant in it, to share it with a friend."
Armusik is married to his soulmate, Gothic novelist Rebekah Armusik, and they have three children. He said it's very important to him to not only be a great painter, but a great father and husband as well.
"I love beauty, and I live it, and I want to share that because I think the world needs more of it," he said. "I think that there's so much bad and evil in the world, I don't think that celebrating it in art is what people truly want. I just think it misses the mark on what great art is."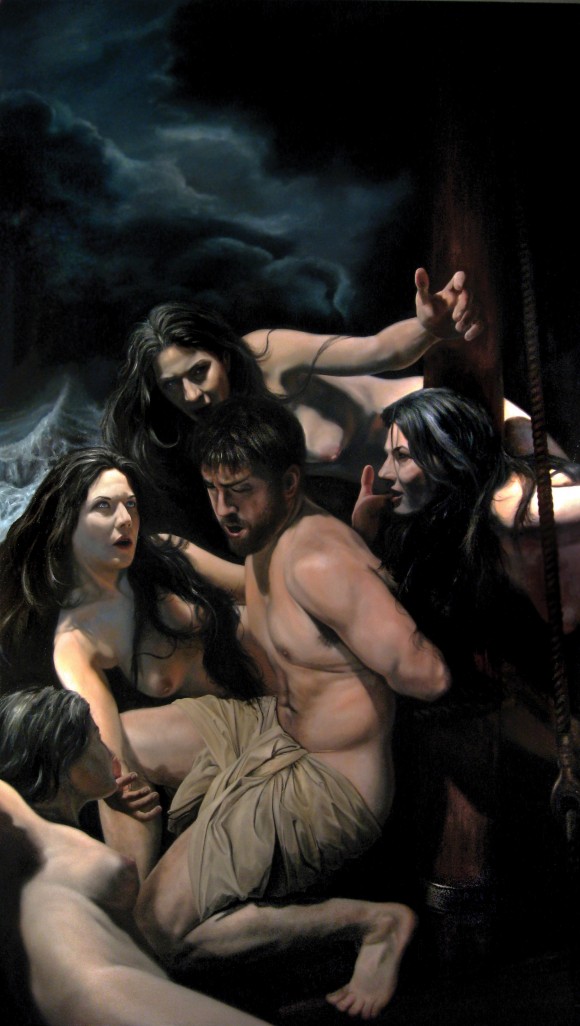 The Divine Comedy
Armusik has recently begun the largest project of his career: painting scenes from the entire first section of The Divine Comedy, Dante's Inferno.
The finished exhibit will include 40 panels that measure 4-feet wide by 5-feet tall, and it will take two to three years to complete. Armusik is now working on the first panel, along with other previous commissions.
"It's going to be something that no one's ever done," he said. "This is something I considered really for 20 years. But now I think I'm finally ready for it."
Armusik has collaborated on the project with Dr. Christopher Kleinhenz, a retired scholar from the University of Wisconsin, Madison who has studied Dante for over half a century. Armusik said the panels will be printed in a book published by Dr. Kleinhenz.
The painter also hopes to show the full-scale exhibit in the United States and possibly in Europe for the 700th anniversary of Dante's death in 2021.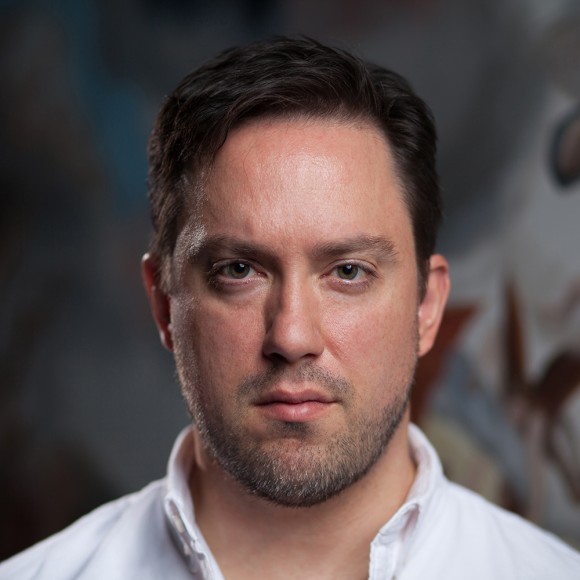 "Like a lot of my work, I'm really not out to reinterpret certain stories. I'm not looking to put my modern take on things or anything like that," he said.
"I really want to produce something that's going to be true to the story and could be appreciated by future generations that will be teaching this. It's taught in schools and universities worldwide. Being able to produce something that will be historically accurate is very important to me, so that can become useful as a teaching tool."
To fund the project, Armusik used crowdfunding and found other investors to provide 60 percent of the project's needs thus far. One of his biggest investors, Jerry's Artarama, gave him every single one of the 40 panels he needed, worth around $10,000.
"A lot of people have been really supportive of it," he said. "It's going to be wonderful."
Armusik said the project is grounded in the courage that he developed over the years painting what he wanted to paint and not what everyone else told him to paint.
"I think that love and beauty are eternal things, and by turning our backs on those things out of fear, out of a lack of courage or out of pain, or whatever it is, [they] still are the things the world should aspire to, that makes a better world. I think that that's where artists could really contribute more, and I'm very glad to be one of them doing it."
For more information visit, ericarmusik.com.