Mardi Gras, or Fat Tuesday, is nearly upon us. The festival represents one last hurrah before the solemn Christian season of Lent, which begins on Ash Wednesday and ends with Holy Week and Easter. In many traditions, Lent is a period of fasting, and thus the days leading up to it are filled with conspicuous consumption—a sort of eat, drink, and be merry moment. 
One celebratory sweet that puts the fat in Fat Tuesday comes to us from Poland: paczki.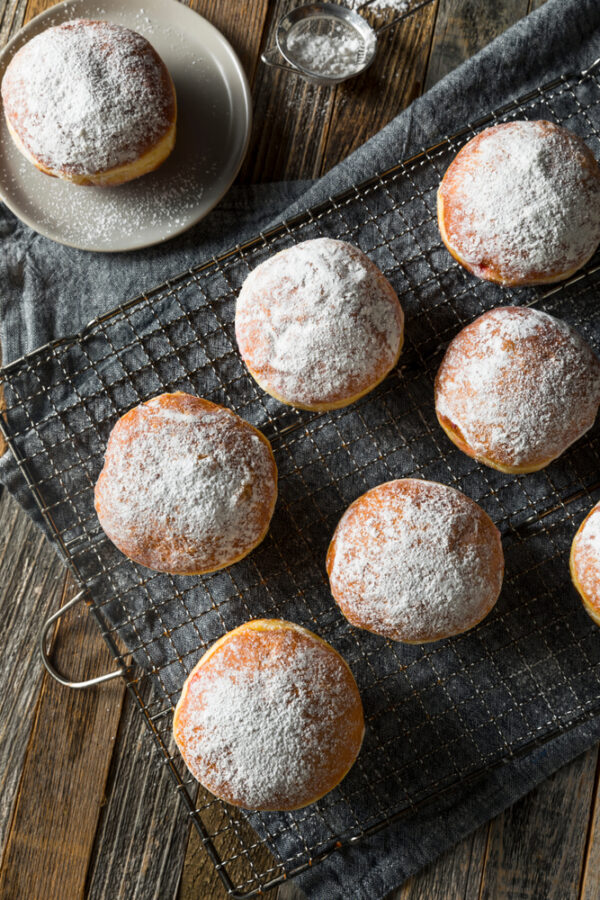 Lost and Found in Translation
The uninitiated might mistake these yeast-raised, deep-fried, filled pastries for jelly doughnuts, but paczki dough calls for more milk, more butter, and more eggs and egg yolks, making them a bit richer in flavor. 
"Paczki" is actually the plural form of the name, though in English it is commonly used for both plural and singular. "Paczek" is the correct form for just one and comes from the diminutive of "pak," a bud. (Take out that special character and the unrelated Polish word "paczki" means packages. Fair enough—dough packages of deliciousness?)
While the Polish pronunciation is tricky—POHNCH-key, where that special "a" sound ends in your nose like a not-quite "n," almost like the nasal vowel sound of someone lampooning a Frenchman's laugh—it can be done with practice.
I hear many call it POONCH-key, which is not Polish at all. But a paczek by any other name would still taste as sweet.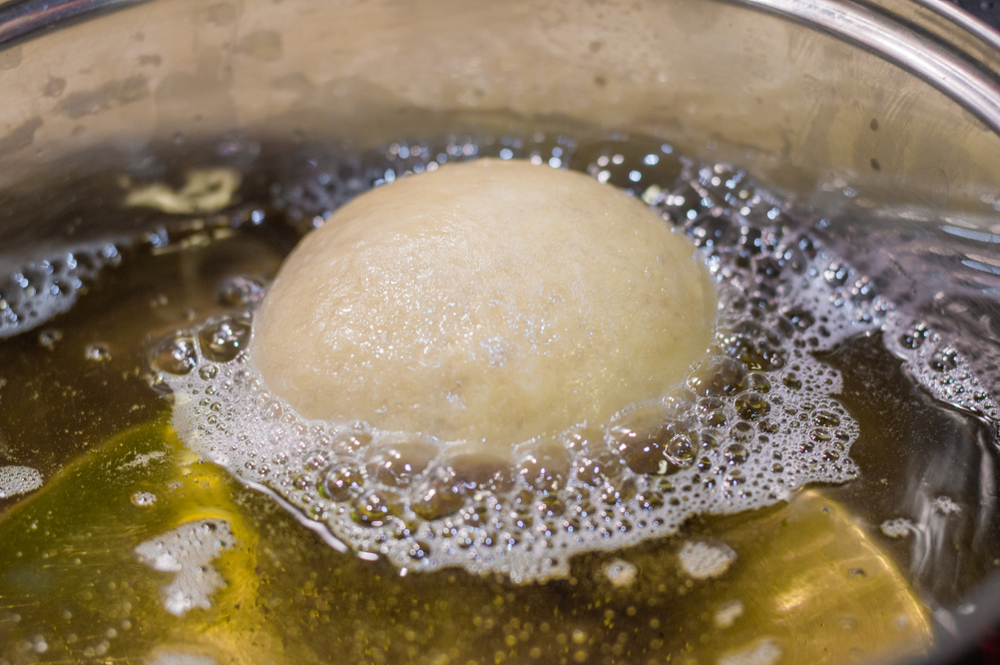 The Evolution of Paczki
While many Polish-American communities celebrate with paczki on Fat Tuesday, Joseph Mikolaj Rej Jr., president of The General Pulaski Association in Buffalo, New York, tells us that back in Poland, it's Tlusty Czwartek, or Fat Thursday. 
"This was a day to use up all the lard, sugar, eggs, and jam that you had in your house, because getting rid of all these things made it easier to fast during Lent," he wrote in an email. Why Thursday? "There is a good chance you will have leftovers the next day. If you decided to prepare all of this for Fat Tuesday, you would allow a lot of very desirable food to go to waste."
The tradition is old, but paczki have evolved. Once they were made with a pork fat filling and deep-fried in lard; in the 16th century, they became sweet. 
When French chefs infiltrated Polish cookery in his time, Jedrzej Kitowicz, an 18th-century parish priest and chronicler of Polish life and culture, wrote of both his nostalgia for old traditions and a humorous and almost begrudging fascination with the new, improved recipes: "If an old-fashioned paczek were to hit you in the face, you could get a black eye from it. But the new paczki were so plump and light that you could squeeze them in your hand and they would swell and ooze like a sponge, so light that a mere puff of wind might whisk them off the plate."
My Slovak grandmother, whose family came from a village close to the Polish border, and unsurprisingly ate pierogi and cabbage rolls, made paczki. My mother recalled, "She didn't want us anywhere near the wood stove because she was deep-frying. She'd make them with prune filling with the idea of it being healthier for us," she added with a laugh, and reminded me that these were deep-fried in home-rendered lard. "One clogs you up (the doughnut), the other one makes everything work (the prune)."
They are raised doughnuts, and my grandmother would put a damp rag over them to keep them from drying out. When it came time to fill them, "she had me and my brothers in an assembly line so we wouldn't fight," my mother said. "One of us would cut the donut, another would fill it, and the next one would roll it in sugar."
While traditionalists may abound, paczki never stopped evolving, or rather, expanding their range. Surely lard in the fryer isn't very common anymore. A stewed plum jam or a wild rose hip jam are the most traditional fillings, but even in Poland you can find chocolate or Nutella-filled paczki, along with vegan recipes.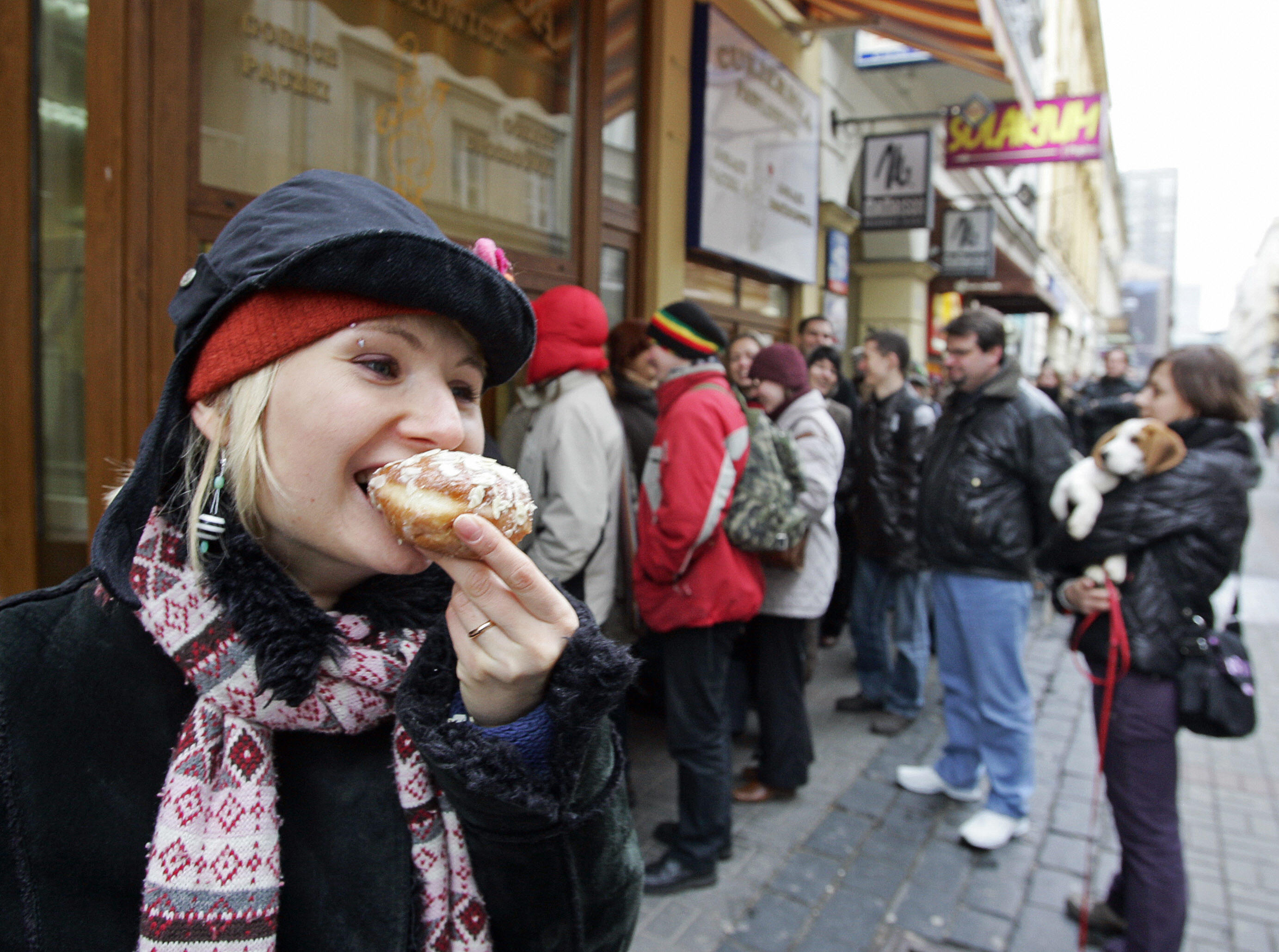 Paczki Day in America
New York and Illinois are home to the largest Polish-American populations in the country, with Pennsylvania, Michigan, Wisconsin, and New Jersey not far behind. Nearly one in 10 residents in Milwaukee, Toledo, and Buffalo claim at least some Polish ancestry, and numerous towns in Wisconsin and Michigan have even higher percentages. 
You can find a paczek infused with a shot of vanilla vodka at Small's, a bar in Hamtramck, a city outside Detroit settled by abundant Polish immigrants in 1914. They celebrate Paczki Day on Shrove Tuesday but also organize a 5K run the Saturday before, apparently burning off old calories before bringing in some new ones at the finish line. (Seriously, beer and paczki for finishers.)
Anna Niziolek, originally from Warsaw, worked 38 years at Old Warsaw Buffet in Chicago before opening Polish Paczki Café with a business partner in 2018. She learned her paczki recipe from her mother and describes it as a two-hour process per batch. The dough rises twice before being shaped into paczki to rise yet a third time before going into the deep-fryer. 
Her paczki have a wonderful chewiness to them, with a darkly fried exterior and modest spoonful of a tangy mix of stewed plum, rose hip, and raspberry jams. 
"Hand-filled. Never injected like a jelly doughnut," she told me, with pride and a trace of disdain. Powdered sugar with lemon juice and a bit of orange zest graces the top, and that's it.
I asked her if she sells a lot of paczki on Fat Thursday or Fat Tuesday, but she told me they sell out every day. On the holiday, however, there's about a four-hour wait in line. The queues go round the block in Poland as well, even though bakeries there also sell them year-round. 
The sudden spike in demand may be chalked up to Polish wisdom: not eating paczki on Fat Thursday will bring you bad luck, or as a proverb says, "an empty barn and fields eaten by mice." Another proverb, "zyc jak paczek w masle," means "live like a doughnut in butter"—be happy as a pig in the mud, a cow in the clover. Perfect advice for Fat any day. 
This year, Fat Thursday is Feb. 20 and Fat Tuesday falls on Feb. 25.
Kevin Revolinski is an avid traveler and the author of 15 books, including "The Yogurt Man Cometh: Tales of an American Teacher in Turkey" and several outdoor and brewery guidebooks. He is based in Madison, Wis., and his website is TheMadTraveler.com