A 10-year-old boy has become the talk of his town since reeling in a bomb while magnet fishing with his grandfather on an Ontario lake in Canada.
Brandon Bastien, who lives in St. Thomas with his father, was out on July 25 with his maternal grandfather, Steve Posthumus, a lifelong Elmer resident, when something was caught on his fishing line.
"We went down to Port Bruce and had some lunch, and he pulled up the find of a lifetime," 60-year-old Steve, who has 10 grandchildren, told The Epoch Times.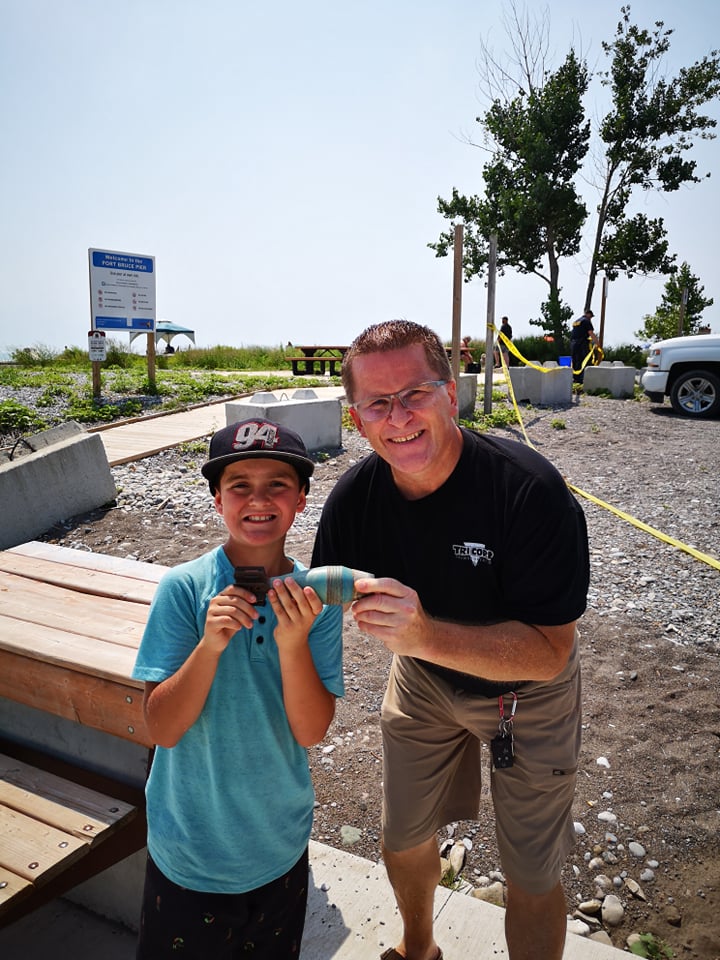 The grandfather-grandson duo had been at the pier in Port Bruce for two hours when Steve began to get a bit tired. He retreated from the heat to a nearby wall to eat a sandwich. All of a sudden, Brandon turned and called out to his grandpa that his magnet had latched onto something, then, seconds later, he said "It's a bomb!"
However, as Steve approached close by, he claimed that the find looked like the fuselage of a toy airplane. But as Brandon pulled the object out of the water, Steve conceded.
"I grabbed the string and the magnet right out of his hand and told him to back up. He was right," said Steve. "It was a mortar shell, and me not knowing nothing about bombs, I grabbed it and threw it on the wall where I was eating my lunch and told people, 'Stay away! I'm not sure if this is active.'"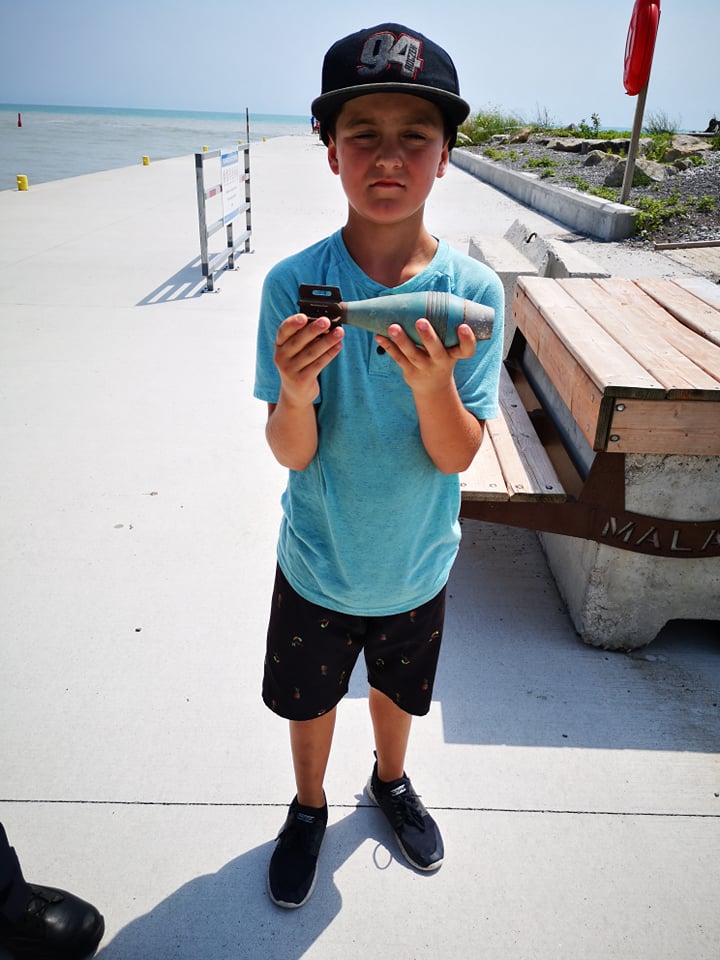 The shell's pin was missing, thus leaving the magnet attached. Steve and Brandon notified the police. Yet Brandon, he claimed, wasn't in the least bit afraid.
In an interview with CTV News, Brandon said, "I was just expecting tiny pieces of scrap metal. Some people pull out guns, but that's rare.
"My first initial idea was that I kinda wanted to keep it because it would be a really cool thing just to hang up in my room. You don't see that very often."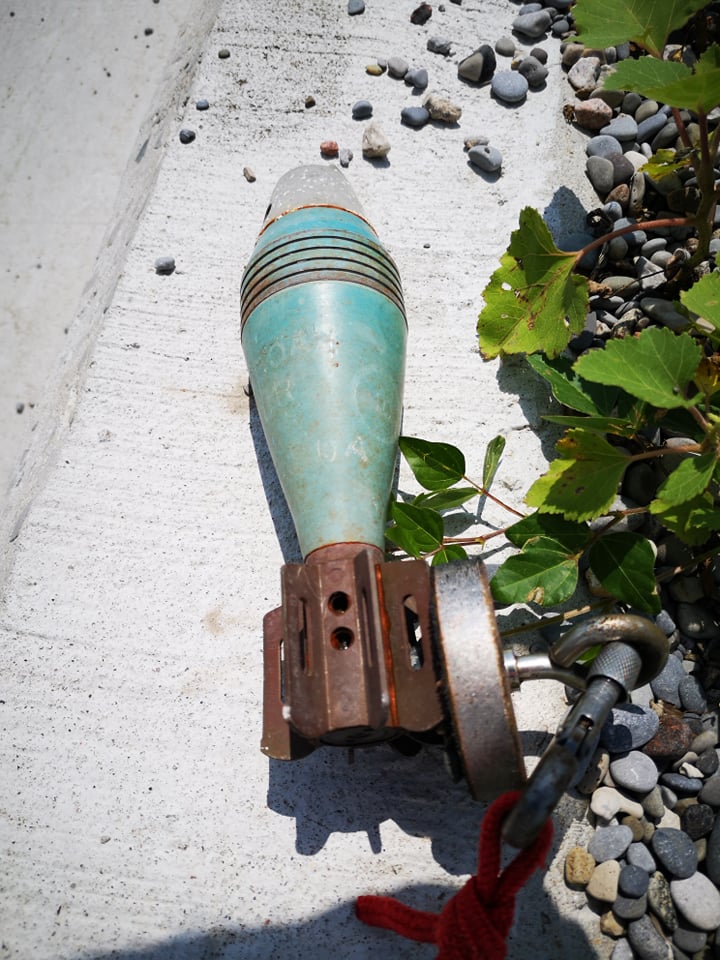 Steve said that the light blue 60mm mortar bomb shell had the company name and the date Oct. 27, 1954, on it. As people gathered around to take photos and videos, Steve warned them to exercise caution.
Police arrived and cordoned off the area with yellow tape. After determining that the shell was inactive, they removed the tape and had the bomb transported to the Department of National Defense in Ottawa.
"They will do a little bit of a study on it," Steve revealed to The Epoch Times, adding, "I hope when it goes on to the Heritage Museum … [Brandon] gets rewarded in some way. It's exciting for a 10-year-old!"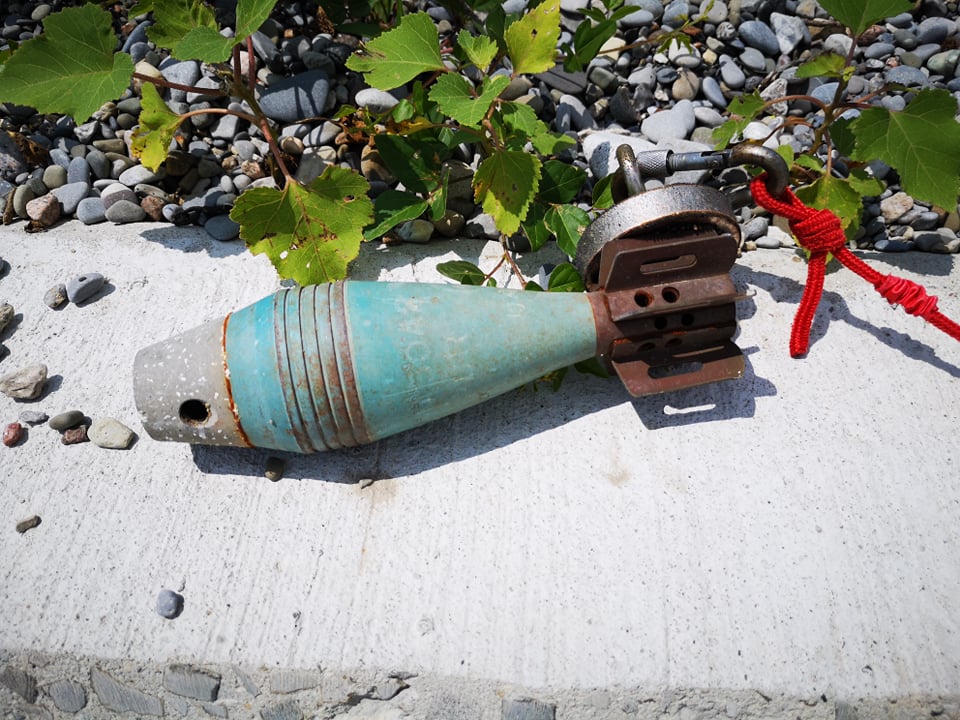 In the meantime, the young magnet fisherman is getting a lot of attention for his explosive find. For Steve, the most important thing is that his grandson gets the recognition he deserves.
The 60-year-old only got into magnet fishing himself during the onset of the pandemic, when health issues forced him into self-isolation. He ordered a small fishing magnet online and headed to the lake to pass time, even reeling in a century-old iron clawfoot bathtub leg. Slowly, he got hooked.
(Courtesy of Steve Posthumus)
Brandon is a boy of many hobbies. Fluent in both English and French, he loves skateboarding and playing with his friends. "He also loves to do things with his grandpa," said Steve, "and we finally got back to it … I offered to take him out magnet fishing because I've taken my other grandchildren before."
Since reeling in the bomb, Steve has seen Brandon in his element, telling his story to numerous news outlets and radio stations. "He's always been excited," said Steve. "It's added something to his life I've never seen before."
Share your stories with us at emg.inspired@epochtimes.com, and continue to get your daily dose of inspiration by signing up for the Epoch Inspired newsletter at TheEpochTimes.com/newsletter