NEW YORK—The moment Norm Lewis hits the stage for his first-ever solo concert at Carnegie Hall, one which took him "33 years to get," a wait made even longer by the pandemic, you can see how he relishes the moment. What follows is a musical journey through some of the roles he has played in his career. These parts include those he has always wanted to take on, as well as some he never even knew he wanted, at least until he was offered them.
Lewis, an Emmy, Tony, and SAG award nominee, is backed in his performance by The New York Pops. The orchestra performs under the superb eye of music director and conductor Steve Reineke. For Lewis to stand out from this esteemed body of musicians is no easy task and, indeed, in Lewis's first number, the rousing "This is the Life," it does feel as if he's battling with the orchestra for the audience's attention.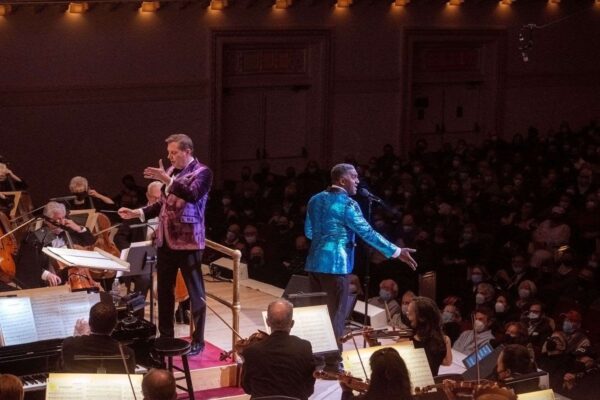 Fortunately, by the time he has finished the second song in the program, "Starting Here, Starting Now," these two forces have coalesced together perfectly, with Lewis's voice clearly heard above the musical accompaniment, and his presence and bearing growing to command the stage. It must be noted, though, that a few times Lewis's singing was unfortunately drowned out by the music.
More than just singing a handful of songs that have an important meaning to him, many of which resulted in standing ovations, Lewis prefaces each of the numbers with clear backstories, all of which help to imbue the different pieces with a strong sense of place and meaning. Particularly effective was his explanation of how he became the first African-American performer to play the title character of "The Phantom of the Opera" on Broadway, as well as his delight at having the chance to play Harold Hill in "The Music Man," a role he jokingly noted is currently being done on Broadway by someone named "Hugh."
While the audience clearly got a thrill in hearing Lewis sing many of the songs he has performed on stage before, the concert also provided him the chance to deliver some numbers from shows he had been in that were sung by other characters, such as the achingly beautiful "Bring Him Home" from "Les Miserables," and vamping it up as a wicked sea witch with "Poor Unfortunate Souls" from "The Little Mermaid."
Perhaps the best part about seeing Lewis in this environment was the wide variety of musical styles he had the chance to embody. As evident with the sweeping "Music of the Night" from "Phantom of the Opera," the monologue and patter delivery in "Trouble" from the "Music Man," and the joyful "I Got Plenty o' Nuttin" from "Porgy and Bess."
Solid Musical Backup
There's something magical in seeing a full orchestra bring different musical pieces to life and, in that capacity, The New York Pops totally succeeds. Over the course of the evening, the company presents several instrumental selections, though each segment had its own personal connection to Lewis's career. These pieces including songs from "Les Miserables," "Sweeney Todd," "Jesus Christ, Superstar," and "The Who's Tommy."
In an especially nice touch, the background lighting changed to blood red while the orchestra was performing music from "Sweeney Todd." Reineke explained each section's connection to Lewis, as well as sometimes kibitzing with him directly, and even taking part in a musical "duel" when the two men reenacted a sequence from "Les Miserables."
Lewis also performed a beautiful rendition of "Being Alive" from "Company," composer Stephen Sondheim being of major importance in Lewis's career. He mentioned an interesting story about Sondheim's open letter to the New York Times when he was cast as "Porgy"—and ended up getting a Tony nomination for the role.
"What the World Needs Now Is Love," song as an encore, served to end the evening on a somber note.
"One Night Only: An Evening With Norm Lewis" offered some enjoyable insights with a lot of beautiful music and made for a thoroughly enjoyable piece of entertainment. "Mom, Dad, I finally made it to Carnegie Hall," Lewis noted at one point. No doubt everyone there that night was very glad he did.
'One Night Only: An Evening with Norm Lewis'
Carnegie Hall
Isaac Stern Auditorium/Ronald O. Perelman Stage
New York City
March 4, 2022