Reclaiming the True Mission of Art
New Jersey Arts Council chair enjoys introduction to Chinese folklore
April 13, 2014 2:48 am Last Updated: April 14, 2014 5:23 pm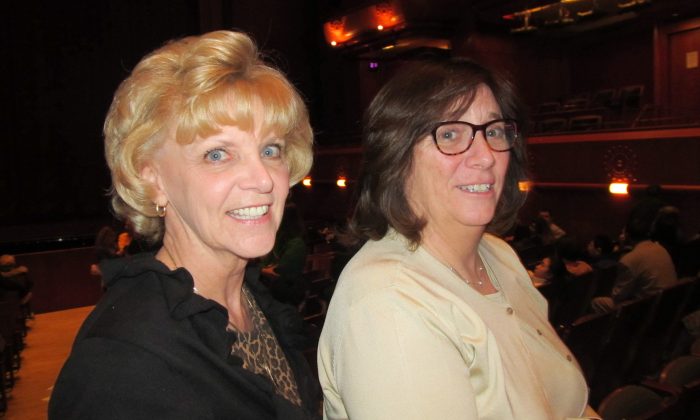 NEWARK, N.J.—Art is a way to remember, to preserve traditions, honor heroes, and preserve the virtues that make human beings noble and courageous.
That is art at its best. At it's worst, it feeds confusion, disillusion, and amplifies human suffering. 
Such was the case in China some 40 years ago, in the midst of the Cultural Revolution, when the Chinese communist regime did its utmost to extinguish China's traditional culture. 
Dance and music became slaves to political propaganda and were used to vilify deeply held convictions, like good will be rewarded with good, and evil with evil, and that there is an inherent justice in the world that compels human beings towards goodness.
Instead, a people that once were shaped by three beliefs—Buddhism, Taoism, and Confucianism—were pressed into athiesm, hammered into an ideology that left no room for 5,000 years of divinely-inspired Chinese culture. 
But that culture was not lost. It was carried beyond China with a diaspora that has circled the globe. And in the U.S., a group of leading artists formed in an effort to revive that culture once more.
They formed Shen Yun Performing Arts, a company that has gone on to international acclaim for staging classical Chinese dance at its finest. It is an art form that has been passed down and enriched for thousands of years, dynasty after dynasty, before the calamity of communism struck China.
Arts Council Chair 
Now a revival has begun, and on Saturday night Shen Yun staged the last of three shows at the New Jersey Performing Arts Centre. 
The show brought out some of the state's most respected community leaders, including Elizabeth Mattson, who among other things is the chair of the New Jersey State Council on the Arts and chair of the Morris County 9-11 Memorial Foundation.
"I am enjoying it very much. The talented dancers, and the costumes, and the precision. It's remarkable," she said during intermission.
Chinese myths, legends, and literary classics inspire many the store-based dances Shen Yun performs. Ms. Mattson said theses dances were an introduction to Chinese folklore, something she hadn't yet experienced.
"I would encourage people to come see it," Ms. Mattson added. 
Ms. Mattson retired from her work as the the executive director of Drumthwacket, the Official Residence of the Governor of New Jersey, in 2008.
She's been active in the arts for many years, and has worked to put art to it's highest calling, like commemorating the nearly 3,000 people that perished on September 11, 2001, with the Morris County 9/11 Memorial, a place for people to remember and pay tribute.
Mattson shared her experience of Shen Yun with friend Susan Horn. Ms. Horn works in human resources at a law firm. She said she was also taken with her first Shen Yun performance. 
"I am enjoying it very much. The costumes are wonderful and the dancers are divine," she said.
She said she appreciated how Shen Yun made use of a digitally projected backdrop. 
"I love the technology, how they balanced that," she said.
The vividly animated scenes on that backdrop extend the stage to heavenly realms, and bygone eras—a China that once was, and may be again.

Reporting by Wei Yong and Matthew Little 
New York-based Shen Yun Performing Arts has four touring companies that perform simultaneously around the world. There will be four performances in Philadelphia April 25-27. For more information, visit Shen Yun Performing Arts.
The Epoch Times considers Shen Yun Performing Arts the significant cultural event of our time. We have proudly covered audience reactions since Shen Yun's inception in 2006.