Fournos Theophilos, billed as an all-day "Greek culinary destination," has opened in Midtown Manhattan. Helmed by Athens-born chefs Yannis Tsiakos and Dionisis Liakopoulos, the market and restaurant serves a variety of freshly-baked goods and rustic specialties that showcase the country's rich and varied food traditions.  
For breakfast, there are Cretan pies filled with cheeses and honey. Lunch and dinner options include boneless short ribs with Santorini sun-dried tomatoes and braised lamb leg with crispy pancetta and mint yogurt sauce, prepared in an open kitchen.
Meanwhile, a daylong Greek yogurt bar comes with toppings like honey and fresh fruit, and the bakery churns out traditional breads and sweet and savory pies from spanakopita to thessaloniki bougatsa (filled with semolina cream and cinnamon), as well as deconstructed pie cups for taking on-the-go. For another dessert option, there's also kaimaki, a traditional ice cream perfumed with mastiha, an aromatic resin.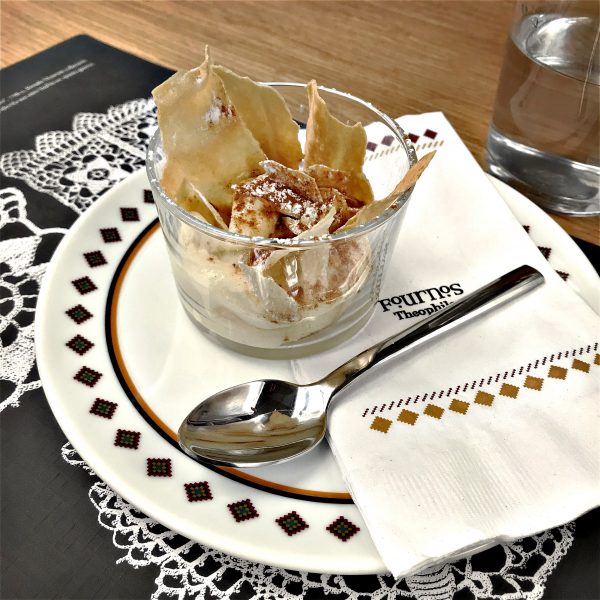 "What I want to make clear is that it's not just another bakery-restaurant," Tsiakos said. The eatery aims to capture not only the foods and flavors of Greece, but also "our tradition, our customs, [and] the stories that our people have to tell," he said.
To that end, Fournos is also collaborating with Greek author Christos Chomenidis, the Benaki Museum of Athens, and the Theophilos Museum to feature Greek literature, poetry, and art on its eco-friendly packaging and decor.
The two-level, 5,200 square-foot space offers self-service dining on the lower level, table service on the mezzanine, and takeout. A rotating selection of Greek products, from Kalamata olives and olive oils to cheese and jams, is also available for purchase. Fournos.com