NBC Sports Executive Calls Shen Yun Fantastic, Soothing Experience
April 27, 2014 4:33 am Last Updated: April 27, 2014 6:58 am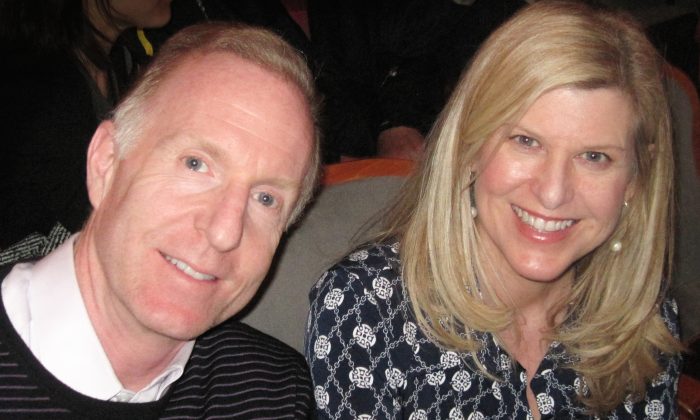 PHILADELPHIA—The world's premier classical Chinese dance company, Shen Yun Performing Arts, is currently in Philadelphia at the Merriam Theater for a four-show run. In the audience at Saturday evening's performance were Michael and Kimberly Sheehey.
"We love it. It is great," said Mr. Sheehey, executive vice president of new business development at NBC Sports.
Mrs. Kimberly, a consultant for Comcast, was also impressed by the performance.
"It is beautiful, beautiful," she said.
Shen Yun was established in 2006 with a mission to revive 5,000 years of divinely inspired Chinese culture. Since its inception, the company has become a global phenomenon, and now tours to over 100 cities in 20 countries each year.
At the core of Shen Yun is classical Chinese dance, and the company features many award-winning dancers. 
"Great dancers, the backdrop effects are fantastic, and the music is great," said Mr. Sheehey.
Part of the Shen Yun experience is its signature animated, digital backdrop that takes audience members on a journey to spectacular landscapes from China's rich geography and culture. The backdrops are seamlessly woven together with all other parts of the performance, such as the dance and music.
"I love the backdrop, it is so unique and different, it really draws you into the story," Mrs. Sheehey said.
Shen Yun also tours with a full symphony orchestra. The orchestra is unique in that it combines both Western and traditional Chinese instruments.
Mr. Sheehy described the music as "very soothing."
Reporting by Geng Jie Yang, Frank Liang, and Jasper Fakkert
New York-based Shen Yun Performing Arts has four touring companies that perform simultaneously around the world. For more information, visit Shen Yun Performing Arts. 
The Epoch Times considers Shen Yun Performing Arts the significant cultural event of our time. We have proudly covered audience reactions since Shen Yun's inception in 2006.