A Norfolk, Virginia-based mom and daughter, both in the Navy, have been given the rare opportunity to serve on the same ship.
For the married mom of two daughters, who has dedicated nearly 30 years to the U.S. Naval service, it's the first time she gets to take a piece of her family with her during at-sea training.
Master Chief Logistics Specialist (LSCM) Tanya McCray was posted aboard USS Gerald R. Ford (CVN 78), as the chief petty officer of the supply department, to attend the second iteration of the newly built vessel's Full Ship Shock Trials. Using live explosives, the trial commenced on July 16, the U.S. Navy said in a statement.
Tanya's 25-year-old daughter, Logistics Specialist Seaman (LSSN) Racquel McCray, was reassigned to a temporary post on the very same vessel when her ship, USS George W. Bush (CVN 77), entered Norfolk Naval shipyard for maintenance.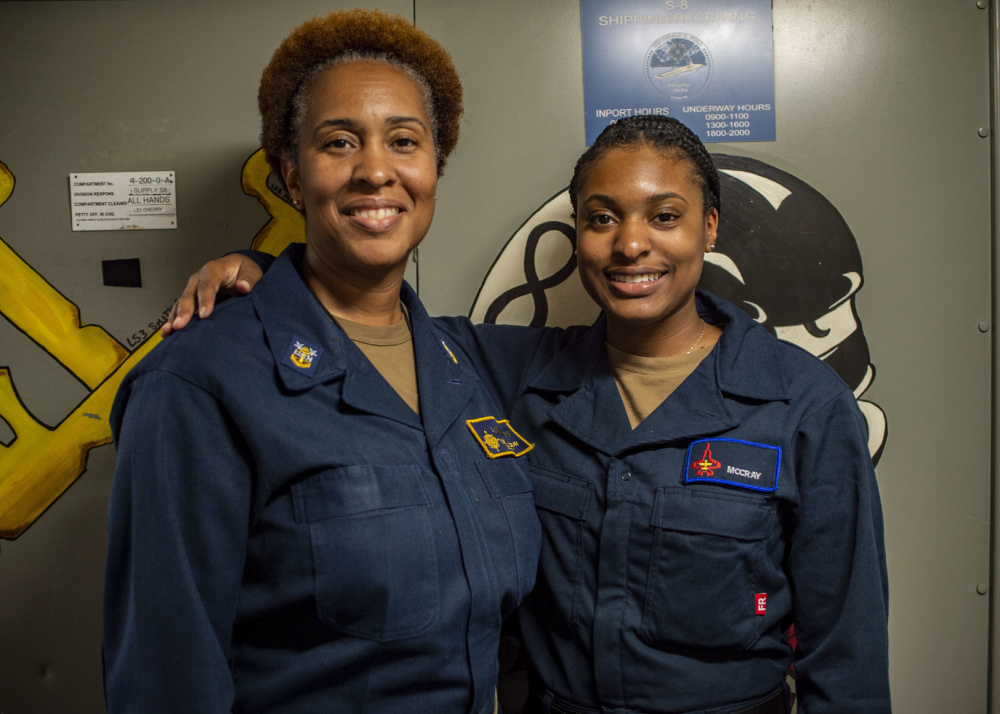 Beyond observing the many daily operations onboard an operational warship, Racquel was able to see her mother in action and witness the respect she commands as a master chief.
"It's pretty cool walking with her," Racquel said in the statement. "Everyone says, 'Good morning Master Chief,' and she greets them, and I'm just smiling the whole way. I feel like a proud daughter."
Tanya said that while she and her daughter love each other, she holds her eldest to "certain expectations."
"I expect her to follow those, but that's only because I love her and want the best for her. I want her to succeed in her personal life and her career," the proud mom said.
"She has huge shoes to fill, and I remind her of that. I want her to be better than me; I want her to set her goals higher than mine were. I know she can do it."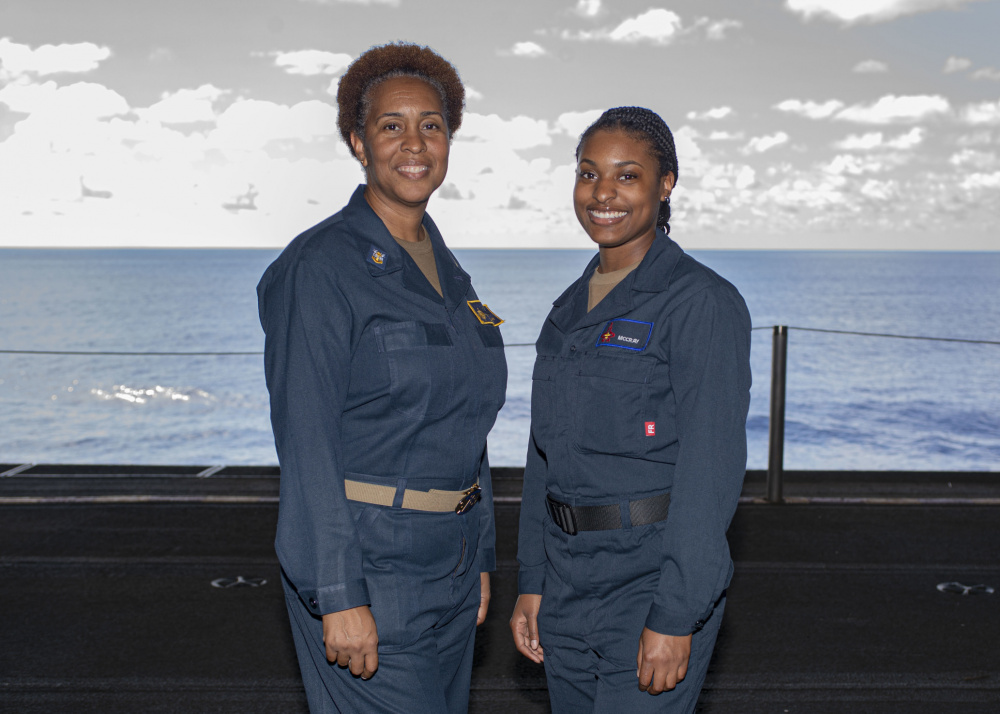 Undesignated when she first joined the Navy, Tanya became a deck seaman and was stationed in Guam until the ship was decommissioned, according to the statement. She opted to attend college to train as a logistics specialist (formerly store keeper, or "SK") and settled in Virginia where she met her husband, now a fellow master chief. Together, they started a family.
Tanya claims she thrives off challenges. Being a dual military family was one of them.
"I was juggling a career with family life and it was hard missing holidays, birthdays, and all those celebrations," she said.
Yet Tanya earned a nickname—"Sea Mama"—for taking care of sailors while sea-bound. "I took those opportunities, since I was away from my kids, to be able to provide that mentorship tutoring to other sailors as well," she said.
Watching and learning from her parents, Racquel knew from the age of 18 that she wanted to join the Navy. She originally wanted to study information technology like her father but was offered logistics instead.
"I knew I wanted to do something my parents had [done]," Racquel said. "I enjoy the LS job, I look forward to the customer service in my job. I worked customer service before while I was in school, so I already feel like I'm good with customers."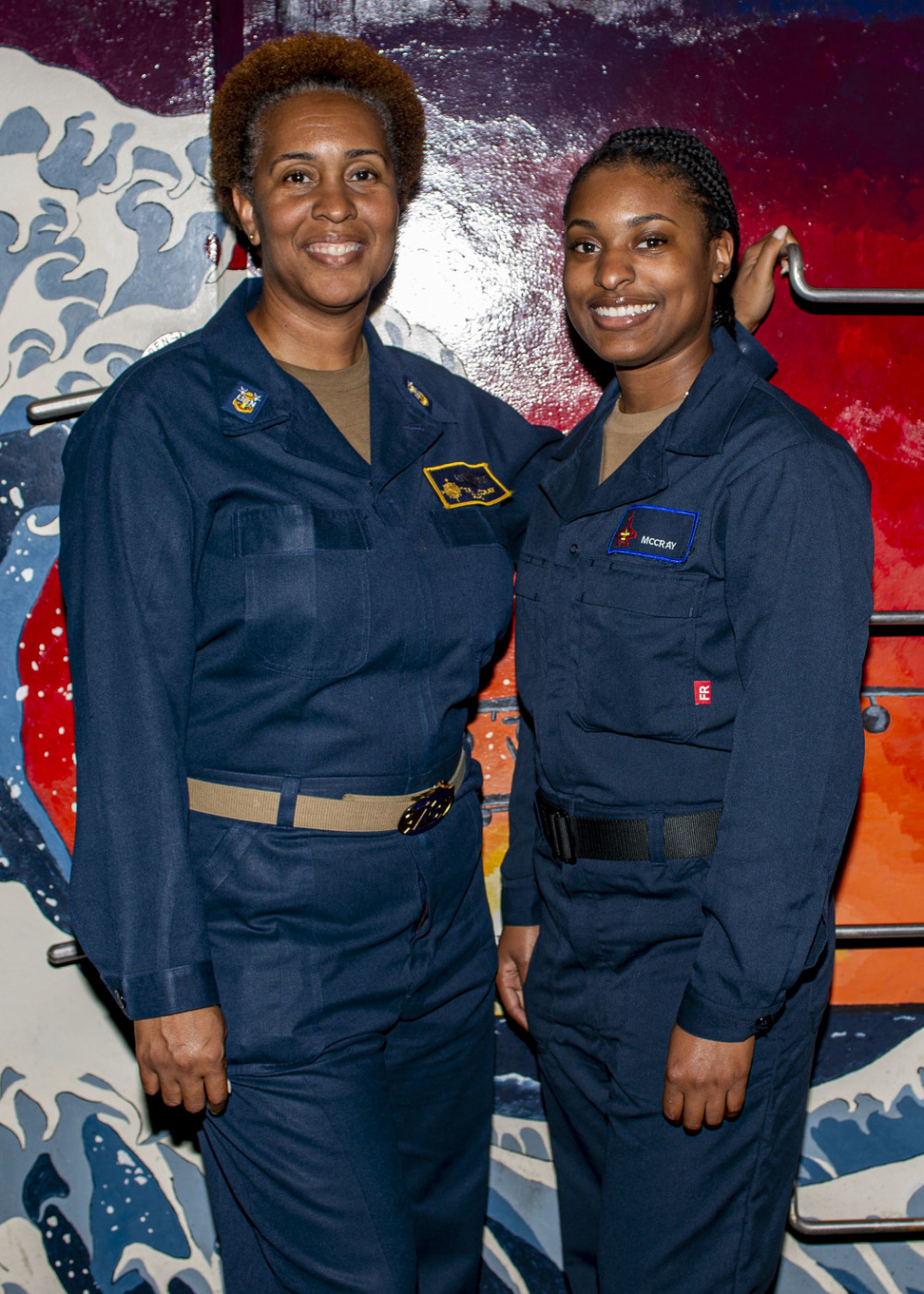 After seeing photos from the first iteration of the shock trials, Racquel knew joining her mother on USS Gerald R. Ford was "an opportunity for a once-in-a-lifetime experience," according to the statement.
"She actually asked me to come on the ship," said Tanya. "She joined the Navy to get those experiences … she talked to her DLCPO [Department Leading Chief Petty Officer] and they made it happen."
Racquel knows she has huge shoes to fill, and she hopes to make a decades-long career, just like her mother.
"It's great, this could be her last underway and it's my first," Racquel said. "For us to be able to spend it together, it's awesome. She's kind of bringing me in, and I appreciate that a lot. I hope I can fill her shoes."
Share your stories with us at emg.inspired@epochtimes.com, and continue to get your daily dose of inspiration by signing up for the Epoch Inspired newsletter at TheEpochTimes.com/newsletter