For photographer Anup Shah from the UK, taking pictures of wildlife is a way of connecting to nature authentically—sidestepping the masks that humans often put on in their interactions. Put off by the narcissism of social media, disenchanted with academia, Anup spends six months of the year going on adventures and connecting with nature through his shoots.
That 35-year passion of his recently garnered Anup the Grand Prize in The Nature Conservancy's 2021 Global Photo Contest.
His photo? A female adult gorilla named Malui in the Central African Republic, who after giving birth to a stillborn baby, and grieving for 48 hours, found solace—even joy—in the midst of a kaleidoscope of butterflies. The gorilla shows an emotional authenticity not often seen in humans.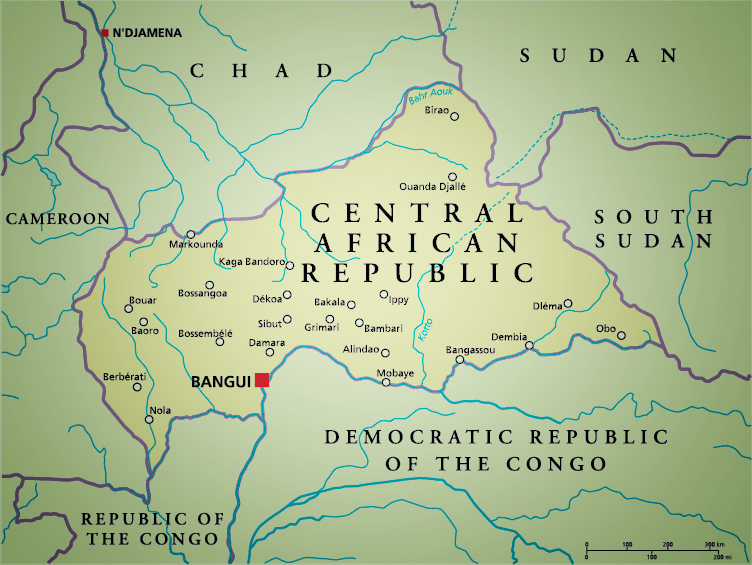 Anup and his fellow expeditioners were on a two-month shoot over December and January in Dzanga-Sanga National Park and were following a family of nine western lowland gorillas and were even getting to know their personalities fairly well.
"Malui struck me as being, moody, morose, unpredictable and emotional," Anup told The Epoch Times of the crestfallen gorilla after having her tragic stillbirth.
He then explained what led to the magical photograph that soon followed.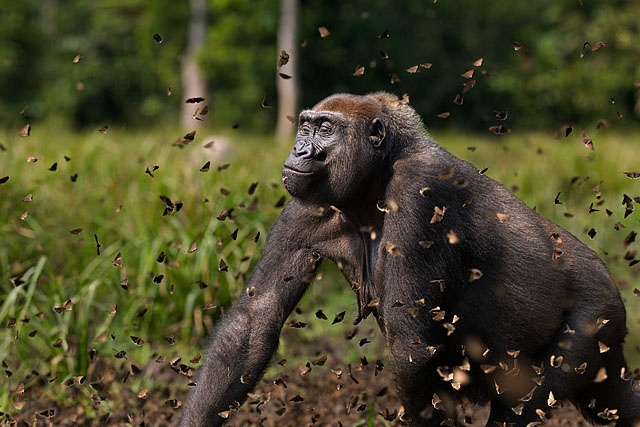 "One day, the gorillas went to a swampy clearing to feed on the succulent plants found there. On this day, there was a mass hatching of butterflies and when Malui spotted them, a gleam appeared in her eyes," he said.
"I noticed this together with her body language and quickly positioned myself behind the butterflies, choosing as pleasing a background as was possible.
"I had a canon 200mm lens on a canon camera body mounted on a monopod, and I chose a high shutter speed.
"Then, I waited."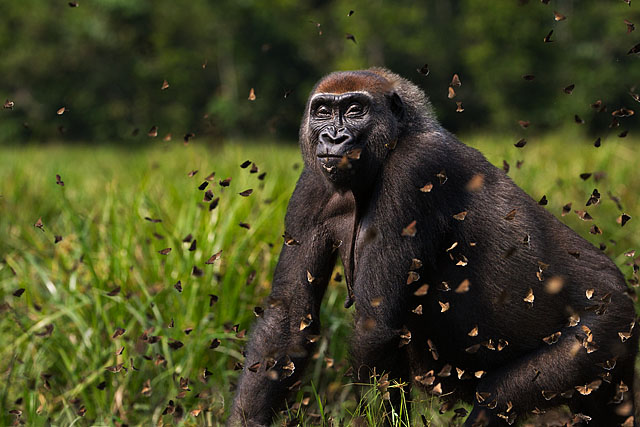 Anup continued, "Malui came running through the thickest section of the swarm, wearing an expression on her face that I had never seen before. I think she was having fun, relishing the feel of the butterfly wings lightly brushing her face."
After taking several photographs (including what would become the contest winner) Anup confessed feeling elated. It was something rare and lovely that he had witnessed.
"At first, it was difficult for people to believe what I had seen. However, when I processed the photograph without any special techniques and showed it to people, my credibility was restored," he shared.
Winning the Grand Prize of The Nature Conservancy's international photo competition lends Malui, and by extension western lowland gorillas, a voice when they would otherwise have none, he added.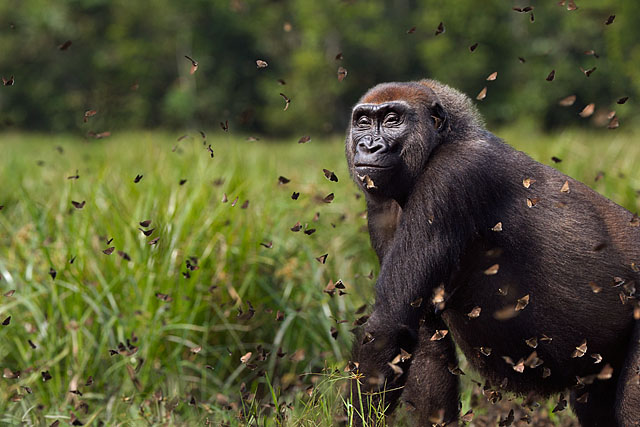 "Looking back, I was lucky that the sun that morning was not too bright," he added. "A harsh sun reduces detail and texture in a photograph. Ideally, I like to work on overcast days to bring out the full range of colors and hues."
The photographer, who was born in Nairobi Kenya to parents who migrated from Gujrat, India, spent much of his childhood outdoors before attending university in the UK. He often took "rubbish photographs" of animals before intentionally getting into wildlife photography more seriously. He's since won a number of competitions and published several books.
"I have learnt that life is a contingent thing and all you can do is place a bet," he shared. "I have very basic needs and I have been able to spend, on average, six months per year in the wild most of my life. For that, I am very grateful."

Anup is delighted to hear people expressing surprise upon seeing the emotion of joy in Malui's face. While many have ordered prints of that blissful scene, Anup said he was just pleased to be "validated as someone who can take good photographs."
Anup Shah's book "The Mara" features the stunning black and white wildlife photographs he's become known for and is available on his website: Anup Shah Fine Art Photography.
Share your stories with us at emg.inspired@epochtimes.com, and continue to get your daily dose of inspiration by signing up for the Epoch Inspired newsletter at TheEpochTimes.com/newsletter