"Who steals my purse steals trash. But he that filches from me my good name robs me of that which not enriches him and makes me poor indeed." This quote from "Othello" begins "My Reputation," and it is a strong reminder of how our conduct, even if well-intentioned, can affect others.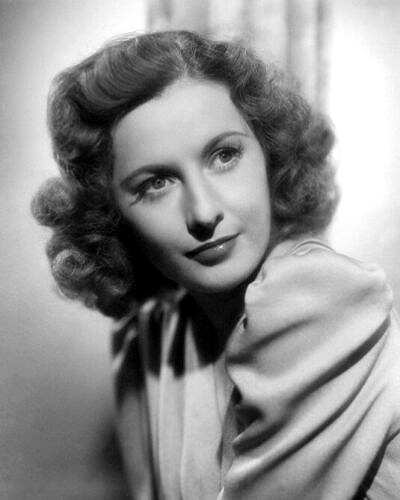 Jessica Drummond (Barbara Stanwyck) has just lost her husband. They had two sons together, who are now 12 and 14. Family lawyer Frank Everett (Warner Anderson) is a good friend and real comfort during this difficult time, but Jessica's mother, Mrs. Kimball (Lucile Watson), on the other hand, just wants to tell her what to do. Kimball seems more concerned about following conventions than about her daughter's happiness.
When Jess's sons go to boarding school, she becomes terribly lonely. Her friend Ginna (Eve Arden) invites her to spend the winter at a cabin with her and her husband (John Ridgely).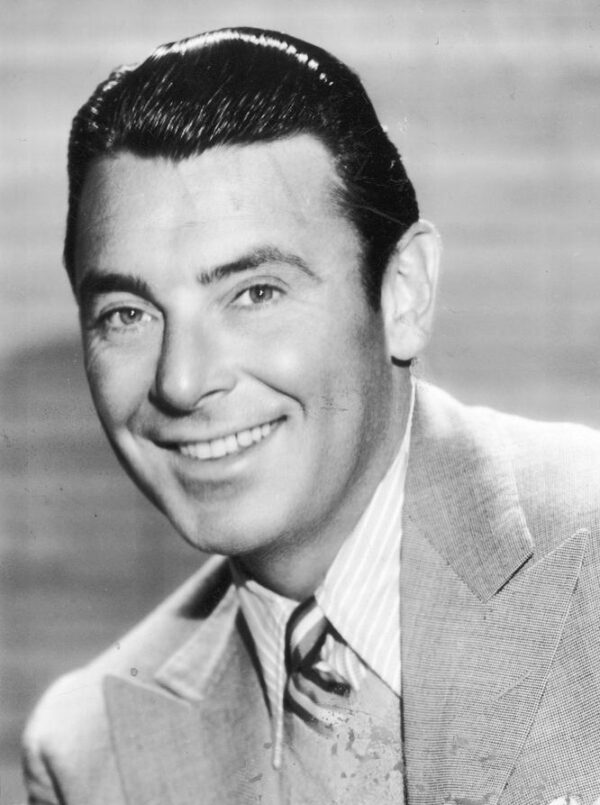 While out skiing one day, Jess meets Maj. Scott Landis (George Brent). They take an immediate liking to each other, but after she resists his romantic attentions, he abruptly leaves. Back home, she eventually hears that Maj. Landis has been stationed nearby. She arranges to "coincidentally" see him at a nightclub, where they resume their acquaintanceship, and then begin seeing each other regularly.
Although their relationship is entirely wholesome, local gossips quickly begin rumors about them. Jessica's mother cautions her against defying the convention for widows, but the mounting gossip just makes Jess want to ignore her so-called friends' criticism of her behavior. Eventually, she must decide whether to follow a shortcut to happiness or traditional virtues of femininity and selflessness that bring a more harmonious outcome.
A Different Reputation
Barbara Stanwyck is often remembered for her controversial roles in Pre-Code films, early talking pictures released between 1930 and 1934. Although the Motion Picture Production Code (commonly called the Hays Code) was officially adopted by the Motion Picture Producers and Distributors of America (MPPDA) in 1930, it wasn't effectively enforced until 1934, when Joseph I. Breen headed a new branch of the MPPDA: the Production Code Administration (PCA).
The earlier, unregulated time was Hollywood's Old West, when filmmakers shot it out for Depression Era audiences' tickets, using shock value as ammunition. Although the chief motivation behind this marketing impropriety was selling tickets, many modern film buffs tout Pre-Code films as daring trailblazers in American entertainment. In contrast to Code films' restraint and emphasis on decency, some find Pre-Code standards (or lack thereof) appealing. Some celebrate the female characters in these movies, who defy moral rules and societal conventions to get ahead. Barbara Stanwyck brought some of these most infamous characters to life, including Lily Powers in "Baby Face" (1933).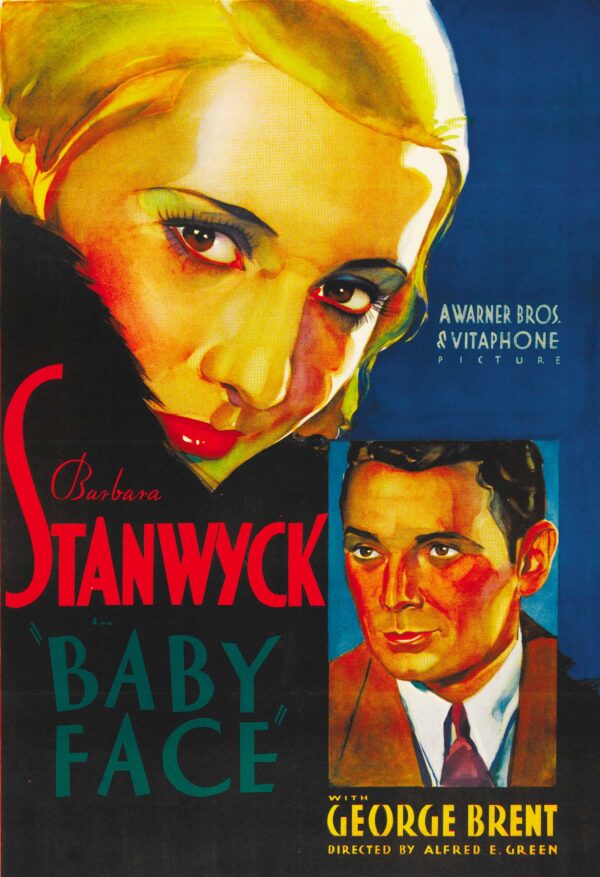 "Baby Face" based its promotional campaign on advertising its heroine's bad reputation, using tag lines like "She stopped at nothing and made 'IT' pay" and "She climbed the ladder of success—wrong by wrong!" Barbara Stanwyck's suitability for the part was emphasized by the tag line, "Played to perfection by the only girl on the screen who isn't afraid to let herself go, BARBARA STANWYCK."
Filmed only 11 years later with the same actress and same leading man (George Brent) at the same studio, "My Reputation" presents a very different story. Because it is a Code film, this film shows that flouting conventions is not liberating; moral rules exist for a reason.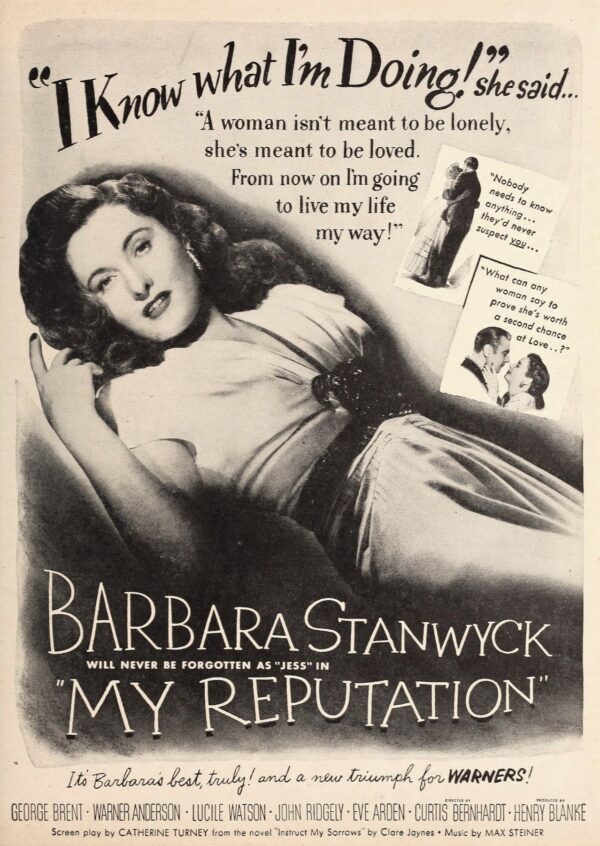 A Woman's Reputation
Pre-Code women like Lily Powers are now praised as strong, empowering female characters. Ignoring traditions and conventions, these women used their bodies, wiles, and cunning to get anything they wanted, including money, possessions, and other women's husbands. They defied moral conventions of previous generations, with the implication that promiscuity was the modern way. Although not all Pre-Code bad girls lived happily ever after, they rarely faced the consequences that would undoubtedly have befallen women who behaved thus in the 1930s.
In contrast, "My Reputation" shows the consequences of innocent yet indiscreet behavior. For example, Jess ignores her better judgment by visiting Scott's apartment. They quickly decide to go to a restaurant, but not before being seen by one of her mother's friends. Before long, everyone in town is talking about the romance between the young widow and the handsome soldier.
The gossip does not merely stay in whispers, however. It quickly escalates to the point of making her a social outcast. Society's "holier than thou" attitude grows increasingly hypocritical to Jess, who feels spurred toward rebellion by her judgmental friends' suppositions. However, when her sons hear and believe the rumors, she realizes that a sullied reputation also has consequences.
At the center of this conundrum is Jess's mother. From her first appearance, we believe that she is a domineering woman who treats her grown daughter like a little girl. Her adherence to convention goes beyond logic and consideration for others, especially concerning Jessica. Her actions seem to demonstrate that her bereaved daughter has no right to try to create a new life for herself if that might defy proper behavior for widows.
Are Happiness and Convention at Odds?
Following one's heart is a common theme in entertainment. In Golden Era movies, as in more modern pictures, happiness and love are depicted as more rewarding pursuits than fame, fortune, and other worldlier forms of success. However, in Code films, happiness could only be enjoyed if achieved by honest means, and love that is pure alone is glorious.
"My Reputation" follows these standards of traditional morality, putting motherly responsibility above the romantic notion of doing what makes one feel good. When Jess learns that Scott is being deployed to New York and then overseas to fight in World War II, she decides to accompany him to New York so that they can be together as long as possible. Although Jess and Scott would never have an immoral relationship, their going together would give the appearance of one.
When Jess has finished packing, she realizes that her sons, who heard gossip about their mother at a party that night, have run away. She follows them to her mother's house, where she explains to them that her love for Maj. Landis doesn't lessen her love for their father. Meanwhile, they make her realize that her impending trip is wrong: It confirms all the vicious rumors they've heard, and would do so for everyone else as well.
At this point, we realize that Jessica's mother has had good intentions all along. She sympathetically congratulates her daughter for doing the right thing, saying, "It's hard to do what is right sometimes." Mrs. Kimball wisely sums up why convention and traditions are so important, even if following them is painful: "Young people resent conventions, but as you grow older, you'll realize that conventions were established because there was need for them."
This movie shows that the Motion Picture Production Code was very much like conventions. Its rules were similarly established because there was need for them. As a result, it presents an inspiringly feminine and traditional heroine, who is decent, considerate, and generous, putting her motherly duty first. She is a female character I find truly empowering.
Tiffany Brannan is a 19-year-old opera singer, Hollywood history/vintage beauty copywriter, film reviewer, fashion historian, travel writer, and ballet writer. In 2016, she and her sister founded the Pure Entertainment Preservation Society, an organization dedicated to reforming the arts by reinstating the Motion Picture Production Code.