This is my Heraklion: I wake up and after all the usual morning routines I cross the street and greet the baker whose eyes are so disturbingly blue that turquoise makes no sense. Her son has the same eyes, and they contrast beautifully with his tan and a perfect smile. Then, mother and son say "Kalimera"—which is "good morning"—all so normal, but when it's said with so much joy of life, it's pure logic and it makes your day. I buy the usual – cheese pie, loukanikopita (possibly the equivalent of a "pig in a blanket"), donuts, and bread so white and fluffy you'd think you are biting into air. I get some other baked goods on the house, because, you see, while it's customarily OK to tip on Crete, the norm is for them to show how much they appreciate doing business with you by giving you a small complimentary token. And they are very generous about it.
Heraklion may not be fascinating for tourists in its residential parts, where traffic jams happen, and scooters zoom by unexpectedly, but it's epic. There's nothing more deeply honest and authentically Cretan than these neighborhoods where kafeneío (cafe) culture rules and small mom-and-pop mini-market owners welcome you with an open smile and that jolly kalimera that sounds like the strums of the lyra.
Heraklion, with its melodic name derived from Heracles, must be of celestial descent. Granted, it only appeared on the map in the 820s, thousands of years after the glorious rule of the Minoans at Knossos, but it's the throbbing heart of the island. There must be a reason why Cretans cluster around the Morosini Fountain after they walk all the way up the 25 August Street from Koules—the Venetian fortress guarding the Old Harbor—past the fish market, and then lazily browsing from one souvenir shop to the next, until they reach the most happening square in town. As rich and deep as the history of the plaza goes, sometimes, I think it's just the bougatsa.
Bougatsa is either a cinnamon-powdered semolina phyllo-pastry dessert or a savory snack—and that's what makes it so appealing to different people. It's a foodie must-try in Heraklion, and Philosophíes serves wonderfully melt-in-your-mouth bites. Literally nothing—but nothing—beats its location.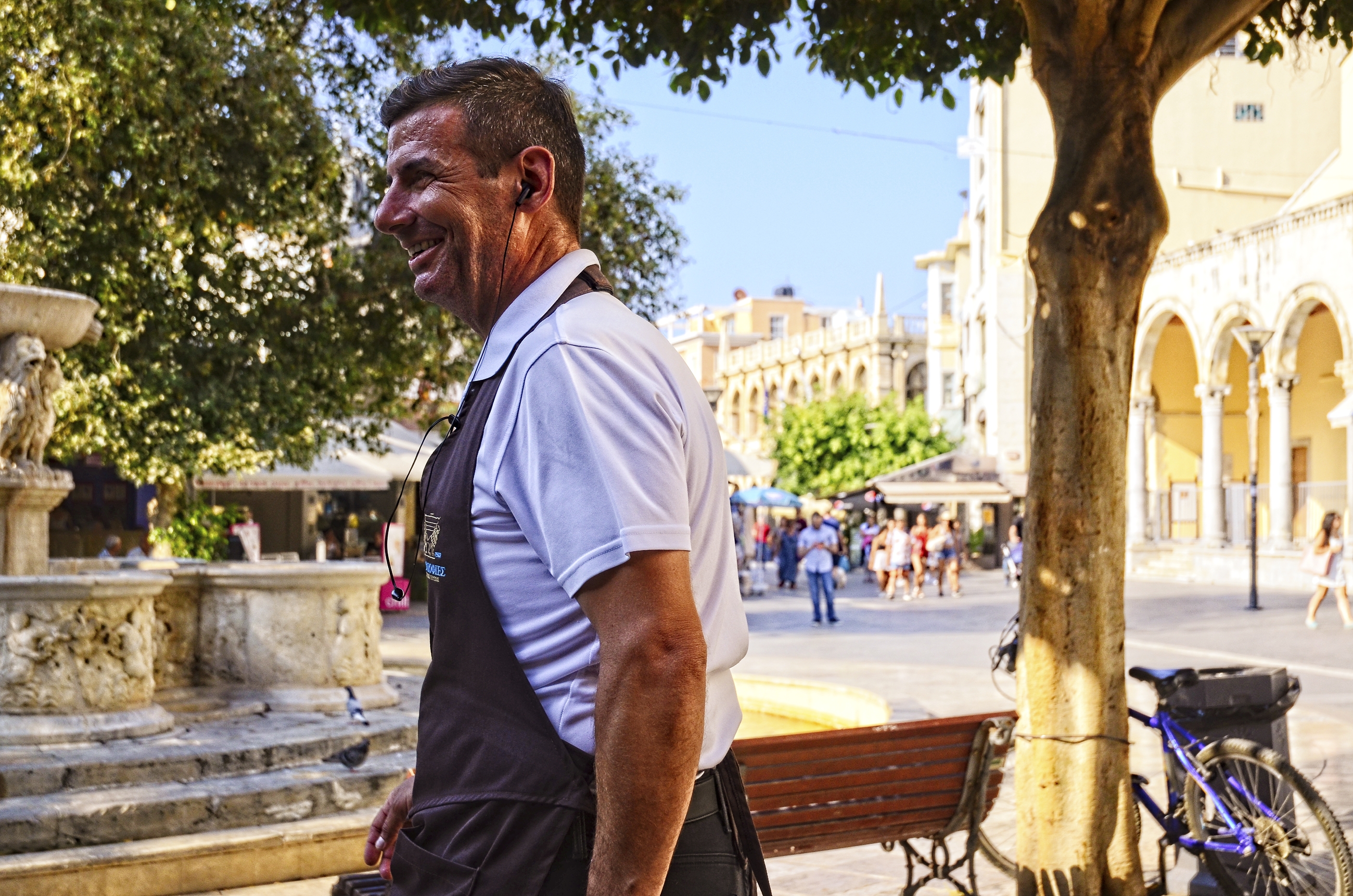 The Morosini Fountain is one of Heraklion's cherished city symbols. If you are a first-time visitor, you'll notice the architectural features; they are reminiscent of so many Italian artesian landmarks. It's Venetian, after all, named for Francesco Morosini, the Dodge of Venice and Duke of Crete who ordered it built to bring fresh water to the city from the countryside. The Loggia across the street is a Morosini too. But maybe you are not here to reminisce about Heraklion's rich and glorious Venetian past. Whatever brings you here, the Lions Square is quintessentially Cretan: all surrounded by taverns, loud, and busy, with people rushing on or strolling by from all directions, not counting the five-minute rotation of beggars interrupting your meal often enough to make you a little uncomfortable but not enough to leave. You'll understand the appeal of the site soon after you sit down and the waiter brings to the table a glass of fresh water.
"I didn't order this," you think if you are a first-time visitor. The complimentary glass of ice-cold water is a common courtesy in the summer. You'll get it everywhere, from the neighborhood tavernas to the central kafeneío. Every establishment worth a salt will welcome you with a glass of fresh water. As far as taking your order any time soon … well, that's another story. There's always a waiter or a maître d' of sorts in front of the tavern rushing to lure you in, but when his job is done, the service provided by the rest of the staff is not always up to par—it doesn't matter where you go.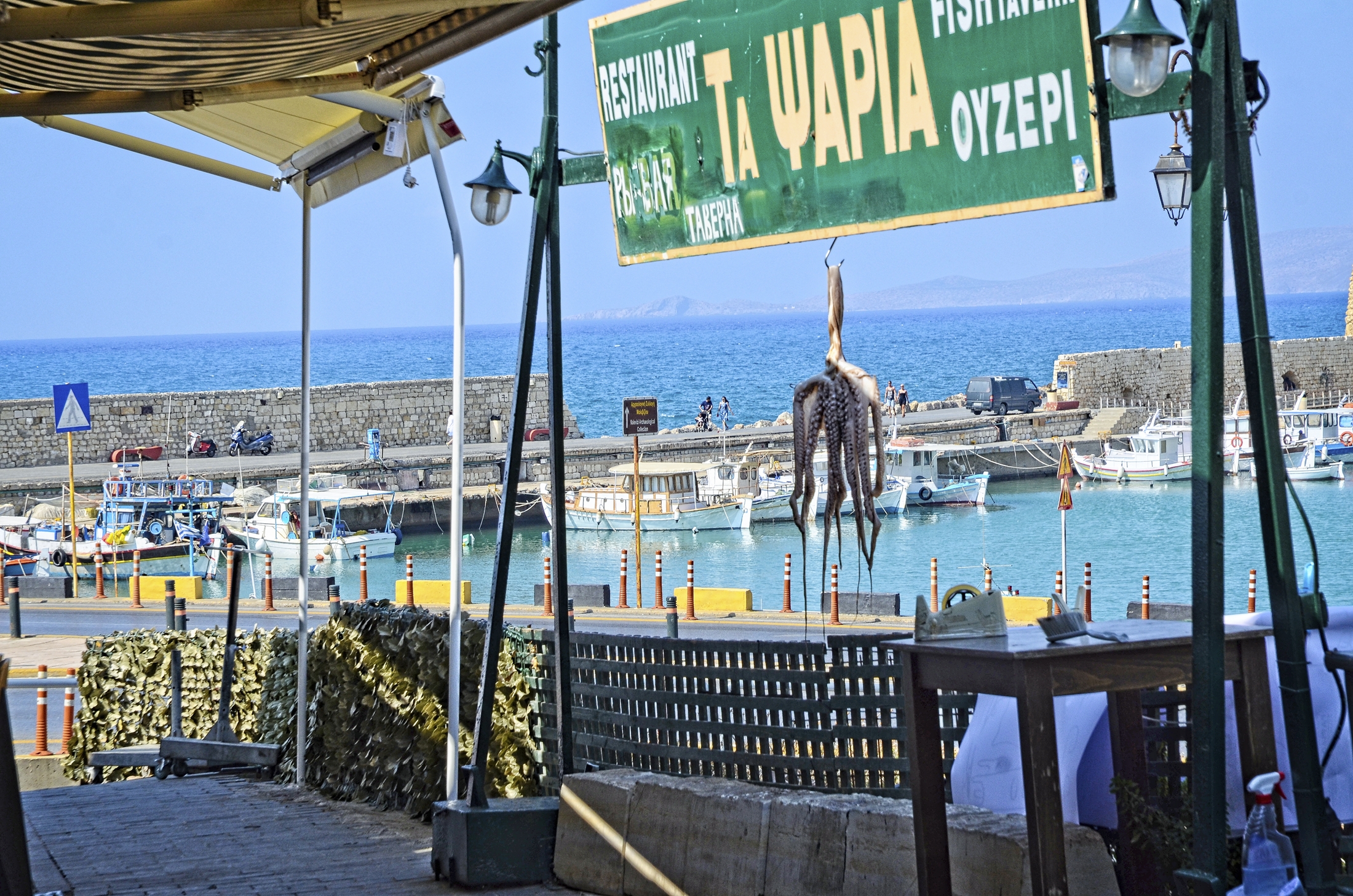 It may be annoying for some, but I favor the Cretan "siga siga" (slowly-slowly) philosophy. Waiting gives me time to notice the little toddler wobbling behind a pigeon; young teenagers with Rapunzel-like hair rushing to catch the next sale; and the elderly couples walking hand in hand, their heads facing upwards to contemplate some architectural details no one else cares about. Nothing beats people watching at the Morosini Fountain.
There's an intoxicating vanilla aroma in the air from the several cafes and vaflaki (waffle) shops around. You'll also see huge stray dogs with eyes like icons. They are not dangerous, and contrary to what you may believe, they don't live unhappy lives. They are a part of life here and people—shop owners, residents, and even tourists—care for them deeply. These large beasts are uncannily meek, but they go crazy when cats cross them. Ordinarily, you will not see the Cretan cats around the strays.
From here I go shopping. I can hardly resist the souvenir boutiques lining the avenue left and right along the way. The aggressivity of the sellers makes me cringe: for how do you say no to that kalimera I told you about and their bright eyes and smiles? And, they will always give you "a special deal, just for you."
There's nothing I need in a souvenir shop, but I usually end up buying an overpriced olive wood spoon or a kitchen cloth just because these people are so intoxicatingly kind, cheerful, and friendly. Somehow, I make it through the tourist area, and I find the "normal" local shops, where Heraklion residents happen to spend long minutes touching every item of clothing or looking for the special deals. Watching them is a lesson in courtesy and propriety. These are also the best shops: they have loads of made in Greece items that are not priced for tourists.
There are also scores of second-hand stores selling garments for something in-between 2 and 5 euros each. If you are into vintage—and I love my vintage—there are so many unique treasures on these shelves. You just need time and patience to search, albeit you may not always get lucky. This is OK, and if you still feel like spending a small bill, the perfume shops peppered around the city will sell you counterfeit fragrances for pennies per bottle. Unless you have the nose of a bloodhound, the scent will fade in about an hour or so.
I end my day with a stop at Ielektra's mini-market. Maybe I'll be buying locally-grown avocados that are as small as a baby's fist or oranges and lemons for juicing. This stop is another highlight of my day; Ielektra owns the shop, but now she's pregnant, and her brother, Mihalis, takes care of business. He doesn't speak English, and, as you guessed it, I don't speak Greek. And here come the kalimera, the smiles, the "parakalo" ("please" or "you are welcome" depending on the context), and the point-at-it-if-you-cannot-say-it habits that make life in Heraklion so deeply personal and fun. You'll want to buy at such a mom-and-pop mini-market and not from the chain supermarkets because the service is better, and the produce is fresh and comes from local farms. Plus, there's something spiritual about interacting face to face with Cretan people.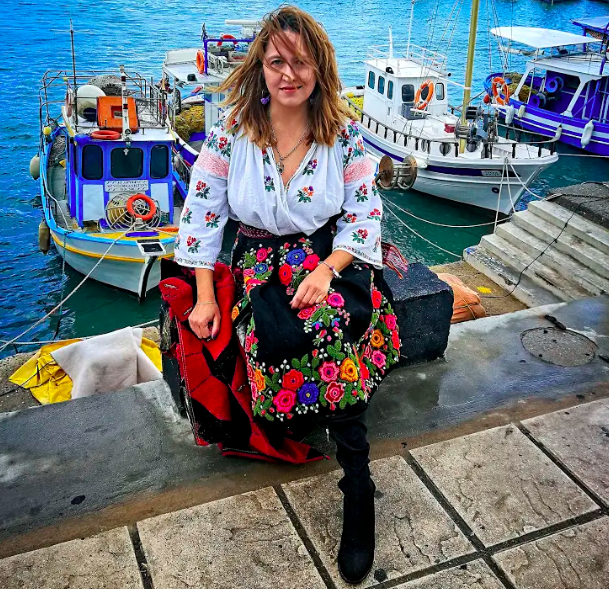 My Heraklion is larger than life, strong, vibrant, and loud. It's my neighbor's laundry hanging off the rail of her balcony out in the open where we can all see her towels, underpants, and fancy dresses. Heraklion is the colorful bougainvilleas annoyingly clawing at walls and fences like weeds that learned a trick or two to make us believe in the magic of fuchsia. This city is the restaurant around the corner, where you can eat until you burst for 15 euros including drinks while tourists pay 50 euros at Peskesi. My Heraklion is also Thanos, the taxi driver who brings my mom from the airport every time she comes to visit and doesn't charge me a dime. Because you don't make mommas pay.
My city has a big heart but if you don't open yours, you may miss its beating warmth. My city is walking barefoot on the beach and taking in that air that brings back a decade of life wasted adulting. It's swimming until your face scorches under the sun. To understand Heraklion, you must learn to understand "siga siga"—that "take it easy" or "slowly slowly" philosophy that opens your eyes to the magic of the moment. Get off the beaten path, smile, be open, and don't forget "kalimera" and "parakalo."
A former military journalist, Mihaela Lica-Butler is a senior partner at Argophilia Travel News. Besides her work as a PR pro and travel journalist, she spends her time writing children's fairy tales and cookbooks.