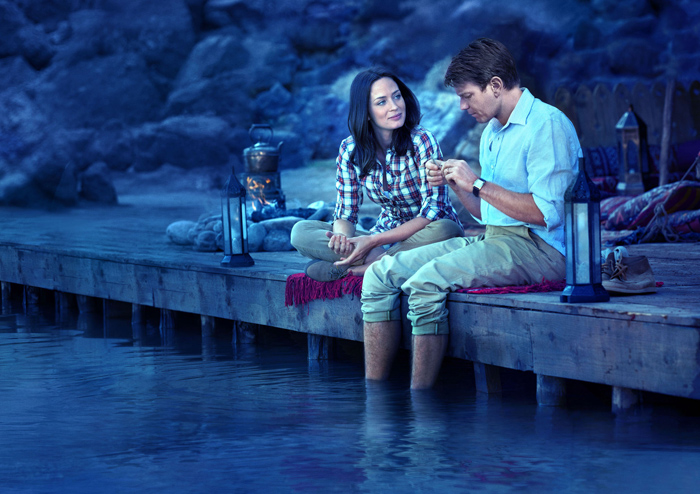 A current New York subway poster advertising the lottery shows a Boeing747 that has "Kevin's Airline" stenciled on its side, with a huge photo of Kevin's face on the rear stabilizer fin. The caption reads, "That kind of rich."
A wealthy sheik, upon falling in love with cold-water fly-fishing on his Scottish estate, decides that he'll just construct himself a convenient fly-fishing river, smack-dab in the middle of the Yemen Desert—his homeland. What would you call that?
"That kind of rich" could have been the title of the wonderful new comedic drama from Lasse Hallström, "Salmon Fishing in the Yemen." However, it's not about the squandering of monetary wealth, as it first appears to be. It's about the project as a concrete manifestation of the sheik's deep and poetic understanding of faith.
When the British military inadvertently blows up a mosque in Afghanistan, the prime minister's top spin doctor, Patricia Maxwell (Kristin Scott Thomas), immediately orders her spin team to dig up "a good news story from the Middle East." Said story is to be exploited into a warm and fuzzy diversion of public attention away from said mosque fiasco.
The sheik's intention to reconstruct his beloved salmon-fishing milieu in the Yemen Desert is quickly sniffed out. He claims that, more than anything else, it's an offering of healing, peace, and spiritual uplifting for his troubled people. Warm and fuzzy perfection!
Uptight scientist Fred Jones (Ewan McGregor, never better) is a fisheries expert. Spin-doc Patricia saddles him with overseeing the salmon fishing project, to which he is at first vehemently opposed due to its staggering on-the-page logistical and scientific impossibility.
Aided in his initial foot-dragging efforts by the sheik's comely representative Harriet (the lovely Emily Blunt), Fred soon finds himself eventually swayed by the sheik's infectious charm, warming to the plan and warming also to Harriet.
The sheik, charismatically played by Amr Waked, whom producer Paul Webster considers "the George Clooney of the Middle East" (according to the press notes), is a man of moral stature, a philosopher, and a keen observer of life. As he ruminates, "Fishermen only care about patience, tolerance, and humility." Possibly he hopes the Yemen locals will benefit from such a mindset, since we see them constantly patrolling about with AK-47s and yelling a lot.
The acting in the film is all-around stellar. It's a cast of stars who excel at both comedy as well as drama, and Amr Waked is a revelation.
Lasse Hallström, who's helmed such films as "What's Eating Gilbert Grape," masterfully steers the subtle and very funny rhythms of European humor. He also engineers very moving dramatic scenes between the male and female leads, capitalizing on their powerful chemistry.
Hallström also underscores the film's theme of the power of faith with various interchanges between no-faith Fred and the faithful sheik. For example, Fred's fishing fun—standing in a stream for hours on end, waving a stick with no guarantees—is pointed out by the sheik to be faith-based.
Furthermore, there's the example of the dilemma of stocking the salmon run with farmed fish, which most likely lack their original wild instinct to head upstream to spawn. Fred's hunch that it's still deeply in their nature to "run," is pointed out again as being an act of faith.
Finally, the entire apparently cockamamie project is one huge act of faith. What else could it be? There are always setbacks, but one must demonstrate faith by persistence. At one point, the sheik wonders aloud, after a setback perpetrated by angry countrymen who don't yet understand his vision, whether his project glorifies God or man.
We already know. We've seen the warmth of his hospitality, the depth of his philanthropy, the extent of his faith, and know his grand gesture to have enriched our lives. We know it by the laughter, the tears, and the renewed faith in humanity's goodness we feel.