Meet Titanium, the Handsome Silver-Haired Stallion Who Has Become a 'Superstar'
Meet Titanium, a trained stallion so uniquely stunning that he's become the most in-demand horse of his breed in Russia. The photogenic horse is also a star on social media.
A purebred Gypsy cob, or "tinker," Titanium was bought in England to pair with the mare of a 30-year-old horse trainer, Arina Libontova, in 2017.
Born in Kemerovo, Siberia, Arina currently trains three horses, and Titanium, she says, is the most titled and coveted of Russia's four registered tinker studs. There are 60 tinkers in the country, in total.
"Everyone loves a clean white horse," Arina told The Epoch Times. "He is a superstar and he knows about it."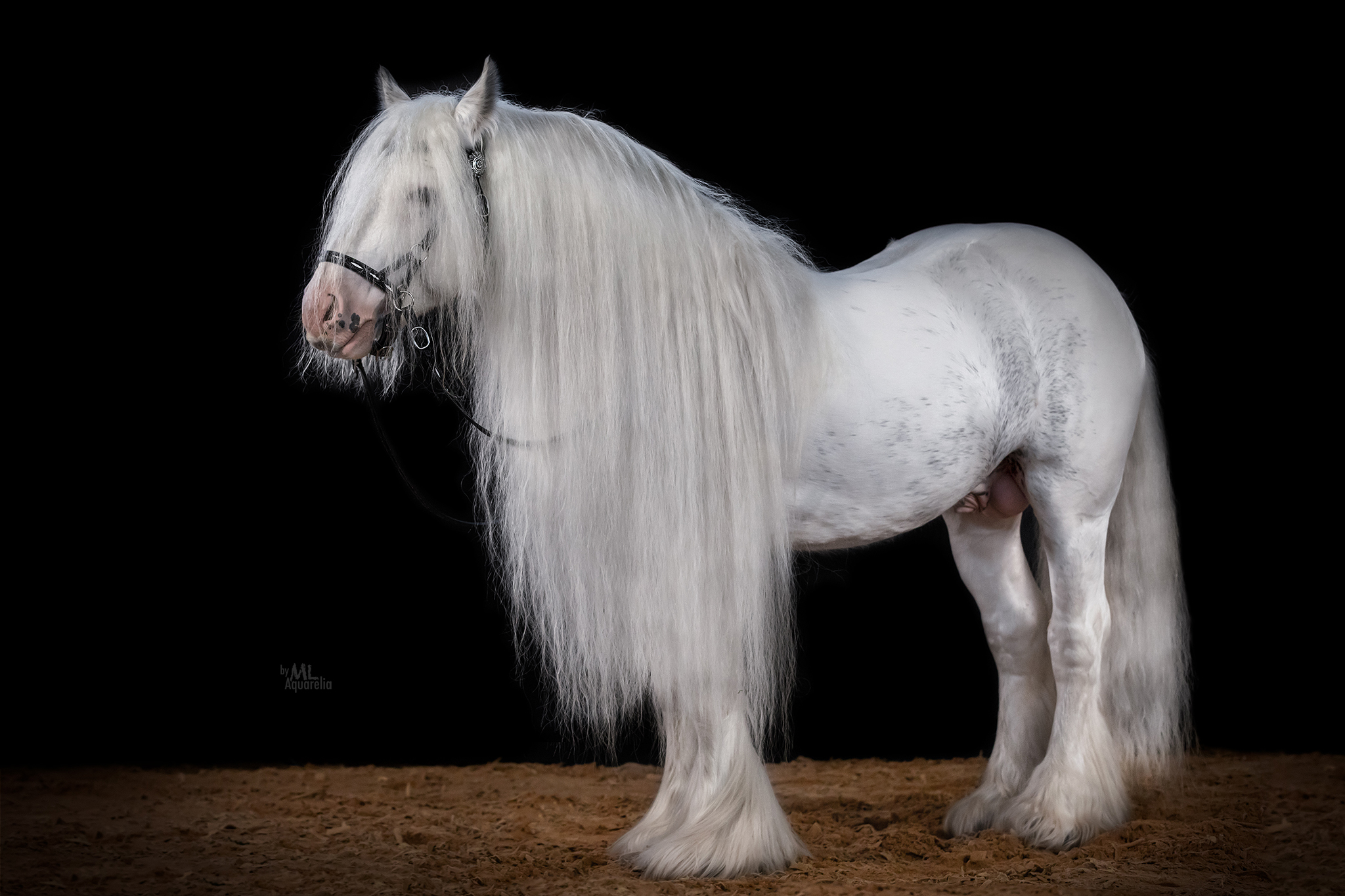 Now 7 years old and measuring 142 centimeters (56 inches) in height at the withers, Titanium stands out for his rare white-silver sabino coat and long flowing mane. The stallion cuts a dashing figure and has a thriving career as a model on film and in photo shoots.
Arina shares Titanium's growing portfolio on Instagram, where he has amassed a huge following. He has also warmed to the camera, so Arina has noticed something extra special about the feisty stallion.
"The photographers and I began to notice that Titan behaves much more carefully with children than with adults," Arina posted, sharing a portrait of Titan nuzzling a baby boy on Instagram. "Did he suddenly realize that little people are human 'cubs,' and not just people of small stature?"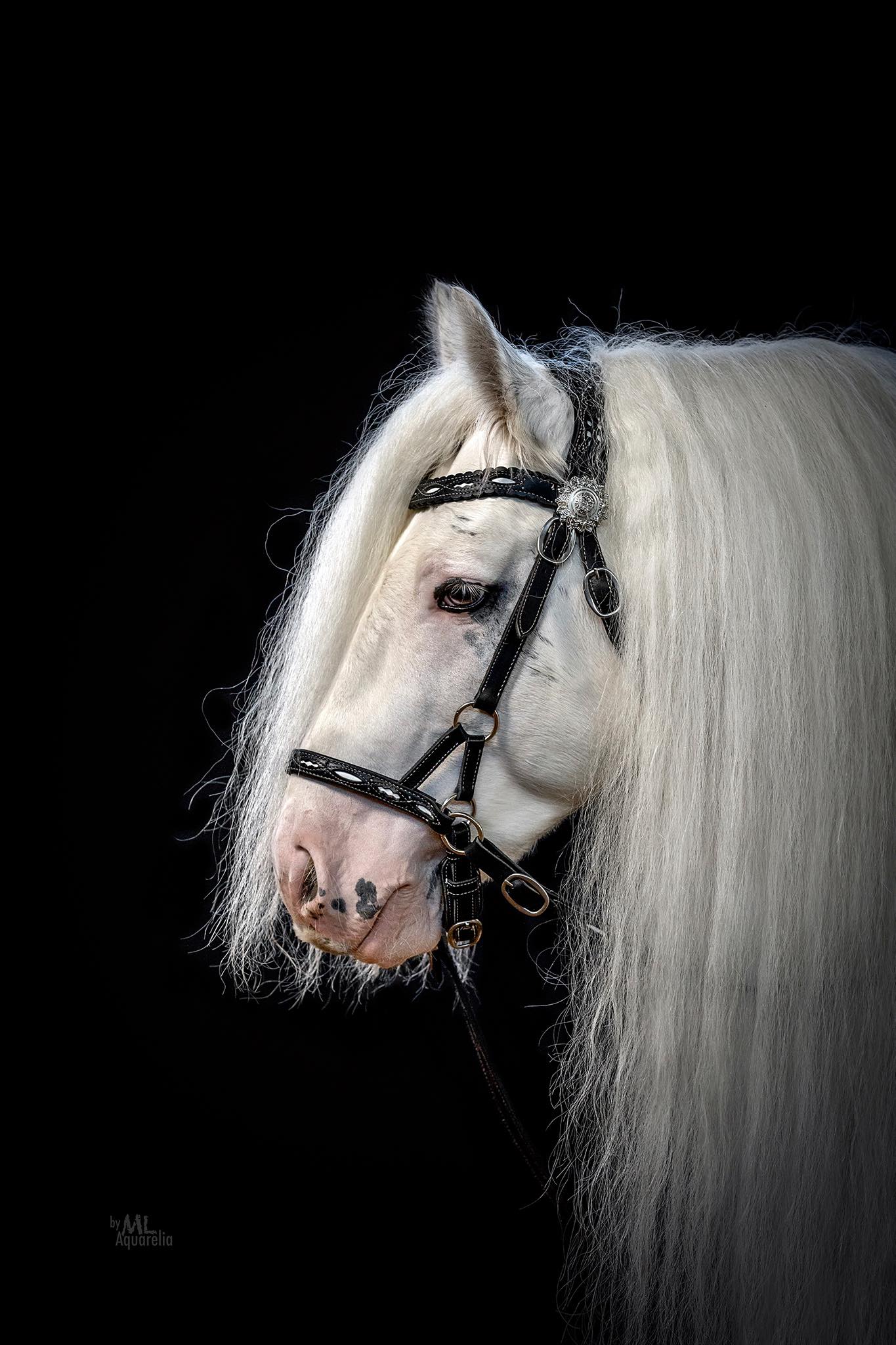 Arina's first experience in the saddle was a horse ride at the Kemerovo Circus when she was aged 2. At 7, she took up horseback riding. But when her first horse, a half-breed foal named Dar, passed away suddenly, Arina was heartbroken. She retreated from the world of horses and became a dog owner, instead.
"For a while, it became easier for me," Arina explained to Russia's MK Kuzbass. "But horses were seen everywhere: pictures in books, roles in films, here and there girls riding horses. After a couple of years of torment, I decided to buy a second horse."
Arina shared her adventures with her second horse, Tamerlane, on social media and gained a huge following. Then, tragically, Tamerlane passed away after a freak accident that damaged his hind legs. The loss sent Arina into a deep depression.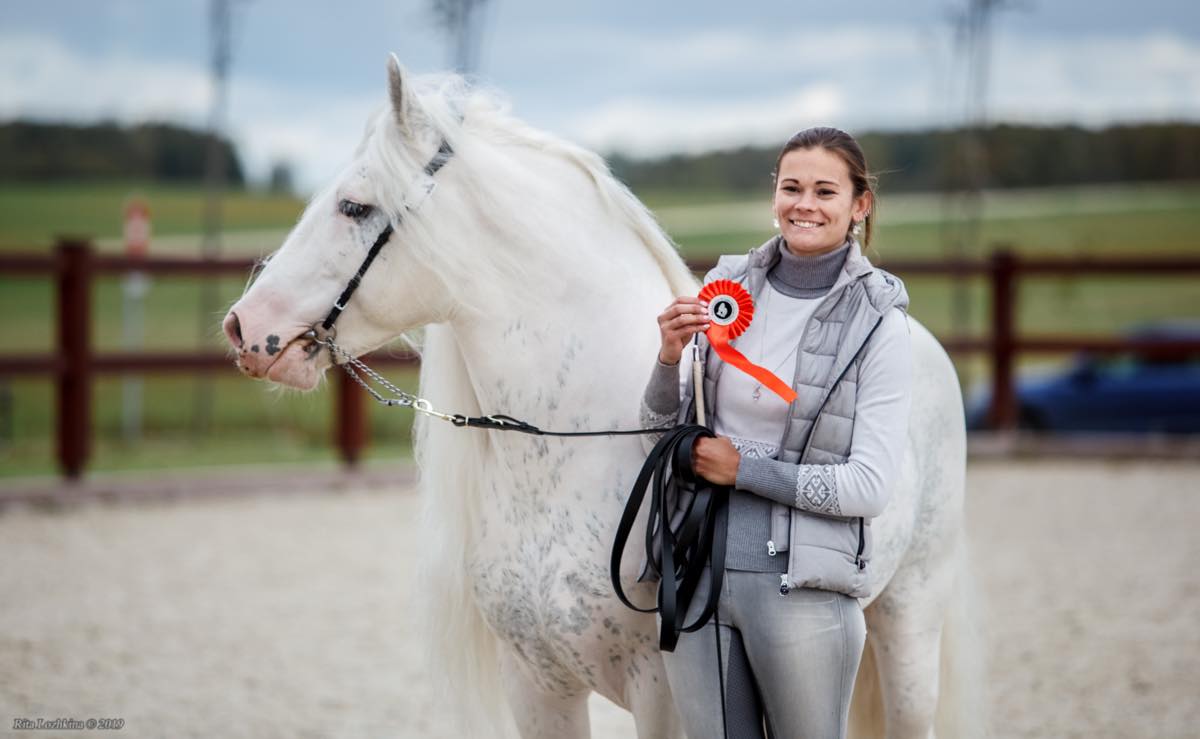 She then spent three months in the tiny German village of Stauf, Bavaria, healing through working on her friend Lilia's horse farm. Here, Arina became acquainted with the tinker breed, a stocky, powerful horse with a long wavy mane and long hair on the lower legs.
The smart, good-natured tinker stole Arina's heart. She bought a black and white mare, Elune, and returned to Russia. When the mare had acclimatized, Arina went to find her a mate: Titanium.
With just one look at his photo, Arina decided to bring the then-2 1/2-year-old Titanium from England.
Arina's community was not impressed by her imported "hairy horses," even greeting them with a cold heart, but this did not deter Arina.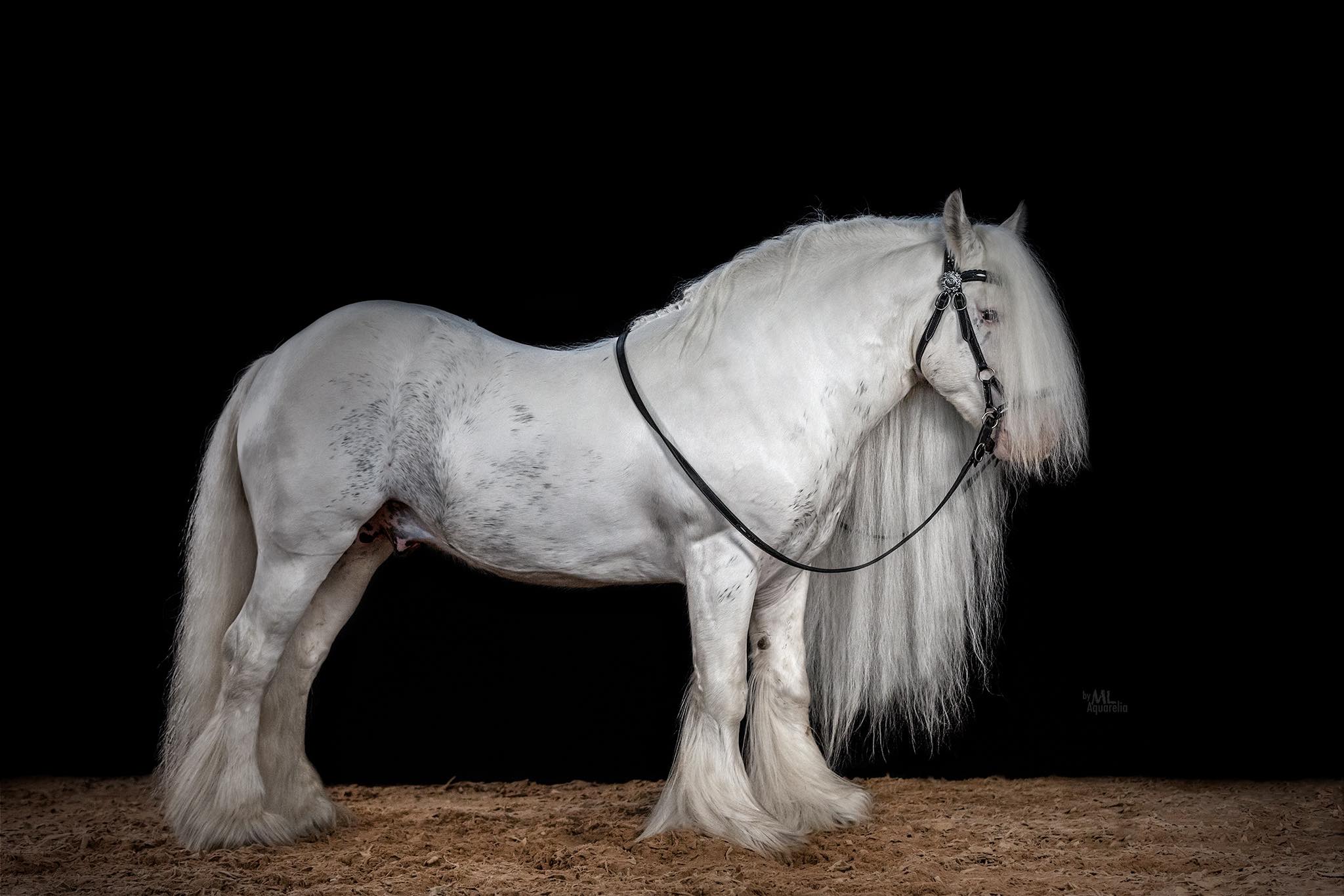 "Tinkers are undeservedly deprived of the attention of the Russian equestrian community, as they are considered unsuitable for Olympic and near-Olympic sports," she explained.
However, despite their attitude, Arina didn't become disheartened and continued to work and develop her horses.
She taught Titanium and Elune difficult tricks, without a bridle or negative coercion, through a trust-focused training model known as "liberty." Today, Titanium has learned over 60 tricks.
The horses then were noticed by Moscow-based artists and invited to participate in a huge New Year's Eve equestrian show, comprising over 100 people and 30 horses. After a stellar performance, Titanium's star rose quickly and his popularity has only accelerated from there.
(Courtesy of Arina Libontova and Marianna Leontieva)
"He is in demand as a photo model," said Arina. "The wavy white mane, which cascades down to the ground, looks spectacular in both static and dynamic shots."
One of the most surprising things about Titanium's look, said Arina, is that he's technically not white at all. "His suit is called the silver-black sabino; this is a black horse with a silver gene," she explained. Titanium's silver sabino "splashes" just so happen to cover his entire body.
Arina doesn't make an income from Titanium's social media fame. Rather, posting his photos and videos is a simple exercise in sharing profound beauty with the world.
Share your stories with us at emg.inspired@epochtimes.com, and continue to get your daily dose of inspiration by signing up for the Epoch Inspired newsletter at TheEpochTimes.com/newsletter