21-Year-Old Quadruplets in UK All Follow in Their Mother's Footsteps by Becoming Nurses
Four sisters—who happen to be non-identical quadruplets—are making their family proud by following their mother into the medical profession. All four are trained nurses entering the UK's government health service, each having their own unique specialty.
Anjel, Aneetta, Aleena, and Aneesha Mathew, all 21, started their new roles in August. Anjel, Aneetta, and Aleena joined the ranks of the NHS at the Royal Papworth Hospital in Cambridge; while Aneesha, who trained in physiotherapy, will work at Kettering Hospital in Northamptonshire.
"We are really enjoying it," the sisters told The Epoch Times by email. "We are working in different specialties, so it is easier for us to share our experiences.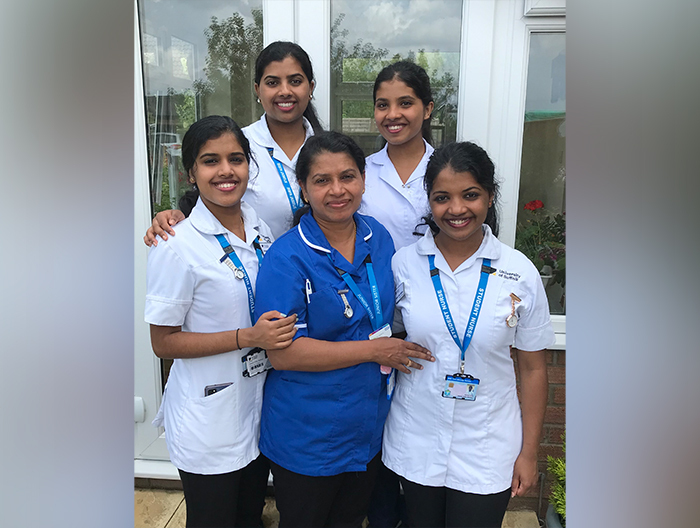 "Right now, we are newly-qualified, and we understand that the medical field can be a challenging career choice," they added. "But we are enjoying it. There are always opportunities for learning developments."
The quads' proud mother, 52-year-old Joby Shibu Mathew, works in the oncology department at Ipswich Hospital in Suffolk.
"They said to me they saw my passion for caring and being a nurse, and that they wanted to do it too," Joby told the Daily Mail. "It's just how it worked out that they all wanted to do the same thing."
Unable to use her overseas nursing qualifications in England, Joby requalified in 2017, the year before her daughters started their training. The sisters completed placements—also at Ipswich Hospital.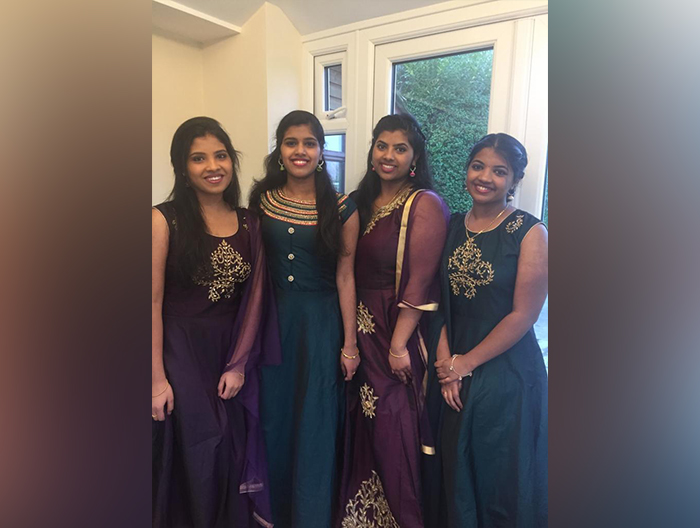 Aneesha, who branched off slightly from her sisters, marvels at her mother's journey.
"When she completed her degree it was a huge inspiration for us all," she said. "It's challenging, and you work long hours, but that feeling that your skills are making a difference to people is really rewarding."
The quads' father, 53-year-old maintenance engineer Shibu Mathew, moved to England with Joby in 2007. They brought their girls from south India to Suffolk the following year. Family back home has always been supportive, and the quads remained close to them despite the distance.
The Mathews only found out during Joby's labor that they were having four babies.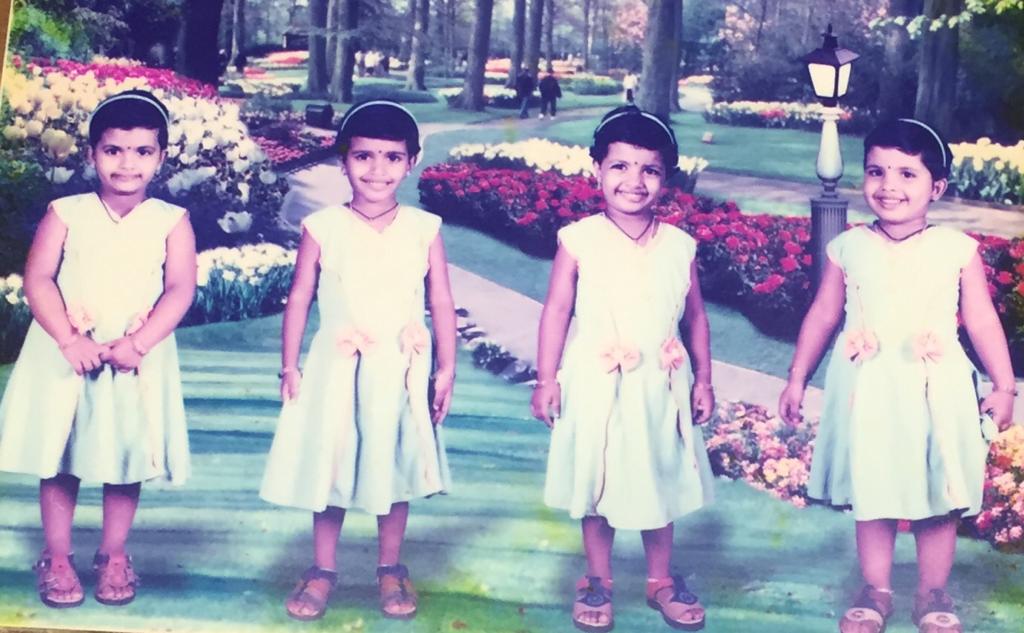 "Initially, we were told we were only having three babies," he told The Epoch Times. "So we were pleased with the news and bought everything for three … having four [came] as a huge shock!"
The couple stayed close to their daughters as they grew up and have always supported their choices. The girls also keep good relationships with each other, said the father.
"They have the usual arguments, like any siblings do," he shared. "However, they are happy if we parents don't interfere and let them talk through. Usually, they get back together fairly quickly, and act like nothing ever happened.
"There is also no rivalry or competition."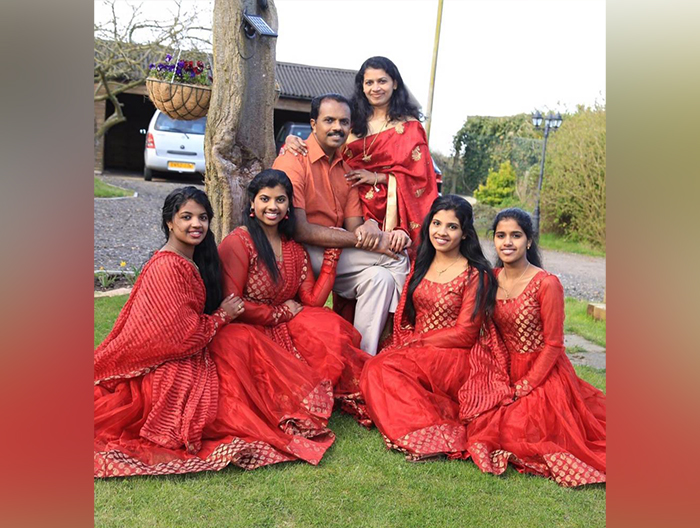 The siblings have similar personalities, although Anjel and Aneetta "take everything a little calmer than the other two" and can reassure their sisters when they have anxieties, the dad said.
The Mathews are often asked whether it was hard to raise four girls together. "We had kind and helpful people around us, so it made the initial stage easier," Shibu said. "The girls learnt to share things from an early age, and we are happy that they continue to share and help each other out."
Anjel, Aneetta, Aleena, and Aneesha—who used to perform in dance shows together but now prefer to watch movies—say there have been several times in their lives when their dreams converged. They share feelings, too; whenever one sister feels low, the others also feel it without knowing why.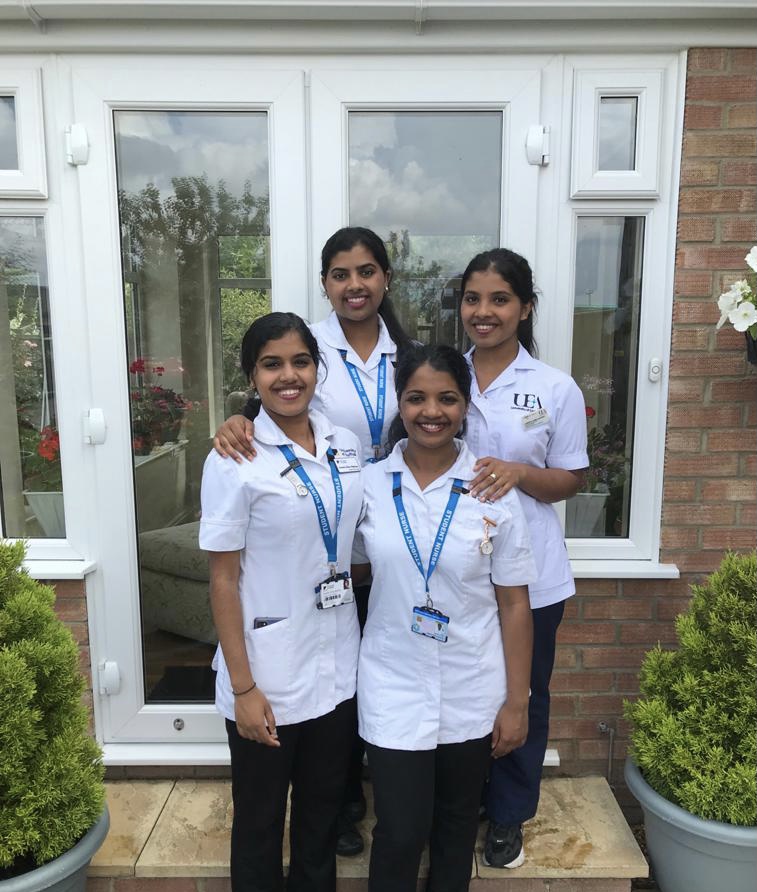 At the age of 21, their life choices have truly converged as they enter the health profession together. Their sisterly bond remains unshakable.
"We often get asked whether we get bored of each other," they added. "Because we have always been together, we are used to being with each other most times.
"Even if we are together, or not together, we can still make conversation about anything."
Share your stories with us at emg.inspired@epochtimes.com, and continue to get your daily dose of inspiration by signing up for the Epoch Inspired newsletter at TheEpochTimes.com/newsletter