Micro-preemie triplets born to a New York couple are unique, not only for making it through premature delivery and surviving the odds but for having birthdays that span different days across different years.
Baby Cian DeShane was born on Dec. 28, 2019. Five days later, on Jan. 2, 2020, his identical twin brother, Declan, was born, followed by their sister, Rowan. Each baby weighed little more than a baseball at birth.
Parents Kaylie, 32, and Brandon DeShane, 35, of Norwood, New York, shared the birth story of their miracle triplets with The Epoch Times in an interview.
"I started sobbing," mom Kaylie DeShane said, recalling her waters breaking at 22 weeks.
"I said to my husband, 'That's it. We've lost them. There are no triplets in the world born this early who survived.'"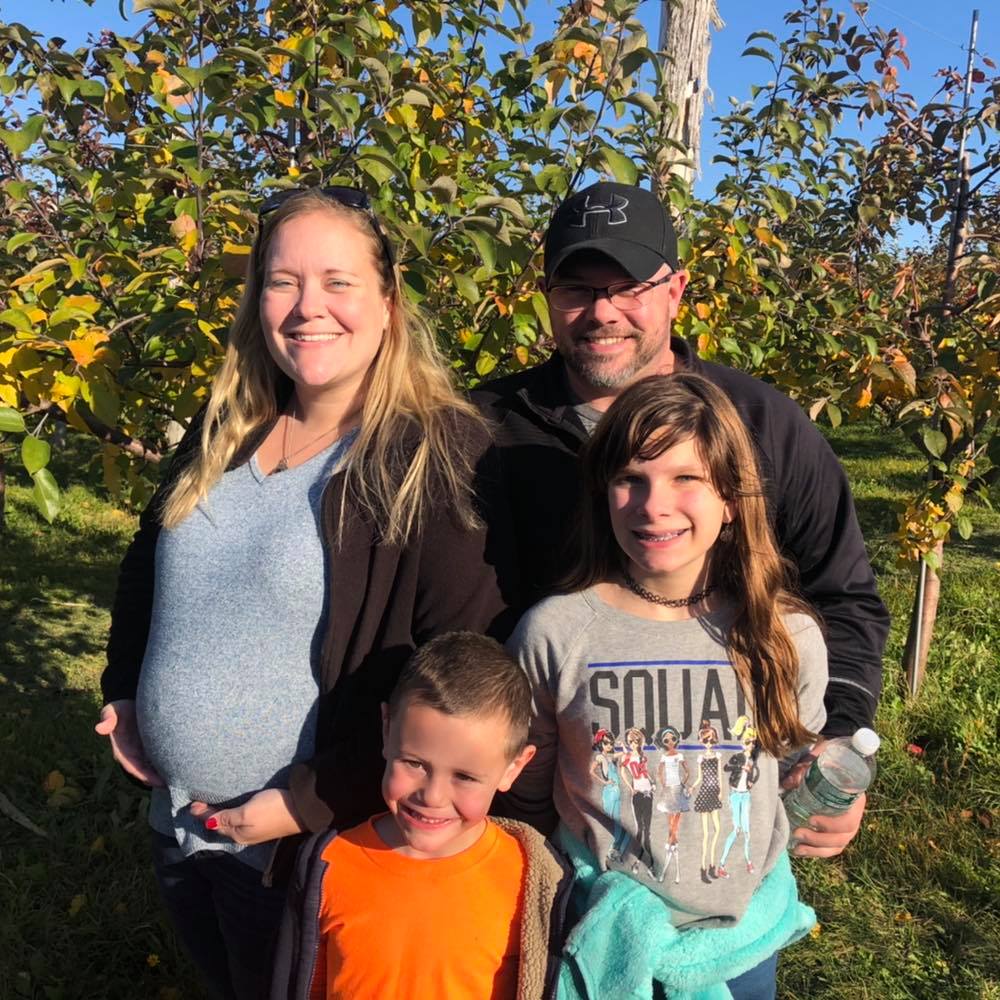 The couple had been trying to conceive for four years. Kaylie has polycystic ovarian syndrome and got pregnant after IVF in 2019. The couple's two implanted embryos gave them a roughly 10 percent chance of conceiving twins, but a week-six ultrasound reaped a huge surprise: three babies.
"We had been through so much that we didn't really believe it. This was about a 1.7 percent chance," Kaylie said. Brandon recalled feeling "scared, excited, and nervous … we had been told we 'couldn't' have that many," he said.
"Our clinic had previously told us if we carried more than two, we would need to do selective reduction to terminate one because it was too high-risk," Kaylie said.
"I immediately said to my husband and the ultrasound tech, 'I will not terminate any of them.' My husband agreed."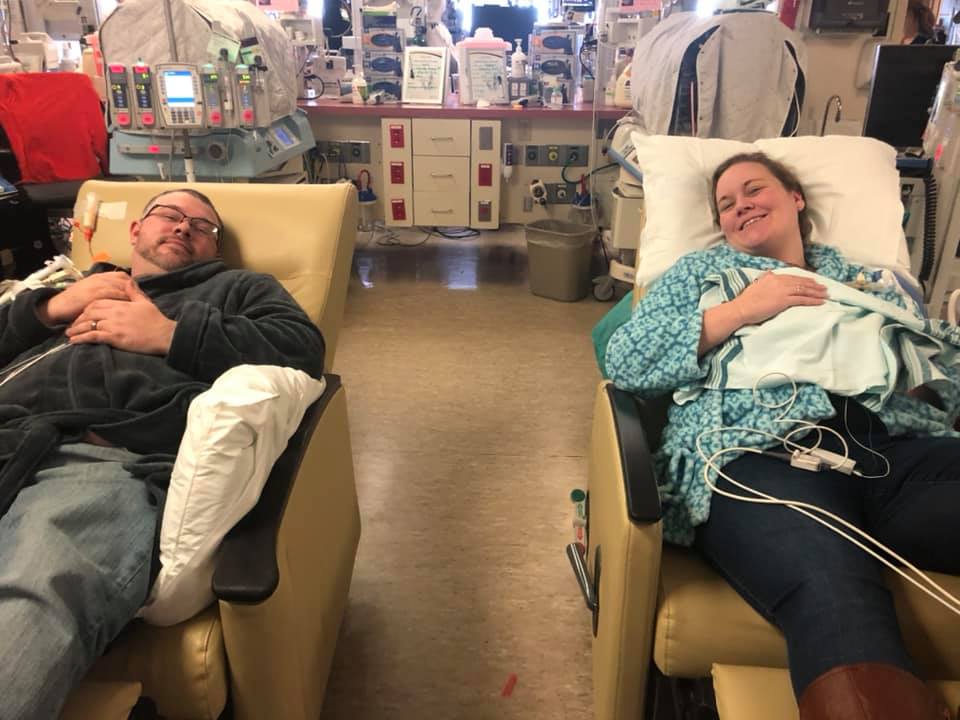 At 17 weeks, Kaylie had a successful emergency procedure to close her cervix. The couple traveled to Vermont for their week-22 anatomy scan, but at their hotel later that night, Kaylie's water broke.
"I just went into survival mode," Brandon recalled. "I knew we needed to get to the hospital … I knew we may have struggles, but that all of them were coming home with us and would make it."
The next morning, doctors at Vermont Medical Center in Burlington delivered baby Cian, weighing just 1 pound 0.9 ounces (approx. 479 g) with a heart rate of 30 beats per minute. He was intubated and rushed to the NICU.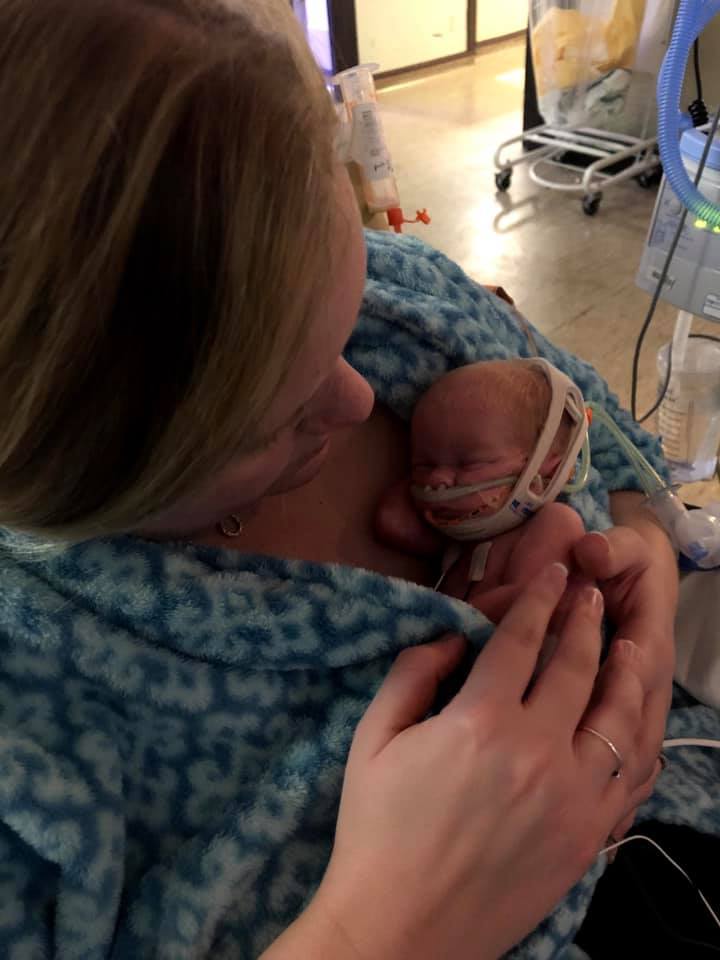 Kaylie was in labor for five days until babies Declan and Rowan arrived on Jan. 2. Both were septic and given intravenous antibiotics before joining their brother in the NICU.
"The doctors told us they had never seen anything like it," Kaylie said. "It is very odd to have delivered [naturally], to have identical twins on different days, to stay in labor that long."
Kaylie and Brandon spent some time on-site at Ronald McDonald House, then drove from Norwood to visit with their babies every single day. They visited one at a time when COVID-19 restrictions kicked in.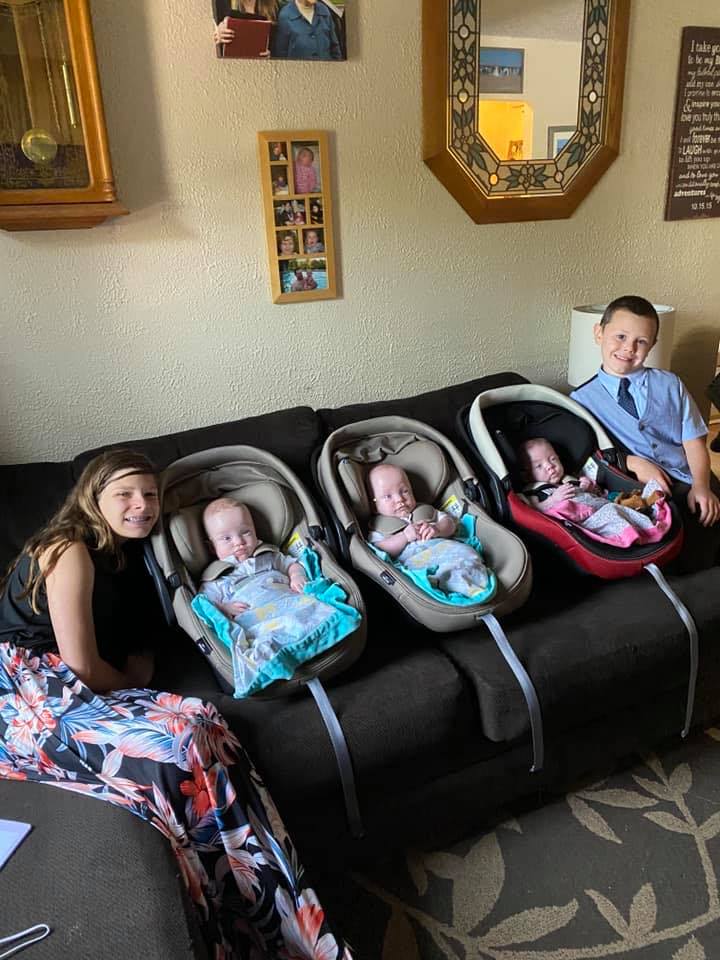 "Pretty much everything was unique," Kaylie reflected, speaking to The Epoch Times.
"We were told Cian had a 9 percent chance of living. He was having kidney problems, major breathing issues, and had NEC [necrotizing enterocolitis]."
Kaylie and Brandon were even asked to create an end-of-life plan, but Cian pulled through. So did Rowan, who went through NEC three times. Declan, having achieved the impossible, was the first to go home on April 17, 2020. Rowan followed on April 30 and Cian on May 4.
"The hospital staff was great," Brandon recalled. "Our NICU nurses saved the lives of our babies on more than one occasion with their attentiveness to detail," said Kaylie.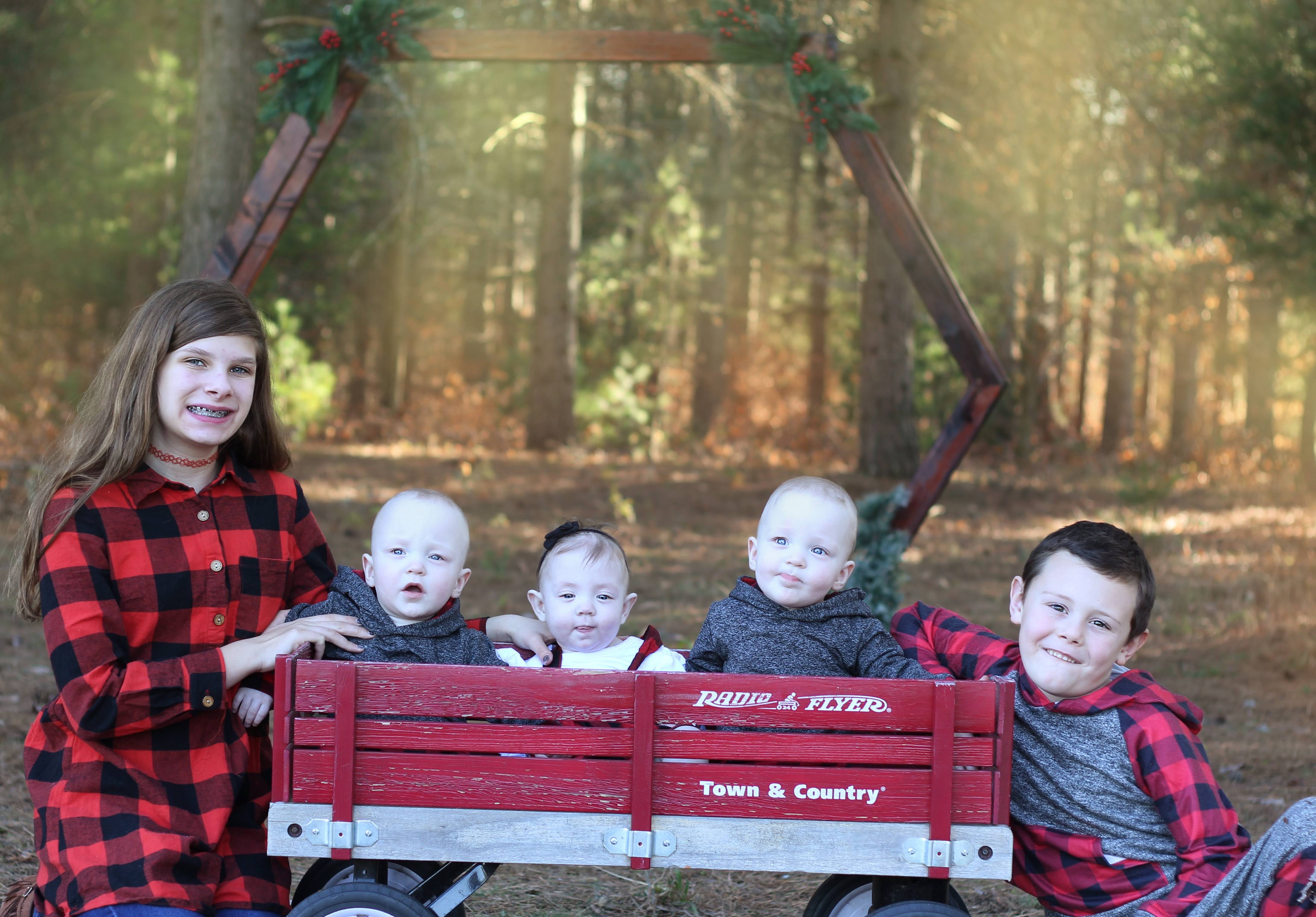 After celebrating the triplets' first birthday, Brandon described his babies as "great."
"They have an 'adjusted' age which goes off of their due date, and then they have an actual age," he said. "They are about 13 months, but only 9 months adjusted. They are hitting all 9-month milestones. They are so brave and smart."
The parents updated The Epoch Times on Jan. 1, 2021, that Cian now weighs 21 pounds 8 ounces (approx. 9.7 kg); Declan weighs 23 pounds (approx. 10.4 kg); and Rowan weighs 17 pounds 13 ounces (approx. 8.1 kg).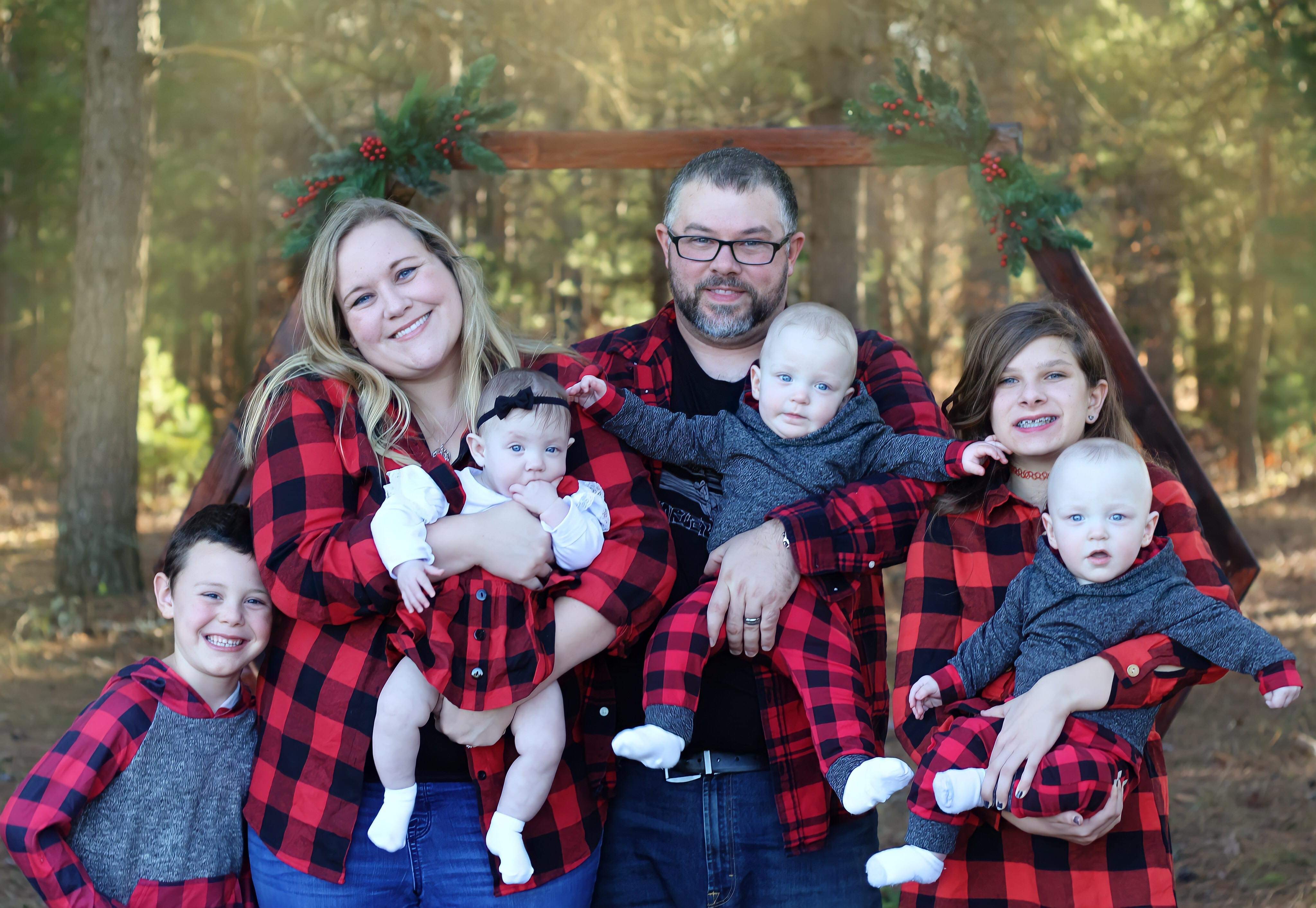 Kaylie feels "incredibly blessed."
"My life has been changed forever in so many ways. There are so many things that could have gone slightly differently," she said. "I knew they were here for a reason. and I knew they were special and have a special purpose in this world."
"They have changed our lives, and I like to think they have given hope to many other mothers struggling with premature birth.
"I want them to continue to give people hope," she said.
Share your stories with us at emg.inspired@epochtimes.com, and continue to get your daily dose of inspiration by signing up for the Epoch Inspired Newsletter here: TheEpochTimes.com/newsletter