A baby girl with Down syndrome who was given a 5- to 10-percent chance of survival is thriving as she fast approaches her 2nd birthday. The proud parents are now sharing their baby daughter's story in hopes to inspire others.
The family believes that a Down syndrome diagnosis does not mean a life without joy. In fact, quite the opposite.
"I have a passion for getting [our story] out there to show that individuals with Down syndrome are worthy of life and love," mom of three Tiffany Kim, of Phoenix, Arizona, told The Epoch Times.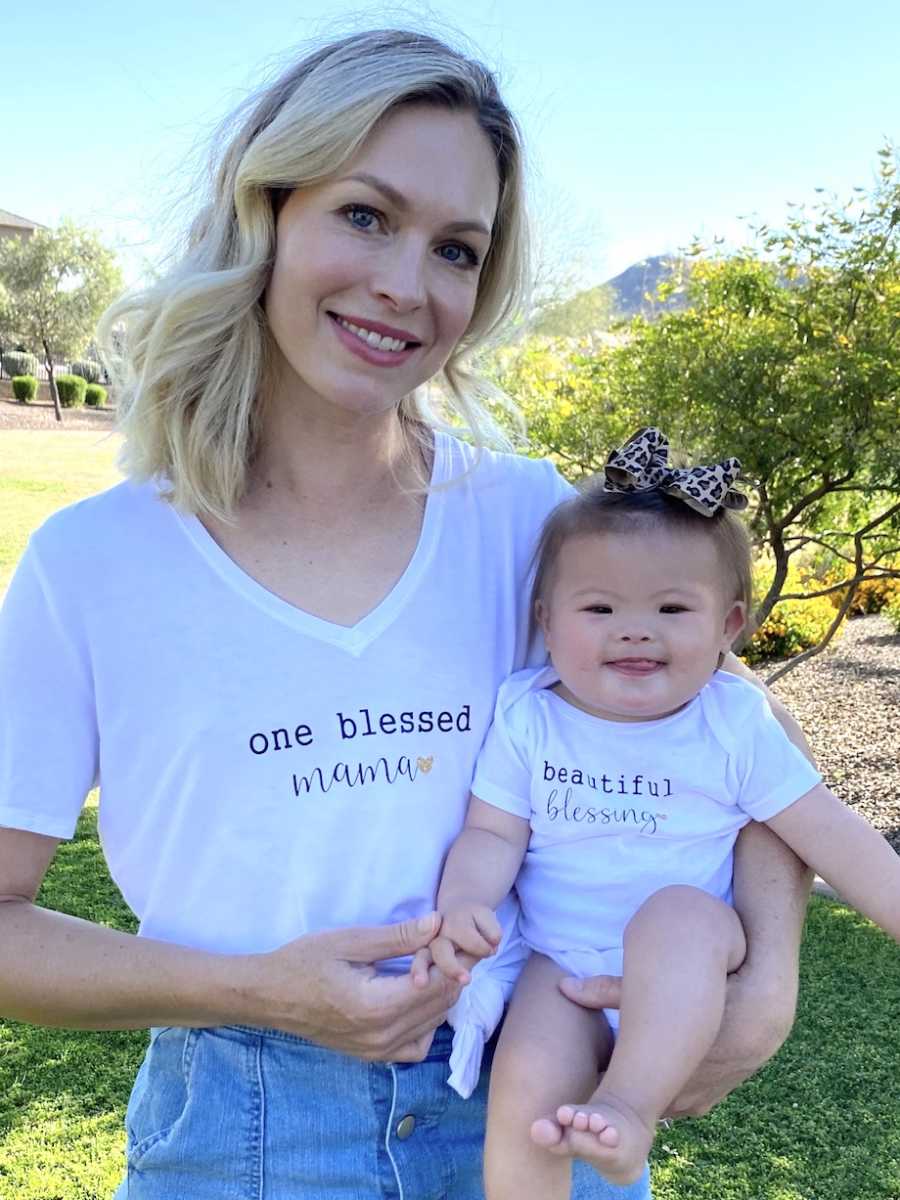 Tiffany remembers the day of her pregnancy scan like it was yesterday.
"We had just gotten done with our ultrasound and the doctor had come in to talk to us about the results," Tiffany said in her life story she submitted to Love What Matters. "We found out a couple of weeks earlier, via my blood test, Arabella had a 98 percent probability of having Down syndrome."
The doctor confirmed Arabella's diagnosis.
"I knew little about this condition, even though I was a registered nurse," she wrote.
"All the things I read about Down syndrome seemed to be negative … I had many preconceived ideas and stereotypes of what this entailed."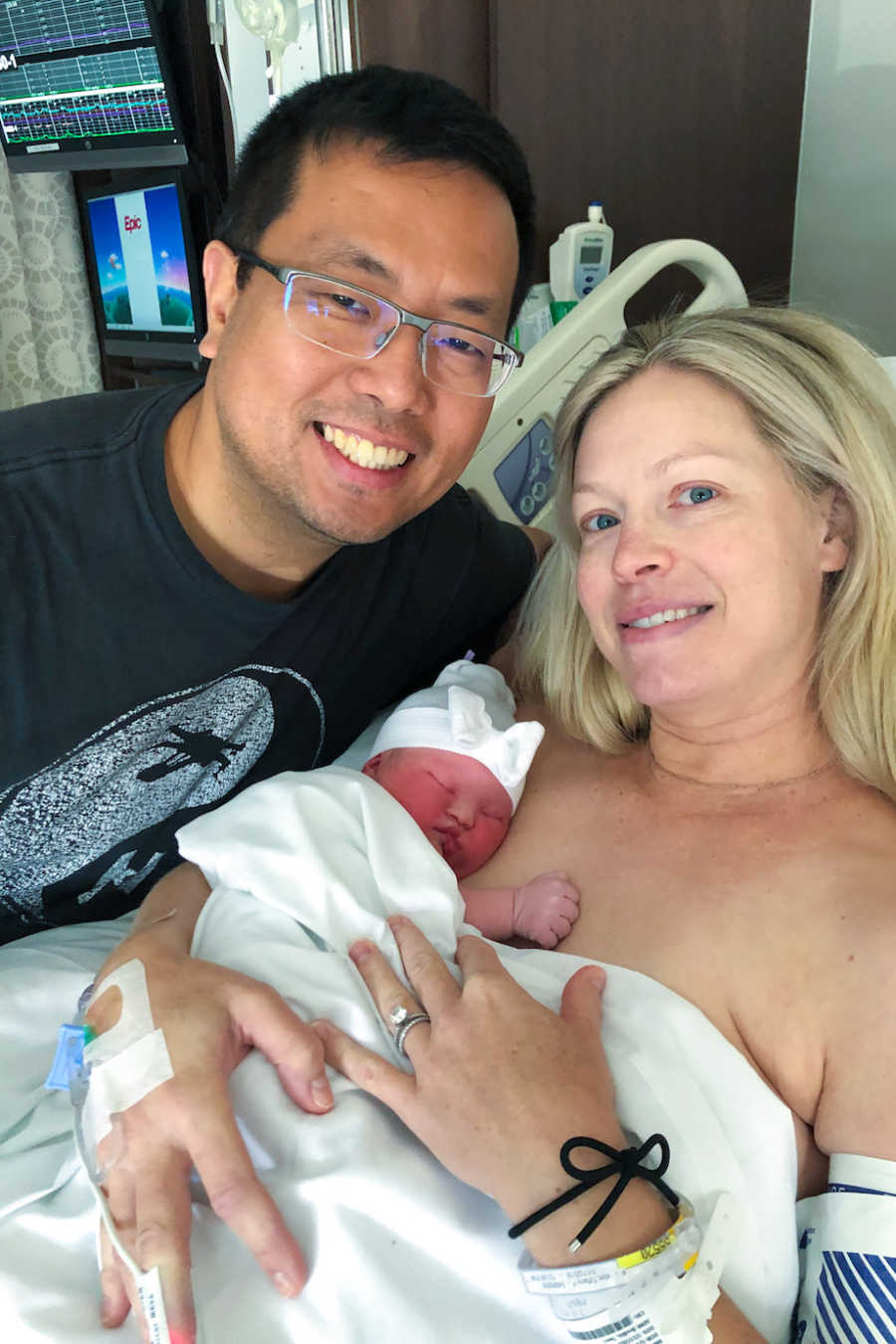 The doctor further informed Tiffany and her husband, Paul Kim, that their unborn baby had fluid surrounding her neck, stomach, and head, a condition known as fetal hydrops.
"I immediately started to sob," Tiffany said. "I knew the odds were greatly stacked against us and I would most likely never get to meet my baby girl earthside."
The couple started seeing a high-risk obstetrician every fortnight. Hydrops spread to Arabella's heart, lungs, stomach, and extremities; doctors predicted she was likely in heart failure and had a 5- to 10-percent chance of surviving birth, Tiffany recounted.
"But I knew no matter what, I was going to give this baby a chance," she said. "I chose to surrender my worries to God and have hope that all would be okay."
Then, at 20 weeks, a "miracle occurred," she said. The fluid was gone. Arabella was born on July 17, 2019, weighing 7 pounds 1 ounce (approx. 3.2 kg).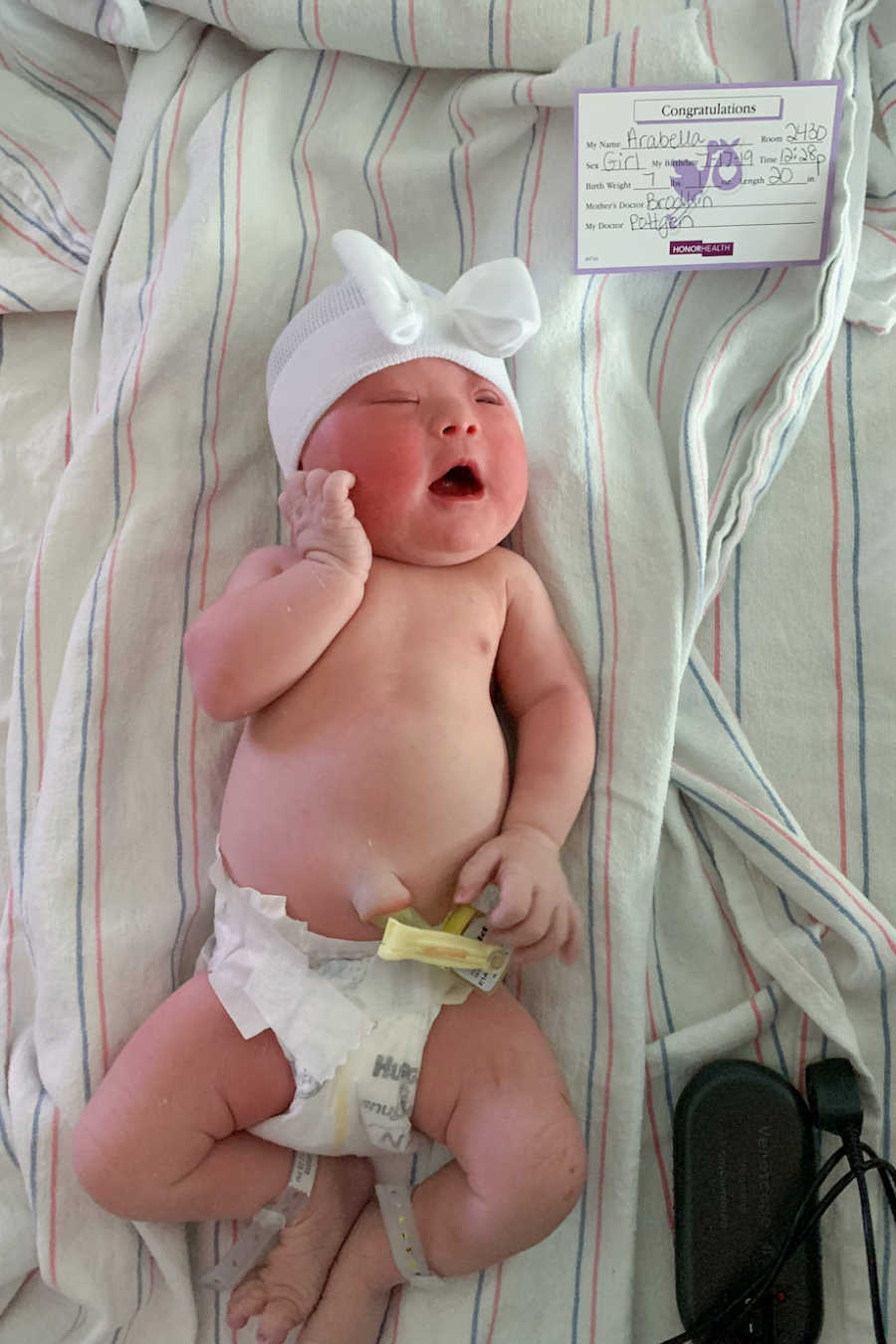 There was no need for the NICU; Arabella didn't need supplemental oxygen, and she was able to latch and breastfeed quickly. Tiffany and Paul took their daughter home.
"Arabella means 'yielding in prayer,'" Tiffany wrote for Love What Matters. "We had countless people praying faithfully for her … this baby came out strong and defying all odds.
"[S]he was my easiest delivery out of all three of my babies."
Initially worried that she wouldn't have the strength and patience to raise a special needs baby, everything changed when Tiffany met her daughter.
"The moment I first held her in my arms, I was overcome by her beauty and overwhelmed with thankfulness. And my fears concerning Down syndrome melted right away," she wrote.

Feisty Arabella is growing up smart and strong. Tiffany calls her baby daughter her "gentle and beautiful soul."  "I honestly wouldn't change a thing about her," she said.
More often than not, Tiffany laments, society views people with an extra chromosome as undesirable. "I'm sure other moms who see me out and about feel sorry for me, just like I had done myself. But please, please don't feel sorry for me," she wrote.
"There aren't many in the world who have a loved one with Down syndrome, but those of us who do are lucky indeed."
When Arabella was born, Tiffany started an Instagram page, @abellamiracle, to share her story. On Arabella's 1st birthday, the proud mom took to Instagram to share photos of the beaming birthday girl wearing a traditional Korean dress, called a hanbok.
"How has one year gone by already?!" she posted. "Every day with you is a gift … I thank God constantly that He allowed you to make it into this world and that He chose me to be your mama."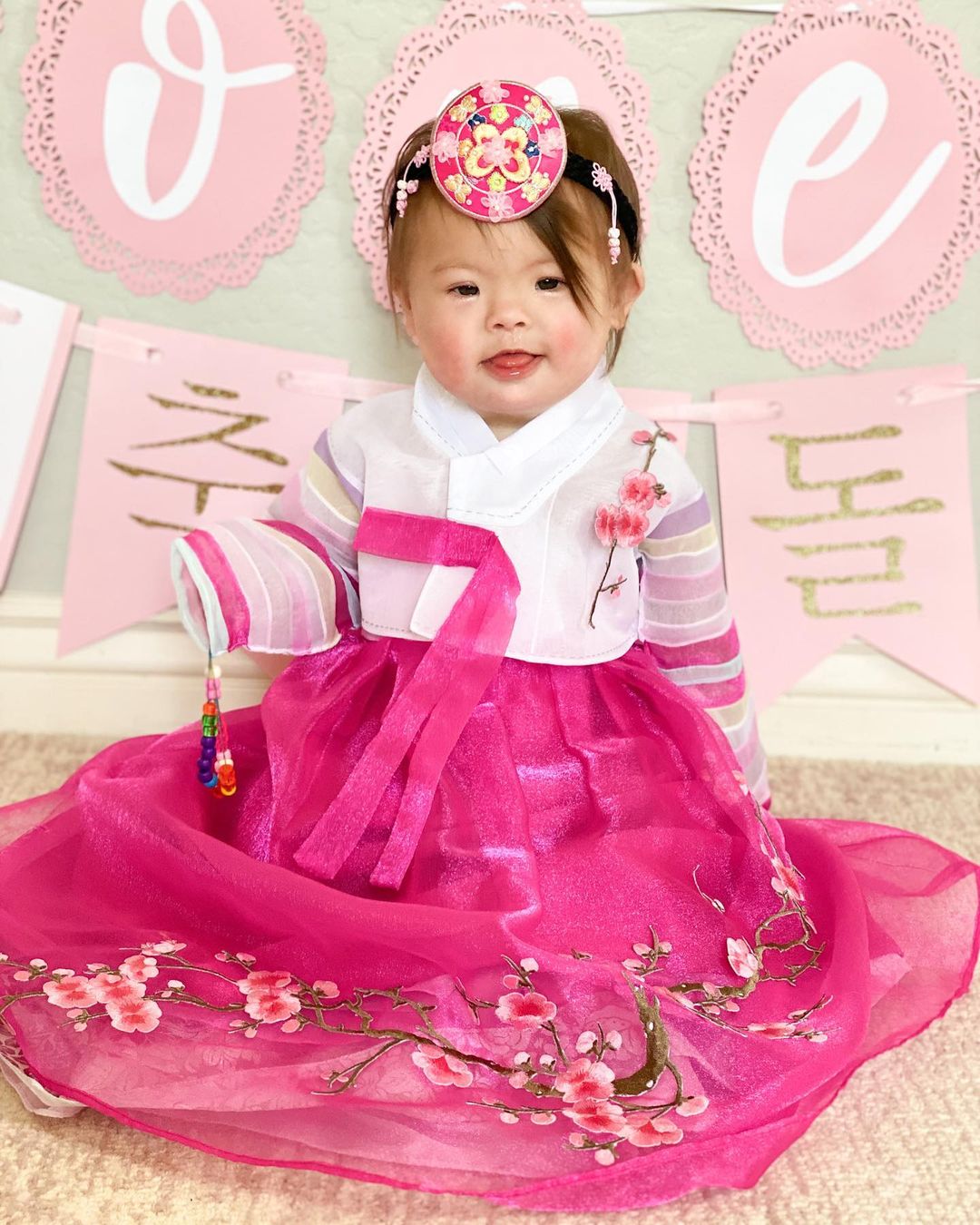 In the pipeline for Tiffany is another project for prospective parents.
"I am wanting to create a way to connect with parents who are receiving a prenatal diagnosis of Down syndrome and letting them come meet Arabella in person," Tiffany wrote for Love What Matters. "Then they can make their decisions after having actually met a person with Down syndrome in real life."
To any parents who have received the diagnosis of Down syndrome for their baby, Tiffany has a worthy piece of advice.
"[D]on't be afraid. Your life is about to get better," she wrote. "You are going to experience one of the purest and deepest of loves you could ever imagine. Your baby will be a tremendous gift and blessing.
"They are amazing and worthy, and we have so very much to learn from them."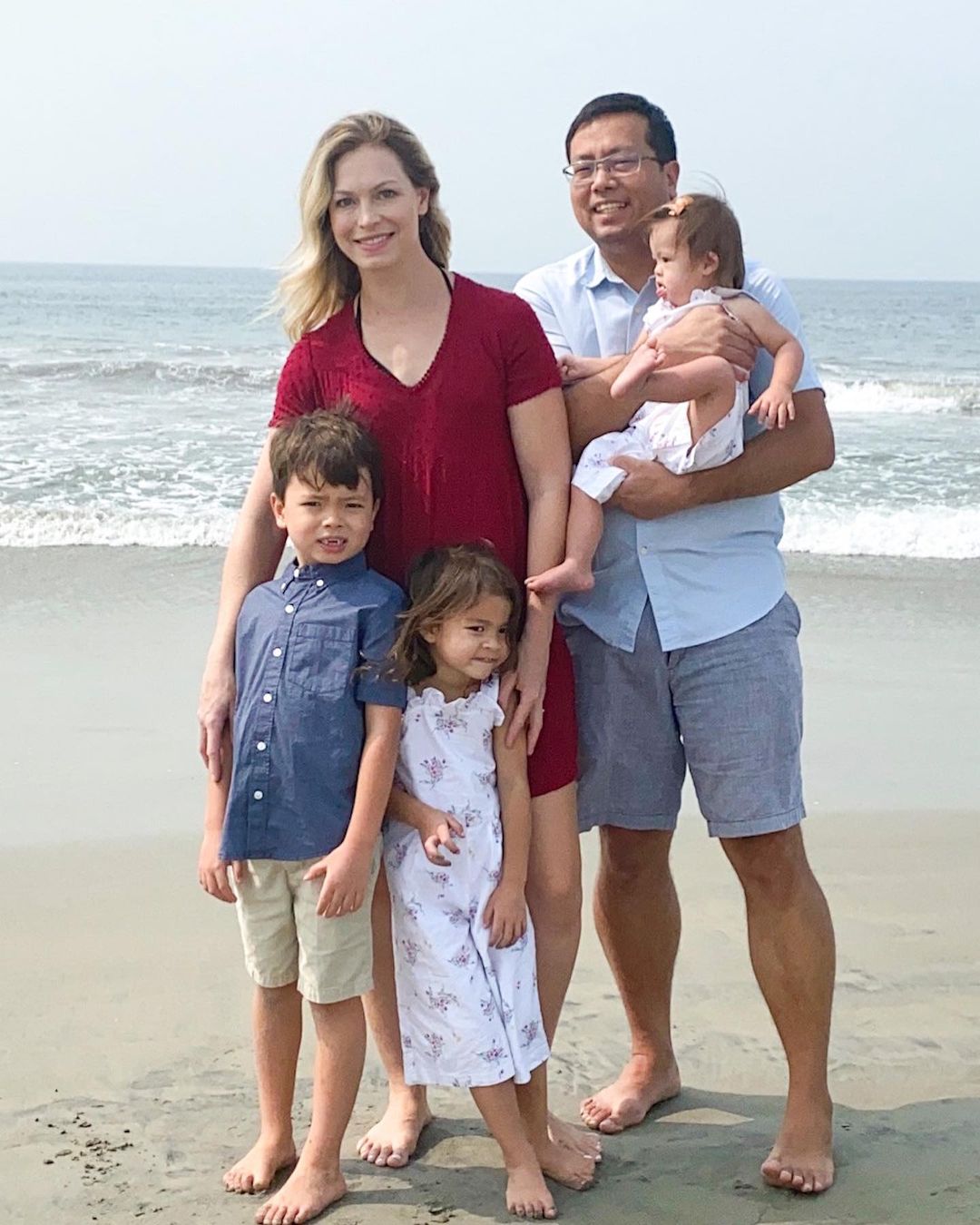 Tiffany, Paul, and their extended family are excited to see what the future holds for Arabella, not to mention the impact she will have upon the world.
"She is one of my life's greatest blessings," said Tiffany, "and now I understand why the term 'the lucky few' is used so often in the Down syndrome community."
Share your stories with us at emg.inspired@epochtimes.com, and continue to get your daily dose of inspiration by signing up for the Epoch Inspired Newsletter at TheEpochTimes.com/newsletter