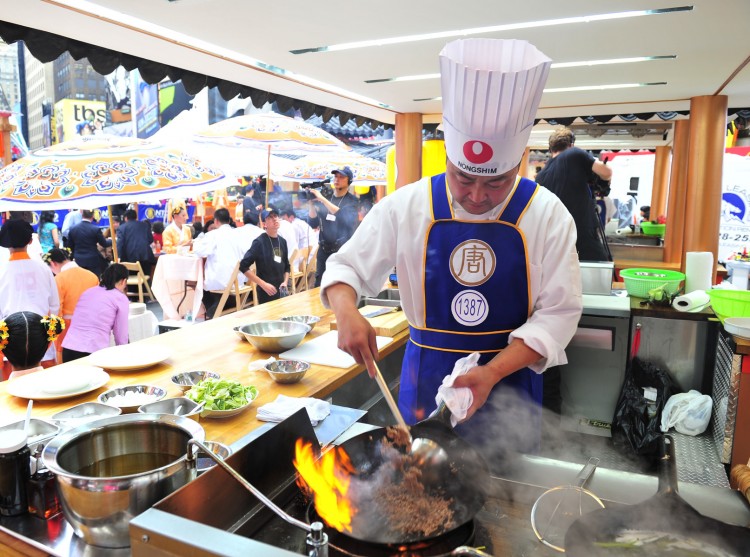 NEW YORK—The most significant international event for Chinese chefs is coming to Times Square, for the third year in a row.
Over the course of two days, Sept. 27 and 28, more than 60 master chefs from around the world will showcase the five major styles of Chinese cuisine: Sichuan (Szechuan), Shandong, Cantonese, Huaiyang, and Northeastern China cuisine—named after the regions they originated from.
Cooking in ancient-style Chinese cooking stations set up in Times Square, each chef will compete for the title of best chef of one of the traditional Chinese cuisine styles, and a $10,000 gold award.
Scores will be set according to appearance, taste, and flavor of the dishes, as well as the preparation process. Each contestant will prepare one required dish and one dish chosen by the chef.
Authentic Cuisine
The event marks the fifth year that New Tang Dynasty (NTD) Television has hosted the International Chinese Culinary Competition, as part of its competition series for Chinese culture. NTD is an independent television station based in New York that broadcasts uncensored news to China and to Chinese communities around the world.
"When people think of Chinese food, they tend to think of inexpensive, low-quality dishes loaded with MSG," reads the competition's mission statement. "NTD Television's Fifth Annual International Chinese Culinary Competition is out to change that perception by bringing together the top Chinese chefs from around the world and have them demonstrate the unparalleled cooking techniques, knife skills, and imagination inherent in traditional Chinese cuisine."
Top U.S. Chefs Join 'Fire Up the Wok'
Along with being able to witness the whole competition live on Times Square, audience members will be entertained with programs that introduce them to Chinese food culture, along with games, and raffles.
After the first round of the competition finishes at 7 p.m. Thursday, Sept. 27, a special challenge called Fire up the Wok will see five top chefs from the United States create the classic Chinese dish Kung Pao Chicken. The dishes will then be judged by the Chinese culinary competition's head judge Qu Yun-Qiang and Susie Fogelson, a judge from Food Network Star.
This challenge is a prelude to the Emperor's Banquet, the second part of NTD's Annual Benefit Gala, where patrons will have the chance to feast at the 8-course haute cuisine dinner prepared by winning Chinese chefs from previous years' competitions. 
The final round of the Chinese culinary competition will start 9 a.m. Friday, Sept. 28, and conclude at 8 p.m. with the winners' announcements and award ceremony.
Chefs from Taipei join NYC
The Asian preliminary round was held in Taipei, Taiwan, from June 15 to June 17. Fourteen chefs from the Taipei round qualified for the finals in New York City. These chefs, who came from Taiwan, mainland China, and Hong Kong, are preparing to travel to New York to meet the competitors from North America. All the chefs are hoping to win the $10,000 gold award, but more importantly, many are ambitious about reviving the traditional philosophy behind cooking Chinese food.
"We are rewriting the history. Because of our efforts, the future generation will learn that Chinese food is very profound and that it serves our bodies well," said Lee Hung-rong, who began his career as a chef at age 14. He said the commercialization of Chinese food has deviated from the culture behind it.
"In the past, we could create lots of flavor with only salt and stocks. We did not need MSG and flavor enhancers. The food culture of our ancestors involved obtaining ingredients solely from nature to create dishes truly good for our health," said Lee, who has participated in the competition since its debut in 2007. Lee will be competing again this year in New York City, and is looking forward to the heated competition on Times Square.
NTD's International Culinary Competition also seeks to give to the community. This year, some proceeds from the Gala will benefit The James Beard Foundation NTD Chinese Culinary Scholarship for the Underprivileged. 
"We are very happy to join hands with The James Beard Foundation to help young people who are interested in learning Chinese culinary arts and to further cultural exchange between Chinese chefs and Western chefs," said Ma Lijuan, spokeswoman for NTD Television's Chinese culture competition series.
The Epoch Times publishes in 35 countries and in 19 languages. Subscribe to our e-newsletter.