Led by a scientist dubbed "the Russian Indiana Jones," a team of divers has discovered a wondrous marine organism that changes itself from clear to a kaleidoscope of color.
One of the mysteries of the seas, jelly creature Cestum veneris has a sophisticated mechanism for keeping safe from predators, wrapping itself in layers around a delicate center. That still doesn't explain exactly why it changes from transparent to glowing colored in a couple of minutes. Could it just be for show? Team Aquitilis, from Russia, say even they can't be sure.
The spectacular effect created by Cestum veneris has garnered thousands of views and likes on Instagram, the team's favorite way of showcasing their deep-ocean finds. Categorizing the find as a Venus girdle ctenophore, the adventurous group, led by Alexander Semenov, came upon it during a dive in the Mediterranean.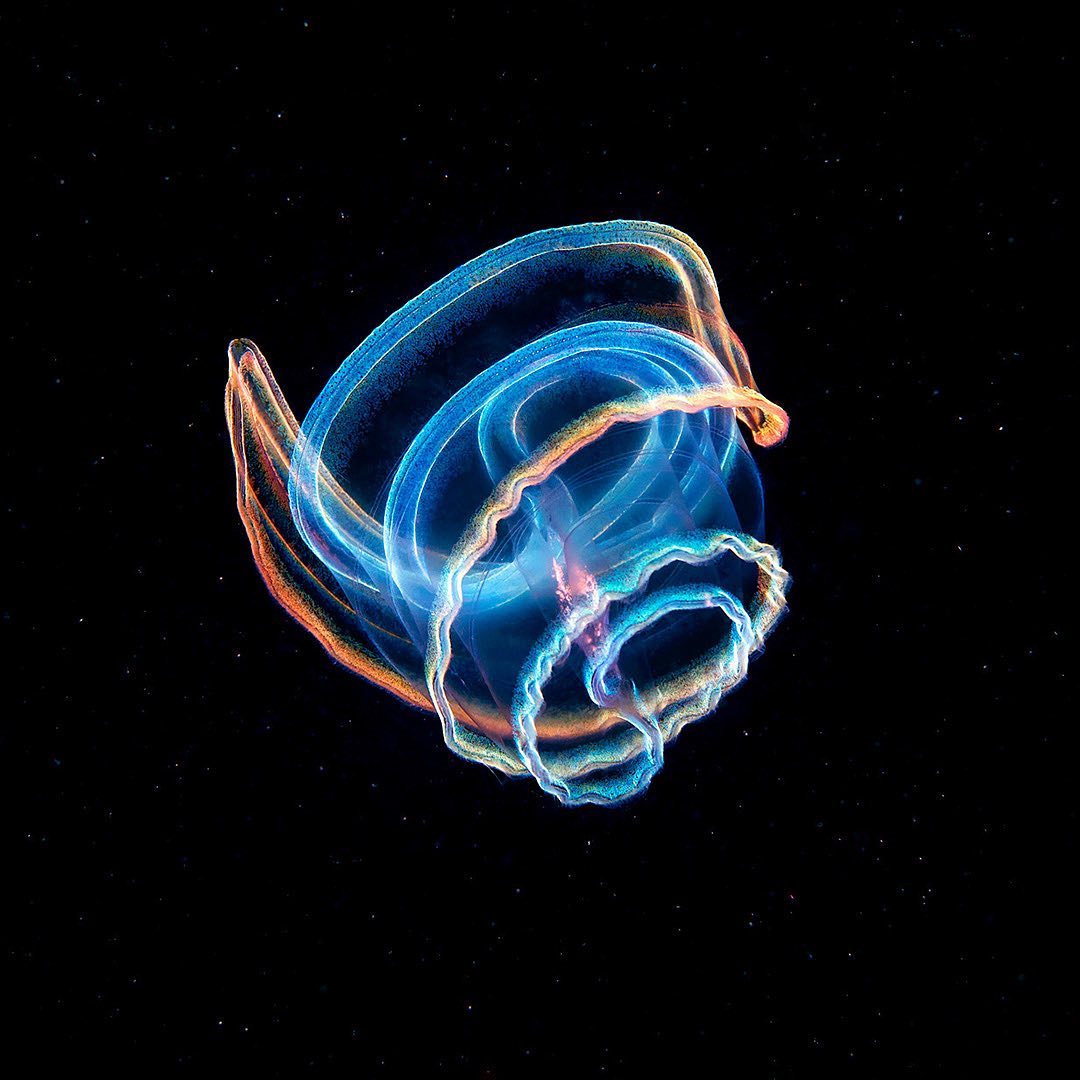 Basing themselves at the White Sea Biological Station, the marine biologists were continuing their in-depth study of gelatinous plankton. Winter conditions were dark and cold, but ice had not yet formed when they began the dive.
Semenov, a highly skilled underwater photographer, captured the striking images. According to him, the iridescent ctenophore, or "comb jelly," can grow more than 2 1/2 meters. It is ribbon shaped, appearing like a neon tube.
Posing the question, "If you were a piece of gentle jelly, how would you protect yourself from predators?" Semenov went on to explain what happens:
"When Cestum veneris is disturbed, it tries to swim away from the potential threat with its undulating powers, but if it doesn't work, the creature at some point stops and curls up into a double helix, surrounding the 'flight control center' with several layers of jelly wings."
(Courtesy of Team Aquatilis and @aquatilis_expedition)
(Courtesy of Team Aquatilis and @aquatilis_expedition)
The vital nerves and stomach lie in the center, resembling a small light spindle. Like other comb jellies, Cestum is equipped with many tiny hair-like cilia. Unlike other varieties, though, Venus girdle doesn't use them for propulsion. Rather, it propels itself forward with undulating body movements.
Fascinating as the twisting scenes are, the most peculiar trait of Venus girdle has to be its vibrant color-changing.
"They somehow change the structure of the body's surface, and the light begins to reflect rather than pass through. It looks fantastic!" said Semenov, confessing the team were unable to find a clear explanation for the optical mechanism.
Semenov has been surprising and informing the online community with spellbinding underwater photos and videos for over a decade. His specialty is gelatinous plankton of all kinds, combining open water diving and detailed marine biology study with his photographic works of art. Together with Team Aquitilis, he has pioneered the introduction of marine science to the Instagram generation.