Bulgogi, which literally translates to "fire meat," is one of Korea's most famous barbecue dishes. Every family has their own cherished bespoke recipe, and every Korean has many fond memories of eating this much-loved chargrilled dish. 
"Bulgogi is so specific to Korean culture," said Edward Lee, Korean American chef of Succotash in Washington. "It is not steak, and it is not ground meat. There is a very specific thinness of the meat that only a Korean butcher can achieve. It is actually a very complicated dish, and when done right, it is so juicy and mouthwatering. It rivals any meat dish in the world."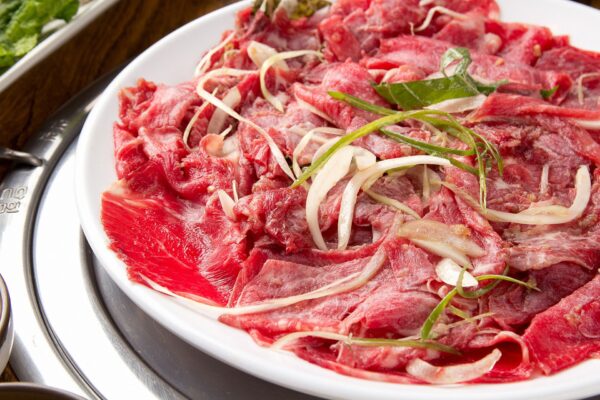 Usually made from beef or pork, bulgogi is most known for its cut—like a steak, but sliced very thin, akin to the meat for Japanese shabu shabu. These thin slices of meat are marinated in a sweet and savory sauce, traditionally made from soy sauce, ginger, garlic, onion, sesame oil, and fruit such as pears or apples (or sugar, honey, or other sweeteners), and cooked on a table-top grill, or stir-fried. The meat ends up partially steaming in its own juices and brothy marinade, making for a very tender and juicy bite. 
Meat was once quite scarce in Korea, and thus bulgogi was solely reserved for special celebrations, such as birthdays and weddings. Nowadays, however, bulgogi has become a common meal enjoyed at home and in restaurants alike. 
Types of Bulgogi
There are three main regional styles of bulgogi: Gwangyang, Eonyang, and Seoul.  
Gwangyang, a city in Jeollanam-do in the southwestern region of South Korea, is known for its fragrant and high-quality charcoal. There, bulgogi is thinly cut and marinated just before grilling. The meat is cooked on a mesh grill (usually copper, as the meat does not stick to it) over an open charcoal fire, which nicely caramelizes the meat's edges and gives it delectable smoky flavors.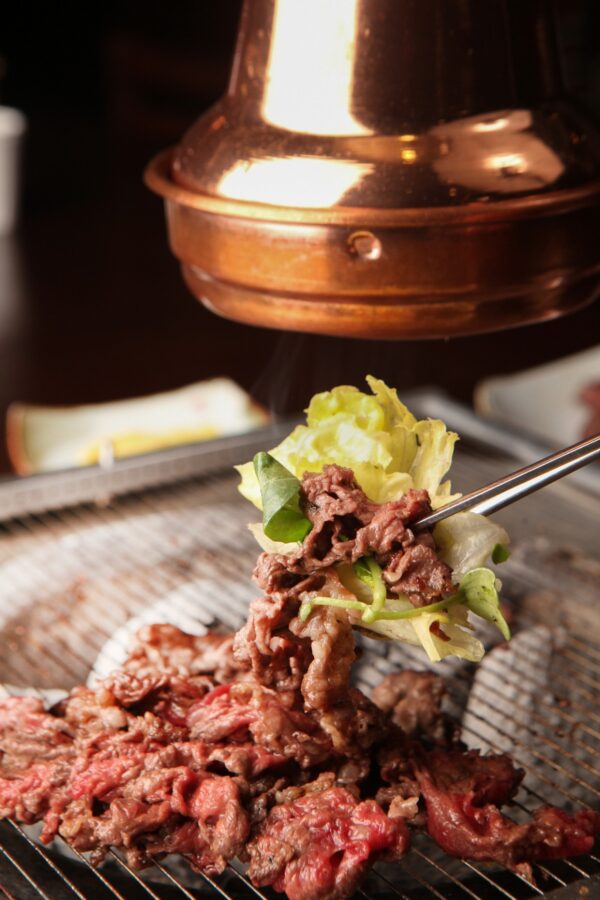 Eonyang bulgogi comes from the south as well, but the eastern side, near Ulsan. This bulgogi is made from fresh meat, used only a day after being butchered. The meat is thinly sliced, then further chopped and finally pounded to almost resemble a mince. It's then marinated, sometimes quite lightly with just salt, sesame oil, and garlic, and pressed into a round ball.
This ball is then placed on a fine wire grill over hot coals and either ripped apart with tongs, spreading the meat evenly over the grill, or pressed into one large flat patty, and grilled until the edges are charred and crisp. This type of bulgogi is also often referred to as bassak bulgogi, which means "dry and crisp," as it has no brothy marinade.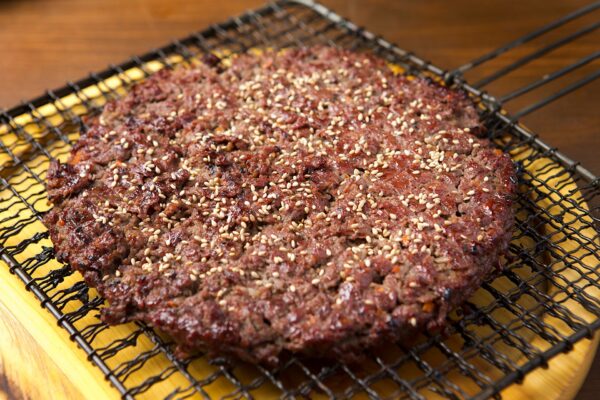 Seoul-style bulgogi hails from Korea's capital city, and is perhaps the most ubiquitously known. It is also cooked over an open fire, but with a large, perforated, domed copper plate—fabled to be fashioned after a Mongolian helmet—positioned on top.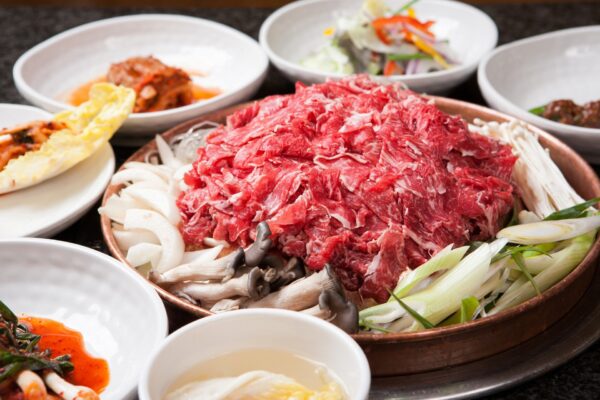 The plate has a wide lip that acts as a built-in moat, which is filled with dashima (edible kelp) broth and vegetables (usually scallions, mushrooms, leeks, and onions). When the bulgogi is cooked on the dome, the beef juices trickle down into the broth and vegetables below. 
In general, Seoul bulgogi is known to be the sweetest, and often includes many other accouterments—even noodles—mixed into the brothy sauce.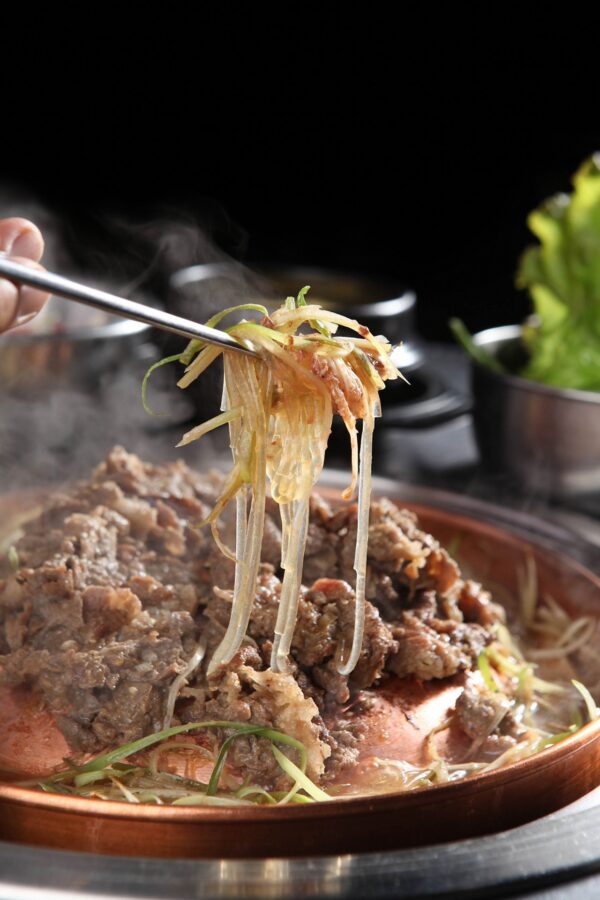 Family Memories and Personal Recipes
You can make bulgogi from pork or beef, with or without spice. There are endless different recipes, and it's also very versatile, as you can serve it with rice or noodles, wrap it in leaves for ssam, or toss it into stir-fries.
It has been fully integrated into uniquely Korean American cuisine as well—bulgogi burgers and cheesesteaks are now commonplace.
Korean American chef Esther Choi of Mokbar in New York City remembers bulgogi being the centerpiece of many childhood family gatherings. 
"It was always served at church events, birthday parties, and family barbecues. There were always mounds of bulgogi being served straight off the grill," she recalled. 
At her restaurants, Choi serves an addictive version of bulgogi on top of ramen, and uses plum wine and soju in her marinade. Untraditionally, she also adds a splash of fish sauce, which she feels gives a "good balance to it, and nice umami flavors," and a salinity "that cannot come from soy sauce or salt." 
She also notes bulgogi's versatility and loves that you can eat it anywhere from in a soup (bulgogi jeongol) to on a pizza. As she puts it, "no matter how you eat it, it tastes awesome."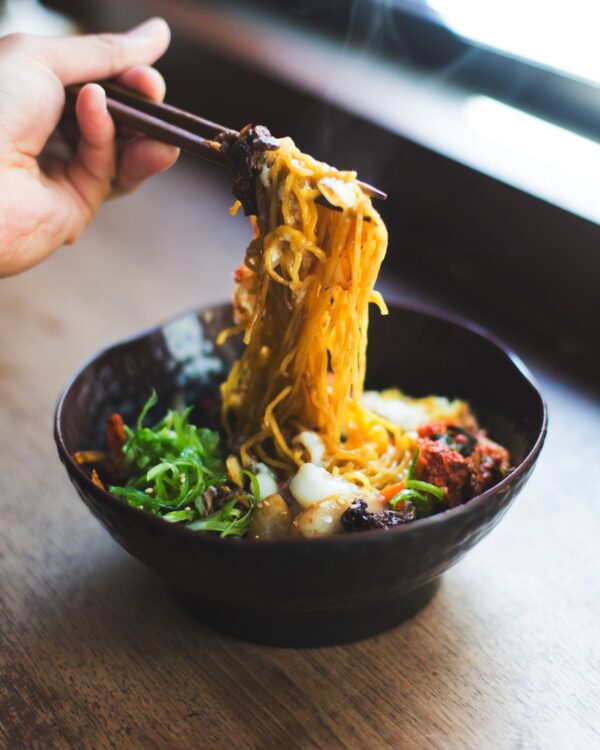 Likewise, Lee of Succotash in Washington harbors an affinity for bulgogi that runs deep. He has memories of his grandmother feeding him scrumptious morsels right off the grill, and always ate it with cucumber kimchi. 
Now, he often plays with the recipe for his own marinade: "Sometimes, I add a little fish sauce, sometimes apple juice. I'll use mushroom or bourbon barrel-aged soy sauce too. It's fun experimenting."
Bulgogi also graces the menus of Michelin-starred restaurants, such as Bicena in Seoul, which serves up a luxurious version with abalone, fresh jujubes, ginseng, and ginkgo nuts.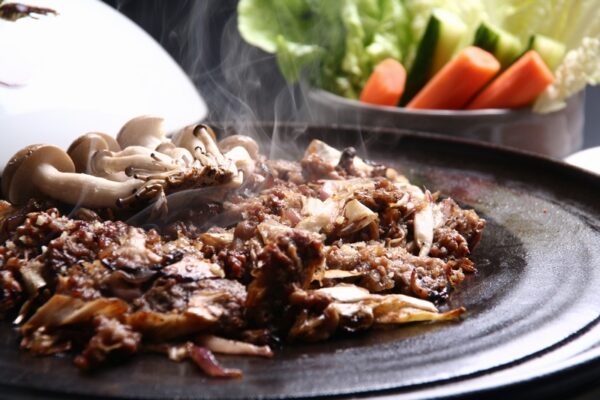 Executive chef Kwangsik Jun recalls his small countryside town gathering outside on special occasions to make a massive communal bulgogi feast. Every person would show up with different ingredients at various times, and thus new ingredients were continuously being mixed in, constantly refreshing the bulgogi for an all-day meal. 
Alternatively, at home, his mother used to simply wrap halved chestnuts with thin slices of beef, brush bulgogi marinade on top, and then grill them for a little snack. But chef Jun's favorite is a Seoul-style bulgogi with glass noodles cooked in the remaining broth, after the meat is all cooked. The noodles are infused with all of the beef drippings, making for a rich, truly exquisite mouthful. 
I also have vivid memories of my mother squatting next to a tiny, shoebox-sized grill, covered in tin foil, in our garage in New Jersey. She would only have a few hot coals going at a time, but it was enough to give her bulgogi that coveted char. The sweet smoke used to lure me down from my room, and I'd sit next to her waiting for a freshly grilled morsel. 
She'd flip the meat carefully with chopsticks, and the marinade would slowly caramelize on the craggy edges of the meat. I'd watch wide-eyed as she picked up a small piece off the grill, and blow on it gently to cool it down. She'd pop it into my mouth, and I'd smack my lips in delight at the sweet, smoky, utterly special treat. 
RECIPE: Bulgogi (Korean Marinated Grilled Beef)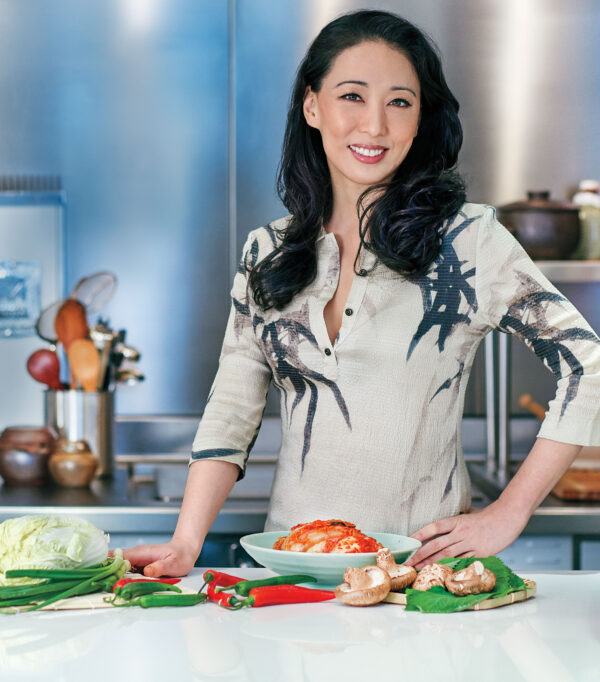 Judy Joo is a chef, restaurateur, author, and TV personality. Her newest book is "Judy Joo's Korean Soul Food."