Thirty flower messengers, reminiscent of the flower sellers in Japan's traditional Edo period, walked the streets of Kensington in London on June 22, 2018. They carried baskets brimming with elaborate flower arrangements designed by flower artist Azuma Makoto to announce the arrival of "Japan in One Building," a sentiment coined by Michael Houlihan, the director general of Japan House London, in its launch video.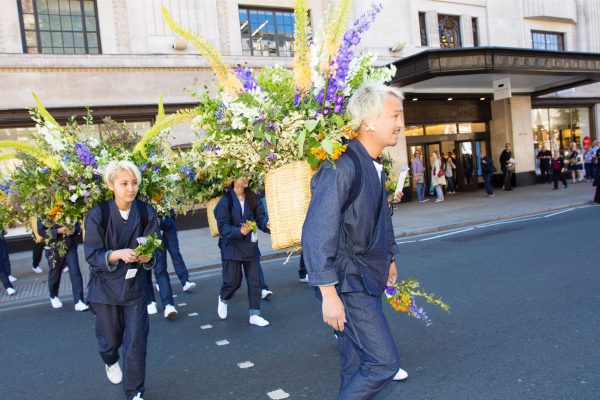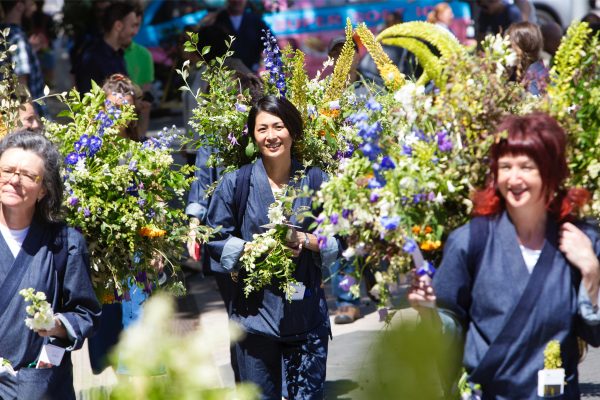 The scent of the flowers and the sight of the flower messengers might have taken people back to a Japan of old—of tatami mats, sliding rice-paper screen doors, and wooden verandas—but at London's new Japanese cultural hub, Japan House London, the old and the new sit side by side.
As the only Japan House in Europe, the venue does indeed bring us touches of old, traditional Japan. But it moves beyond the East-meets-West cliché. This is Japan announced in a new way, the way of 21st-century Japan.
London's Japan House resides at one of the most desirable addresses in London, on Kensington High Street, and it joins Los Angeles and São Paulo as places chosen by the Japanese government to show authentic Japan beyond its stereotypes.
As you walk the streets in the area, you realize that these, too, are places with history. It's an upmarket neighborhood where the wealthy, the famous, and even royalty reside. Here, old establishments reign, such as the world-renowned Natural History Museum with its spectacular Romanesque architecture; and the Royal Albert Hall, the site of the annual Proms concerts, with many a world-class performance. Kensington Palace is right on Japan House's doorstep,  home to the Duke and Duchess of Cambridge and their children, and the newly wed Duke and Duchess of Sussex.
The Japan House flower messengers pounded these very streets, and although they appeared to have been from a bygone age, their costumes were adapted in denim to 21st-century design by clothing maker Dairec located in Kojima in Okayama Prefecture, an area of Japan famed for its denim and clothing manufacturing. This is the idea the new house wants to convey—keeping up traditions but moving with the times.
In the House
Walking up to Japan House, you'll see its art deco building by Bernard George, built in 1933 as Derry & Toms department store, and decorated on its outer walls with very English carvings of craftsmen and intricately crafted metalwork by sculptor Walter Gilbert. Gilbert helped build the gates of Buckingham Palace, no less.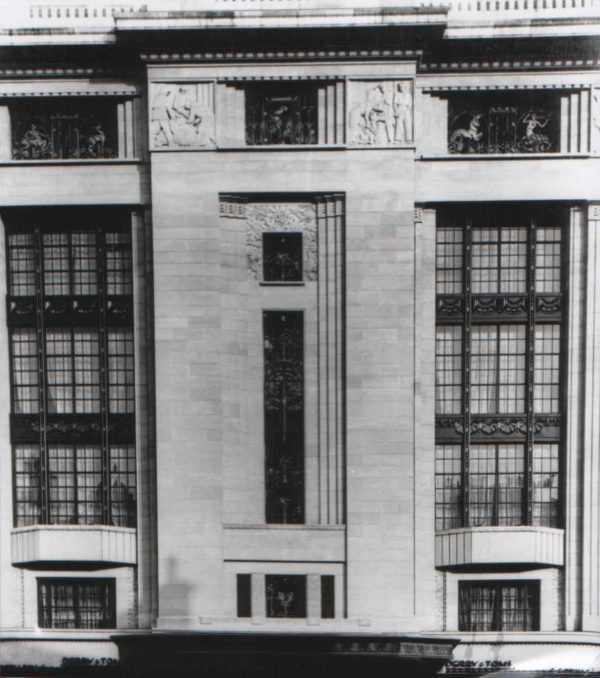 Through its doors, you'll find what the Japanese know as "washitsu." It's that tatami room we first imagined. This one, as in most Japanese homes, has "fusuma" (sliding doors) and what is called a "tokonoma," or alcove, where beautiful objects are meant to be admired, like an ikebana flower arrangement or a kakemono hanging scroll. Japan House's tokonoma will showcase examples from its exhibition space for visitors to admire.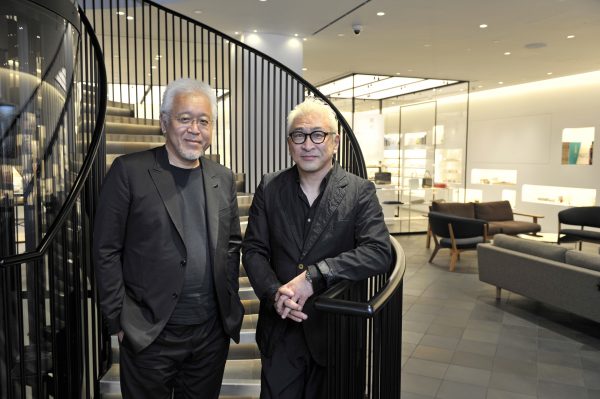 The tokonoma is one of those touches of tradition that runs through the interior design by the prominent designer Katayama Masamichi. Katayama wanted Japan House to be London's tokonoma and to display the authentic aesthetics of Japan. Visitors can climb the three floors via the spiral staircase he designed. Its 51 steel steps took over eight months to create from start to finish, with over 100 talented people involved, from designers and craftsmen to steel workers.
The handmade tiles that line the staircase steps line the floor, too, and were shipped in from Japan's Awaji Island, where artisans have been making the tiles for 400 years. Their "kawara" (roof tiles) were historically made for roofs and gargoyle-like decorations, but nowadays the tiles also line floors. Thirteen craftsmen took four months to make the 14,500 tiles that line the floor. The clay tiles were fired, air dried for a week, then meticulously measured by hand, and individually cut.
Japan House contains what you'd expect from a cultural emissary: exhibition and gallery spaces, a restaurant, a library, a tourism office, and, of course, a carefully curated shop full of all things Japanese.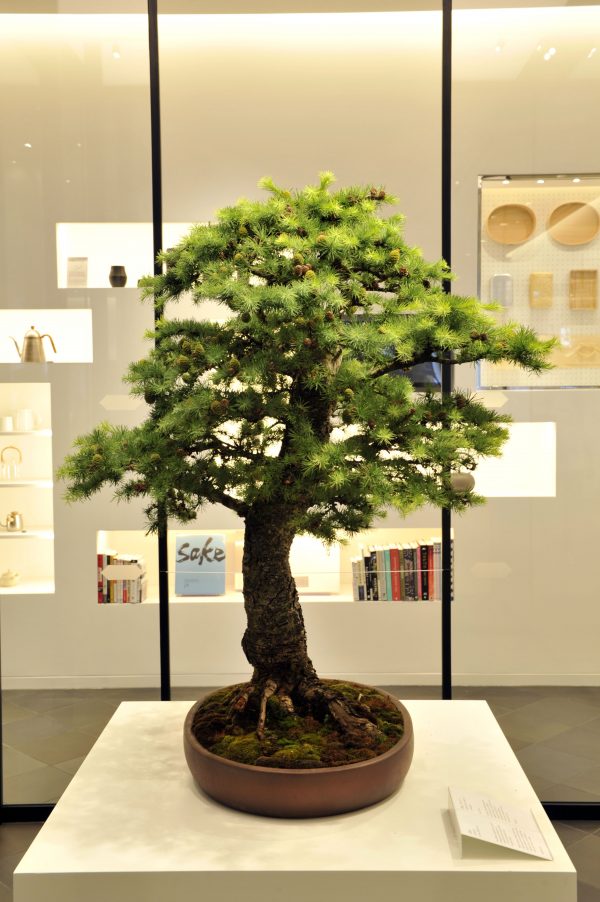 Some of the exhibitions feature craftsmen, such as the upcoming "The Biology of Metal: Metal Working from Tsubame Sanjo," from September to October 2018. It explores an area in the Prefecture of Niigata renowned for its metalworking factories and workshops, which make a myriad of products and most of Japan's cutlery. The area is called a "living national treasure" due to its copperware manufacturing tradition.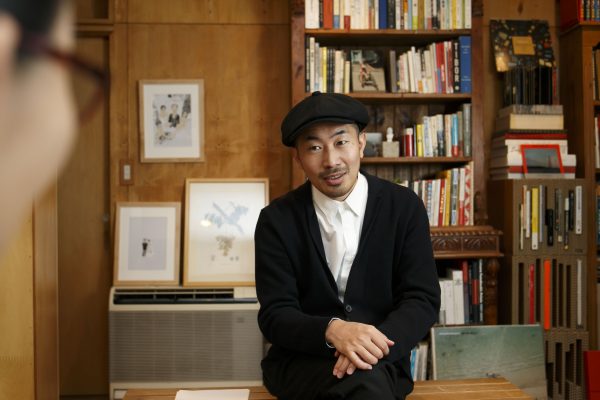 In the library, book specialist Haba Yoshitaka of Bach (a company dedicated to all things related to books, from creating bookstores, to book distribution, to book production) has curated book displays along different themes to champion paper books over screens. The current library exhibition through September 2018 is themed around the nature of Japan; then from September to November 2018, it's on Japan's Mingei folk art movement of the late 1920s.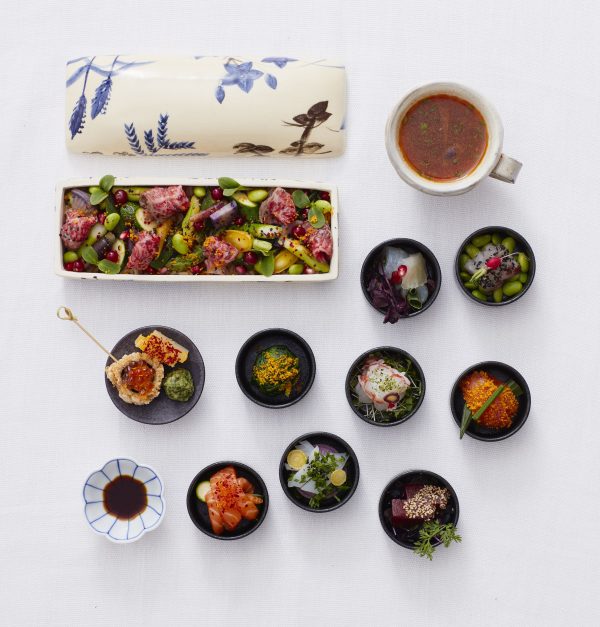 After you've read, admired, and absorbed all things in this house of Japan, the restaurant may be enticing. The restaurant design incorporates "doma," a tradition in Japanese homes to dedicate a space between the indoors and outdoors as part of the kitchen, but also for family and friends to sit and socialize. Japan House has made its own doma, incorporating ancient Japan with the Japan of today. Both sit in the same space, under the roof of 101–111 Kensington High Street, as "Japan in One Building." You are invited in.