It might seem like a hefty endeavor to cook Korean food at home. When dining out, a meal often comes with a dozen sides and condiments, and meats are barbecued at the table on infrared, smokeless grills—all things that seem better left to the realm of restaurants.
But Korean cooking is as unfussy as it gets in the new cookbook "Everyday Korean: Fresh, Modern Recipes for Home Cooks" ($29.95). It's written by Kim Sunée, a bestselling author and former food editor, and Seung Hee Lee, who teaches cooking classes in Atlanta and also works as an epidemiologist at the Centers for Disease Control and Prevention.
Sunée was born in Korea and then adopted, growing up on crawfish bisque and the goodness of Southern food. Starting in her 20s, she spent 10 years living and eating in France. She met Lee, who worked as her translator at the time, in Seoul, during the book tour for her memoir, "Trail of Crumbs."
They cover traditional dishes, such as soondubu jjigae (tofu stew), as well as dishes with a twist. Recipes for savory pancakes are offered in many variations—the more common version with seafood and green onion, as well as an unusual one with kale and bacon, for example. You'll also find recipes inspired by different parts of the world, like bulgogi meatball poutine and kimchi fried arancini, after Québécois and Sicilian traditions, respectively.
Many recipes indeed call for specialized Korean ingredients—such as kimchi, or gochujang, a red chili paste—but as Korean cuisine becomes more popular, you can often find these at non-Korean grocery stores. Websites such as HMart.com will deliver ingredients right to your door.
Easy Recipes
I tried out Sunée and Lee's recipe for kalbi jjim, or braised short ribs. It was about as hands-free as you could get: Short ribs went on the stove in a pot of water; once it came to a boil, I skimmed off any impurities, and all that was left to do was to add the soy sauce, fish sauce, sugar, spices, and aromatics, and happily walk away for two hours. The result was sweet and savory, and fall-off-the-bone tender, with the aromas of the spices—star anise, cinnamon, clove—melding beautifully with the ginger, garlic, and onion. The braising liquid is then defatted and used for cooking the vegetables, making for a lighter stew.
Another dish, Kimchi Fried Rice, was also easy, especially because it was made with store-bought kimchi. The fermented cabbage gave a bit of tanginess, a delayed slow kick of heat, and renewed life to day-old rice.
To try these recipes and more, see below.
Braised Short Ribs With Cinnamon and Star Anise (Kalbi Jjim)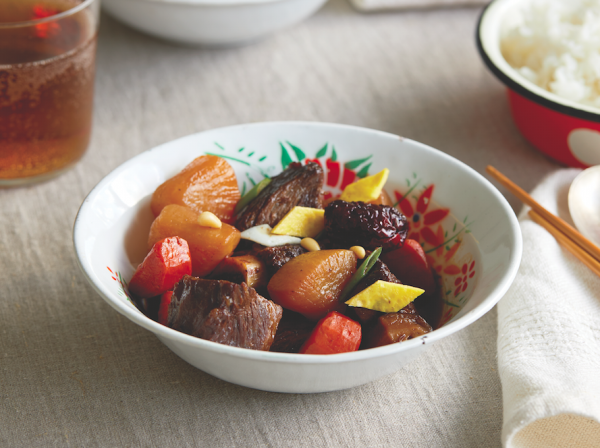 This is a way to celebrate and elevate the cheaper cuts of meat, such as oxtails and short ribs. To make this rich dish really clean and hearty, we take a few extra steps. We cook the meat first and remove the fat rendered from the meat. Then we cook the vegetables separately in the braising liquid and combine everything at the end for final cooking. It might seem tedious, but it allows every ingredient to be cooked perfectly and maintain its form.
Along with Panfried Stuffed Vegetables, the smell of braised short ribs or oxtail gets everyone excited during the holidays. Serve with soft polenta, noodles, steamed rice, Focaccia with Fried Kimchi, or with grilled bread.
Makes 4 to 6 servings
3 to 4 pounds meaty short ribs or oxtails
6 cups water
1/3 to 1/2 cup brown sugar, to taste
1/2 cup low-sodium soy sauce
1 tablespoon aged soy sauce or fish sauce
6 garlic cloves, peeled and halved
One 2-inch piece fresh ginger, thinly sliced
1/2 small yellow onion, stuck with 5 whole cloves
3 whole star anise (optional)
1 cinnamon stick (optional)
5 dried jujube dates (optional)
2 medium-size carrots, trimmed, peeled, and cut into 3-inch pieces
1 small daikon radish or 2 small turnips, peeled, trimmed, and cut into 3-inch pieces
10 dried shiitake mushroom caps, soaked in hot water, or fresh shiitake, sliced into quarters
1 tablespoon sesame
Garnishes: 1 tablespoon pine nuts, Egg Crepes, 1 tablespoon chopped fresh parsley or green onion
Combine the short ribs or oxtails and water in a large pot set over medium-high heat. When the water begins to boil, skim the froth from the surface and discard. Add the brown sugar, soy sauce, aged soy sauce or fish sauce, garlic, ginger, onion, and spices, and jujube, if using. Lower the heat to medium-low and braise, partially covered with a lid, until the meat is fork-tender and just starting to fall off the bone: for short ribs, about 2 hours; for oxtails, 3 to 4 hours.
Remove the onion, ginger pieces, and whole spices, if using. Separate the meat and braising liquid, and chill overnight. Remove the fat from the braising liquid and discard. If you're short on time, set the meat aside and chill the broth in the freezer for 3 hours, then remove the fat.
Bring the braising liquid to a simmer. Add the carrots, daikon, and shiitake and reserved meat; cook on medium heat until the vegetables are tender, about 20 minutes. Transfer the vegetables from the broth to a bowl, set aside. Trim the reserved meat, if desired (e.g. remove the bones, cut into bite-size pieces), and add to the braising liquid. Bring to a boil. Stir in the sesame oil, add the cooked vegetables back to the pot, and cook for another 3 to 5 minutes, until all the ingredients are heated through. Garnish with the pine nuts, sliced Egg Crepes, and chopped fresh parsley or onion, if desired.
Kimchi Fried Rice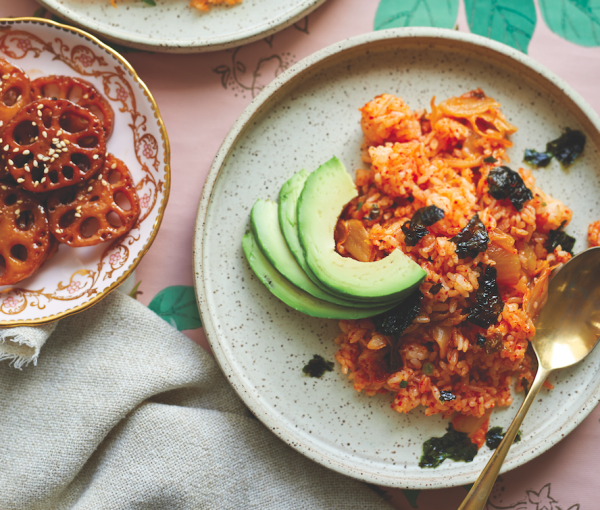 This is the ultimate in Korean comfort food. Store-bought kimchi works just as well as homemade Traditional Napa Cabbage Kimchi, and this is a great way to finish up any that's starting to get just a little too funky.
The twice-cooked kimchi method is really an important step—we sauté the squeezed kimchi to release excess moisture and then add the kimchi juice back into the fried kimchi, which intensifies the flavor. If you fry wet kimchi, it will steam and you won't get the nice caramelized bits. Also, the gochugaru in the kimchi juice can burn, which can then render the dish bitter.
This fried rice is great as is or dressed up with a variety of add-ins and toppings, such as ham or canned (drained) tuna fish. You can be fancy and try adding ground Kobe beef or leftover bulgogi or top with salmon roe. We also like including some fresh corn kernels; the tangy kimchi flavor marries well with sweet corn. Our favorite is a simple, beautiful sunny-side up egg; the bright yellow yolk brings everything together. Also, avocado slices add a layer of creaminess that helps to mellow out the kimchi.
Makes 2 servings as a main or 6 as a side dish
Cooking spray (optional)
1 tablespoon neutral oil, such as canola or grapeseed
2 tablespoons unsalted butter, divided
1 1/2 cups kimchi (store-bought is fine; aged is good, too, if available), chopped and squeezed of any liquid, reserving 1/4 cup of the juice
2 1/2 cups leftover cooked rice (at least 1 day old)
Optional additions: Shredded chicken or ground beef, 1/2 cup chopped bacon, 1 cup fresh corn
Optional garnishes: Egg (fried or sous vide), green onions, perilla leaves, mozzarella, avocado slices
If adding meat or bacon, spray cooking oil on a large, nonstick pan set over medium-high heat; add the meat and sauté for 1 to 2 minutes, until the meat is slightly browned but not completely cooked or until the bacon renders most of its fat. Remove from the pan and set aside.
Heat the oil and 1 tablespoon of the butter together in a separate nonstick skillet or wok over medium-high heat. Add the squeezed kimchi and sauté; lower the heat to medium and cook, stirring frequently, 7 to 8 minutes. The goal is to slowly brown the kimchi without burning it. Add the cooked meat, if using, and the reserved kimchi juice, and cook until the juice has mostly evaporated, another 2 minutes.
Stir in the corn, if using, and the cooked rice and increase the heat to medium-high. Using a spatula or large spoon, break up any lumps of rice and sauté, tossing and stirring frequently, for 2 minutes. Turn off the heat, add the remaining tablespoon of butter (in pieces), and gently fold until the butter is melted and well incorporated into the rice.
Top, if desired, with a fried egg and green onions or other garnishes. Try sprinkling with a handful of shredded mozzarella and place the pan under the broiler on high for a few minutes for cheesy kimchi fried rice.
Reprinted from "Everyday Korean: Fresh, Modern Recipes for Home Cooks" by Kim Sunée and Seung Hee Lee. Copyright 2017. Published by Countryman Press.