When a kangaroo became stranded on the sloped roof of a home in Queensland, Australia, residents had no idea how it got there or how to help it return down. However, the community came together to get the marsupial off the roof, but the mystery of its appearance remains unsolved.
Paula Boon, co-manager of Mount Isa-based animal rescue group Paws Hoofs and Claws, posted photos of the stranded kangaroo—atop a home on Duchess Road—on Facebook after she witnessed the sight while visiting a house on the street.
"Help! How do you get a kangaroo off a roof?" she wrote on Nov. 8, 2021.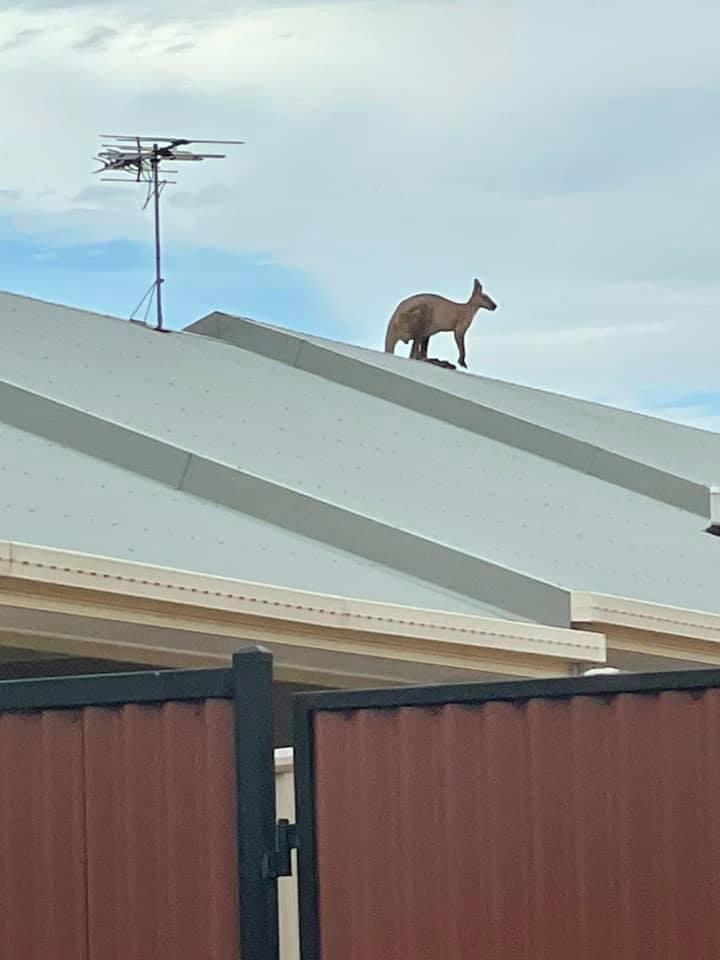 Comments poured in, comprising everything from jokes to shocked disbelief, to suggestions for how to help the stranded kangaroo get down.
"I think Santa retired his reindeer and got roos to pull the sleigh in Australia this year," read one comment. "Wallabys all the time here, amazing how high and how far they can jump. Reckon kangaroo will sort itself out," read another.
After a successful rescue venture, Boon added an update: "He's been helped down safely. Thanks everyone."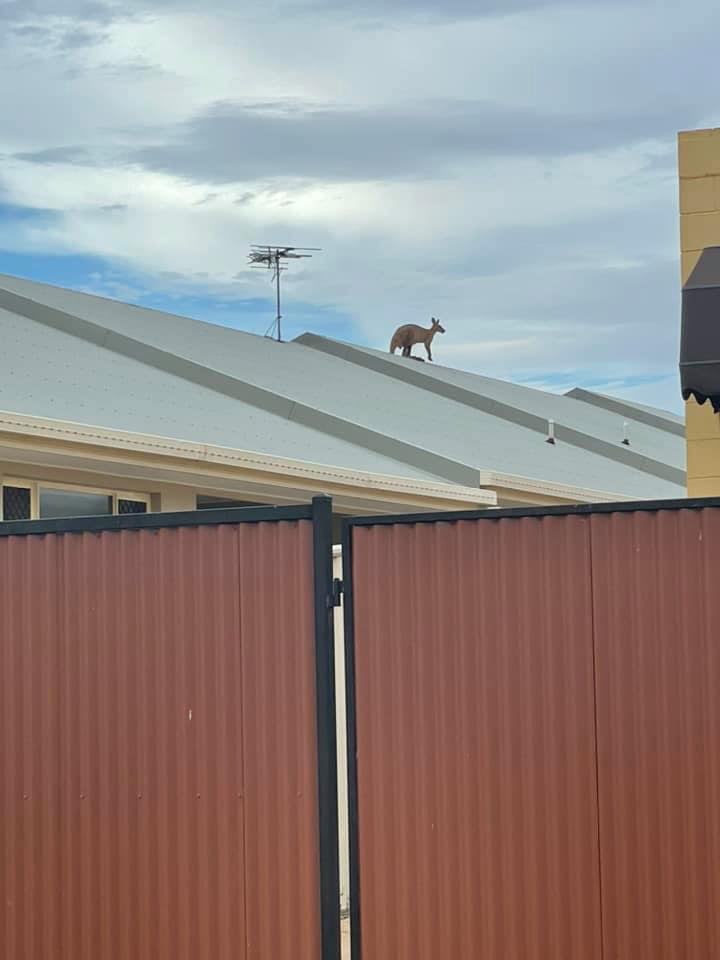 According to Australia's ABC News, it was a few local kids who first noticed the kangaroo on the roof and called the emergency services.
"We thought it was a hoax when we got the call, but sure enough, when we showed up, there it was on the roof," Patrick Buck, a senior firefighter at Queensland Fire and Emergency Services, told the outlet. "We went up with all our harnesses and rescue equipment, but as soon as we got there, he went off the end of the roof and jumped down into some shrubs."
Boon and her colleague, Paws Hoofs and Claws co-manager Sue Carson, commended the firefighters for their cautious approach.
"A young fella got on the harness and climbed up there and walked slowly toward the roo to try and get it to jump off the back of the house where the drop was a lot safer," Carson said.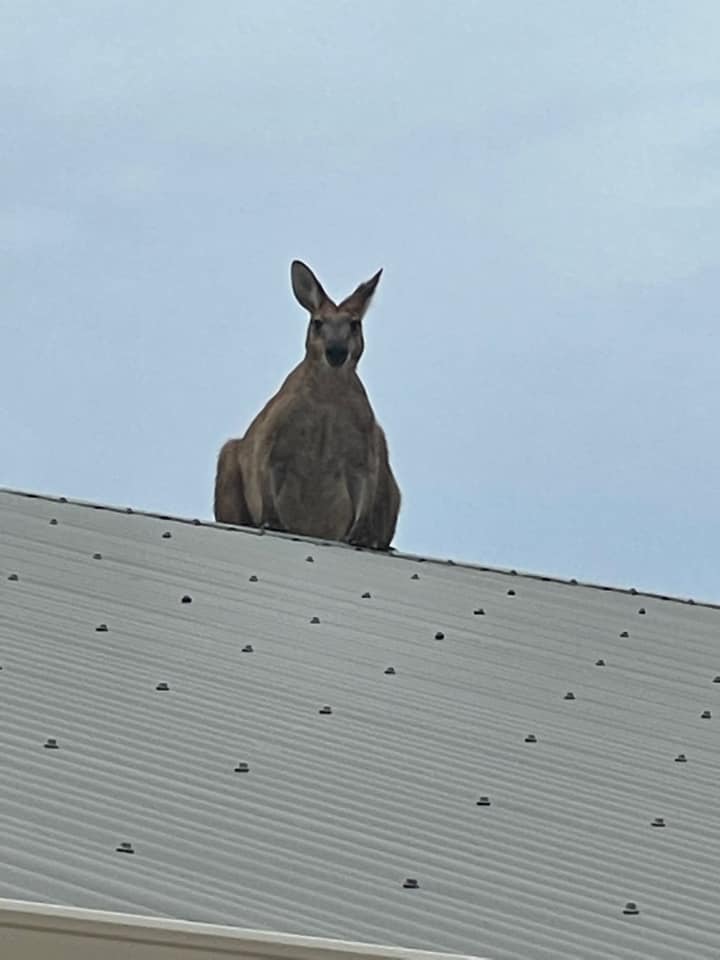 "It was hot yesterday so we were concerned [the kangaroo] was dehydrated, and if he got scared and jumped down he might break a leg," Boon explained to Daily Mail Australia. "We have limited wildlife carers here, and a shortage of vets, and we didn't want him hopping on the road as it is fairly busy."
Carson said the kangaroo rescue was "quite a circus."
People were "gobsmacked" on witnessing the situation and pulled out their cameras to capture the astonishing scene on video.
"It's a unique situation and one we've never dealt with before. It ended up bounding off into the bushes, so it was a happy ending to a funny story," she said.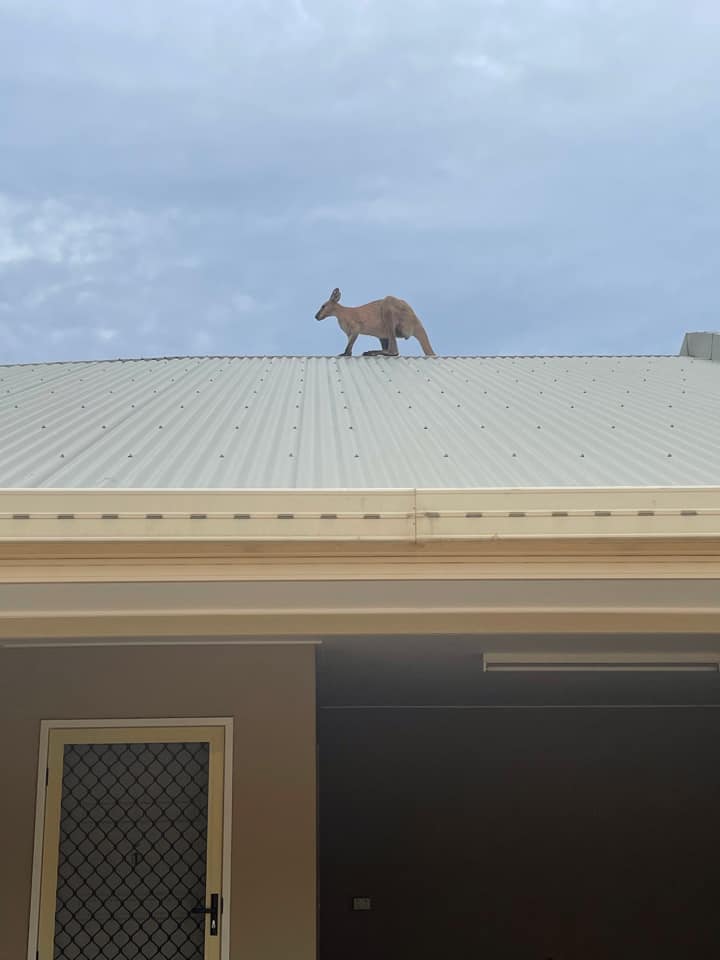 However, it certainly does remain a mystery how the kangaroo got there in the first place.
Share your stories with us at emg.inspired@epochtimes.com, and continue to get your daily dose of inspiration by signing up for the Epoch Inspired newsletter at TheEpochTimes.com/newsletter