JIUFEN, Taiwan—The picturesque town of Jiufen, nestled in the green, perennially fog-shrouded mountains that hug Taiwan's northeastern coast, once pulsed with the promise of gold. At the height of the region's gold rush, this was the center of the action.
But on a recent visit, I joined crowds of tourists in search of other riches: stunning ocean vistas, legendary local eats, and a sort of nostalgic charm that permeates every narrow, lantern-lit cobblestone street. The days of gold mining have long gone, but the former mining town has since struck a new kind of gold: tourism.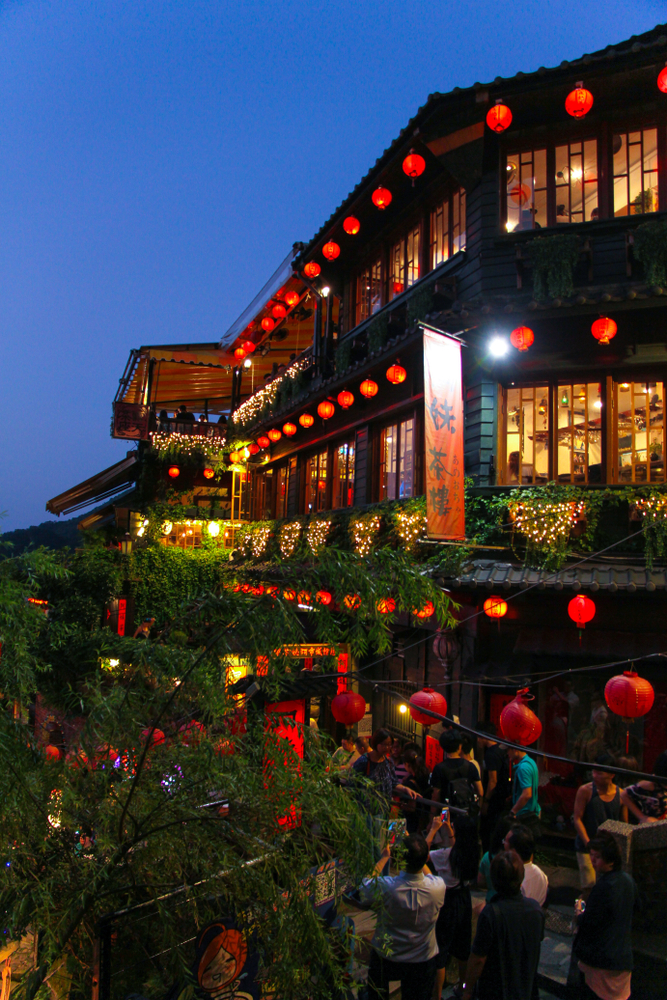 Golden Days
The story begins in the early 1890s, when a group of railroad construction workers, in the midst of washing their rice bowls, found specks of the precious mineral in the Keelung River. The unexpected discovery triggered a gold rush, and crowds of hopeful prospectors descended upon the riverbanks to try their luck.
In 1894, the source of that gold was traced to a huge deposit in the mountains around Jiufen. The region's gold mining era soon took off in earnest—spearheaded by the Japanese, who colonized the island the following year—and as the industry boomed, the mountain towns at its center swelled with miners and newfound riches. By the 1930s, Jiufen had gone from an isolated farming village to a mining hub so prosperous it earned the nickname "Little Shanghai."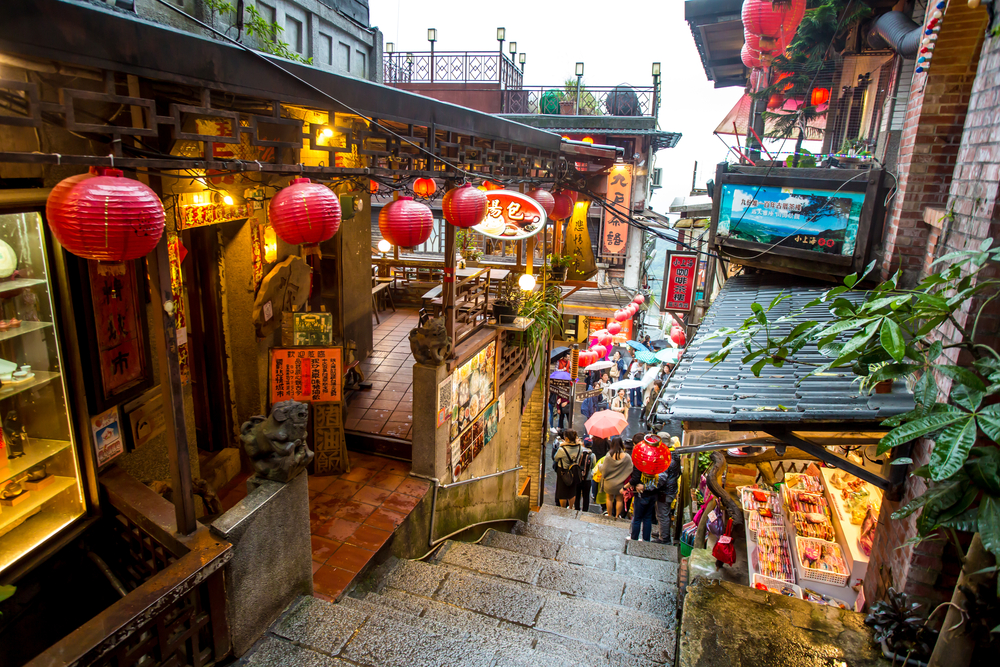 When the mines were closed in 1971, following a steady decline in activity after World War II, residents left en masse. The once bustling streets were largely abandoned and forgotten.
Jiufen owes much of its revival to cinematic fame: The 1989 Taiwanese film "A City of Sadness" was filmed in the defunct town, and its success brought Jiufen back to life as a tourist attraction. Retro-style cafes and souvenir shops soon popped up to meet the crowds.
Then a new wave of attention came with the 2001 release of Japanese animated film "Spirited Away," when rumors swirled that Jiufen—with its traditional Japanese-era architecture and labyrinthine alleyways hung with red paper lanterns—was the inspiration for part of the film's spirit-world setting. (The steep cobblestone steps of Shuqi Road, which pass by tea houses and end in the Japanese-era Shengping Theater, feel especially otherworldly by that red lantern light.) Director Hayao Miyazaki has since denied the connection, but that's done little to abate the influx of fans, especially from Japan.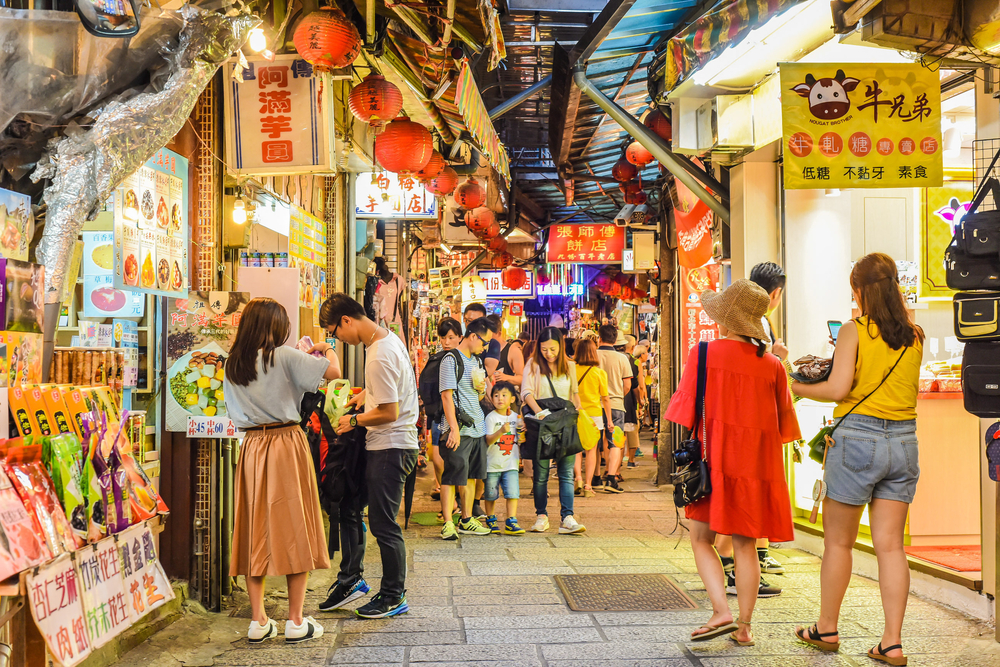 A Stroll Down Jiufen Old Street
Whatever brings you to Jiufen, a meander down its historic "old street," its food-and-souvenir-stall-lined main drag, is mandatory. Just be warned that you'll be shoulder-to-shoulder with throngs of other tourists with the same idea.
But the slow, shuffling pace will give you plenty of time to take in the barrage of sights, sounds, and smells from all sides: great vats of steeping tea eggs and sizzling sausages on the grill, shiny lacquered pineapple cakes and oolong samples galore, handcrafted owl ocarinas at one stall and gaudy "Spirited Away" memorabilia at the next, and every now and then, a whiff of the unmistakable funk of stinky tofu.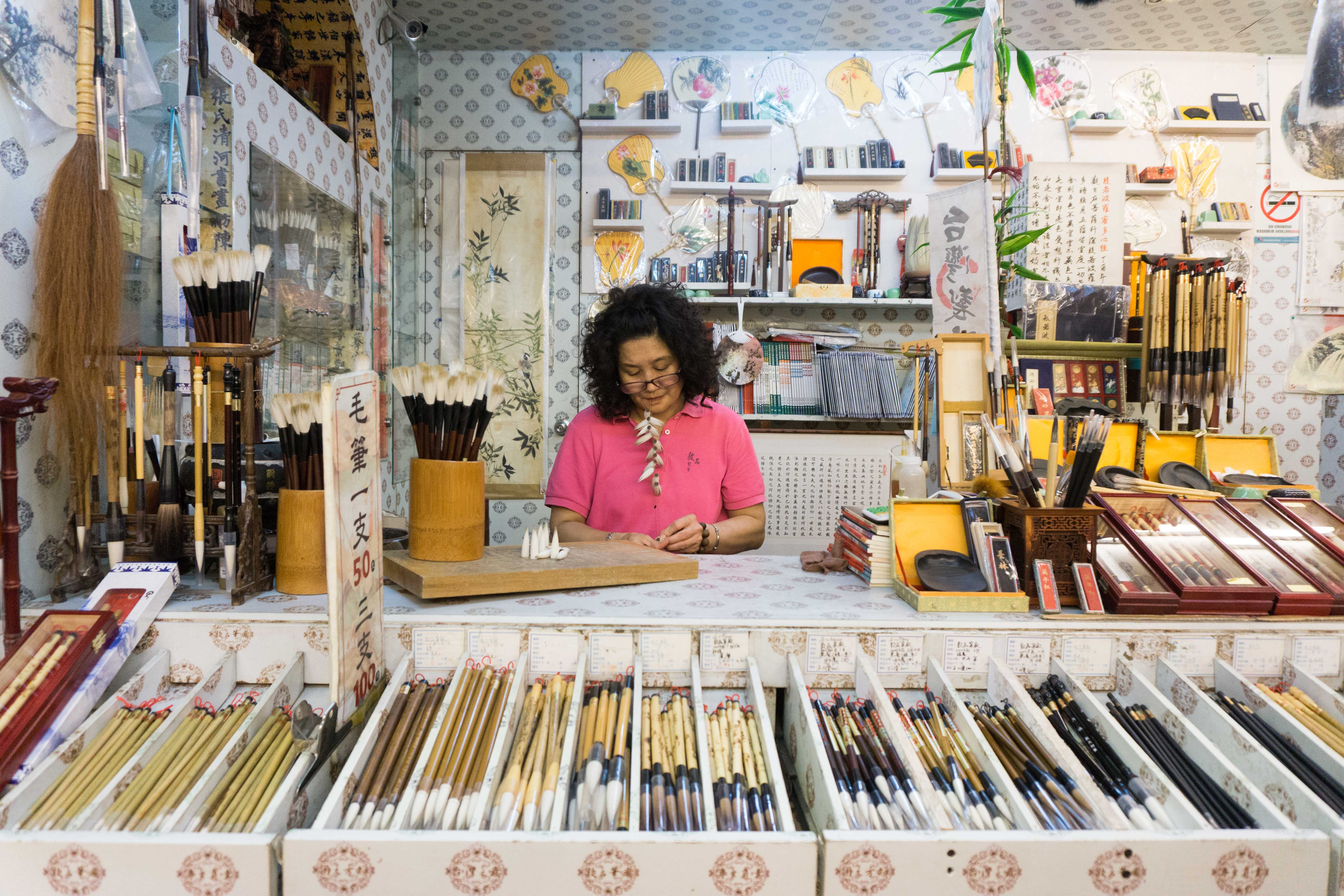 Your main objective is to eat; Jiufen is famed for being a street food mecca.
First, settle into a table at the back of Zhang Ji Traditional Fish Balls, to slurp up remarkably springy (or, as the Taiwanese call that texture, "Q") fish balls in a savory broth, and meltingly tender lu rou fan (braised pork belly over rice).
At Jin Zhi Red Yeast Taiwanese Meatballs, test your palate with a bit of an acquired taste: The spot's namesake meatballs are made with red yeast rice, which gives them an herbal, medicinal heat that warms you from the pit of your stomach. They come encased in a slippery, translucent skin made from sweet potato starch.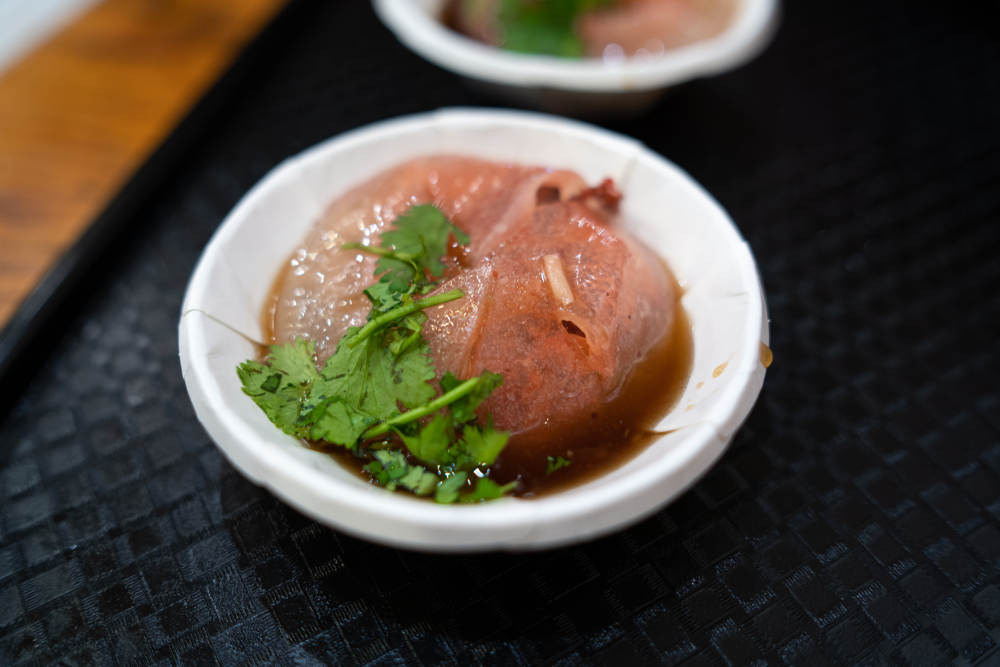 Also worth seeking out is the Ah Lan Hakka Glutinous Rice Cake stall, to try a traditional snack of the Hakka people, Taiwan's second-largest ethnic group. Freshly steamed and served still warm, the cakes are soft, sticky, and just the right amount of chewy, yielding to fillings that range from sweet red bean to savory preserved turnip.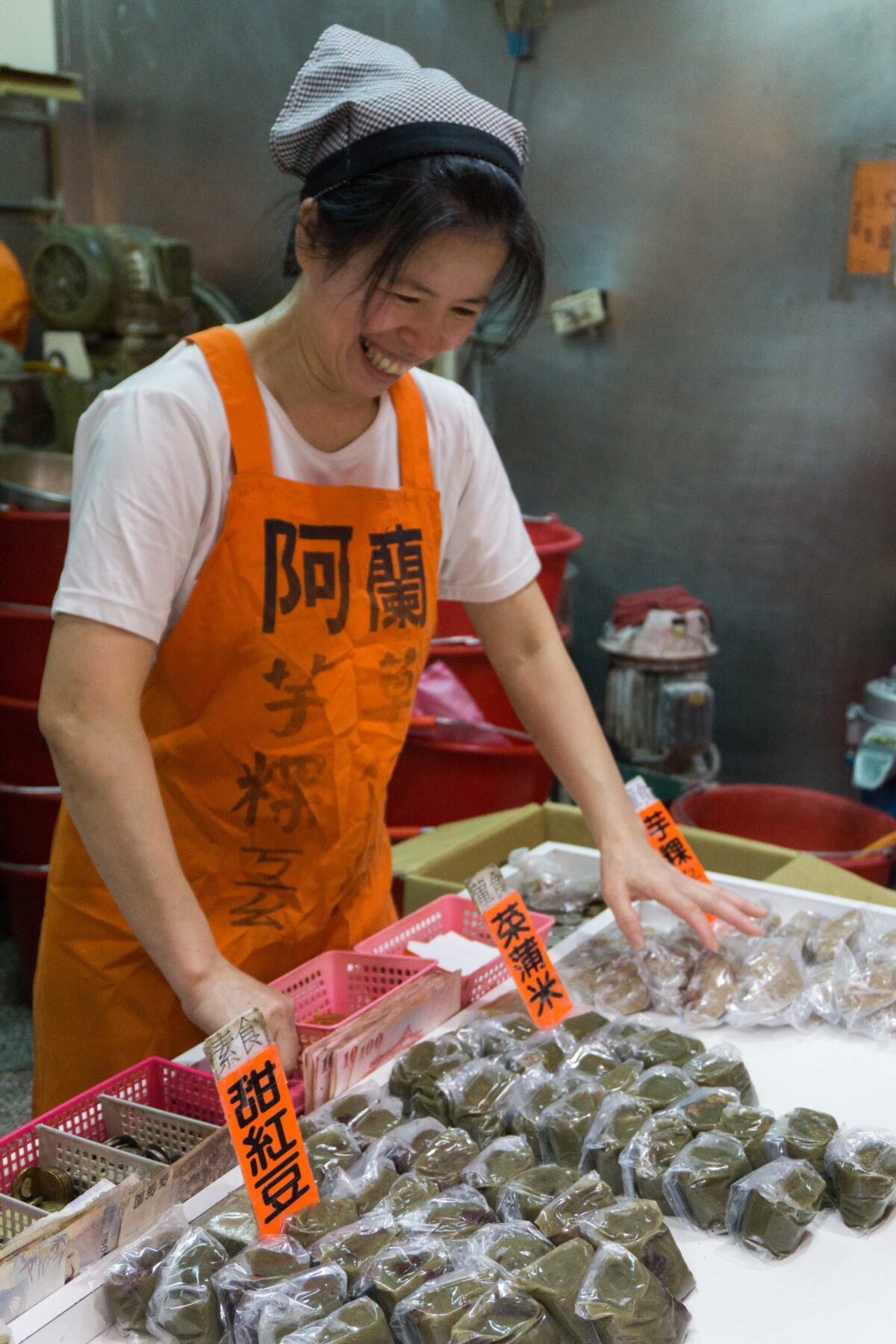 But perhaps Jiufen's most famous snack of all is its taro balls: chewy bite-sized dumplings made from a dough of mashed taro or sweet potatoes and sweet potato flour. Energy-dense, quick to cook in bulk, and made from locally grown tubers, they were a favorite miners' snack back in the day.
You can enjoy them cold over shaved ice or hot in a syrupy soup, mixed with a nutritious medley of boiled nuts and beans. Several stalls sell the treat, but for the locals' favorite, head up a flight of stairs to find Ah Gan's, where you can watch workers peeling sweet potatoes and kneading the dough in the back, and enjoy your bowl with a breathtaking ocean view.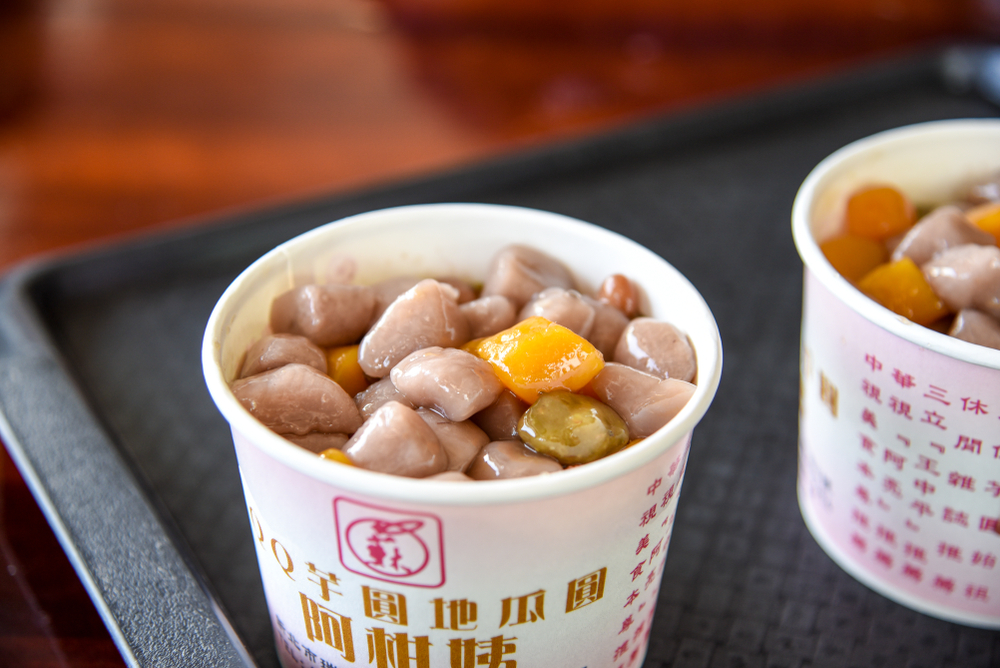 Hidden Gems
When you tire of the crowds, seek refuge in one of the town's charming tea houses. Or better yet, leave the town center entirely to wander its quiet backstreets and hilly outskirts, where a hidden crafts shop or scenic vista awaits at every turn.
Consider stopping by the unassuming Gold Ore Museum, tucked at the bottom of a hillside path; you'll likely have the place to yourself. The museum was founded in 1989 by one of the last of Jiufen's gold miners, and has been continued by his family since his passing to carry on his legacy. A short tour will guide you through its two-story collection of gold ore, old excavation tools, and black-and-white photos of Jiufen in its heyday.
Then walk a bit further to reach the serene Songde Park, a small memorial park dedicated to a key figure in Jiufen's mining history. You'll find some of the best views of the ocean, the surrounding mountains, and the rest of the town, with its buildings clustered on the hillsides like tiny Lego blocks. The tourists lining up for photos in the distance will look like ants.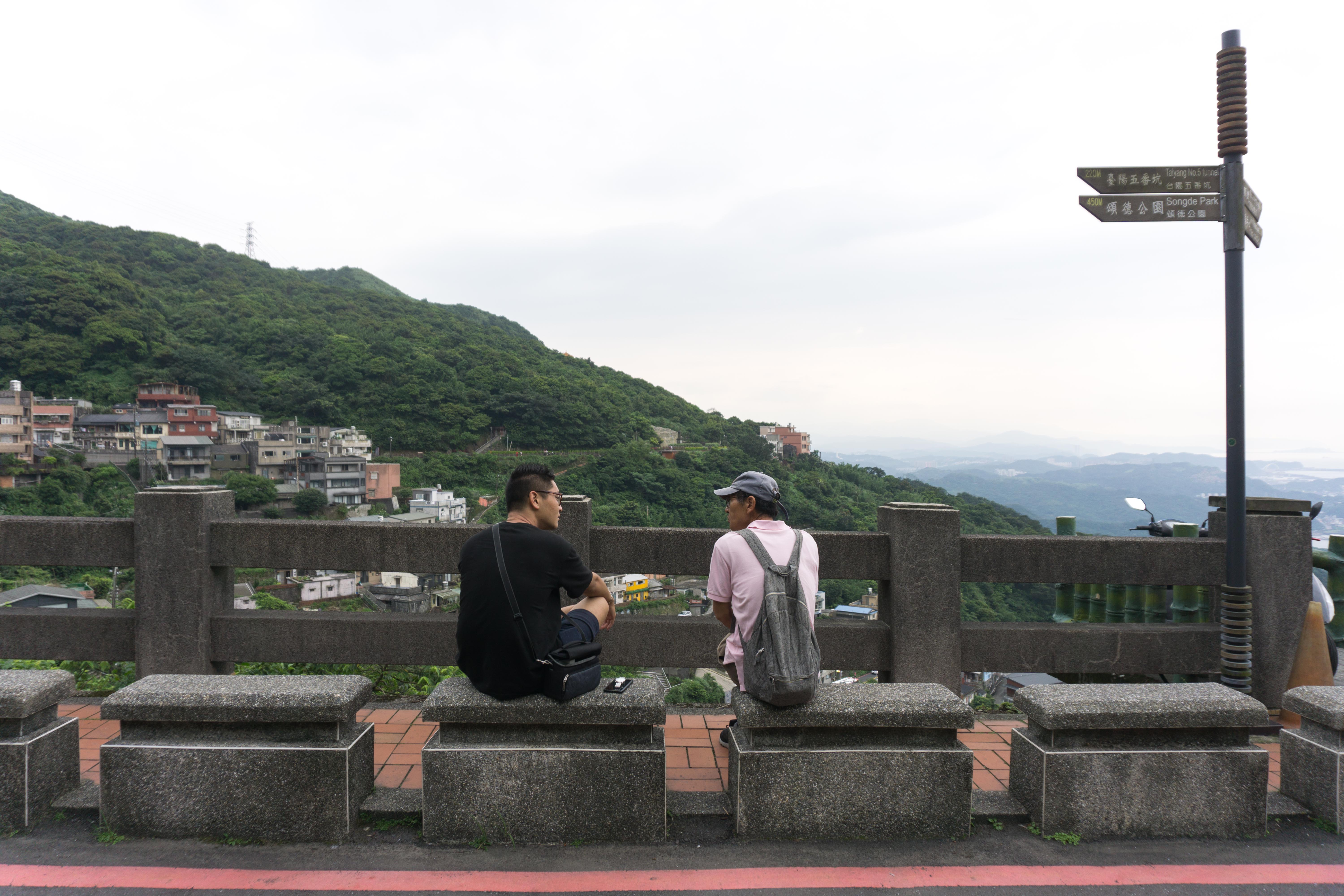 Just be sure to make it back there by nightfall: That's when the red lanterns that seem to line every street and hang from every awning glow to life, transforming Jiufen into something that truly looks like a scene from a movie.
A world away from Taipei's high rises and bright city lights, this little mining town in the mountains is an alluring reminder of an era gone by.
A Detour to Jinguashi
For a deeper dive into the area's history, take a 10-minute bus ride from Jiufen to the much-quieter Jinguashi, another former prosperous mining town famed for its gold and copper.
The main attraction is the Gold Museum (formerly known as the Jinguashi Gold Ecological Park), a Japanese-era mining business complex turned sprawling, open-air museum. Among its many facilities are old Japanese-style wooden homes open for touring, and an elegant chalet and Japanese garden custom-built for Japan Crown Prince Showa (though his planned visit was never made).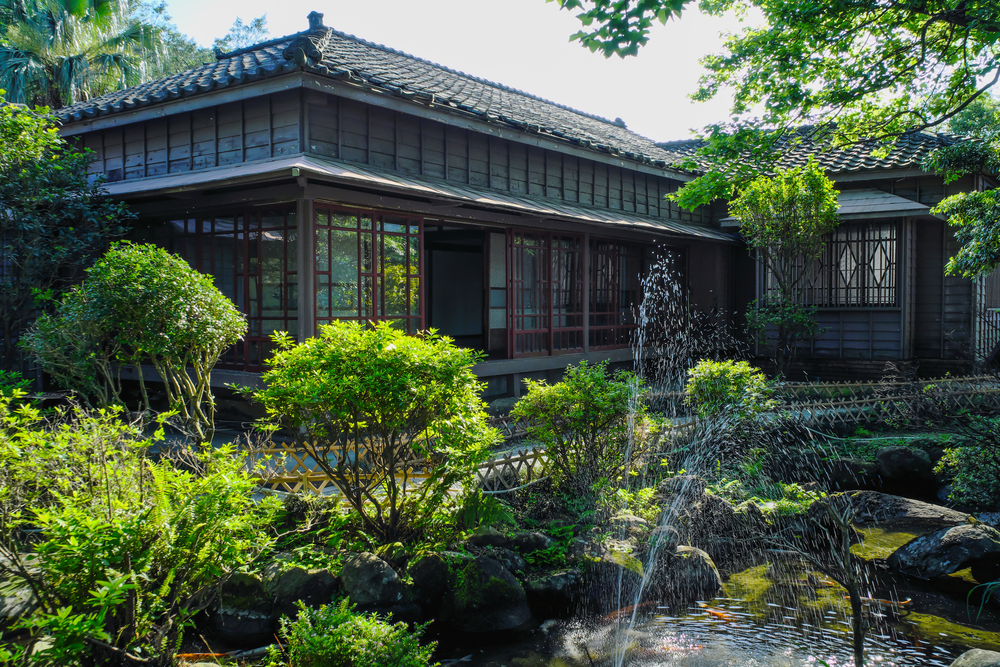 At the Gold Building, you can learn about mining history, try your hand at panning for gold, and don a hard hat and walk through Benshan Tunnel No. 5, an old mining tunnel now widened and augmented with educational wax figure exhibits. It's part of what once was an extensive, 370-mile-long system threading through the surrounding gold-veined mountains.
Also of note is the 485-pound pure gold ingot on display. You can touch it through a hole in the display case and, a guide might joke, take it home—all $10.5 million's worth—if you can carry it. www.Gep-en.ntpc.gov.tw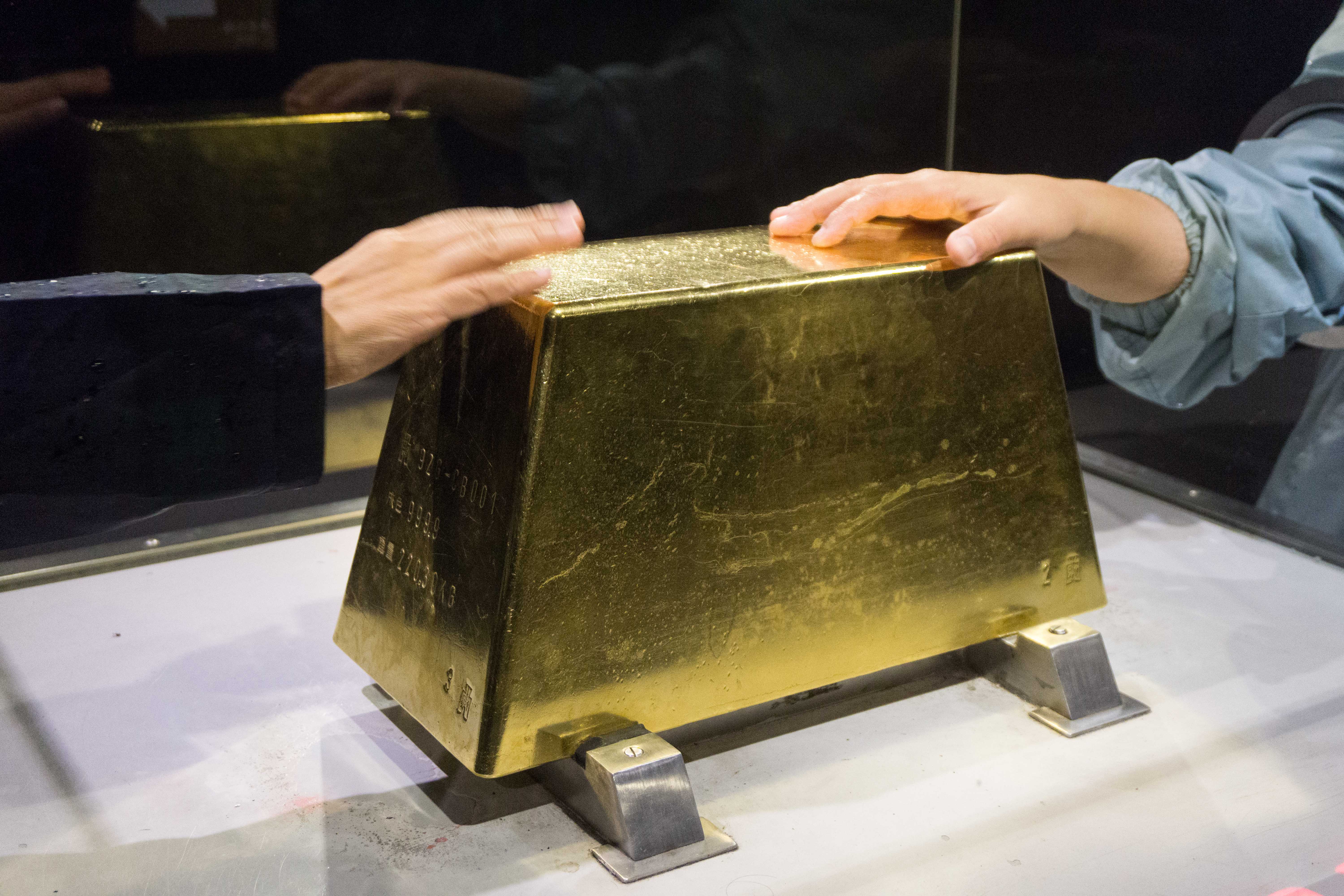 Getting There
Jiufen is readily accessible from Taipei via public transportation. The easiest route is a 40-minute train ride followed by a 20-minute bus ride. From Taipei Main Station, catch any of the trains headed to Ruifang, then transfer to a bus that will drop you off right at the entrance of Jiufen Old Street. The mountain roads are steep and winding, so be sure to hold on to something.
As a popular day trip from Taipei, though, Jiufen's narrow streets can get uncomfortably crowded. Go on a weekday if you can.
The writer was a guest of the Taiwan Tourism Bureau.