For some, mint juleps come around just once a year, when the Kentucky Derby approaches (this year on May 5). But for Matt Lofink, bartender at the James Beard Award-nominated Cure in New Orleans, the storied cocktail has its place on any warm, beautiful day and "represents true Southern hospitality."
He fondly remembers Fourth of July parties with friends and family. "There were always mint juleps at barbecues, being passed around. The incredible smell of fresh mint mixed with the sizzling sounds of the grill is something that's been burned in my memory forever," he said.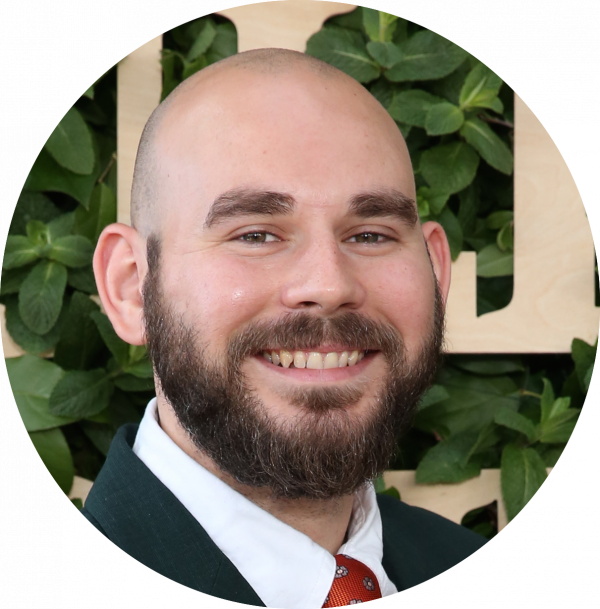 "Southern culture is an experience that is truly a special thing to be a part of. When you get a chance to sit back and enjoy a mint julep with your friends, old and new, or with your family, you begin to realize how special the culture really is."
To find—or make—a great mint julep, look no further than bourbon. "A great bourbon is the crucial part of what makes a mint julep so delicious," Lofink said. "I personally like Maker's 46 for its lovely notes of vanilla and spice, but classic Maker's Mark is always a good option as well."
And so, to celebrate not just the Kentucky Derby, but also warm weather in the company of friends, here are some mint julep recipes from bartenders around the country, including both classic and whimsical variations.
Sallie Gardner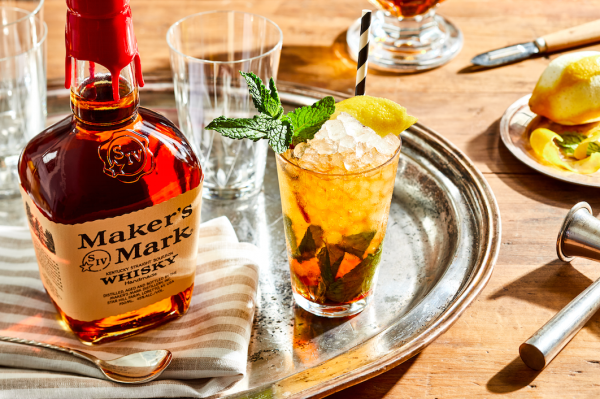 1 1/2 parts Maker's Mark bourbon
1/2 part B. Lo Nardini Amaro liqueur
1 teaspoon orgeat syrup
7 mint leaves
1 dash Regan's orange bitters
1 lemon swath
1 fresh mint sprig
Put all ingredients except lemon swath and mint sprig in a julep cup, fill halfway with crushed ice, and stir until outside of tin becomes slightly frosted. Express the lemon swath and drop into cup. Top with crushed ice and garnish with mint.
Courtesy of Matt Lofink, bartender at Cure, New Orleans
Nature's Sweet Restorer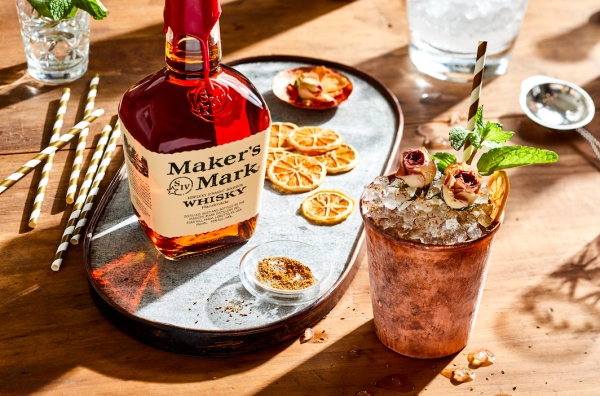 2 parts Maker's Mark bourbon
1 orange peel
3/4 part Strega liqueur
1/4 part Jack Rudy Cocktail Co. tonic syrup
1/8 part Suze aperitif
1 lemon peel
7 to 10 mint leaves, plus more for garnish
1 teaspoon aperitif
Fennel frond
Dehydrated lemon coin
Fennel pollen
Dried roses (optional)
Set bourbon and orange peel to the side. Place liqueur, tonic syrup, aperitif, lemon peel, and mint in a julep cup. Muddle to combine. Top with bourbon. Fill cup with crushed ice. Express orange peel over drink and discard. Garnish with fennel frond, mint, dehydrated lemon coin, fennel pollen, and dried roses (optional).
Courtesy of Ryan Casey, beverage director at The Dewberry hotel, Charleston
A Study in Pink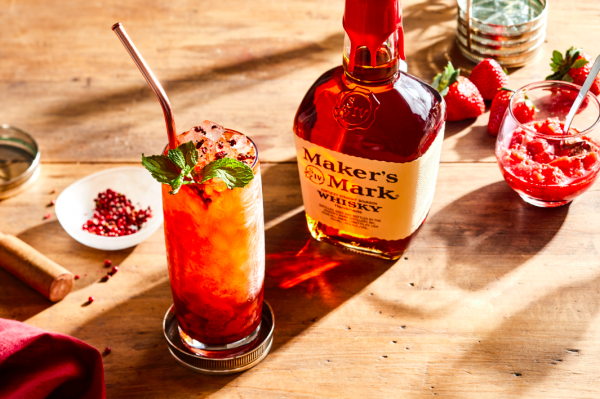 1 part macerated strawberry, raspberry, and mint syrup (recipe below)
1 part Lustau "Los Arcos" Amontillado Sherry
1 part filtered water
5 parts Maker's Mark bourbon
Strawberry and raspberry castor sugar (recipe below)
Ground pink peppercorns
Bouquet of mint leaves
Combine syrup, sherry, water, and bourbon in an 11-ounce collins glass or an 11-ounce julep cup. Fill the vessel up halfway with crushed ice. Stir until the outside of the vessel is frosted. Top with more crushed ice. Top crushed ice with a dusting of strawberry and raspberry castor sugar and ground pink peppercorns. Garnish with a bouquet of mint.
For the Strawberry, Raspberry, and Mint Syrup
In a container (a mason jar works), combine 1 cup of chopped strawberries, 1 cup of chopped raspberries, and a handful of mint. Coat with sugar and allow to sit at room temperature until a syrup forms. Strain the syrup to remove any remaining fruit. Do not heat.
For the Strawberry and Raspberry Castor Sugar
Castor sugar (also called baker's sugar) is superfine but not powdered. To make the fruit-flavored castor sugar, place a handful of frozen organic berries into a clean coffee grinder and grind until it is the same consistency as the castor sugar. Mix the two ingredients. Use a small metal spoon to dust the top of the drink.
Courtesy of Kellie Thorn, beverage director at Empire State South, Atlanta
The Propuh' Mint Julep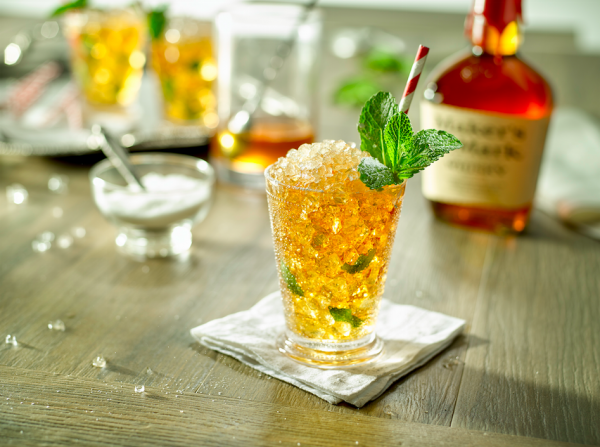 Large sprigs of mint
2 parts Maker's Mark Bourbon
3/4 part simple syrup
Slap mint to express oils. Place mint leaves in julep cup and muddle. Rub mint leaf around inside of cup. Dump mint leaves. Crush ice in Lewis bag and fill cup. Add bourbon and simple syrup. Stir with bar spoon and top with additional crushed ice. Garnish with mint sprigs.
Courtesy of Chris Evans, bartender at Bourbon on Rye, Lexington, K.Y.