MODENA, Italy—From the land of Maseratis and Ferraris comes another export that you might think you know well: balsamic vinegar.
You've probably seen bottles of it on supermarket shelves—but few people know that there are fake balsamic vinegars. Like Louis Vuitton bags, plenty of them flood the market, capitalizing on the popularity of the real thing.
The liquids may be made to look similar, but make no mistake that the tastes are worlds apart. The knock-offs can taste acrid, with metallic notes, and have no regulations against additives. Real balsamic vinegar is incredibly balanced, harmonizing between sweet and acid, and its production, contained within a limited geographical area of Italy, is also strictly regulated.
Where It's Made
First-time tourists to Italy tend to make a beeline for the classic cities of Rome, Florence, and Venice, often unaware that they've passed by one of the country's gastronomic treasures.
The region of Emilia-Romagna, the gastronomic heartland of Italy, is where real balsamic vinegar is produced. Modena, in particular, has gained increasing fame, thanks to celebrated chef Massimo Bottura; his restaurant Osteria Francescana has been deemed one of the best in the world. But as any chef worth his salt knows, the ingredients are the unsung supporting cast. In this area, there are culinary gems aplenty, from Parmigiano-Reggiano cheese to silky Prosciutto di Parma—each, like balsamic vinegar, with a long and ancient history.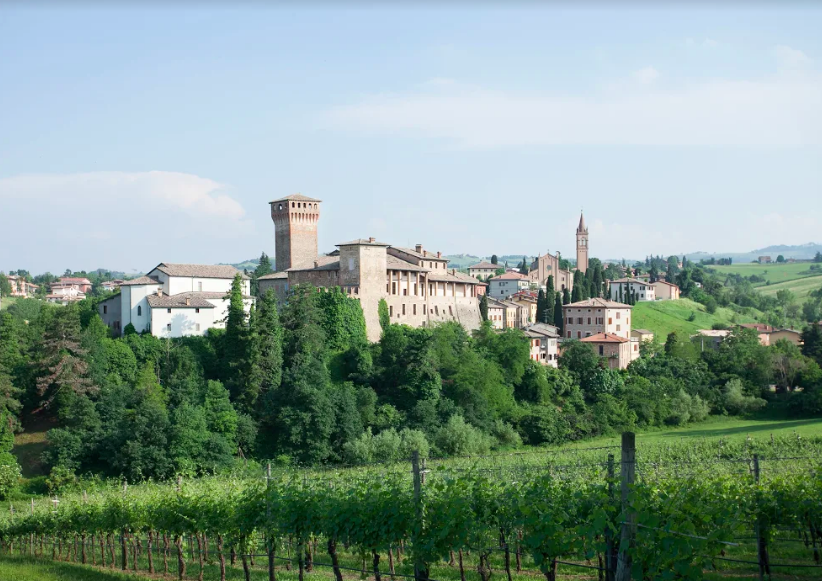 Ancient Origins
The history of balsamic vinegar can be traced back to Roman times.
At the time when Julius Caesar mounted campaigns against Gaul, the Romans were already known to cook grape must to better preserve it. The resulting balsamic vinegar was said to have medicinal properties that disinfected the digestive tract. In the kitchen, it was used as a sweetener.
During Italy's medieval and Renaissance periods, it was seen as a priceless luxury. Each family had its own recipe and stash, meant to be enjoyed at banquets of the time but also to be kept and aged for future generations to enjoy.
Only in the second half of the 19th century was the recipe standardized to a single method.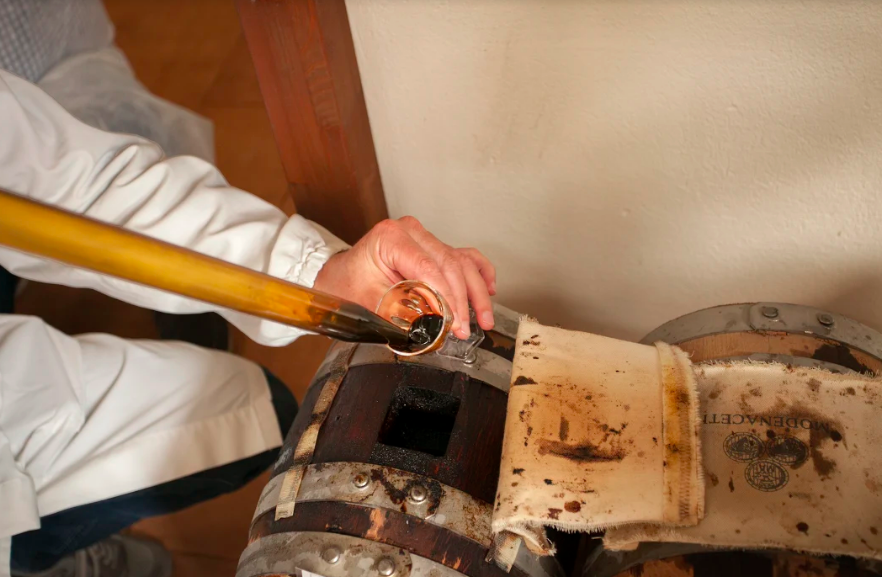 How to Tell Real Balsamic Vinegar
Real balsamic vinegar has protected status, with its own labels of appellation, either PDO (Protected Designation of Origin) or PGI (Protected Geographic Indication), recognized by the European Union and bestowed by consortiums. When you shop, you simply need to look for a label that says PDO or PGI.
There are three authentic kinds of balsamic vinegar: two traditional PDO types, one from Modena and another from Reggio Emilia, aged at least 12 years and priced to match. And then there's Balsamic Vinegar of Modena PGI, aged for less time, but much less expensive and more versatile.
There are also two types of the latter: Balsamic Vinegar of Modena PGI is aged for over 60 days, and Aged Balsamic Vinegar of Modena PGI is aged for over 3 years.
Unlike fake balsamic vinegars, the labels won't sport any extra, ostentatious adjectives like "select," "fine," "superior," or "classic," nor should there be any numbers that refer to the aging period.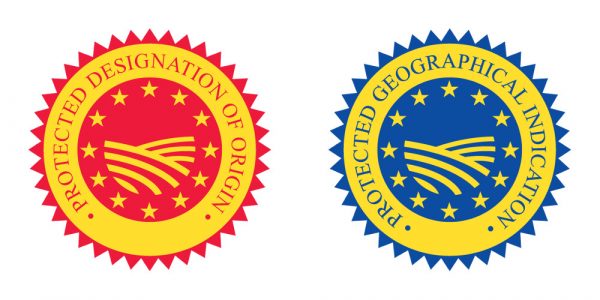 How It's Made
Balsamic Vinegar of Modena is made from grape must that is fermented, cooked, and concentrated. The grapes themselves can only come from select varieties: Lambrusco, Sangiovese, Trebbiano, Albana, Ancellotta, Fortana, and Montuni.
Then, a minimum of 10 percent wine vinegar is added, as well as some aged vinegar that's at least 10 years old.
After the liquid is converted into vinegar, it's left to mature in barrels made of precious woods like chestnut, oak, mulberry, and juniper—all of which lend it their particular notes. Only after passing strict tests can the product be certified as Balsamic Vinegar of Modena.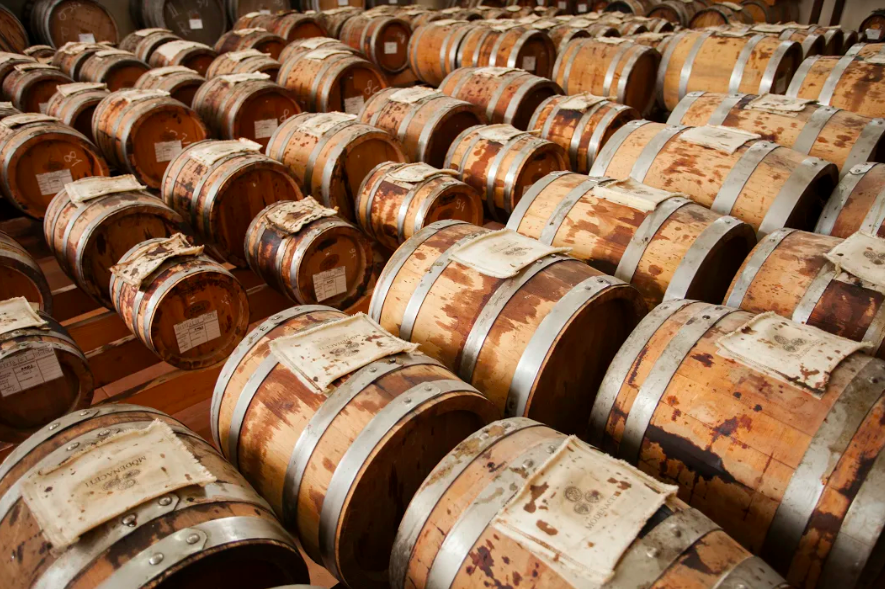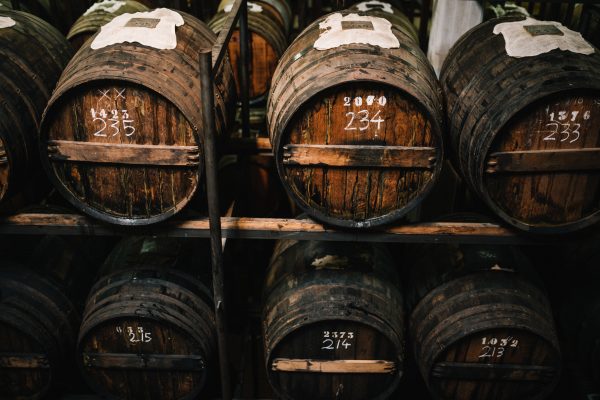 How to Savor It
Balsamic vinegar is versatile; its rounded acidity, with a subtle sweetness, often completes a dish. It works equally well with savory dishes and desserts (try it on strawberries or vanilla ice cream), and has even found its way into cocktails, from Bloody Mary to Spritz.
One of the simplest and most classic pairings comes straight from the Emilia Romagna region: a chunk of Parmigiano-Reggiano. The result is an impossibly perfect marriage between savory, acidic, and sweet.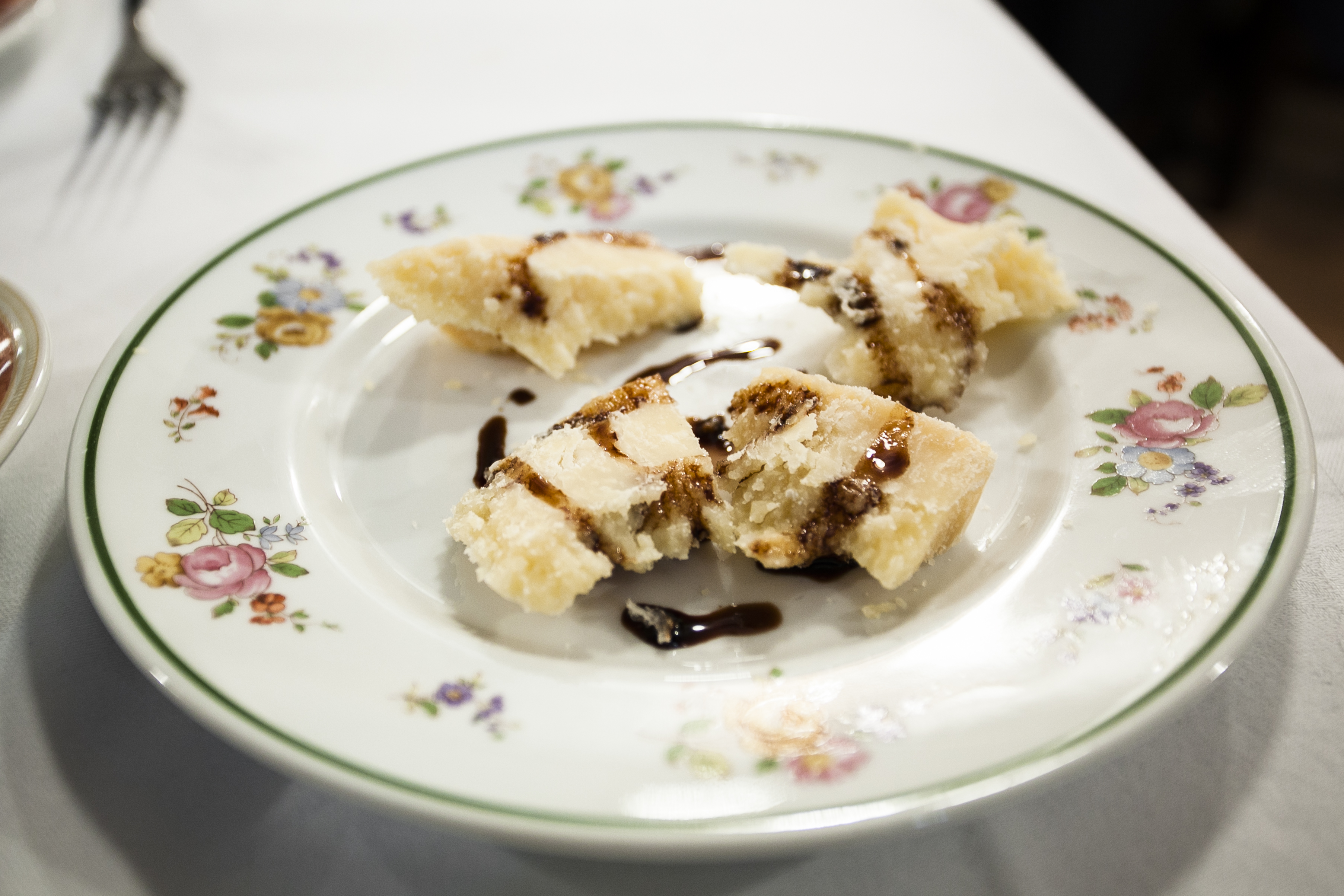 Here are some recipes that showcase balsamic vinegar's versatility:
Avocado Filled With Fruit and Vegetables and Topped With Drops of Balsamic Vinegar of Modena PGI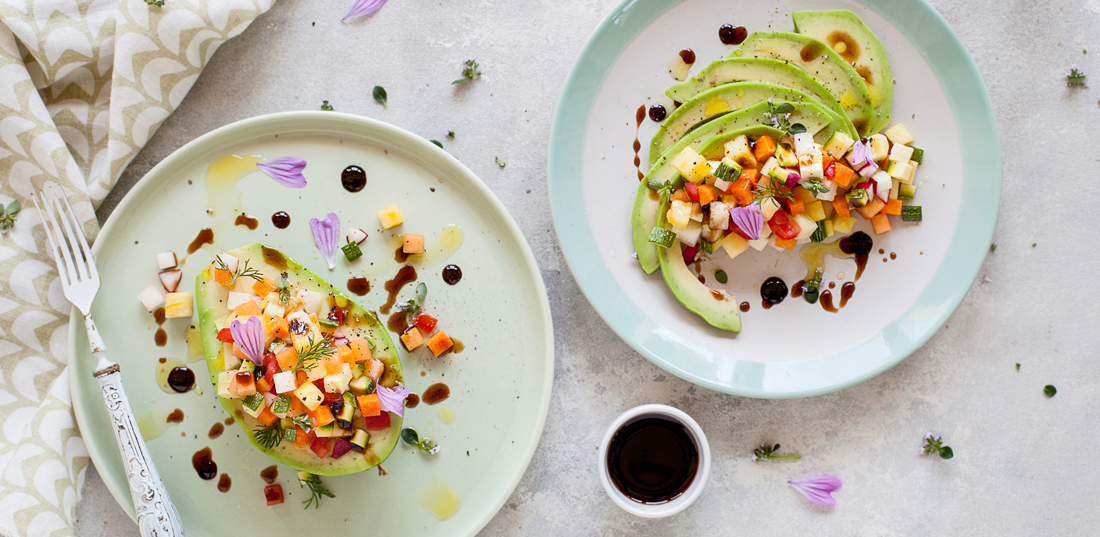 Preparation time: 20 minutes
2 ripe avocados

250 g/9 ounces pineapple, melon, and pear

250 g/9 ounces vegetables: fennel, carrots, zucchini, and radishes

5–6 Datterino tomatoes

1 small sprig fresh mind

1 small piece of ginger

1 lime

Salt

White pepper

Balsamic Vinegar of Modena PGI

Extra virgin olive oil

Edible flowers or sprouts, as you like
Dice the fruit in a bowl. Make sure to dice evenly. Cut fennel, carrots, zucchini, and radishes the same size as the fruit.
Slice the tomatoes in half, remove the inside seeds, and dice the pulp.
Mix all together, add salt and pepper.
Peel and grate the ginger; squeeze to get the juice and set aside in a cup. Add lemon juice, two spoons of Balsamic Vinegar of Modena PGI, and 4 spoons of olive oil. Mix for a few seconds with a hand held mixer. Dress the diced fruits and vegetables with the emulsion, add the mint leaves in small pieces, and let marinate for 10 minutes.
Cut the avocados in half, removing the seed, and spoon out the pulp. Blend the pulp and add it to the rest of the ingredients.
Stuff the avocados with the vegetables, dress with a few drops of Balsamic Vinegar of Modena PGI and, if you like, add the edible flowers or the sprouts.
Carrot and Quinoa Patties

Serves 4
100g/3.5 ounces quinoa

150g/5 ounces carrots

30g/1 ounce hazelnuts, chopped

2 eggs

1 tablespoon parsley, chopped

Garlic

1 organic lemon

4 tablespoons of crème fraîche

1 avocado

1 bunch of radishes

2 tablespoons Balsamic Vinegar of Modena PGI
Thoroughly rinse the quinoa using a fine strainer. Cook in salted boiling water for 10 minutes Turn off the fire and leave to rest covered for 5 minutes. Drain and put in a bowl.
Peel the carrots and grate them finely. Mix them with the quinoa. Add the hazelnuts, eggs, and chopped parsley. Flavor with a bit of lemon rind, salt, and pepper and Balsamic Vinegar of Modena PGI.
With the mixture, form patties with a 1.5–2-inch diameter, slightly flattened. Cook in a frying pan with a dribble of oil until golden brown on both sides.
Slice the avocado, dress it with the lemon juice, salt, and pepper.
Thinly slice the radishes and salt them slightly.
Serve the patties warm with the vegetables and crème fraîche. Douse with some drops of Balsamic Vinegar of Modena PGI.
Risotto With Pumpkin Cream, Balsamic Vinegar of Modena PGI, and Hazelnuts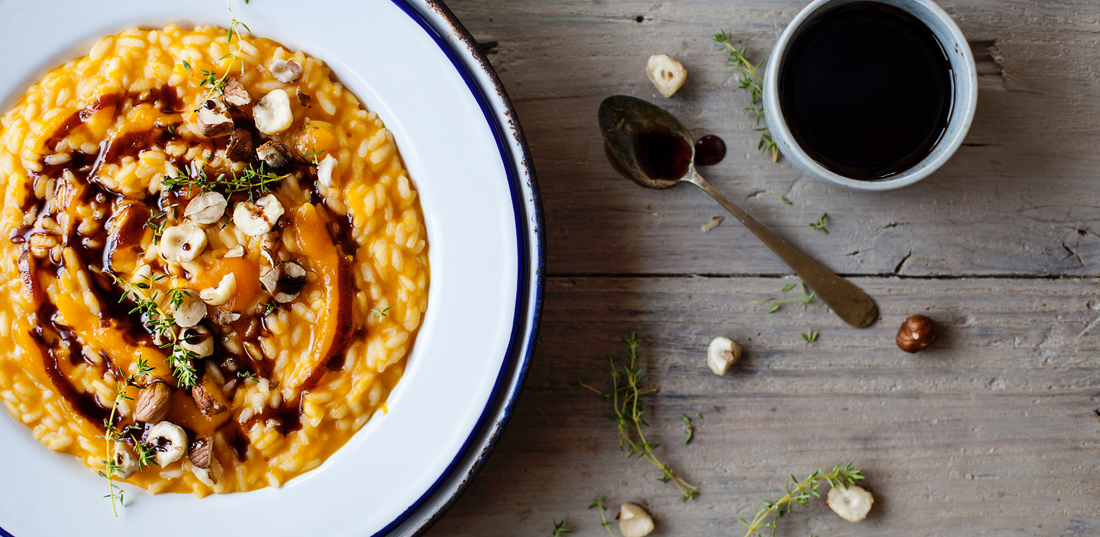 Preparation time: 30 minutes
300g/10.5 ounces pumpkin flesh

1/4 onion

20g/1.5 tablespoons olive oil

300g/10.5 ounces Superfino Carnaroli rice

1 liter/4 cups vegetable stock

30g/1 ounce butter

30g/1 ounce grated Parmigiano-Reggiano cheese

60g/2 ounces toasted and peeled hazelnuts, chopped

Balsamic Vinegar of Modena PGI

Fresh thyme
Dice the pumpkin, add to a pan with a glassful of water, a pinch of salt, and cook until soft. Blend it with a hand-held mixer and put it aside this pumpkin cream.
Chop the onion finely, and brown it in olive oil in a risotto casserole.
Add the rice and stir for some minutes until the rice is slightly toasted. Add hot stock to cover the rice. Let the rice cook, adding alternately a spoon of pumpkin cream and a ladle of hot stock as soon as they are absorbed by the rice (this will take approximately 15–18 minutes). Continue until you use all of the pumpkin cream and stock.
Once cooked and off the heat, add butter and Parmigiano-Reggiano cheese.
Serve with a sprinkle of chopped hazelnuts, drops of Balsamic Vinegar of Modena PGI, and fresh thyme leaves.
Recipes by Licia Cagnoni, courtesy of the Consortium for the Protection of Balsamic Vinegar of Modena
Deborah Yun contributed to this report