A couple who were holding their wedding reception on a Michigan island had the shock of their lives when a house fire broke out next door. As first responders rallied to extinguish the flames, the couple went to a local church to pray.
Unbeknownst to them, their wedding guests and numerous islanders were busy saving the reception, making memories the couple will treasure for the rest of their lives.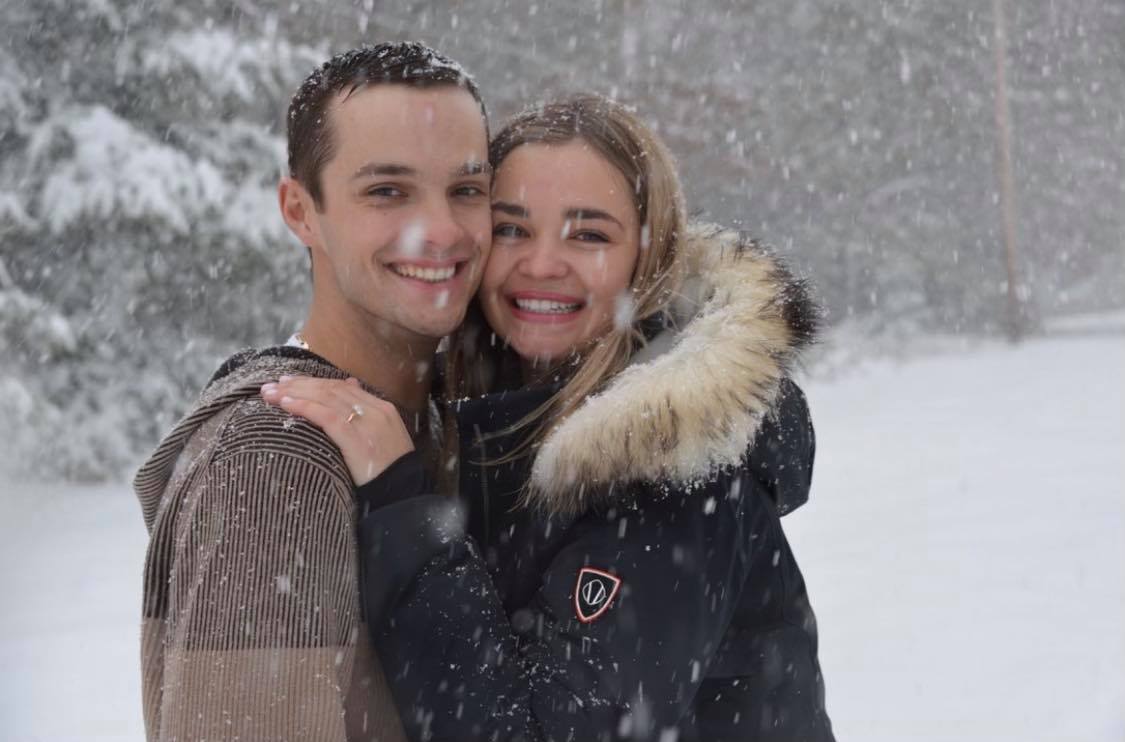 Lifelong Michigan residents Jake and Elizabeth Landuyt, both 28, tied the knot at Mackinac Island's Sainte Anne's Catholic Church on May 30. The couple then arrived for the cocktail hour at a nearby yacht club. Just a minute and a half into the first speech being given by the father of the bride, the party was interrupted by guests who had noticed smoke.
Brigadoon Cottage, a family home next door, was on fire.
"Everything kind of stopped in its tracks and we ended up evacuating just a few minutes later," Jake told The Epoch Times in a telephone interview.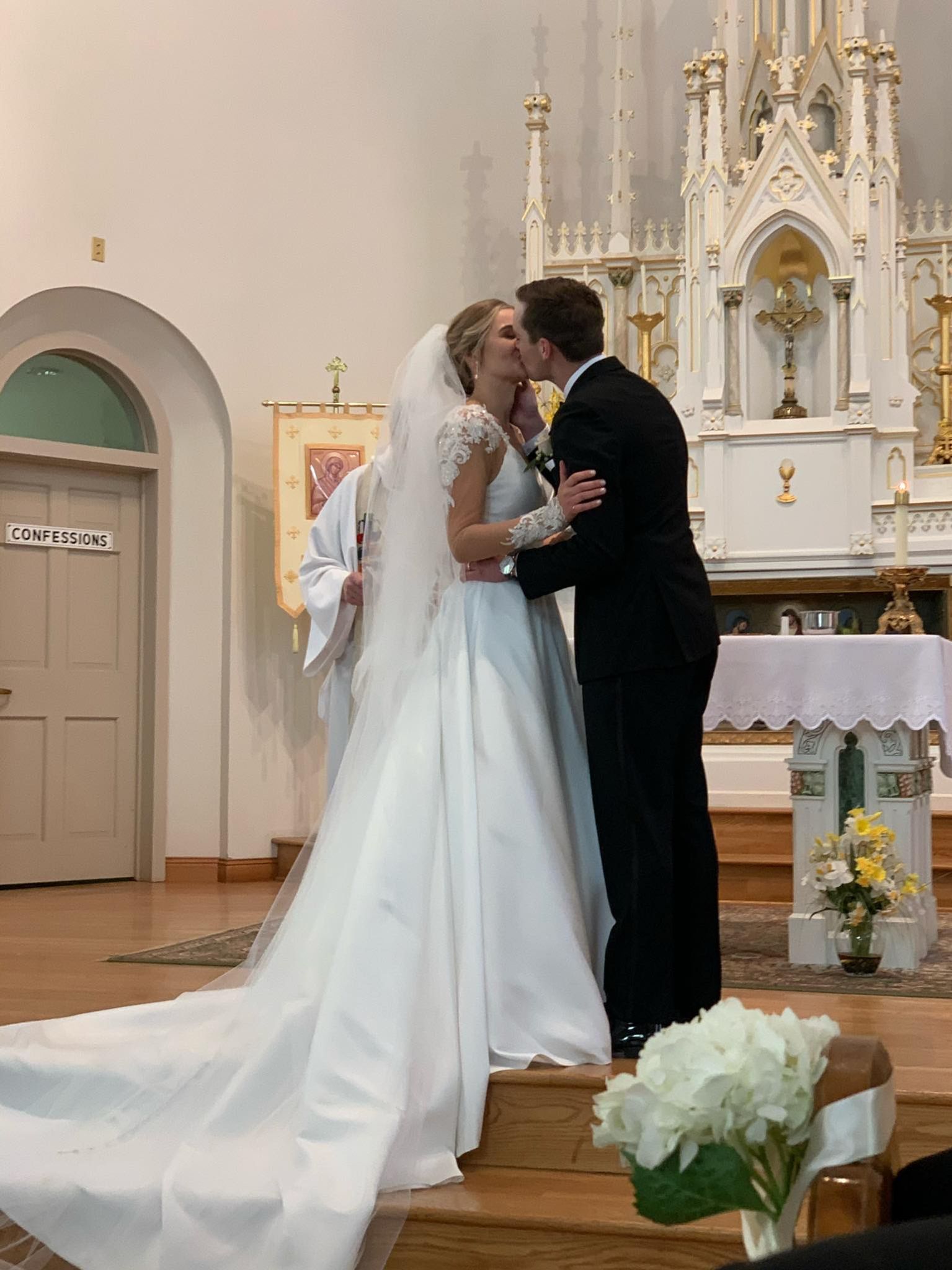 Luckily, the family and their dogs escaped the blazing home unharmed. As Jake and Elizabeth were on the way to Sainte Anne's church to pray for the fire victims, a photo of the couple walking away from the yacht club hand in hand, flames and smoke billowing behind them, was snapped and later went viral.
"That photo was taken by a stranger," said Jake. "We had no idea that it was even being taken until we saw it later on, and it is a pretty incredible photo."
Overwhelmed by all that was happening around them, the couple prayed for the victims of the fire and focused on gratitude for their wedding ceremony. Assuming the day was over, they shared their first dance as husband and wife alone in the church with a song playing on the phone.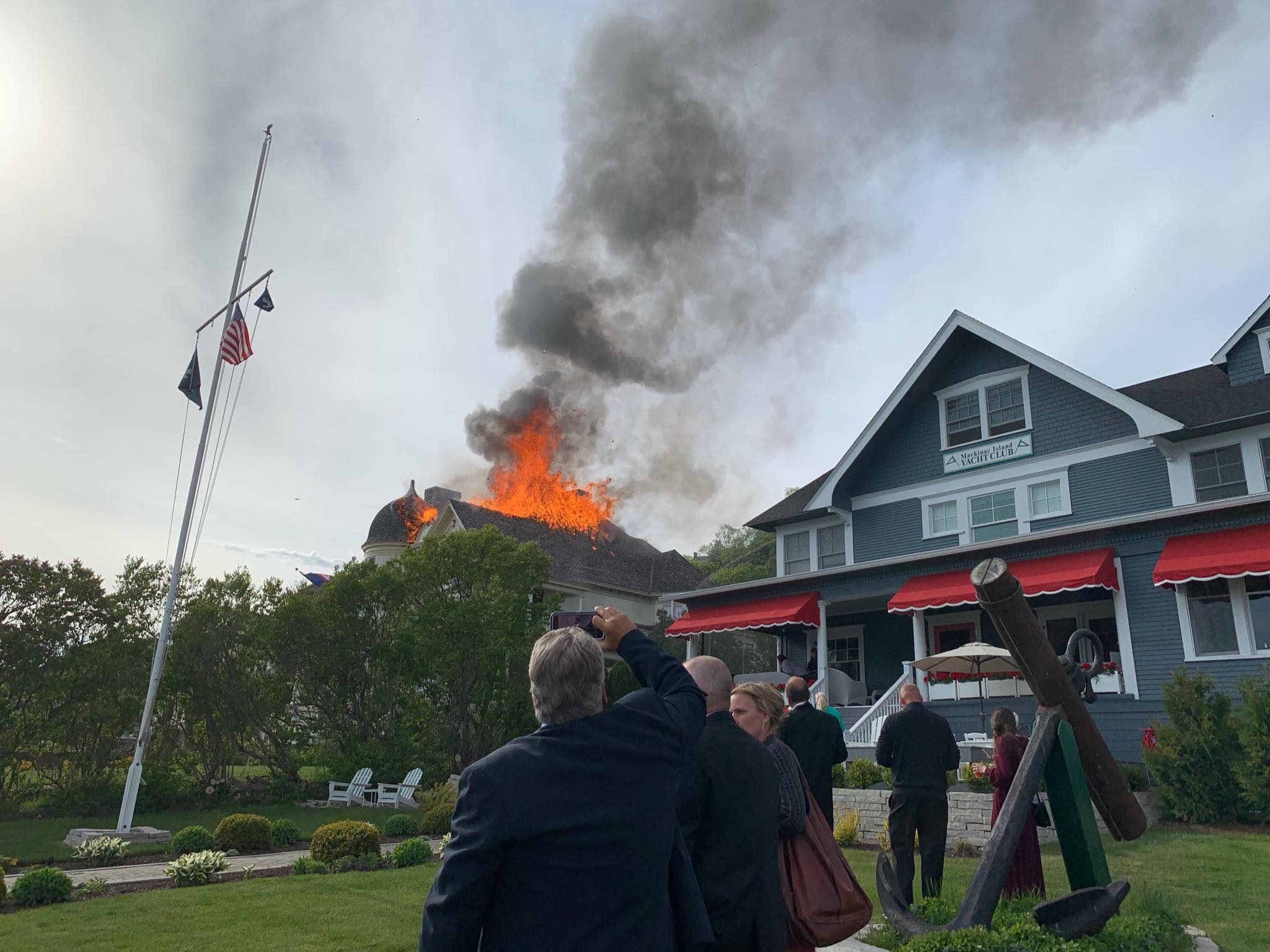 However, wedding guests were not prepared to see the newlyweds' special day end so abruptly.
Jake's best man—his brother—the groomsmen, bridesmaids, and wedding party returned to Mission Point Resort where they were staying. The party got chatting to resort staffers, who immediately offered to help to relocate the reception to an empty pavilion overlooking the waters.
"The entire time Elizabeth and I were in the church, having no idea that any of this was happening," said Jake. "We had guests that were carrying flowers from the yacht club up the street to Mission Point, we had people carrying our pies and some of our decorations, and then we had all these businesses helping out in all these different ways."
Food that was partially prepared was taken next door and the Island House Hotel finished cooking the food. Pink Pony restaurant sent cups, plates, and cutlery, Shepler's Ferry promised a late-night return ferry to the mainland, and Mission Point Restort's bellman, Michael McIlraith, stepped in as bartender.
Not one of the businesses charged a penny for its services.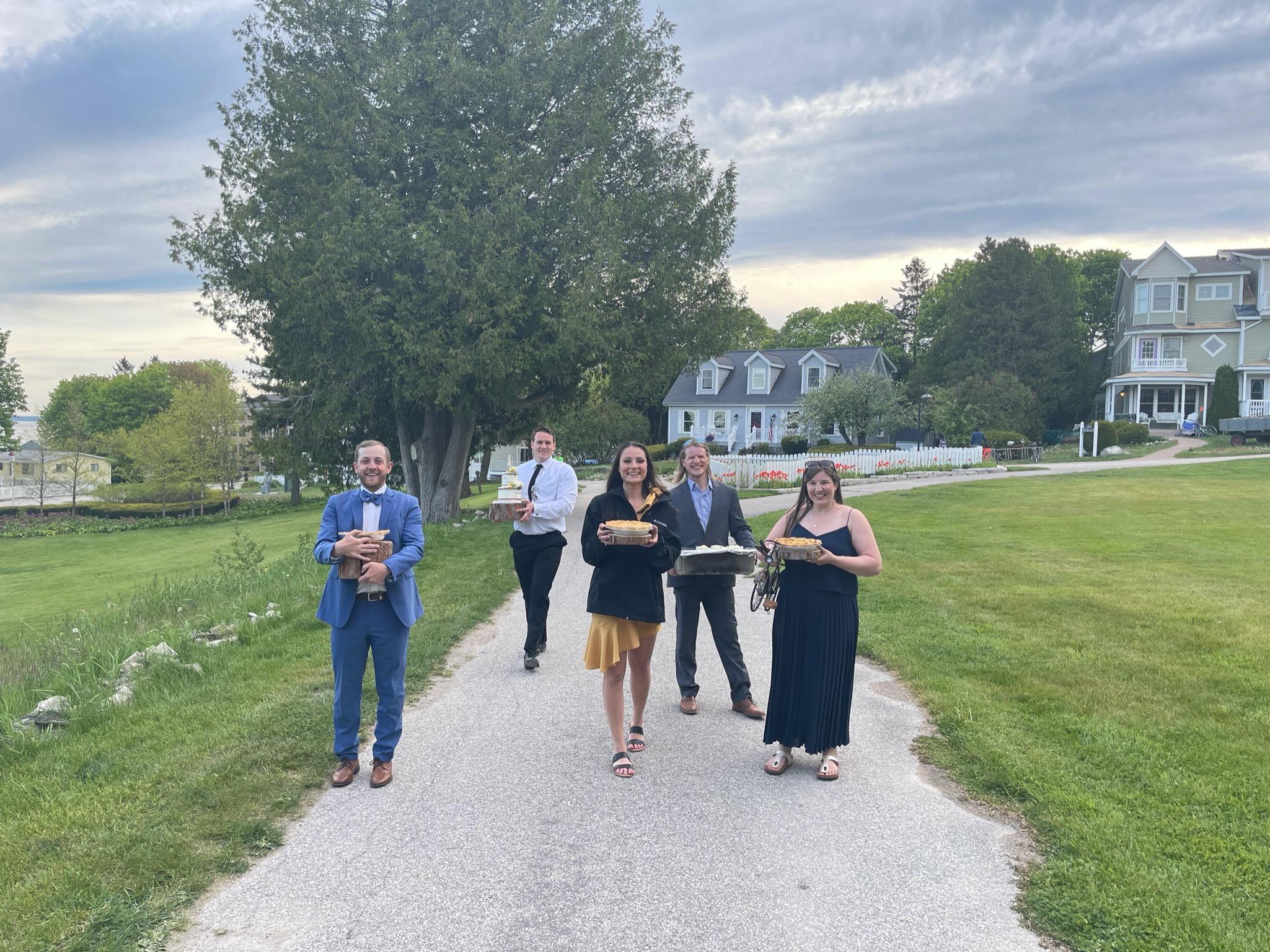 As the shocked couple emerged from the church and walked to Mission Point Resort, they were greeted by family, friends, and the incredible efforts of the tightknit Mackinac Island community.
They even got to repeat their first dance surrounded by loved ones and donated beer to the island's fire crews for saving Brigadoon Cottage.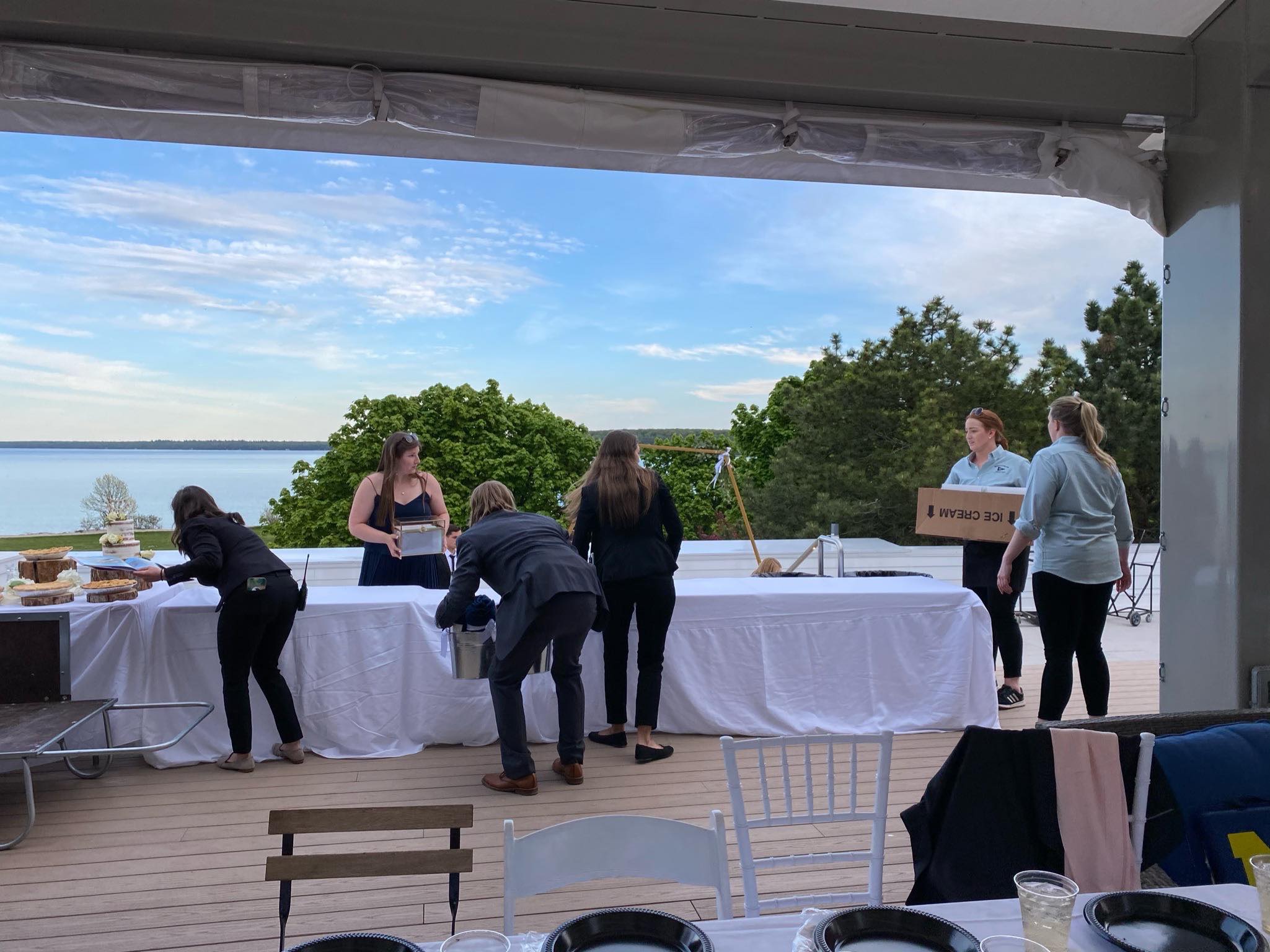 "It was really, I think, even that much more special to be able to finish celebrating with our friends and our family," Jake reflected. "It was really, really special and something that I hope people get a chance to experience, a moment like that, because it really shows how good people are. Even when they're just strangers."
Mission Point Resort shared the newlyweds' story, and photos, on Facebook. "Pride for the island truly radiated throughout our community on Sunday," they posted.
The resort also confirmed they plan to support the victims of the fire as they reconstruct their home.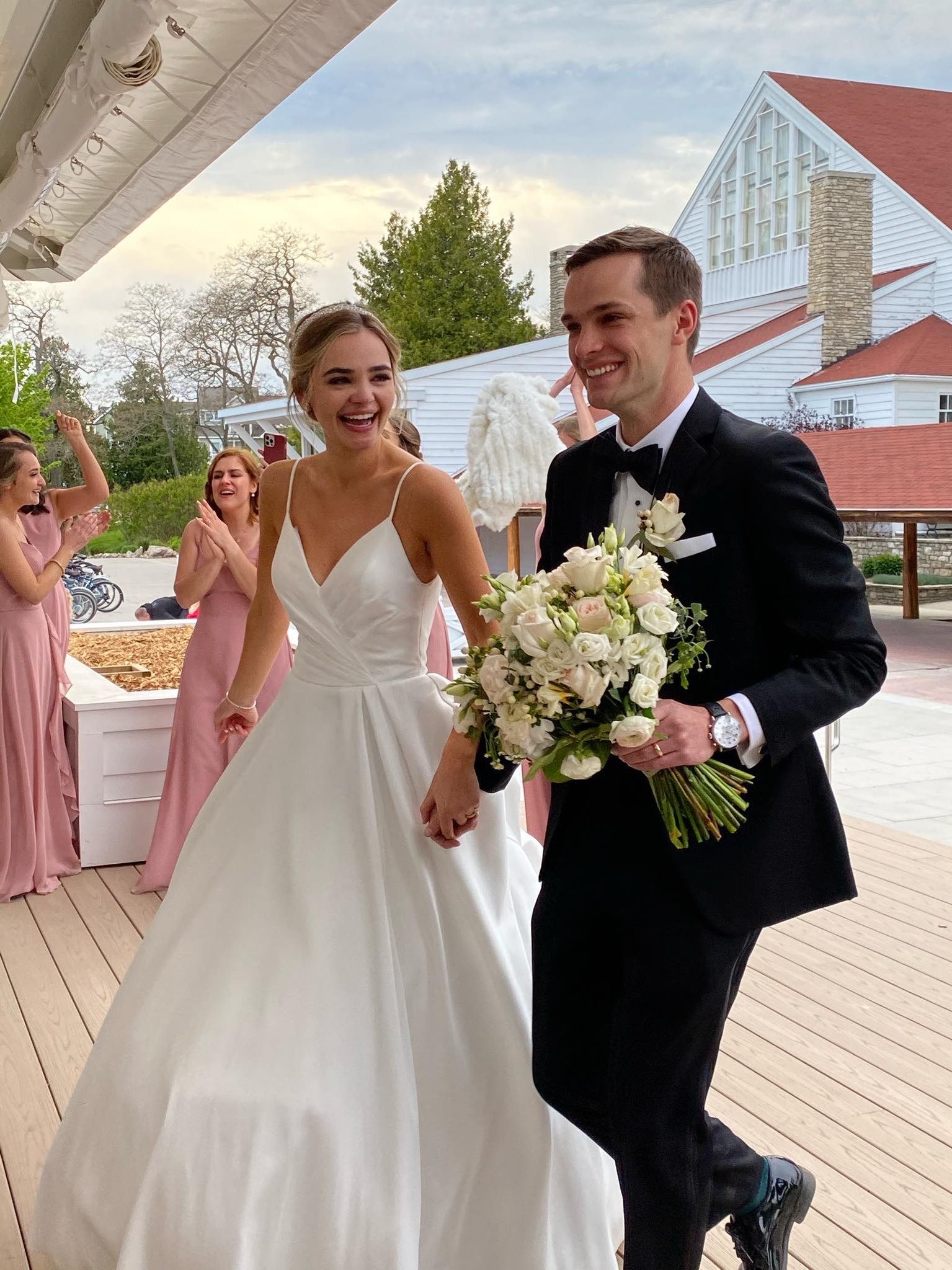 Jake, an engineer from Rochester, and Elizabeth, a healthcare software analyst from Mackinaw City, met as juniors at the University of Michigan. Both hockey players, Elizabeth captured Jake's attention immediately.
He remembered her being "shy … but the most kind person I'd ever met."
Jake proposed on the edge of Sand Dune Cliff in northern Michigan, one of the couple's favorite camping spots, in November 2019. He had expected crisp fall weather, but an unexpected snowstorm made it "the most magical day you could ever imagine."
Eighteen months later, the magic continues.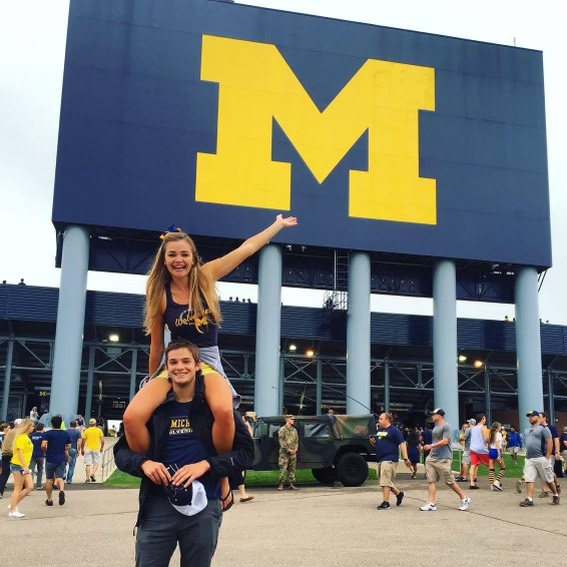 "It was an unbelievable day … and with all of the love and support that poured out from our community," Jake said of the wedding. "You're very, very blessed to have that experience."
Share your stories with us at emg.inspired@epochtimes.com, and continue to get your daily dose of inspiration by signing up for the Epoch Inspired newsletter at TheEpochTimes.com/newsletter