It's not summer without watermelon, that staple of picnics and poolsides. Here, Seamus Mullen, chef at the Institute of Culinary Education, shares tips for picking, prepping, and making the most of the season's most refreshing fruit.
Picking the Perfect Melon
"Choose a melon that feels very heavy for its size," Mullen says. Pay attention to the field spot, the pale spot of the fruit where it rested on the ground while growing: "Ideally, you want it to be creamy white to yellow. The closer it is to yellow, the riper it is."
Quick Cuts
Smart cuts make quick work of even the heftiest melons: "I like to cut watermelon lengthwise in half, then in half again (into quarters), and then cut down to the rind in 1/2-inch triangles and release them by running my knife along the bottom of the flesh where it meets the rind."
Simple and Sweet
Mullen likes to toss sweet watermelon flesh in anything from a simple salad, with feta and kalamata olives, to gazpacho, for a refreshing twist on the tomato-based soup. "And of course," he says, "it's perfect with a sprinkle of coarse sea salt, a squeeze of lime, and a dusting of chile."
Waste Not
But don't toss the rinds! "The rind is amazing pickled," Mullen says. "I learned this from my mentor, the brilliantly talented chef Floyd Cardoz, who sadly passed from COVID this spring. Chef Floyd would cut out the white portion of the rind and pour a hot, spiced pickling liquid over the rind, and let it marinate overnight in the fridge. I always make this simple condiment and think of him."
Watermelon-Feta Salad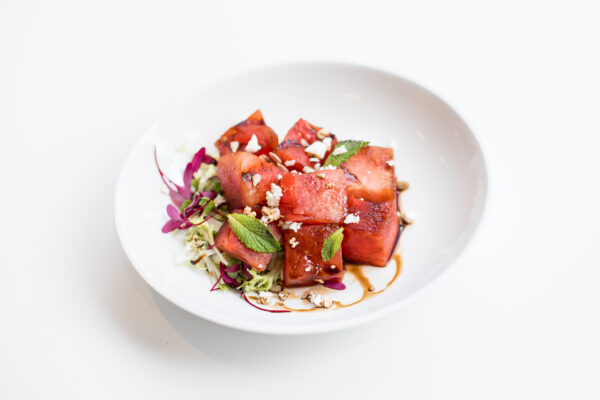 Makes 4 servings
1 medium seedless watermelon, rind removed (reserve for later use), chopped into 1-inch cubes
1 lime, juice and zest
3 tablespoons extra virgin olive oil
1/4 cup mint, chopped, plus additional for garnish
1/2 cup feta cheese, broken up into chunks
Salt and pepper, to taste
In a large bowl, combine chopped watermelon, lime, olive oil, and mint. Toss until well combined. Season with salt and pepper, to taste.
Place onto a serving platter and top with feta cheese chunks. Garnish with additional mint and serve immediately.
Recipe courtesy of the Institute of Culinary Education
Chef Floyd Cardoz's Pickled Watermelon Rind
Rind of one watermelon (the white part), cut into 1-inch cubes
2 cups water
1 cup rice vinegar
2 cloves garlic
2 tablespoons coriander seed
2 tablespoons mustard seed
1 tablespoon cardamom seed
2 tablespoons jaggery or muscovado sugar
1 tablespoon sea salt
1 dried chile
Place the watermelon rind in an airtight container. Combine all remaining ingredients and bring to a boil, then pour over the watermelon rind. Cover and refrigerate overnight.
Serve in salads, as a garnish for chilled soups, or as an accompaniment to cheese boards.
Recipe courtesy of Seamus Mullen