Summer isn't officially over until I make a few trays of eggplant parmigiana to freeze for the colder months. The rich, cheesy layers are a joy to eat warm, even in the hot summer months. But nothing beats the utter pleasure of biting into a thick, piping hot, intensely savory slice of it on a cold winter day. It instantly brightens up your mood with the warmth of the Mediterranean summer sun.
Incidentally, eggplant parmigiana is also the dish I would choose as my last meal—the most comforting food, imbued with memories, tradition, and a vibrant Mediterranean feel.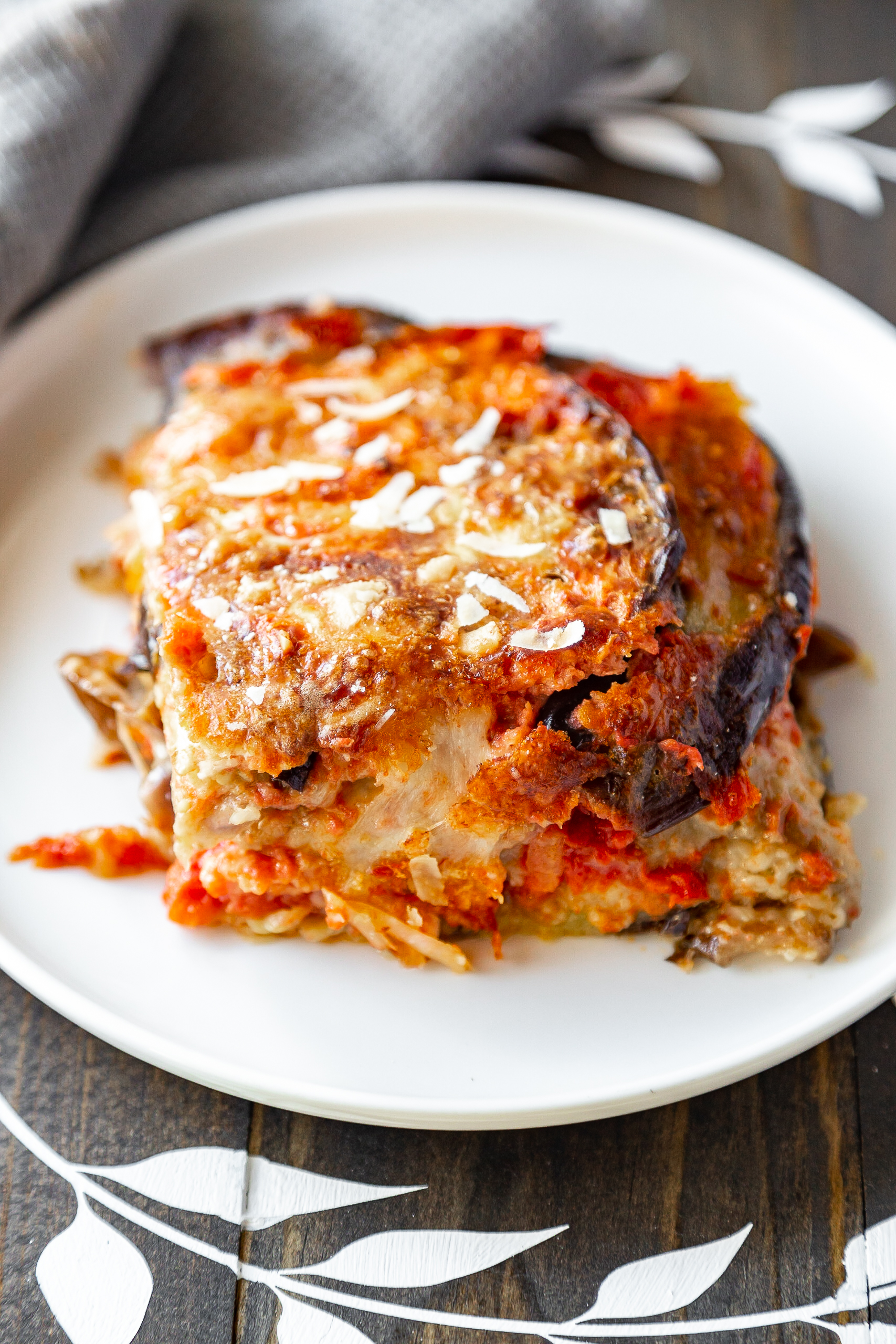 What's in a Name?
The origins of this beloved Italian recipe are a point of contention between Naples, Sicily, and Parma. Let's start with its full Italian name: parmigiana di melanzane, or melanzane alla parmigiana.
Some say the term "parmigiana" is derived from the Sicilian word parmiciana, the name for the set of overlapping wooden slats that form a shutter. Their partial overlapping resembles the shingled arrangement of fried eggplant slices in the preparation of the dish.
But another explanation instead links "parmigiana" to "petonciana," an early Persian name for eggplants, used when the Arabs first brought them to Southern Europe. The term was used by Pellegrino Artusi, considered the father of Italian cuisine, at the end of the 19th century in his cookbook "La scienza in cucina e l'arte di mangiar bene" ("Science in the Kitchen and the Art of Eating Well"): He described a tortino di petonciani, a dish of fried eggplants bound with tomato sauce, cheese, and beaten eggs, baked until set.
The first written historical evidence of parmigiana, however, appeared in 18th- and 19th-century Neapolitan cookbooks, which note the dish as one served to well-off noble families. That would suggest a Neapolitan origin.
On the other hand, consider the name "melanzane alla parmigiana," which translates to "Parma-style eggplants," and you'll find an argument for the Parma provenance instead.
However, I've always ignored that debate. For me, there's only one eggplant parmigiana: the one baked by my grandma since I was a child, a family recipe that still holds a special place in my cooking repertoire.
A Proper Parmigiana
Let's have a look at the ingredients that make a proper eggplant parmigiana.
Eggplants
Choose long, dark eggplants, firm to the touch. Avoid ones that are too big, as they tend to be too seedy and bitter. Don't peel them, as most of the flavor is in the peel. Slice the eggplants lengthwise, about 1/4-inch thick.
Older recipes often include an additional step: They instruct you to layer eggplant slices with a few handfuls of coarse sea salt in a colander to draw out and rinse off the bitter water. Nowadays, most recipes skip that step, as eggplants aren't as bitter as they used to be. Still, I find that salting the slices gives them a better flavor and texture once they're fried: They'll be nicely seasoned throughout, with melt-in-your-mouth centers. If you aren't in a hurry, give it a try.
Now comes the main question: What should you coat the eggplants with? Flour? Breadcrumbs? Or nothing at all? Should you dip them in a beaten egg before frying? It depends on which recipe you reference—it's impossible to define a standard approach. I abide by my grandma's recipe and use just a light coating of flour, which makes the eggplants crisp on the outside and prevents them from absorbing too much oil.
What's mandatory, however, is frying the eggplants. Many recipes with a modern, healthy-ish approach call for grilled eggplants instead, but purists would beg you to call your dish another name. In a proper eggplant parmigiana, for that rich, silky texture, frying is imperative.
Cheese
There are two kinds of cheese involved when making eggplant parmigiana.
One is a stretched curd cheese, which could be mozzarella fiordilatte, mozzarella di bufala, scamorza, or fresh provolone. Although some chefs favor mozzarella di bufala—buffalo milk mozzarella—in their recipes, I tend to find it too watery and a bit of a waste, as that kind of milky, rich, slightly tangy mozzarella is enjoyed at its best when fresh, simply drizzled with olive oil and accompanied by a ripe tomato.
My preference goes to cow's milk mozzarella—fresh or even a couple of days old and well-drained—or scamorza—a southern Italian relative of mozzarella, typically also made with cow's milk—as they melt beautifully without releasing too much liquid. Liquid is the enemy of a dense, intensely flavored parmigiana.
The second kind of cheese is a sharp, aged cheese, grated and sprinkled between layers and on top to create a crisp, golden crust and add an umami-rich kick of flavor. Opt for Parmigiano Reggiano, pecorino, or aged provolone.
Tomato Sauce
Tomato sauce has a supporting role in parmigiana; it shouldn't steal the show from the fried eggplants and cheese. So make a simple recipe, cooking tomato purée briefly with extra-virgin olive oil and a crushed clove of garlic, until thick and glossy. Add a handful of basil leaves at the very end for a fresh, grassy note, and be cautious with the salt, as the fried eggplants and cheese will already be quite salty.
Eggs
This isn't one of the canonical ingredients in eggplant parmigiana. When eggs do appear, they're typically used to coat the eggplant slices before frying them to make them even richer. My grandma's recipe, however, calls for a couple of beaten eggs to be directly poured in between the eggplant layers, along with the tomato sauce, grated Parmigiano, and mozzarella.
For years, I thought this was her own spin on parmigiana—until I read Pellegrino Artusi's recipe and discovered from where she got the idea. After all, his book has been in my grandma's kitchen for decades, since she was married in 1955, and Artusi's recipes have strongly influenced her cooking—and now, in turn, my own.
Now, it's time to show you the way I like my parmigiana di melanzane. It's basically my grandma's recipe: rich and generous, with a crisp, golden-brown crust and a mellow center. This isn't the ultimate, original, traditional recipe for the dish—it's simply the one that I like, the one that I ate throughout my childhood, and the same one that I make now, as long as there are good eggplants at the market.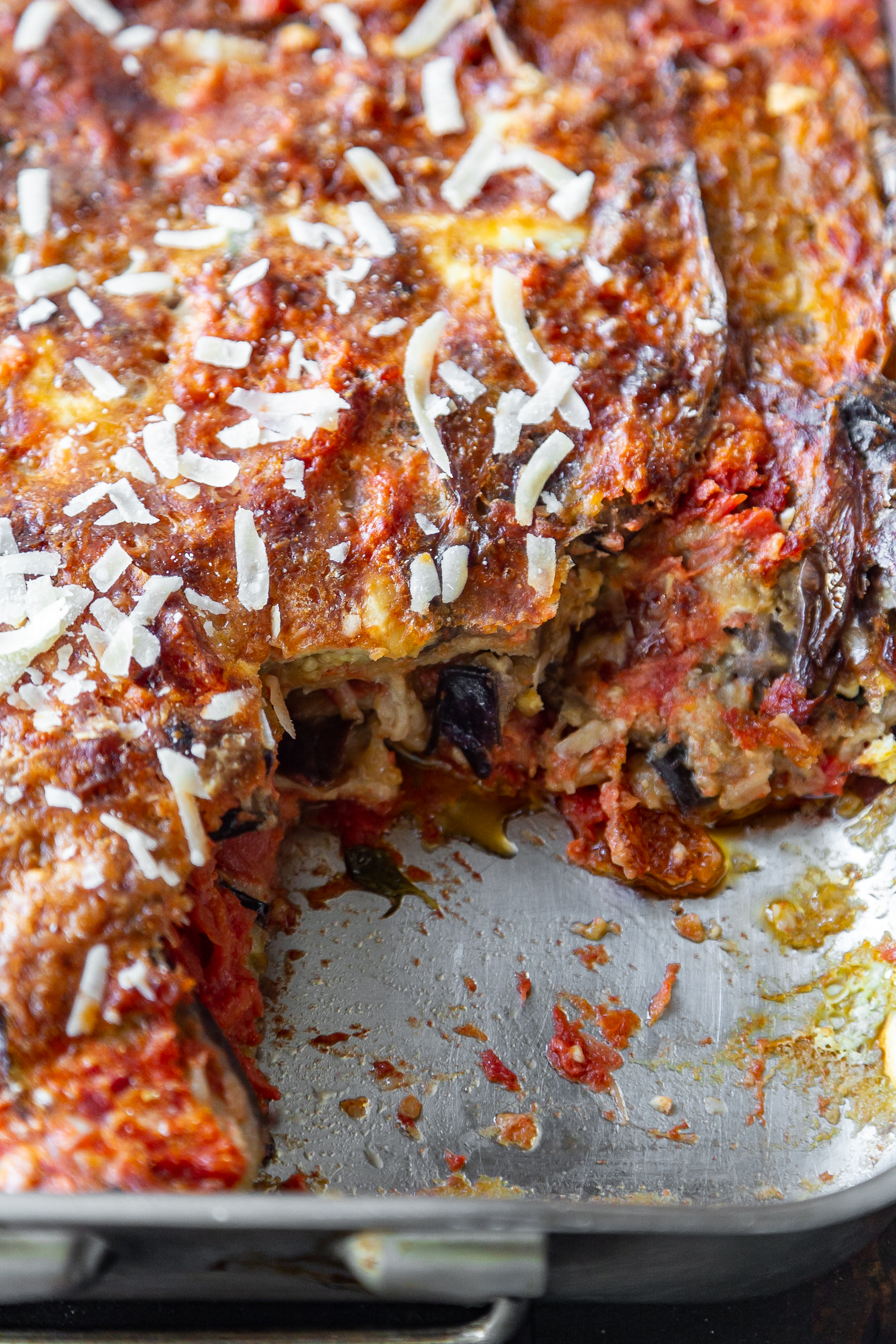 Eggplant Parmigiana
This is my grandma's recipe. It calls for fried eggplants, a simple tomato sauce, a generous sprinkling of Parmigiano Reggiano, bite-sized pieces of mozzarella, and beaten eggs. The eggs are unusual, but they're what make my grandma's parmigiana so unique—rich, dense, easy to cut, and delicious.
To freeze, prepare the eggplant parmigiana in a freezer-safe baking dish. Bake and let cool down completely, then wrap tightly in aluminum foil and freeze. To serve, you can bake it straight from the freezer in a preheated 350-degree F oven until hot and bubbly.
Serves 8
4 medium eggplants (about 3 1/2 pounds total)
2 tablespoons coarse sea salt
1/4 cup all-purpose flour
Vegetable oil, for frying
Extra-virgin olive oil
1 clove garlic, crushed
2 cups plus 2 tablespoons tomato passata (or canned whole tomatoes, crushed and passed through a food mill or sieve)
1/2 cup water
A handful of basil leaves
5 ounces fresh mozzarella, cubed
3 eggs, lightly beaten
1 cup freshly grated Parmigiano Reggiano
Prepare the eggplants: Rinse the eggplants and slice them lengthwise into 1/4-inch-thick slices. Arrange the eggplant slices in a colander, with a generous sprinkle of coarse sea salt between the layers. Put a plate on top of the eggplants, then place a weight over the plate. Leave the eggplants in the sink for about 30 minutes. Then, rinse the eggplants under running water, arrange on a towel, and pat dry. This will reduce their bitterness.
Scoop the flour into a shallow bowl and coat the eggplant slices, shaking off the excess flour from each slice.
Meanwhile, heat a few inches of frying oil in a large pan. Check if the temperature is right by dipping the handle of a wooden spoon in it: If it's immediately surrounded by tiny bubbles, the oil is ready for frying.
Working in batches, to not crowd the pan, deep-fry the eggplant slices. Let them brown on both sides; it will take about 5 minutes per side. When the eggplants are golden and crisp, fish them out of the oil and place them on a paper towel-lined plate to drain the excess oil.
Make the tomato sauce: In a saucepan, heat a few tablespoons of extra-virgin olive oil with the crushed clove of garlic. When the garlic turns golden, pour in the tomato purée, water, and some fresh basil leaves, then season with a pinch of salt. Cook the tomato purée for about 10 minutes, stirring occasionally, until glossy and thick.
Finally, assemble the eggplant parmigiana: Preheat the oven to 350 degrees F.
In an 8-by-12-inch baking dish, spread a few tablespoons of tomato sauce on the bottom. Arrange a layer of fried eggplant slices on top, pour over about 1/4 of the beaten eggs, and top with mozzarella and a generous sprinkling of grated Parmigiano. Spread the tomato sauce on top, and keep making layers until you run out of ingredients. You should be able to make four layers. Finally, top with tomato sauce, a few pieces of mozzarella, and a generous sprinkling of Parmigiano.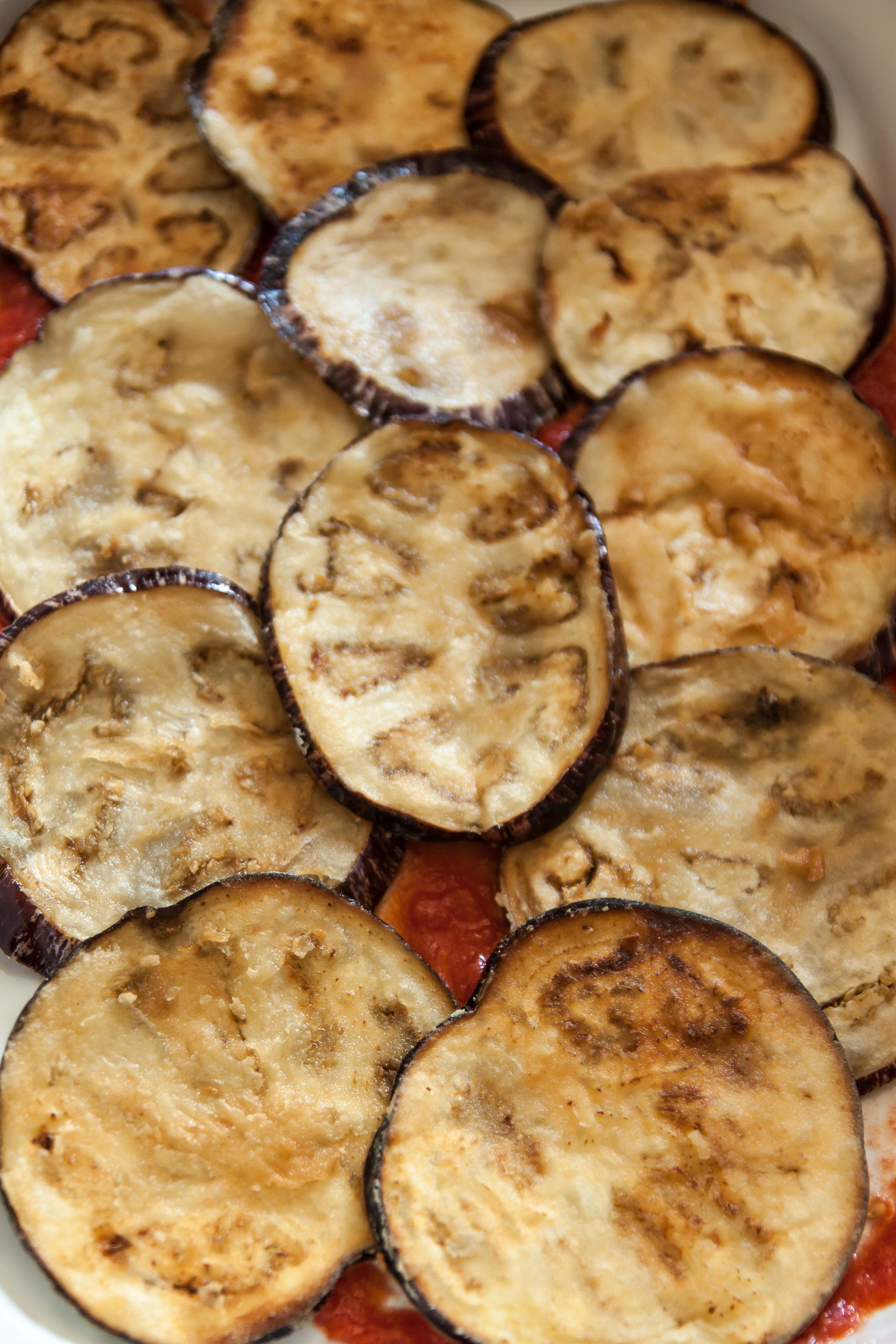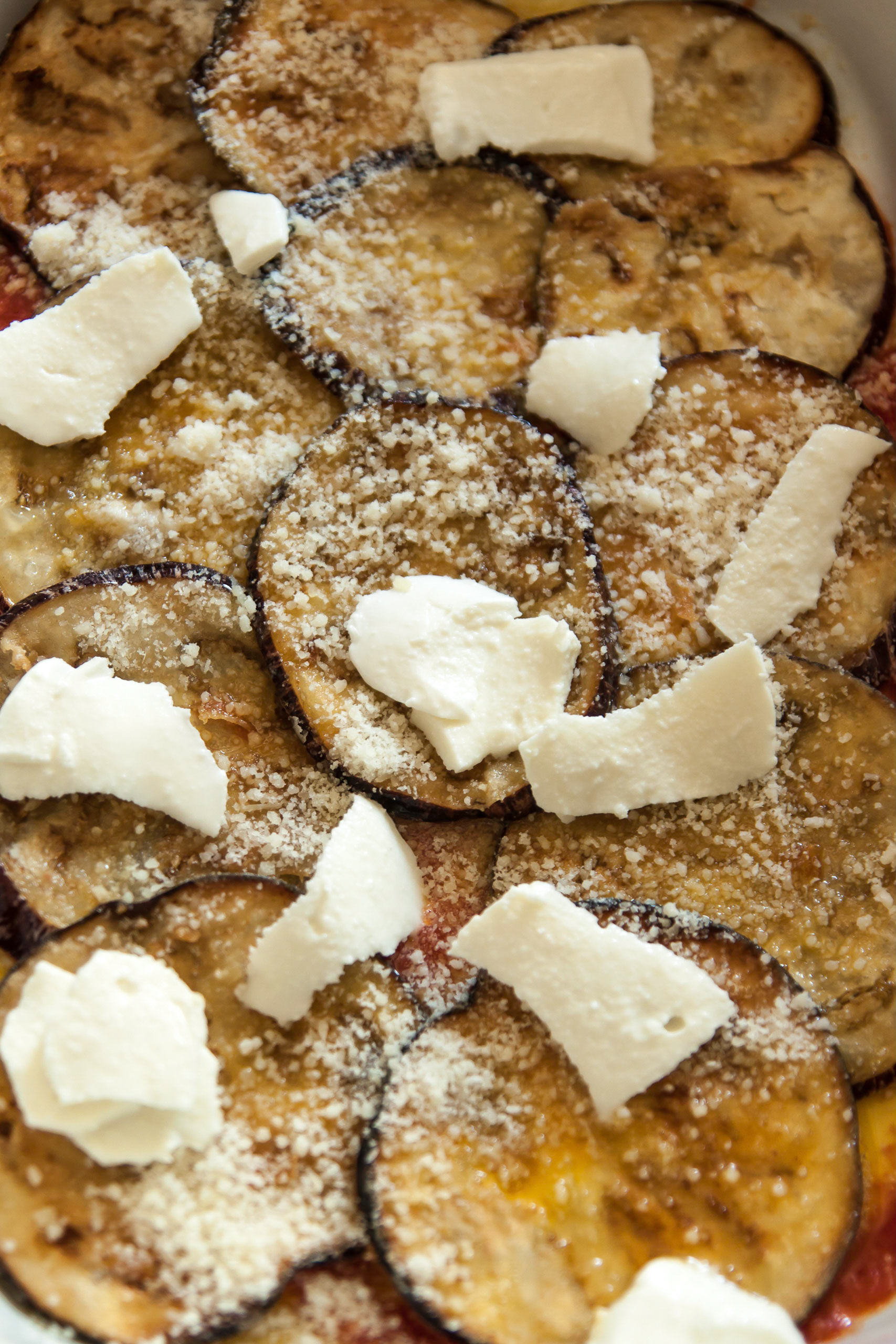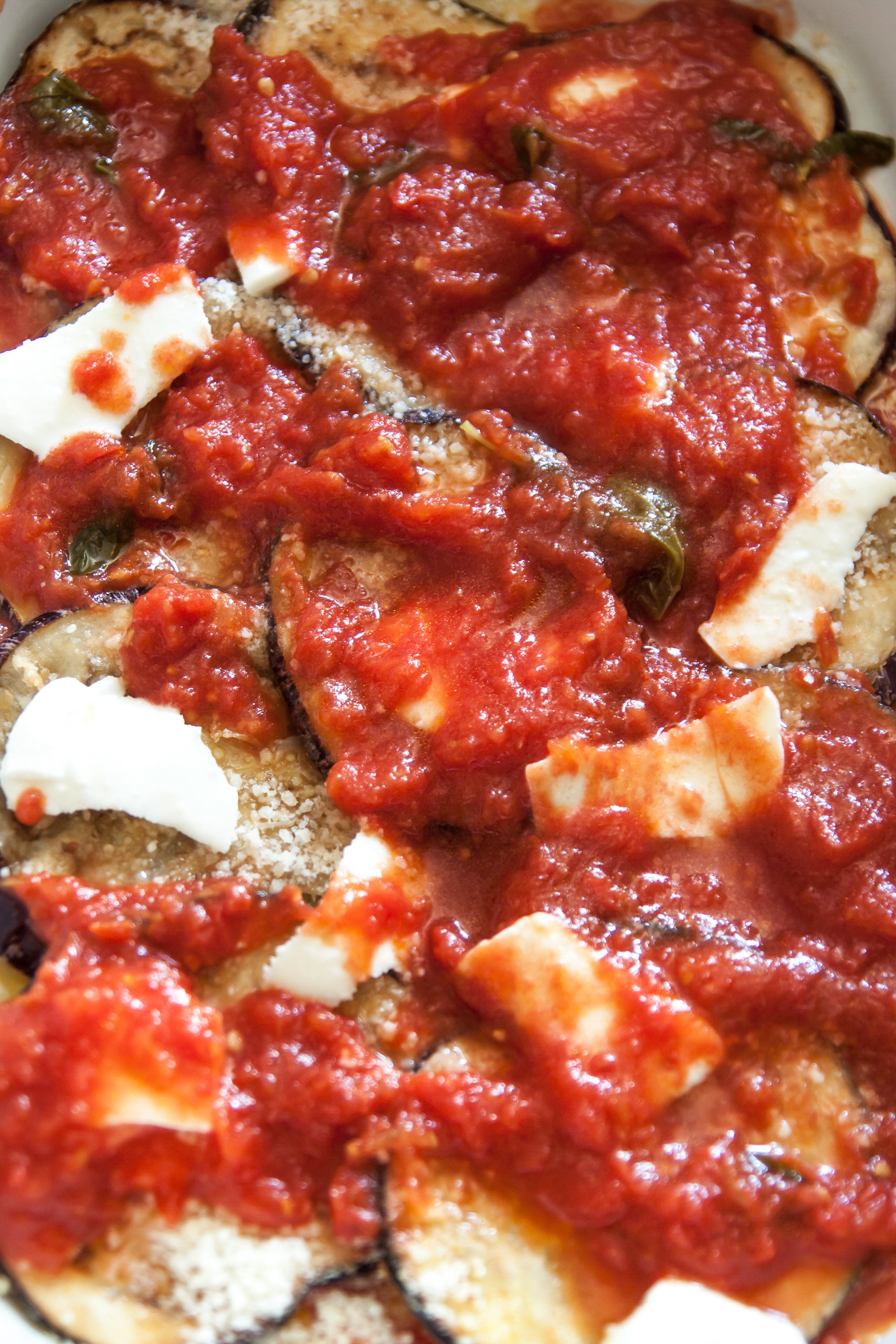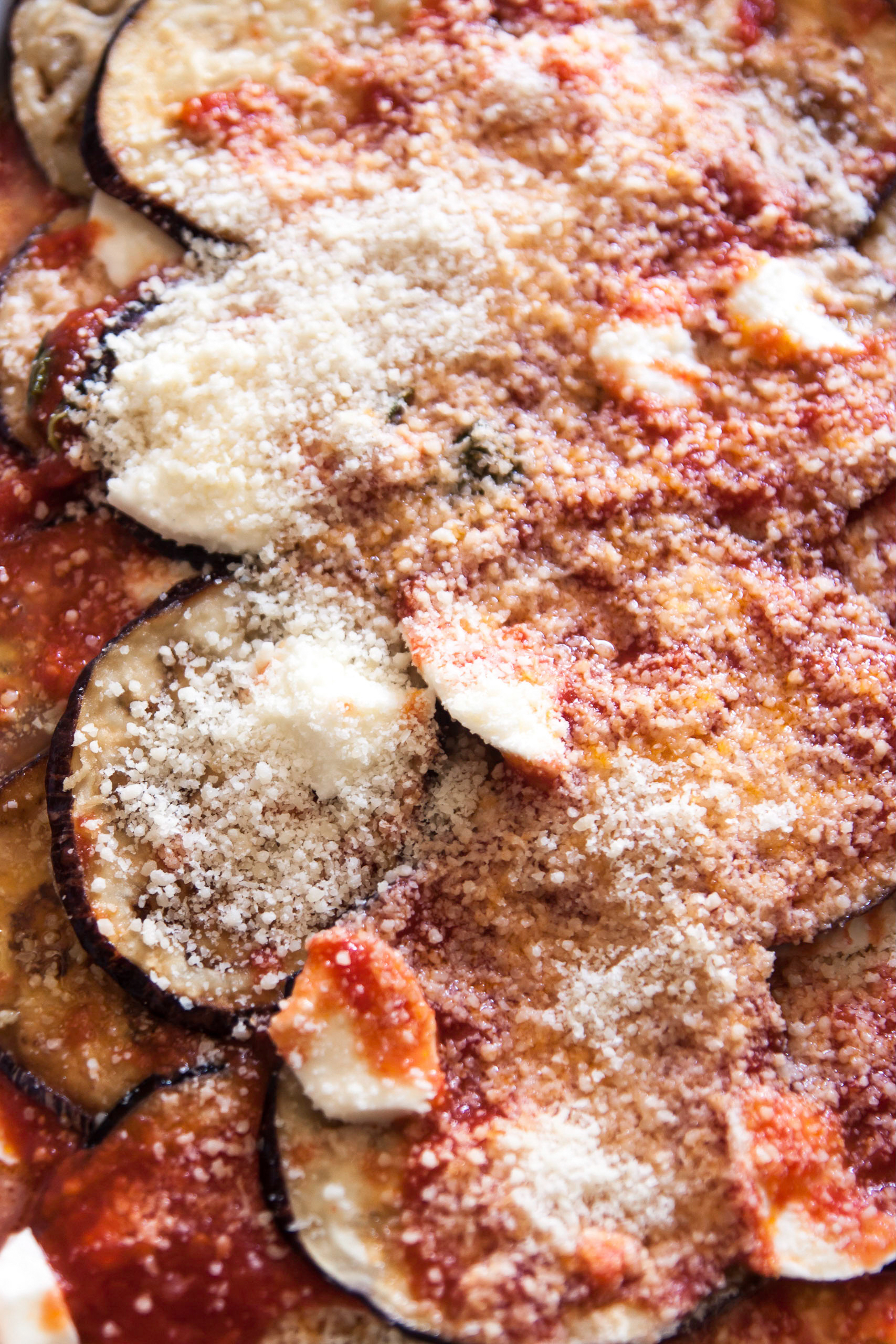 Bake in the preheated oven for about 35 minutes, until golden brown on top.
Serve the parmigiana warm or, even better, let it cool down completely and reheat it in the evening or the next day. It'll be even tastier.