For Chris Shepherd, the James Beard Award-winning chef and owner of Houston's Underbelly Hospitality, food is the ultimate icebreaker. 
"Food is the first thing that you can talk about," he said. "You don't have to get political, you don't have to get religious. When it comes down to, 'How did you cook this chicken?' that's a pretty simple thing to do."
That makes food one of our most powerful tools for learning and connection, a way to bring people together and learn about other cultures through a shared meal. Taking advantage of that makes life a whole lot more delicious.
Such a philosophy is the driving force behind Shepherd's cooking, a celebration of the varied immigrant cuisines and cultures of Houston, one of the country's most diverse metropolises. It's also the subject of his forthcoming cookbook, "Cook Like a Local," where the recipes range from ssamjang-braised short ribs to masala chicken wings to a Vietnamese-Houstonian crawfish boil. 
Cooking "local," Shepherd explains in the book, is about more than how close your ingredients come from—it's about "the people who live in my community, the people who inspire me and teach me and work with me, and how they like to cook and eat."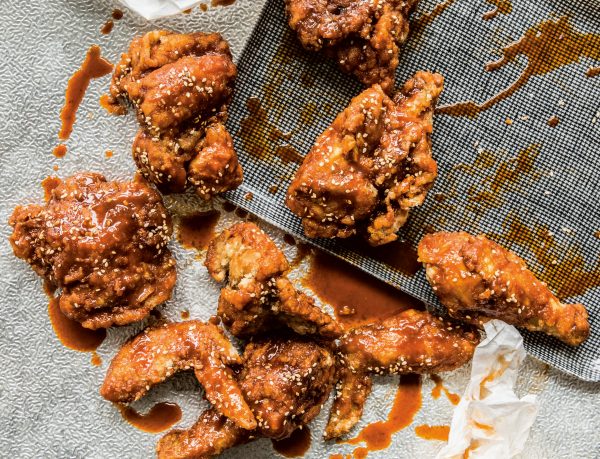 Continuing Education
Shepherd cut his teeth in culinary school and fine-dining restaurants. But it wasn't until he moved from the Midwest to Houston—where he tried fish sauce for the first time, among other things—that he began to realize just how much he still didn't know.
And so he began taking every opportunity to eat at restaurants all across the city, from Vietnamese noodle shops to Korean food courts to a Mexican spot with whole goats roasting on spits in the dining room. Pushing past initial timidity and discomfort, he made his way through unfamiliar menus and struck up conversations with servers, cooks, and owners. 
A sample order would be: "I want this, I want this, I want this… And then two things that you think I would like," Shepherd said. That simple addition—"What do you suggest?"—suddenly opened up doors to a new learning experience. 
He would eat, ask a lot of questions, and leave. And then he'd go back. And then he'd go back again.
At London Sizzler, an Indian spot owned by the Patel family, Shepherd recalled the son, Ajay, catching on: "He was like, 'You've been in here, like, five weeks in a row. What's going on?'" 
"One," Shepherd answered, "I really like the food. And two, how do you do this?" 
Ajay sat down and they got to talking. Over Shepherd's continued visits, their conversations would range from Indian food to sports (London Sizzler is also part British sports pub, named after the city the Patels emigrated from) to Ajay and his family's story. Meanwhile, after learning that Shepherd was a chef, Ajay began hand-picking dishes for him to try.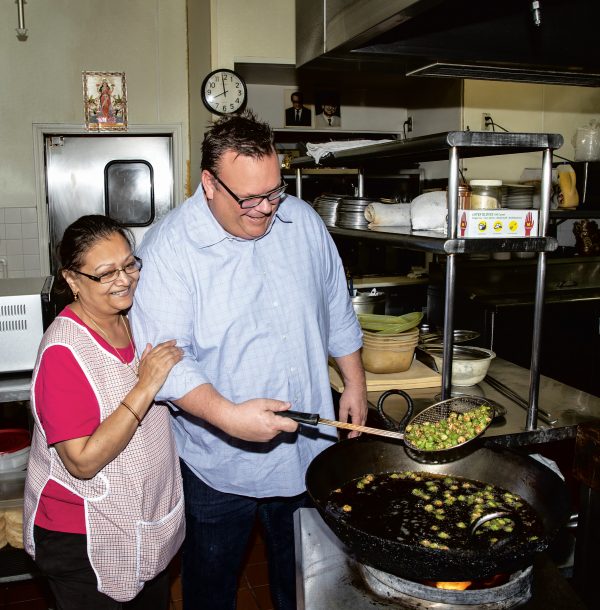 Soon enough, Shepherd found himself in the kitchen with Ajay and his mother Surekha, better known as "Auntie," the tough-skinned but generous-spirited matriarch behind much of the restaurant's menu. Between cooking sessions and countless phone calls, he soaked up her knowledge of spices and got a grasp on the fundamentals of Indian cooking—"pretty much everything I know about Indian food and flavors has come from the Patel family," he admits in the book.
And so from lamb vindaloo to Indian "puffy tacos"—Shepherd's rendition of pani puri—Auntie's advice underpins many of the book's recipes. (And more literally, so does her fresh masala, a sofrito-like blend of garlic, chiles, cilantro, and ginger that was a revelation for Shepherd, who had previously pinned masala for no more than a generic dry spice mix.)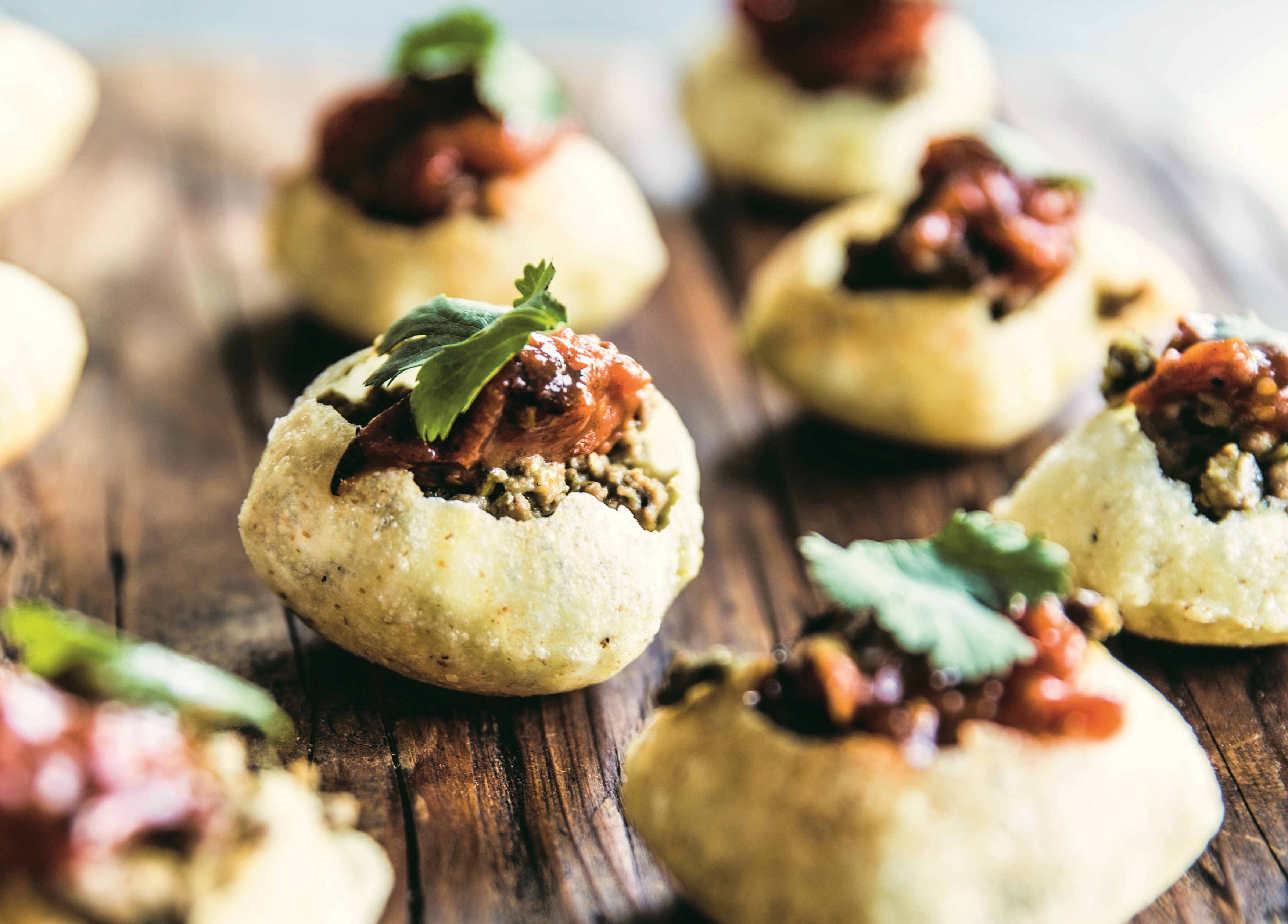 Elsewhere, he built similar relationships, forged upon food, curiosity, and an eagerness to learn.
At Saigon Pagolac, a Vietnamese restaurant run by Jacklyn Pham and her father Long, Shepherd furthered his education in (and obsession with) fish sauce and picked up traditional specialties like chao tom, springy shrimp dumplings skewered on sticks of sugarcane.
At Asia Market, a Thai market and restaurant once owned by husband-and-wife team Lawrence and Noi, he tasted and fell in love with funky fermented sausages and preserved duck eggs, and tested his spice-handling mettle with "Thai-style" (aka extra chiles) papaya salad, a sweat-inducing lesson in the power of heat to intensify other flavors in its wake. 
Houston became "the best culinary school I could ever hope to have," Shepherd writes, offering hands-on lessons in subjects as diverse and varied as the city's multicultural communities. These restaurants became his classrooms; the cooks and owners his teachers and friends. 
In turn, he champions them in all his work, a student paying respect to his mentors: Their photos hang on his restaurant walls, and he's constantly urging diners who like his food to go out and experience it at the places where he learned to make it. 
"My career really wouldn't be what it is without the Patels, without the Phams, without Lawrence and Noi," he said. "[They] really helped me learn more than I ever had before."
Roadmaps
In "Cook Like a Local," Shepherd sets out to share all he's learned.
The book is organized around six ingredients—fish sauce, chiles, soy, rice, spices, and corn—simple pantry staples that form the foundations of flavor for cuisines around the world. These are your entry points; "it's a general roadmap," Shepherd said, to guide you in integrating flavors and techniques from around the globe into your cooking at home.
Start with a bottle of fish sauce, for instance, and you're on track toward the sweet, sour, salty, funky flavors of Vietnamese or Thai. Mix it raw into nuoc cham, a ubiquitous dipping sauce for spring rolls to grilled meats, to put all its pungent umami on full display. Or cook it with sugar, a foundational technique in both cuisines, to mellow out its sharpness and create what Shepherd calls "a gorgeous, balanced, savory caramel," irresistible when used to marinate or braise meats, slather on chicken wings, or, as in a mainstay on Shepherd's menus, glaze crispy, deep-fried vegetables.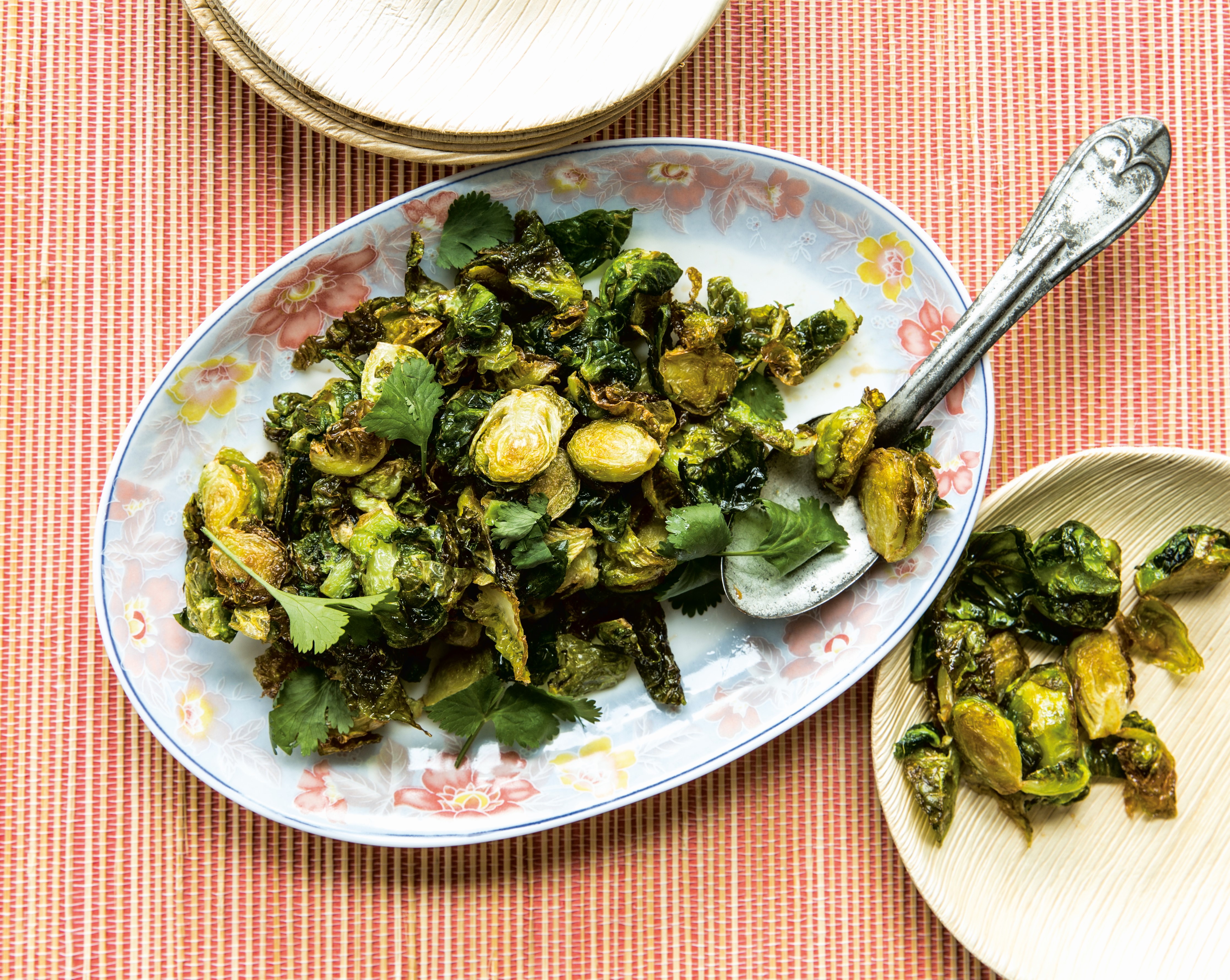 The path of chiles, meanwhile, branches out into countless cuisines—Mexican, Indian, Indonesian, Chinese—each with its own roster of varieties, powders, sauces, and pastes. Shepherd's favorite is gochujang, a Korean fermented red pepper paste that's been on the rise in the kitchens of non-Korean chefs and home cooks, too.
Shepherd first tried it as the base of a dip for Korean barbecued meats; it's also commonly added to soups and stews to build depth of flavor, or used to make a sweet and spicy glaze that lacquers golden pieces of Korean fried chicken. These days, Shepherd uses it in everything: cooked into any braising sauce, rubbed on meat destined for the grill, mixed with mayo and spread on a sandwich.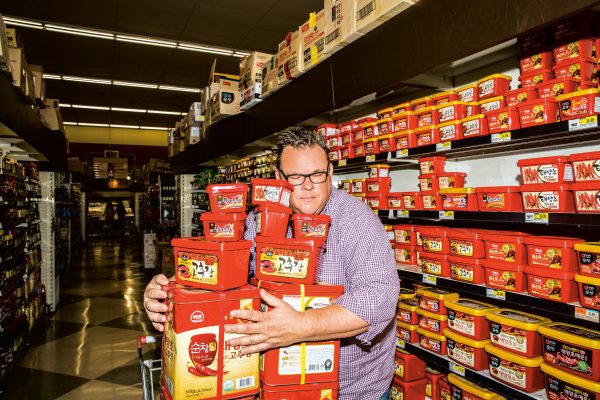 In the end, though, the book's mission extends outside the bounds of your home kitchen: In learning to "cook like a local," Shepherd hopes you'll be inspired to venture out and talk to your neighbors, too. 
"[This book] is about going out and learning from people, it's about sitting and breaking bread and sharing a conversation," he said. 
It's no doubt a personal book: a love letter to Houston and the diverse people and places that have enriched the city—and Shepherd's cooking. But the same ethos can be applied to whatever city you're in, Shepherd said; there are always people, perhaps from cultures different from your own, to talk to, to learn from, to share a meal with.
"I felt like, if I can do that, everybody else can do that. And if everybody else can do that, our world just becomes a better place," he said.
"The door's open for you, you just have to listen. You have to ask, and you have to listen."
RECIPE: Crispy Brussels Sprouts With Caramelized Fish Sauce
RECIPE: Indian 'Puffy Tacos'
RECIPE: Korean Fried Chicken