For Tuscans, beans are a source of pride and identity. The legumes are so intertwined with the region's food culture and traditions that Florentines are known as "mangiafagioli," or "bean eaters."
Beans are one the most representative ingredients of Tuscan cucina povera, the inventive, honest peasant cooking capable of transforming a few, poor ingredients into nutritious and filling dishes.
But although now it's difficult to imagine Tuscan cuisine without beans, they are actually not native to our region. Beans were brought to Italy from the New World in the early 16th century, along with other important ingredients that nowadays are taken for granted in our everyday diets, such as potatoes, corn, and tomatoes.
They found an enthusiastic welcome in Tuscany, and not just from peasants. Beans were served at feasts and banquets, and they were appreciated by rich and noble men, including Alessandro de' Medici, the first duke of Florence. He once gave a few white beans as a precious gift to his sister, Caterina de' Medici, who married Henry II, the future king of France.
By the 17th century, beans were widely cultivated in Tuscany and quickly became part of the Tuscan cucina povera. Until the 1950s, when agriculture declined to make way for industrial development, the farming of beans was important in Tuscany, as the legumes were a key source of food for peasant households. 
Beans were considered the poor's man meat, even more so than chickpeas or lentils. Meat was reserved for holidays, while everyday cucina povera dishes had to satisfy all the nutritional requirements using only cereals, such as bread or pasta, and beans.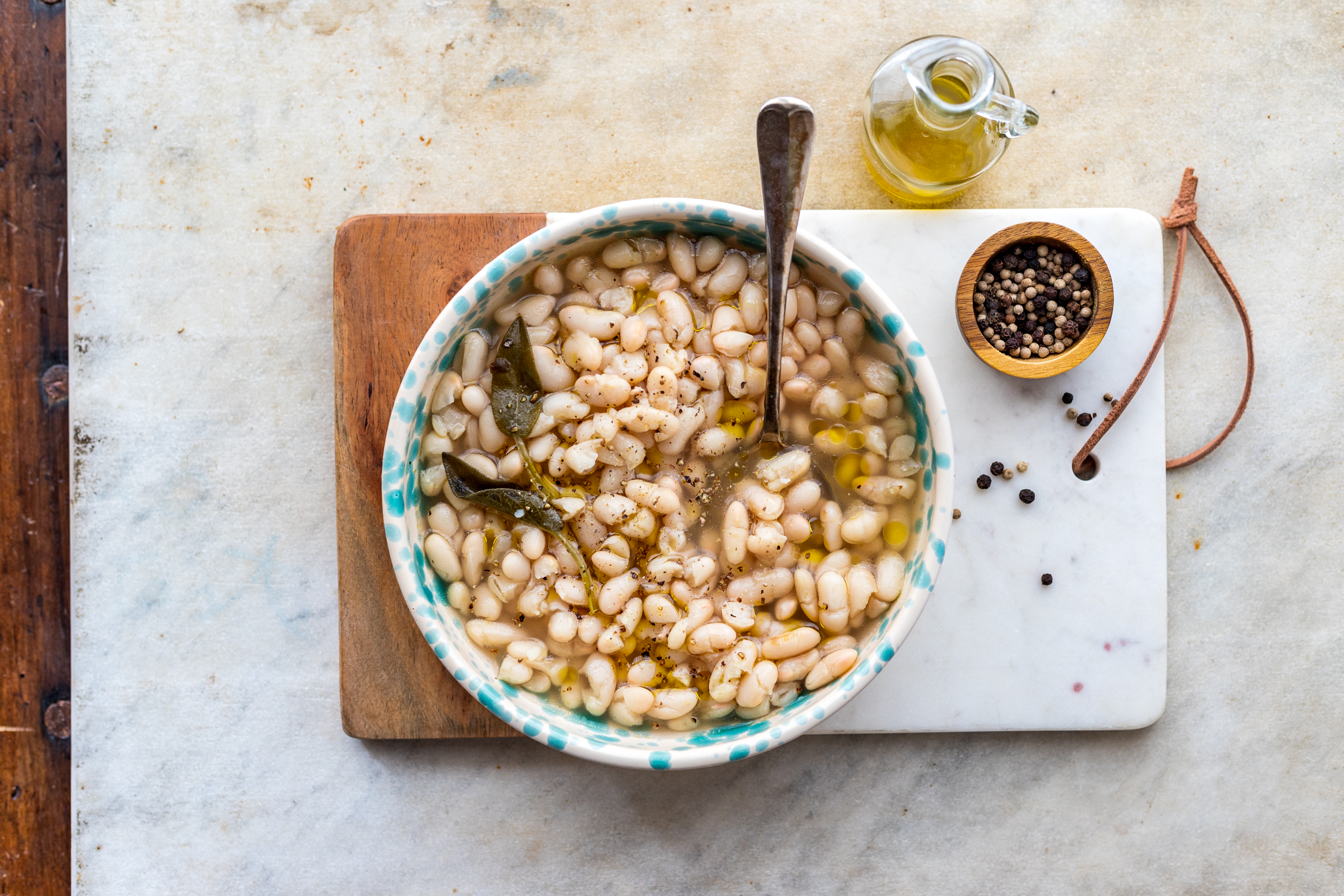 Cooking and Eating Beans
Beans are typically consumed fresh from June to October, and dry in the other months, as they keep well for a long time. If not too old, dried beans can be cooked without soaking, though most Italian recipes require you to soak them overnight.
As for seasonings, tradition calls for sage leaves and garlic; you would never use other herbs, such as rosemary, which is instead always paired with chickpeas.
Long and slow is the best way to cook beans. In Tuscany, they were traditionally cooked in an old glass wine flask nestled in the ashes of the fireplace. You would slowly pour the beans into the flask; cover them with water; season them with a few garlic cloves, sage leaves, black peppercorns, and extra virgin olive oil; and leave the flask overnight in the warm ashes. In the morning, you would find the creamiest, tastiest beans ever.
Sometimes the beans were instead put in a clay pot, seasoned with the usual herbs, and brought to a local bakery for a long, slow cooking in the residual heat of the wood-burning oven, after the bread had been baked. In the summer, when we make pizza in our wood oven in the garden, we still cook beans like this. Simply dressed with fresh olive oil, or "all'olio," this is quite possibly the best way to have them.
Clay pots are traditionally considered the best vessels for cooking beans, and pulses in general. Why? As Samin Nosrat explained in a recent interview, the pots are slightly alkaline, and alkalinity is what makes bean skins tender. Thanks to her explanation, I also finally understand the reason why my mum always adds a pinch of baking soda, which is alkaline, when she cooks her cannellini beans.
However you cook your beans, don't throw out the precious cooking water. The beans exude nutrients while cooking, making the liquid around them more and more dense. This is pure, concentrated flavor, so save it to use it in soups and stews, to thicken them and add creaminess.
RECIPE: Fagioli All'olio (Tuscan White Beans With Olive Oil)
RECIPE: Passato di Fagioli (Puréed Bean Soup)
RECIPE: Ribollita (Tuscan White Bean, Kale, and Bread Soup)
RECIPE: Fagioli All'uccelletto (Stewed Beans in Tomato Sauce)
Giulia Scarpaleggia is a Tuscan born and bred food writer, food photographer, and author of five cookbooks, including "From the Markets of Tuscany." Find her online at her blog, JulsKitchen.com