It's not just what you're drinking, but how you're drinking it. 
Good beer, like good wine, should be served in the proper vessel. Any fine restaurant is going to pour red wine into a larger glass than they would a white wine. Why? Because reds are generally bigger and bolder, so they require a larger glass to allow all those aromas and flavors to emerge. No one is drinking pinot noir straight out of the bottle. Not at the restaurant anyway. 
By the same token, beers were not intended to be drunk out of the bottles or cans. (Don't sweat it, picnickers—exceptions can be made, of course.)
Not only may an attractively designed glass psychologically improve your experience—versus, say, a foamy pour in a plastic cup—but its curves and dimensions also have actual functional purposes that can physically affect qualities of the beer. 
Leave Room for the Head
Aficionados may grimace and smack their faces when confronted with the typical shaker glass, the pint most of us encounter at a vast majority of bars and restaurants these days (but thankfully less so at craft taprooms). The straight-sided, wide-mouthed glass was designed for shaking drinks in cocktail mixers, with an eye toward easier stacking and space-saving for the bar.
"The problem [with the shaker] is that it does nothing for the beer, either in aesthetic terms or in practical delivery of aromas and flavors," said Stephen Beaumont, author of "Will Travel For Beer" and several other beer books.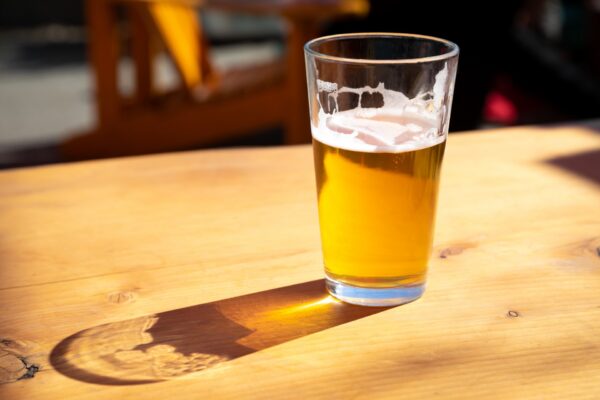 Consider that servings of a typical beer are 16-ounce pints (as opposed to the generous British Imperial pint, which is 20—and even their ounces are 4 percent larger than ours) in 16-ounce glasses. This means that if you order a pint, you don't actually get a pint unless it's filled right to the rim. And if it is tickling the top, the beer will arrive with no head. And this is a big no-no when you are paying premium for your brew. 
The head is made from the carbon dioxide of fermentation suddenly released from your drink, but the structure of the bubbles is maintained by proteins and acids from the wort and hops. Carried along with those bubbles are aromas you would completely miss drinking from a bottle or using a glass that doesn't provide space for the head. 
The first smell and subsequent sip of a hoppy beer such as an IPA may carry strong citrus or piney notes, for example. In the case of beers with nitrogen added, that head adds a creaminess to the mouthfeel, and puts on a show of cascading bubbles as you see in a fresh, proper pour of Guinness. In a shaker pint, the lack of head space and the wide mouth dissipate those elements for the drinker.
Certain alternative design elements, on the other hand, do the opposite: tapering at the upper end gathers the head, for instance, or etching in the bottom of the glass stirs up carbonation to give the head longevity. 
But too much of a good thing is undesirable as well. Wheat beers can get pretty foamy, so often they are poured into wet glasses to control that head that can fill half the glass. 
When you can, use a glass and pour half your beer down the side of the glass to avoid too much foaming, but then pour the rest straight down into the middle to kick up the head. Make sure your glass is clean, especially free of oils from your fingers. 
Looks Matter
Beyond the aromas and flavors, just the look of the beer is important, too. 
"People might not generally realize it, but we eat and drink with our eyes first. So when the beer presented to you looks good, it's going to taste even better than it otherwise would," Beaumont said. 
When you see servers add a rinse to the glass before filling it, they are making the vessel "beer clean," or clean of any sort of surface impurities that could cause bubbles to form on the side of the glass, shorten the life of the head, and prevent lacing to form as you drink. The latter is a lacy residue along the inside of the glass appearing as you drink, indication of a good clean glass and head retention. 
"Years ago," Beaumont recalled, "I presented a seminar on draught beer at a hospitality conference and filled two shakers with beer on the stage: one with zero foam and bubbles clinging to the inside of the glass—I had an intentionally non-beer clean glass—and the other with a collar of foam and bright clarity." His audience consisted of some of the best and brightest of the industry, but he could see their surprised reaction: "They had simply never before considered the impact on beer appearance might have."
Choose Your Vessel
Glassware for beer goes far beyond the ubiquitous shaker pint glass. In Europe, you may find a different glass for every beer. 
Kölsch from Cologne, Germany, has a special 200-milliliter (6.8 ounces) stange, a thin-glassed cylinder. These represent tradition, and no one in the city will serve the beer another way. The small size also encourages faster drinking so your beer doesn't get warm.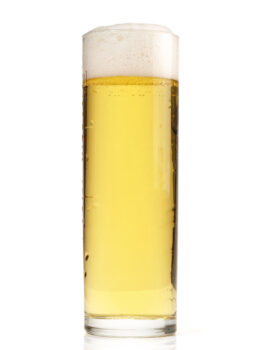 Pilsner glasses are tall and narrow, showing off the clarity and color of the beer. The similarly tall weizen glass accommodates the half-liter bottles many German wheat beers come in. A narrowed waist above the wider bottom of the glass collects the residual yeast often remaining in the bottle, keeping it from sliding toward your mouth, which may change your drinking experience.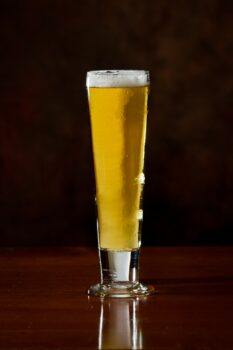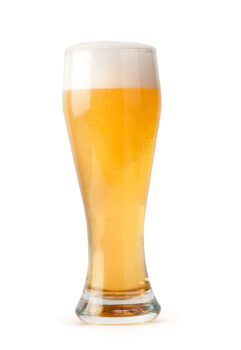 Not all beers are best ice cold. Many reveal richer, more complex flavors with a warmer serving temperature. A snifter, a small, stemmed glass with a wide bottom and narrower top, allows your hand to warm a beer in the way you'd warm a pour of Cognac. Snifters are best suited for the strongest of beers, such as barleywines or some double-digit ABV imperial stouts.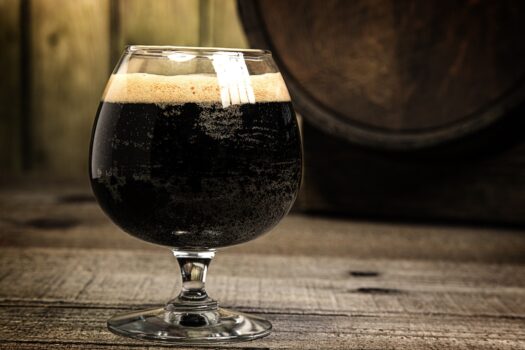 Tulip glasses, shaped like the namesake flower with a rounded vessel that tapers toward the top and then flares wider, are best for stronger and more aromatic beers, often of serving sizes smaller than a pint. Belgian ales or hoppy double IPAs are typically served in these.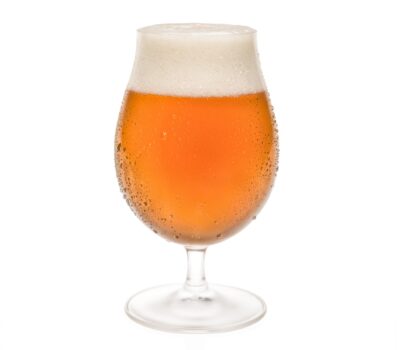 Chalices or goblets are associated with stronger beers as well: German bocks and Belgian dubbels, tripels, and quadrupels. Large red-wine glasses are similar in shape and function and may serve as a substitute.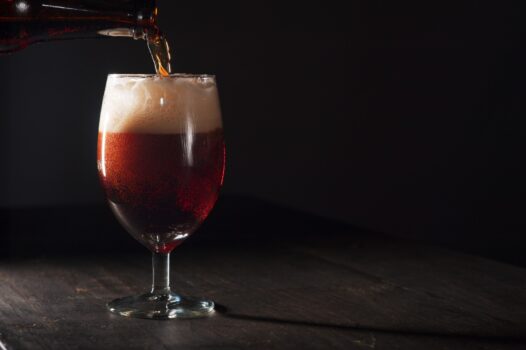 Mugs, and their lidded cousins steins, are made of glass, earthenware, or metal. They keep beers cooler a bit longer with their thicker construction and handles that keep your warming hands away, making them good for large-volume pours of lagers or dry stouts. They speak to tradition and German beer halls.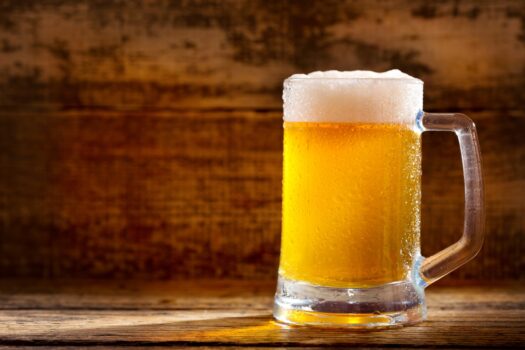 Flutes, like their champagne counterparts, showcase the carbonation and clarity of fruit beers, lambics, or light clear beers such as German pilsners or helles.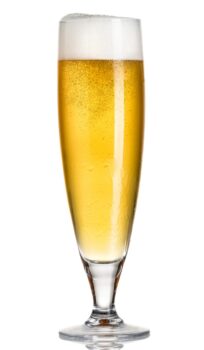 A glass that showcases the beer, its color, its aroma, and its clarity—or lack thereof—gives you more bang for your brew. But if you're being served with a shaker pint, at least insist on the head. 
Kevin Revolinski is an avid traveler and the author of 15 books, including "The Yogurt Man Cometh: Tales of an American Teacher in Turkey" and several outdoor and brewery guidebooks. He is based in Madison, Wis., and his website is TheMadTraveler.com