Beauty, goodness, and righteousness—the glory of God and our true human nature—can all be found in Raphael's art. That's why, even in 2020, 500 years after Raphael's death in 1520, his art still has the ability to uplift us and give us hope. And that's why Raphael's art is still relevant and much needed in this world, when all around us can seem anything but good.
Raphael's paintings and drawings in particular connect us with our inner worlds in a way that brings us back to our own goodness. Or at least his art reminds us of our best selves.
"Raphael connects us with the angels of our better nature," said Matthias Wivel, curator of 16th-century Italian paintings and drawings at London's National Gallery of Art in his 2018 talk "Raphael: The Renaissance Virtuoso."
Raphael's art can do this because Raphael wholeheartedly captured humanity—whether in a simple sketch or a finished painting. Anyone experiencing his artwork cannot help but be a better person for it.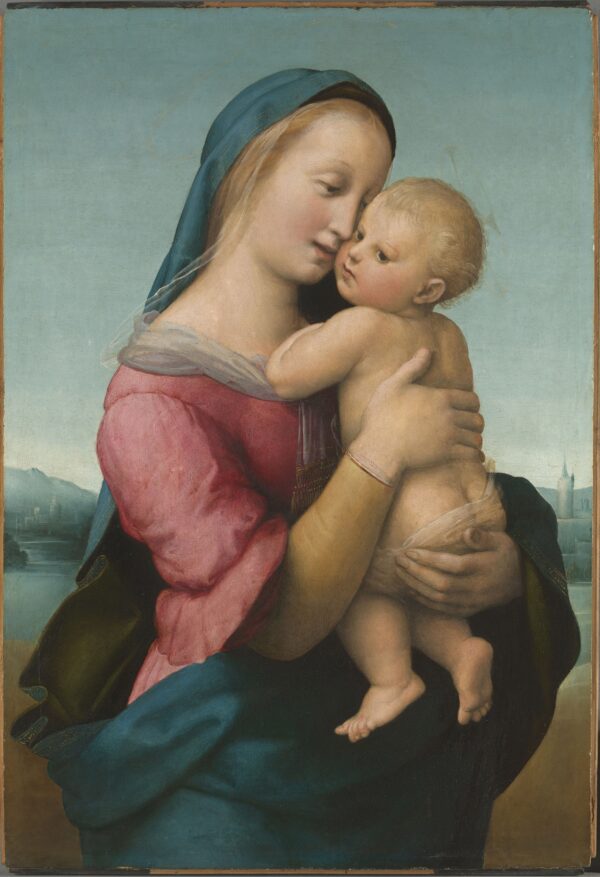 Honoring Raphael
To mark the 500th anniversary of Raphael's death a monumental retrospective, the "Raphael 1520–1483" exhibition at the Scuderie del Quirinale in Rome presents a once-in-a-lifetime opportunity. It features 120 paintings and drawings by Raphael and a further 84 works, such as ancient Roman artifacts, Renaissance sculptures, codices (volumes of manuscripts), and more, to enable us to understand Raphael and his oeuvre.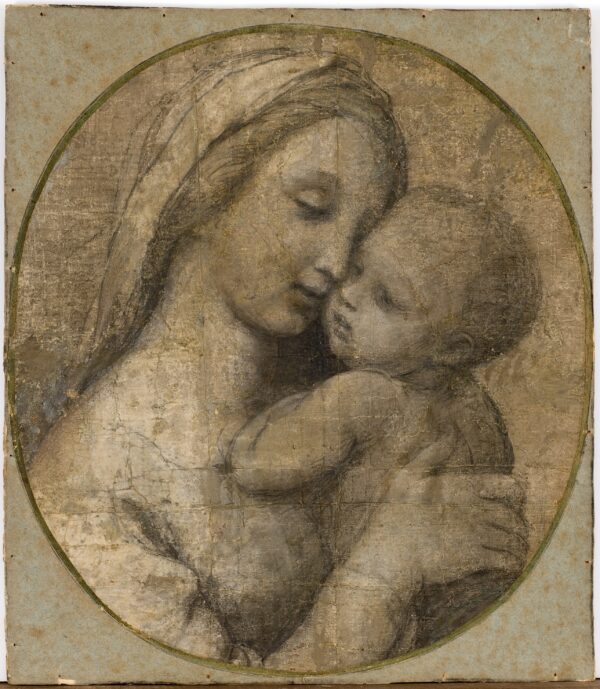 The exhibition explores Raphael's incomparable draftsmanship and painting, and also Raphael the architect and keeper of antiquities—showing the "universal artist" that 16th-century art historian Giorgio Vasari believed him to be.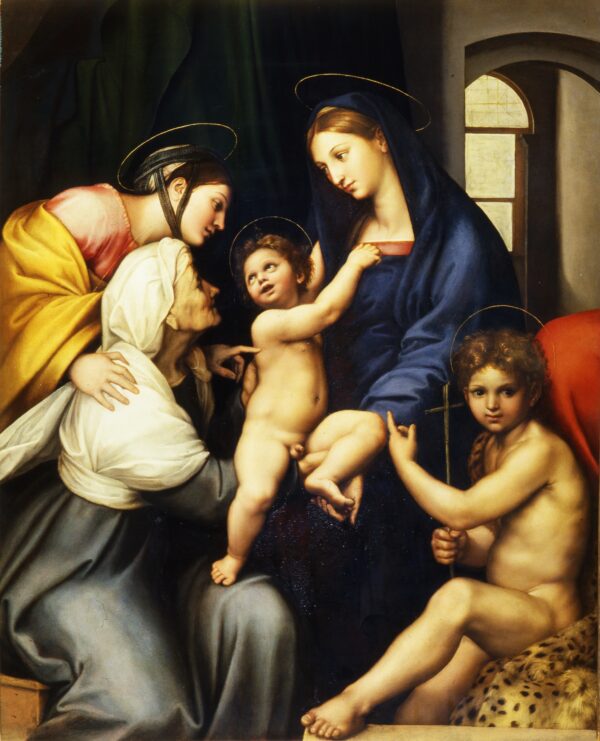 Organized by the Scuderie del Quirinale and Florence's Uffizi Gallery, the exhibition took three years to plan involving an array of art experts. Marzia Faietti and Matteo Lafranconi curated "Raphael" with the assistance of Vincenzo Farinella and Francesco Paolo Di Teodoro.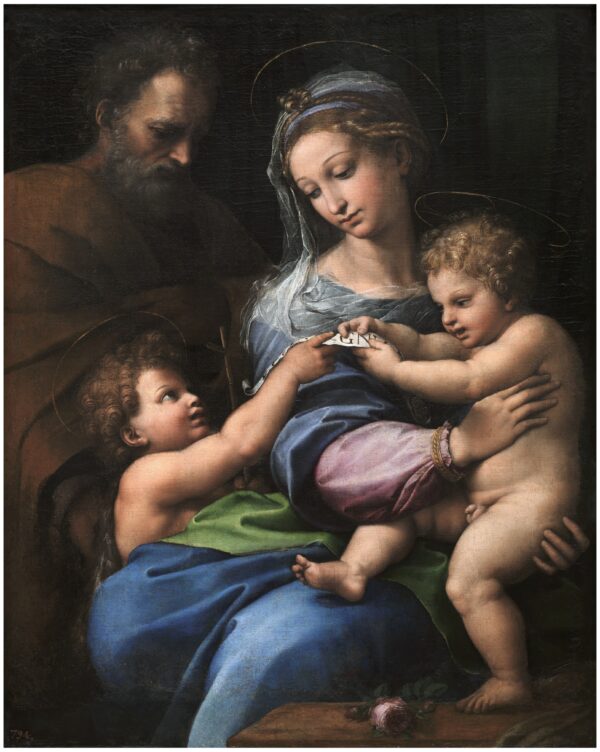 Many of the exhibits are on loan from world-renowned institutions. Three of Raphael's Madonna paintings return to Italy for the first time since being exported overseas: "The Alba Madonna" from the National Gallery of Art in Washington; the "Madonna of the Rose" from the Prado in Madrid, Spain; and the "Tempi Madonna" from the Alte Pinakothek in Munich, Germany. Raphael's two portraits of popes—Julius II, and Leo X with the cardinals Giulio de' Medici and Luigi de' Rossi—have never before been seen under one roof.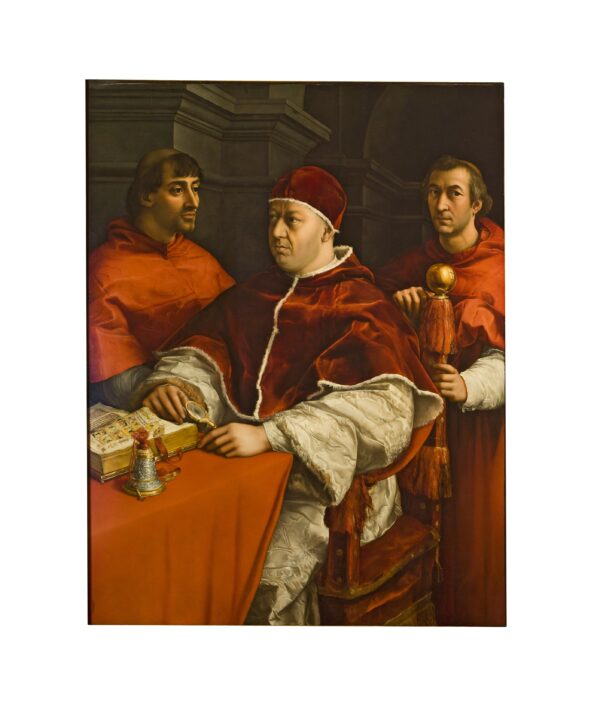 One of the many exhibition highlights is a letter to Pope Leo X in which Raphael and his friend Baldassare Castiglione explain the intention of the ambitious project Raphael was working on in the few months leading to his death: an archaeological project to re-create the glory of Rome region by region.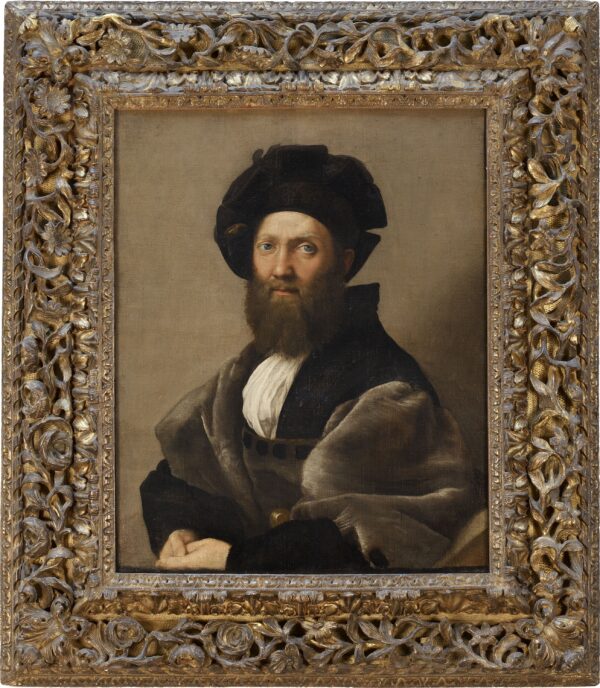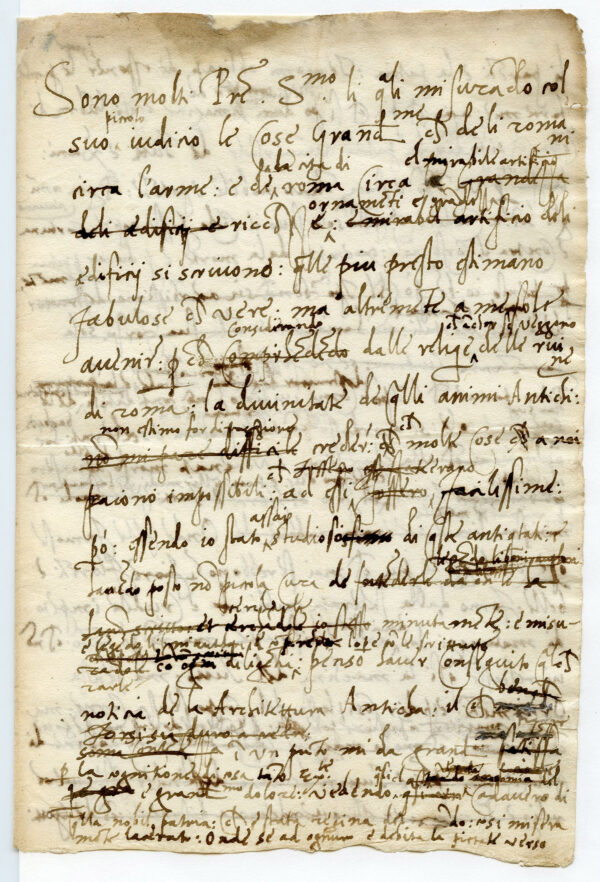 The exhibition follows Raphael's artistic endeavors back in time, from his death on April 6, 1520, through three distinctive periods of his life—from Rome to Florence, from Florence to Umbria, and to his Urbino roots.
The Scuderie exhibition opens as Raphael's life ends: with a full-sized replica of his tomb at the Pantheon. His grand tomb gives visitors an idea of the high esteem in which he was held, both in life and death.  
Through Raphael's Art 
Whether he paints sublime, sweet Madonnas or popes in sumptuous ceremonial dress, Raphael's paintings seem to somehow transcend time, culture, and iconographical language, so anyone can connect with the essence of his paintings. 
A Pope
Take a quick glance at Raphael's "Portrait of Julius II." Everything on the surface points to Julius's position as pope. He sits on a throne, dressed in papal red velvet and white satin or silk, his hands adorned with gems. We see the symbols of his papacy—the keys to the church—on the green background, yet what emanates from the picture is his humanness.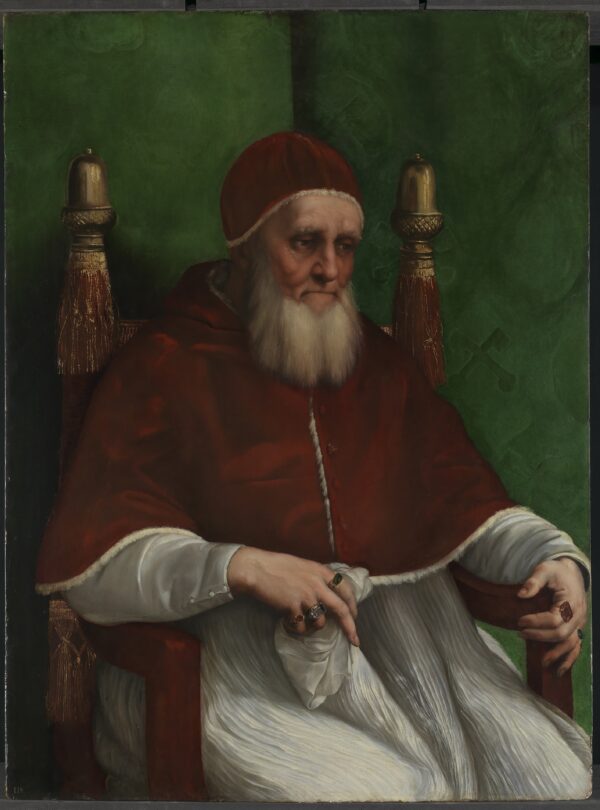 For as we look closer, we see Julius the man deep in thought. It's almost as if we've caught him unawares. His lips are pursed in concentration, and he seems to be shifting in his seat as if uncomfortable. His left hand tightly grips the chair arm as if to steady himself, and his right hand lightly holds a handkerchief. This is Raphael connecting us to the man who heads the Roman Catholic Church. It's almost as if Raphael is reminding us that Julius is God's representative here on earth, a human just like us.
A Knight
In "The Knight's Dream ( Hercules at the Crossroads)," Raphael chose to interpret an epic poem his father had written for Federico da Montefeltro, the duke of Urbino. Raphael's father, Giovanni Sanzio, was a writer and painter at the court of Urbino, and he'd written the poem based on the myth of Hercules at the crossroads. Sanzio's poem is the only version where the soldier is asleep, according to the website of The National Gallery, London.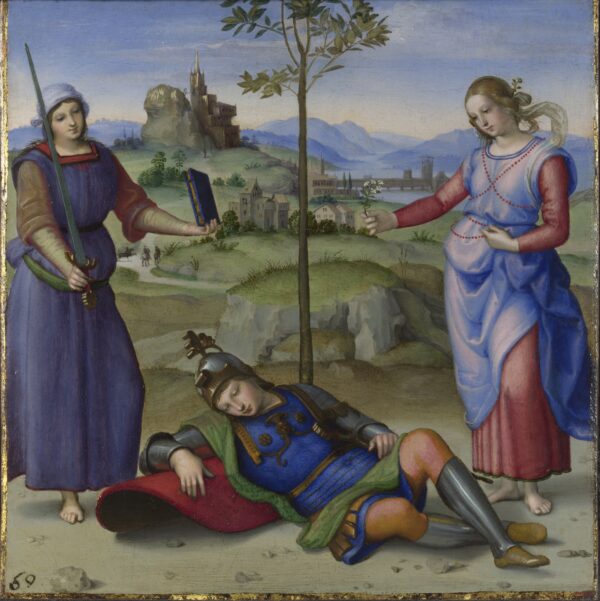 In the painting, a young soldier named Scipio sleeps in the shade of a bay tree, unaware of the choice he has to make when he wakes. A lady stands on either side of him: On the left is Virtue and on the right stands Pleasure. Raphael paints Pleasure with a gentle allure; her hair is loose, and she wears pastels and daintily holds up her dress up. Raphael had drawn Pleasure with a lower-cut dress but decided on this version that still convincingly conveys the vice of Pleasure. What Pleasure offers is all things of ease and beauty, while Virtue, in her modest attire, offers learning and valor—a harder but more rewarding outcome.   
A Madonna
Look at any of Raphael's sweet Madonna paintings that he's so famous for. In "The Alba Madonna," in the left of the painting, the innocence of childhood curiosity exudes from the toddler who will become St. John the Baptist. John looks up to the right expectantly at the Christ child, who steadies the cross that John holds.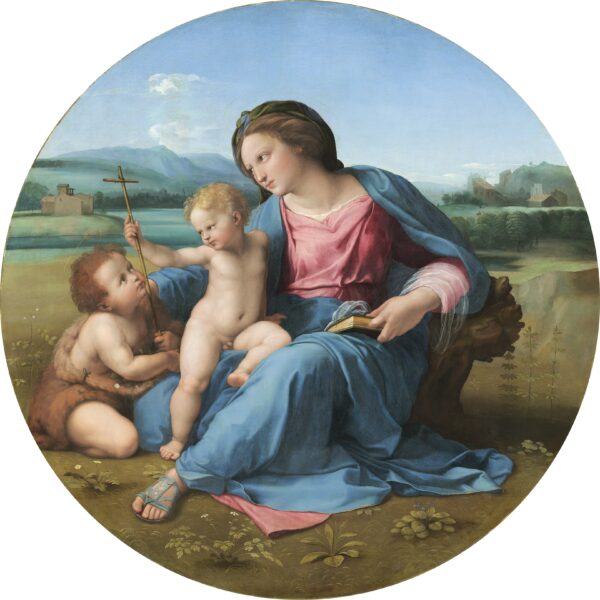 Appearing wise beyond his years, the Christ child shows a detachment from earthly, sentimental love, because he knows he's on earth for something greater. He puts one foot tentatively on the earth, perhaps suggesting that he's in the world but not of the world.
While John wears a fur for warmth, the Christ child wears and wants nothing of this world, except to teach others to follow God. Take away the classical Roman costumes and we could simply be looking at a family portrait of a mother and her charges in a tender, playful moment out in nature. Raphael makes this scene relatable to us all.
Clearly, Raphael paints a religious scene in "The Alba Madonna," but what seems to come forth in many of his paintings is a harmonic tension between the spiritual and the earthly—the divine and the human realm. 
Practice Makes Beauty
Harmony in art doesn't just happen. Look at some of Raphael's drawings and you can see how he reworked many of his figures. Some drawings show where he slightly shifted the angle of a head or an arm ever so slightly so that each figure is coherent with the other elements in the eventual painting. Take one of those elements away and the whole composition falls into discord. That's what makes Raphael an exemplary draftsman of groups of figures, as seen in his exceptional "School of Athens" at the Vatican.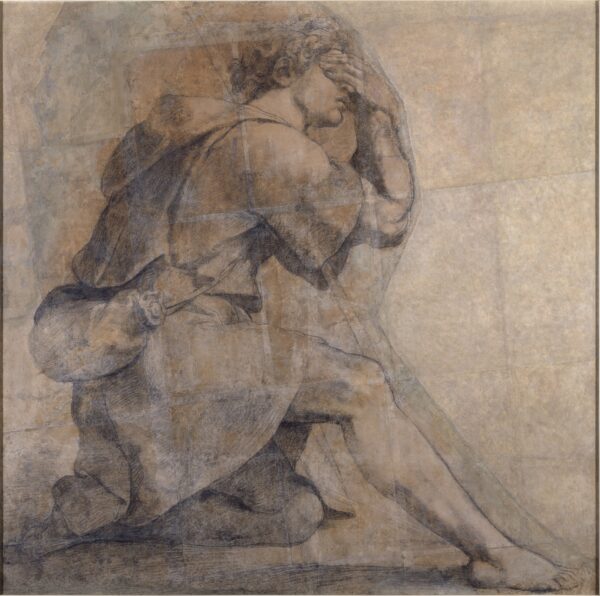 Born in Urbino in 1483, Raphael was immersed in art from a very young age. His father, on seeing his son's artistic talent, was said to have sought out an apprenticeship for him. Sanzio visited the workshop of Andrea del Verrocchio, whose apprentices included Pietro Perugino and Leonardo da Vinci. Raphael's father chose Perugino to teach his son, although Raphael may not have started the apprenticeship while his father was alive, as Raphael was so young.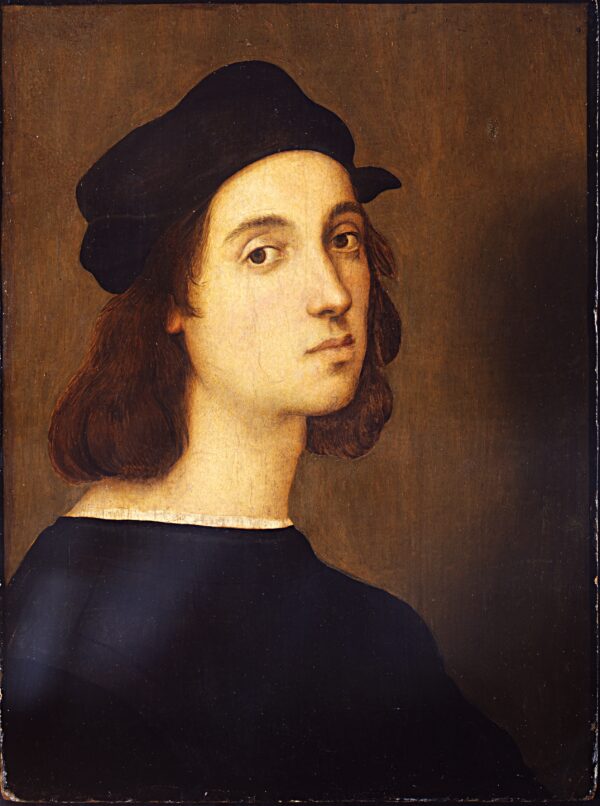 Although orphaned at 11 years old, Raphael had already learned the gentlemanly ways instilled in him at court from his father, who introduced him to the court's humanistic philosophy.
At just 17 years old, in 1500, Raphael was already considered a master. He was summoned by Pope Julius II to Rome when he was 25 years old by recommendation of Donato Bramante, the architect of St. Peter's Basilica. Raphael took over the role from Bramante years later.
Raphael looked to his High Renaissance contemporaries Leonardo da Vinci and Michelangelo. Da Vinci was 31 years Raphael's senior, and Michelangelo was 8 years older than Raphael. Raphael refined the techniques of his elder contemporaries.
Raphael also looked to the past at the high ideals of the ancient Roman arts full of serenity, beauty, and balance. He avidly protected these arts, preferring to authentically restore pieces rather than to innovate their designs, as some of his contemporaries did.
But more than that, over and over, his contemporaries mentioned Raphael's good nature. In contrast to da Vinci and Michelangelo, who were more solitary artists, Raphael was an amicable darling of the court and beyond.
Vasari said Raphael put others first; if an artist wanted help, Raphael would put his own work to one side to assist him. Vasari went so far as to say that he treated craftsmen in his workshop as he would've treated his own children, and it seems they returned that love. "He was never seen to go to court without having with him, as he left his house, some 50 painters, all able and excellent, who kept him company in order to do him honor. In short, he lived not like a painter but like a prince."
Raphael's goodness, imbued in faith, spilled over into his paintings. His art is full of beauty that not only the eyes can see but also the heart can feel. That's why Raphael's art endures—as through his brush, he painted the language of the soul.
The "Raphael 1520–1483" exhibition runs through June 2. To find out more about it, visit ScuderieQuirinale.it