For decades, the Chinese Communist Party (CCP) has been known for suppressing freedom of expression and obstructing foreign journalists from reporting on sensitive issues, such as human rights violations, in the country. Reporters Without Borders ranked China 177th out of 180 countries in its 2019 World Press Freedom Index.
In circumstances such as these, how do reporters avoid being monitored or surveyed by state agents? One journalist discovered a creative way—offering free rides in exchange for a conversation.
Frank Langfitt, the author of the book "The Shanghai Free Taxi" and an international NPR correspondent previously based in Shanghai, wrote about the challenges he encountered while trying to report on what's happening in China.

How to Avoid Surveillance
In an op-ed article for NPR from September 2019, Langfitt recalled how state agents in China were already monitoring him since the late 1990s when he was a newspaper reporter in Beijing.
Recalling one incident from that time, Langfitt said he had booked a flight to the southeast of China after getting a tip that two farmers were shot to death and several others were injured by the People's Armed Police while protesting against high taxes. However, before Langfitt could even make his way off the plane, the government officials had already caught up with him.
"I figured the government knew my flight number by listening to conversations on my office phone, a common practice," Langfitt wrote.
When he was being interrogated, Langfitt tried asking a young foreign ministry official who was monitoring him in the hotel room for his opinion. The official, who was disturbed by the killings, was visibly uncomfortable and stammered in his reply, Langfitt said.

In 2012, Langfitt experienced a similar situation—state security agents followed him while he was covering news on the communist regime's corruption. Once again, they had traced him via his cell phone. In an attempt to prevent further surveillance, Langfitt decided to make use of a bag of potato chips.
"Eat a bag of potato chips, wash out the bag and put your cellphone inside. The foil bag blocks electromagnetic fields, preventing GPS updates," he said.
However, getting the Chinese citizens to speak to the media was not an easy feat. So, Langfitt came up with a unique approach: offering free taxi rides. Langfitt, who worked as a taxi driver in Philadelphia in the 1980s, recalled how passengers would open up to him during the ride. Unsurprisingly, Langfitt's idea worked.
"My Shanghai free taxi turned the normal foreign reporting experience in China on its head—instead of me asking the questions, my passengers sometimes interviewed me," Langfitt said.
Not long after, many of them started to invite Langfitt to dinner, and some even exchanged their contact information with him. Meanwhile, others even talked to him about sensitive topics such as the Tiananmen Square Massacre. Moreover, the free taxi rides helped Langfitt to avoid surveillance from the state security agents. In fact, Langfitt wrote that one agent even "liked the stories" as the agent was able to connect with the character in Langfitt's reporting.

Recent Suppression of Freedom of Expression
In the recent past, some foreign journalists faced suppression and retaliation from the CCP. After the outbreak of the CCP virus, many foreign journalists traveled to the Chinese city of Wuhan to report and uncover the true situation. However, some of them were obstructed from reporting.
Financial Times reported that some journalists were told by local authorities that they were not allowed to get close to Hubei Province due to quarantine requirements. There were also others who were forced to delete videos that they had recorded near hospitals, according to the Los Angeles Times.
In February 2020, after The Wall Street Journal refused to apologize for publishing an opinion piece titled "China is the Real Sick Man of Asia" in regard to the CCP (Chinese Communist Party) virus, commonly known as the novel coronavirus, three of its Beijing-based reporters who worked in the news section had their press credentials revoked.
A month later, the regime announced to expel the U.S. journalists working for The New York Times, The Washington Post, and The Wall Street Journal in retaliation for the Trump administration's recent actions targeting Chinese state-run media outlets in the United States.
A March 17 statement from the Chinese Foreign Ministry stated that it would require all journalists with U.S. citizenship employed at the above three organizations whose press credentials are due to expire before the end of the year to hand back their press cards within 10 days.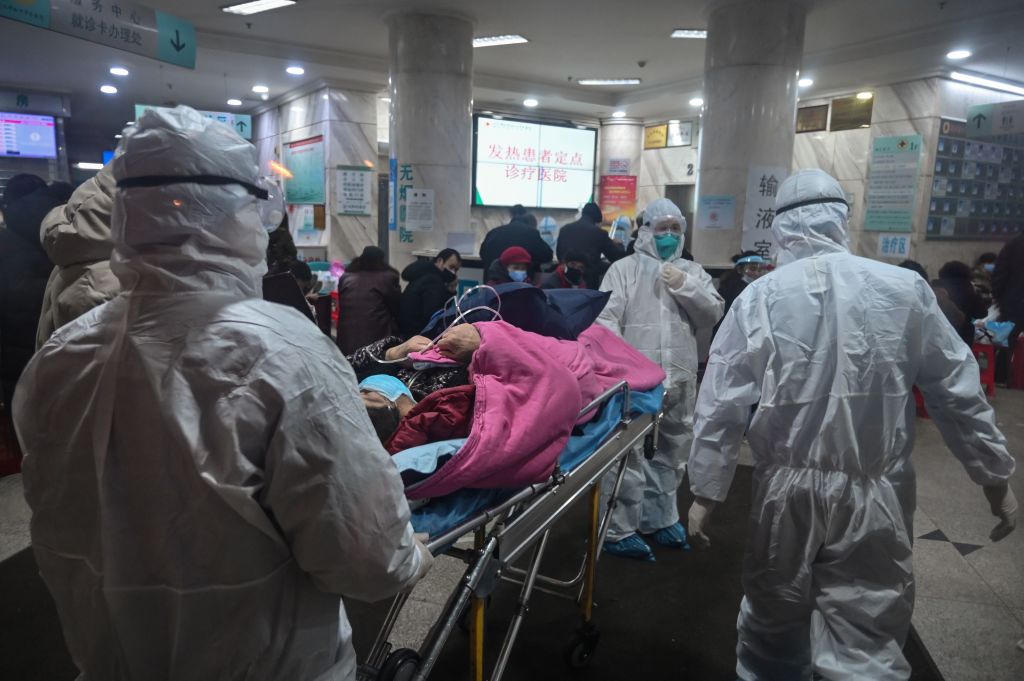 However, foreign journalists are not the only ones who have had their freedom of expression suppressed. Wuhan journalists working for Caixin, Phoenix News, and other state-approved media outlets were told by the communist party's propaganda department to review their news reports after the outlets reported that local officials had covered up on the impact of the CCP virus, Radio Free Asia reported.
There were also reports that several Chinese citizen journalists disappeared after the outbreak when they sought to reveal the impact of the CCP virus on the Chinese city of Wuhan.