I recently drove up the Pacific coast to the world-class Paso Robles winery region. The first night I visited the Sensorio light exhibit, where tens of thousands of stemmed spheres lit up the night, creating an incredible landscape. It really is a can't-miss experience. I also had the opportunity to visit several wineries and enjoy lunch paired with their wines. Niner and Daou were my favorites.
Daou winery is up on a hill overlooking the Paso Robles mountains and is quite spectacular. We enjoyed many of their wines along with a luscious lunch of their chef's specialties. One of the dishes that we discussed was a seafood sauté with tomatoes and their rosé wine. I wanted to recreate it when I returned home.
This shrimp dish pays homage to the best of summers' produce. Quickly sautéed shrimp are mixed with tomatoes, corn, fresh basil, and my favorite summer wine, rosé. This is one of those dishes that takes just a few minutes to put together and yields huge flavor with little effort required.
Look for large shrimp that have been deveined and tails removed. Make sure to dry the shrimp carefully before sautéing so that they can brown properly. Colorful cherry tomatoes and freshly shucked corn add big flavor. Black olives add a salty finish while fresh basil adds that "taste of summer."
Rosé wine adds just the right amount of acid to complement the flavors. The butter is needed at the end of cooking to round out all the flavors. Serve this in shallow white bowls on its own or spooned over pasta or polenta. If you are serving this by itself, make sure to have some crusty bread to accompany.
What to drink? A dry rosé of course. If you, can, try the Daou rosé.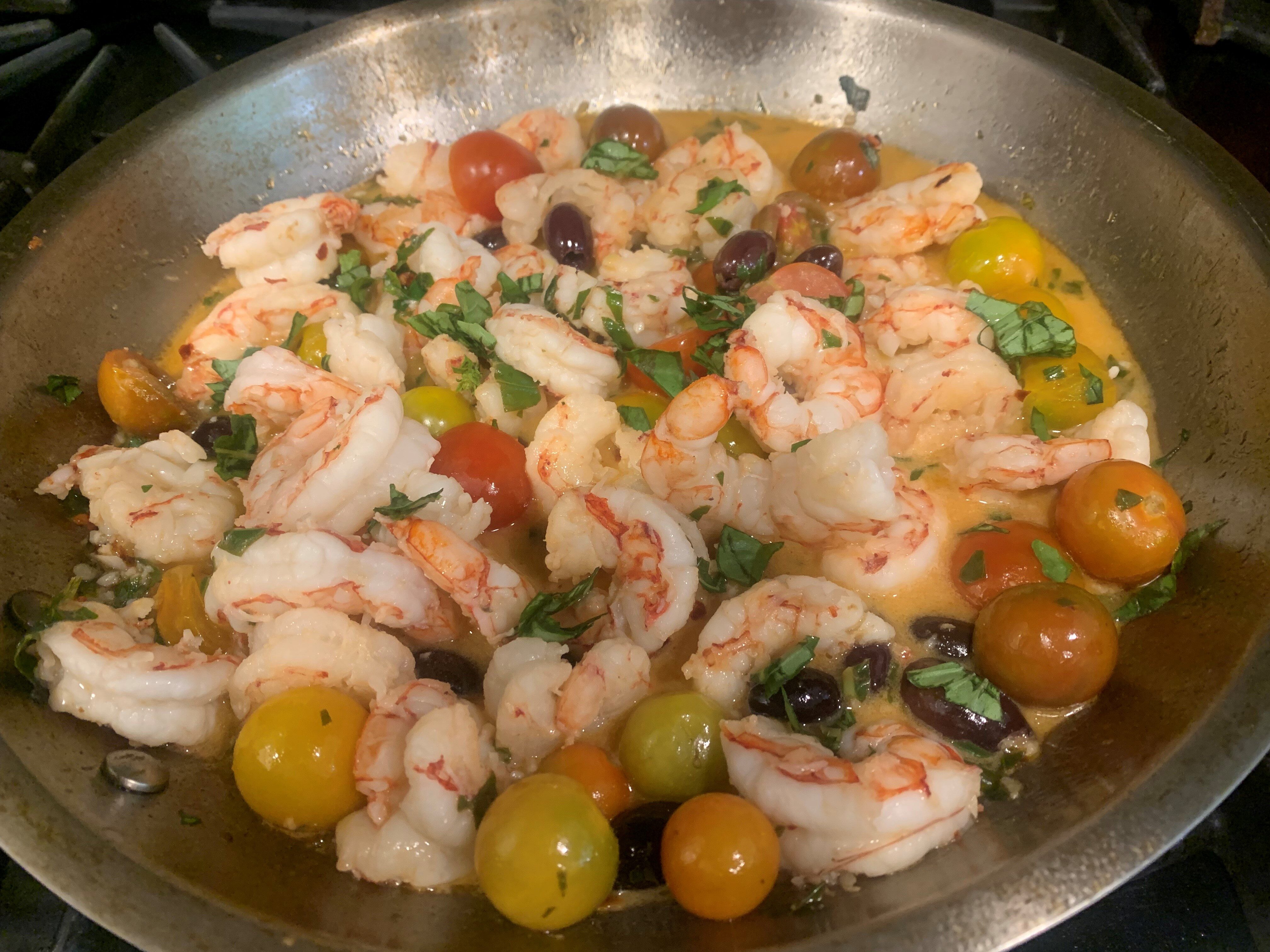 Summer Shrimp Sauté With Cherry Tomatoes, Corn, and Rosé
Serves 4
4 tablespoons butter, divided
3 tablespoons olive oil, divided
1 1/4-pound fresh large shrimp, peeled and tails removed
Salt
Black pepper
Pinch of red chile flakes
5 cloves garlic, minced
1 1/2 cups colorful cherry tomatoes, halved if large
2 ears corn, husked and shucked (about 1 cup kernels)
1/4 cup plus 1 tablespoon basil, finely chopped
1 cup rosé wine
1/2 cup pitted black olives (Kalamata preferred)
Heat a large skillet over medium heat and add 1 tablespoon butter and 2 tablespoons olive oil. Pat the shrimp dry with paper towels and add to the pan in one even layer. Season with salt, pepper, and chile flakes. (You can make this as mild or as spicy as you like.)
Once the shrimp starts to turn pink, turn with tongs and cook another minute, or until they are just cooked through and are opaque. Remove the shrimp to a side bowl.
Add the remaining 1 tablespoon oil to the pan, and then add the garlic and sauté another minute, or until it is aromatic. Add the tomatoes, corn, basil, and wine. Turn heat to medium-high and simmer for 2 minutes or until reduced by half.
Add the remaining 3 tablespoons butter and stir until melted and a sauce is formed. Add the reserved shrimp and olives to the pan and heat through, about 2 more minutes.
Serve immediately in individual shallow bowls, garnished with reserved chopped basil, on its own or over pasta or polenta.
Diane Rossen Worthington is an authority on new American cooking. She is the author of 18 cookbooks, including "Seriously Simple Parties," and a James Beard Award-winning radio show host. You can contact her at SeriouslySimple.com. Copyright 2021 Diane Rossen Worthington. Distributed by Tribune Content Agency, LLC.