350,000 Hongkongers paraded on the streets again on Oct. 20, while Hong Kong police admitted that the government is trying to come up with ways to officially register journalists, drawing criticism from local trade and press freedom groups.
This is the moment the Hong Kong Police Force fired the water cannon at Kowloon Mosque.

The water cannon is only supposed to be used to disperse large crowds. But apart from those worshipping/a few people guarding the mosque, there was no one there. #HongKongProtests pic.twitter.com/sXEEAV7GLK

— J P (@hyjpang) October 20, 2019
For months, there were rumors among protesters and local reporters that the authorities would launch a government-authorized press license system. The Hong Kong police didn't deny the rumor when asked about the plan and said: "Police are open to any practices that can help identify journalists."
Pro-democracy lawmakers criticized the plan, but Hong Kong leader Carrie Lam denied the rumor, and emphasized that the government respects the supervisory power of the media.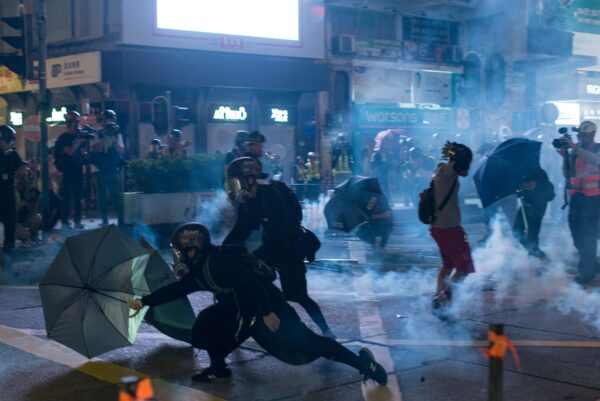 A Joint Statement
Hong Kong Journalists Association (HKJA) published on Oct. 19 a joint statement from Hong Kong Press Photographers Association (HKPPA), Independent Commentators Association, International Federation of Journalists, Journalism Educators for Press Freedom, Reporters Without Borders (RSF), and six media agents.
"Journalist unions, groups and academics solemnly opposes any official selection of journalists arrangements, which will inevitably undermine press freedom and the public's right to know," the statement said.
"Media plays the role of fourth power in the society, monitoring the exercise of power by the Government," HKJA stated. "Any arrangements that allow the Government to select journalists through official identification in reporting in public places will no doubt limit the room of freedom of reporting. That will not be conducive to free flow of information and truth-finding."
Currently, journalists are not required to apply for official identification in order to do reporting in Hong Kong. The statement concluded: "The requirements for the application of official identification can be arbitrarily changed. Those who refuse to accept the official identification or whose application fails will face more threats and risks in their reporting activities."
Kong Wing Cheung, chief superintendent of Hong Kong police information and publicity bureau, told media on Oct. 18: "Police officers have difficulties in identifying journalists on the frontline."
Kong said that is the reason that "police welcome all solutions that can identify journalists," which includes a government-released press card.
HKJA disagreed with Kong. It said in the statement: "The fact is that reporters have been coordinating with the Police in their law-enforcement in the recent protests and conflicts between the Police and protesters. Police officers have been able to identify journalists from their dress, equipment, activities and press cards."
Chan Yik Chiu, chairman of HKPPA, told local media HK01 on Oct. 18 that a unified press card wasn't practical. Chan said on protesting sites, there are many reporters from overseas media who wouldn't apply for a Hong Kong press card, as well as many freelance journalists and student journalists.
Claudia Mo Man Ching, a lawmaker in the Legislative Council, published a news release on the evening of Oct. 18, in which she "strongly condemns and opposes the government and the police reviewing the qualifications of journalists by any meaning, which will further destroy the freedom of the press in Hong Kong."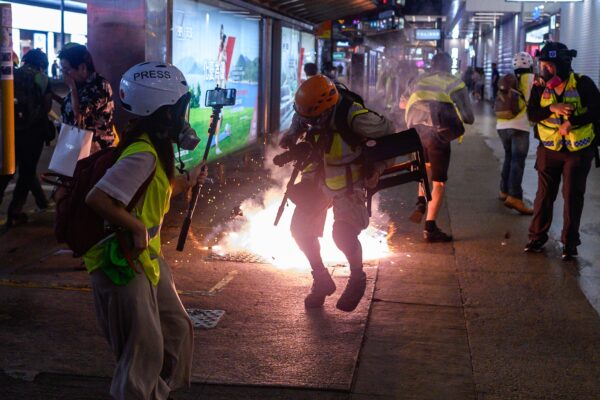 Tension Between Police and Journalists
Hongkongers have started to protest the now-shelved controversial extradition bill since April, which would have allowed mainland China to seek extradition of criminal suspects. The bill drew widespread opposition, with many fearing that the proposal would allow the Chinese regime to punish its critics on trumped-up charges.
Since June 12 when police started to fire rubber bullets, bean bags, tear gas, and pepper spray to disperse protesters, reporters in the line of fire have accused the police of obstructing their reporting or endangering their safety while covering the protests.
HKJA released a video titled "We Refuse To Be Silent" on Oct. 1 to expose the police brutality. The video shows police using pepper spray, tear gas, and water cannons to disperse journalists. It shows journalists being insulted, beaten and threatened by police who would also shine bright flashlights into reporters' cameras to interfere with their video footage of the protests.
On Sept. 29, a female journalist from an Indonesian-language publication was hit by a police bean-bag round which injured her right eye and forehead. Her lawyer quoted the doctor who said that she might permanently lose eyesight in her right eye.
On Oct. 20, 350,000 Hongkongers paraded against the anti-mask law despite police banning the planned march. At around 3:15 p.m., about 1 hour 45 minutes after the march began, police started to fire tear gas and water cannons at protesters, which also injured other people including reporters.
Simon Lau Sai Leung, Hong Kong senior current affairs commentator, told Chinese-language Epoch Times on Oct. 19 that he is concerned the Hong Kong government might take over the local media in an emergency situation.