When a Utah woman's tire blew out and she needed help to change it, a kind homeless man stepped in. The impressive gesture was captured on camera and since then has been warming hearts.
Opposite Jessie Jean's cafe in Ogden, Utah, a woman named Shuree pulled up with a flat tire. Just then, a local homeless man named Chuck noticed she needed assistance and went ahead and changed the tire for her.
Cafe owners Anna and Ron Davidson, who have been running Jessie Jean's for nearly 20 years, witnessed the event from their condo above the cafe and made sure to capture the moment.
Anna then uploaded a photo of the kind gesture on Facebook on Sept. 23, 2019.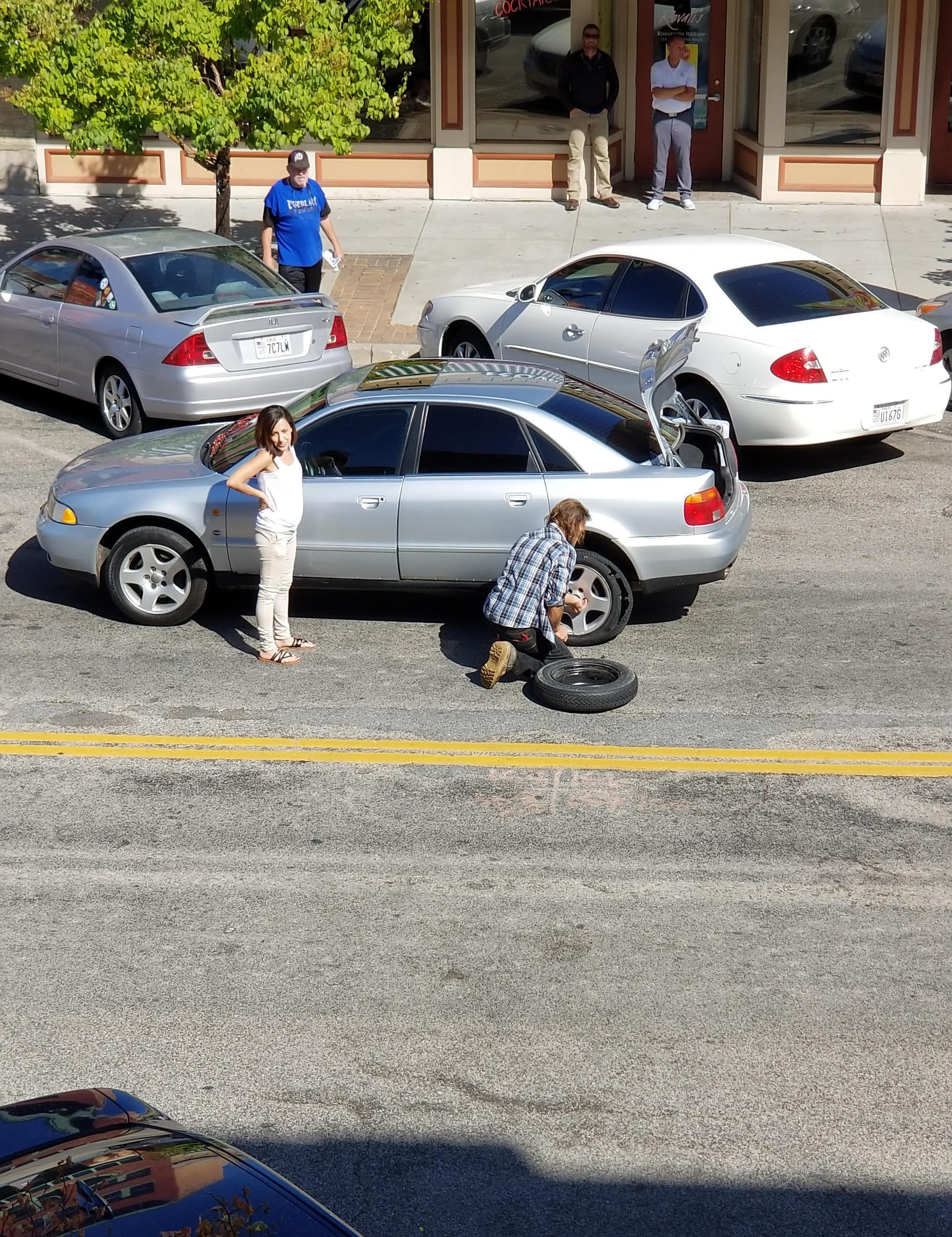 In an interview with The Epoch Times, Anna shared that she and her husband, Ron, met Chuck and his wife, Crystal, back in April 2019 through the "Pay It Program" their cafe runs. With the program, customers have the option to add US$6.25 and purchase either breakfast or lunch for local homeless people along with their meals.
"We currently do 20 breakfasts a week, 10 on Tuesday, and 10 on Thursday," Anna said.
According to Anna, both Chuck and his wife are currently homeless while waiting to be assigned housing through a Housing Choice Voucher Program.
She explained that Chuck had been struggling, as he had more than 40 years of incarceration and thus "has barriers in his way he's learning to navigate." However, she describes him as "a good person" who is "regularly helping around the cafe, sweeping the front walkway and doing his part to keep it clean and presentable."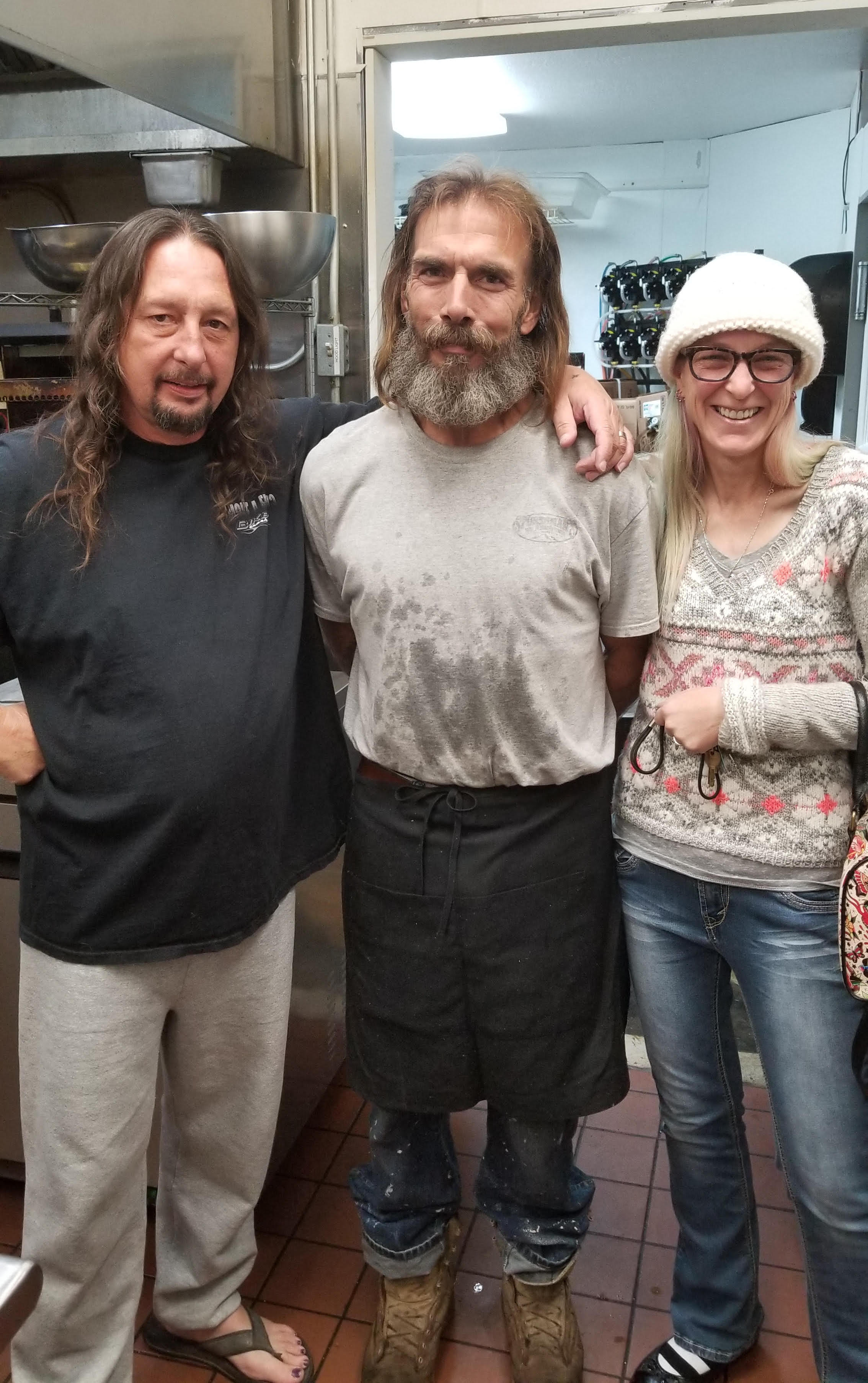 As Anna recalled Chuck helping the stranger replace her tire that day, she said she felt "proud and not surprised one bit."
She also added that she "would expect nothing less of Chuck. [As] he believes in the golden rule, [sic] treat people as you wish to be treated." However, such acts of kindness by Chuck are not uncommon at all. Anna said, "I have seen him give his meal to other individuals in need."
While she wasn't expecting the photo to go viral, Anna wishes to send a strong message to the community and beyond.
"I wanted others to see that we cannot pigeonhole all homeless under one umbrella as bad, worthless people," Anna said.
And people did notice. Anna's photo of Chuck's heartwarming gesture received thousands of reactions and hundreds of comments. One Facebook user said, "Don't judge a book by its cover. Take a minute and actually find out who you are judging. God comes in many shapes and forms." Amongst other commenters was Shuree's mother, who thanked Anna for posting the photo while describing Chuck as a "kind" and "amazing" man.
Anna knows that changing people's perspectives toward homeless people is an uphill battle.
"We have been battling in our community desperately trying to change the stigma surrounding mental health, addiction, and homelessness," she explains. "The reality is so far from the perception, and we need to see homeless people as people because they are. We cannot effectively create change without knowing each story and assisting people with a hand up, not hand out."
However, Anna shared a simple message for people the world over.
She said, "I want people to know there are 1000's of Chucks in this world, and we need to re-humanize ourselves to each other. It's time to be the change we want to see."
Photo courtesy of Anna Davidson ( Website | Instagram | Facebook | Twitter )