Historian Praises Shen Yun's Educational Value
April 3, 2014 7:27 am Last Updated: April 3, 2014 7:27 am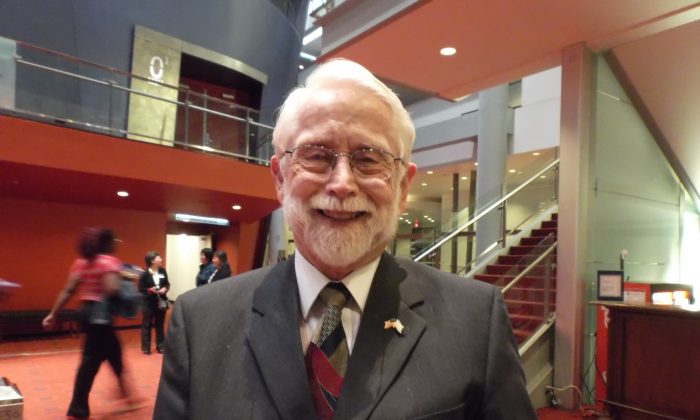 OKLAHOMA CITY, Okla.—Historian and educator Philip Isett thought Shen Yun Performing Arts's portrayal of China's ancient history and culture through the performing arts is beautiful.
Mr. Isett watched Shen Yun at the Civic Center Music Hall on March 25.
"It was amazingly beautiful. The costumes, the choreography, the talent of the dancers; everything was just wonderful and I was very much impressed."
Mr. Isett, who has served as a professor of history at different universities, said Shen Yun also has educational value.
"Of course, I do know a little bit … but even for anyone who doesn't, it would … catch them up and bring them into some of the important points in Chinese history, and I think it would encourage them to learn more about it," he said.
Shen Yun was founded by a group of leading classical Chinese artists who aimed to revive China's divinely inspired culture, which has been almost destroyed after decades of communist rule in China, according to the Shen Yun website.
Shen Yun's different dance pieces, Mr. Isett said, "were very beautiful and expressed a long standing artistic tradition."
However, two of the dances stood out the most for Mr. Isett. Set in modern day China, these dance scenes portray the persecution of the spiritual discipline Falun Dafa by the Chinese communist regime. Mr. Isett said he was very moved by these two pieces.
"I hope that [Shen Yun] can continue to be successful," remarked Mr. Isett.
New York-based Shen Yun Performing Arts has four touring companies that perform simultaneously around the world. For more information, visit Shen Yun Performing Arts.
The Epoch Times considers Shen Yun Performing Arts the significant cultural event of our time. We have proudly covered audience reactions since Shen Yun's inception in 2006