In the midst of California's devastating Caldor Fire, a high-school girls' volleyball team has exemplified community spirit by gifting its opponents with gift baskets containing gift cards and items to help them while they are displaced from their homes.
The girls' volleyball coach for El Camino Fundamental High School in Sacramento, Paul Giacomotto, is close friends with the coaches of a rival team at El Dorado High School, Kalani and Mike Pananganan. While talking to them a few days before a big game on Aug. 24, Paul learned that a number of El Dorado girls had been displaced by the Caldor Fire.
"I asked [Kalani] how many, because maybe our team could do something for them, and at the time, he thought five or six girls," Paul, 44, told The Epoch Times.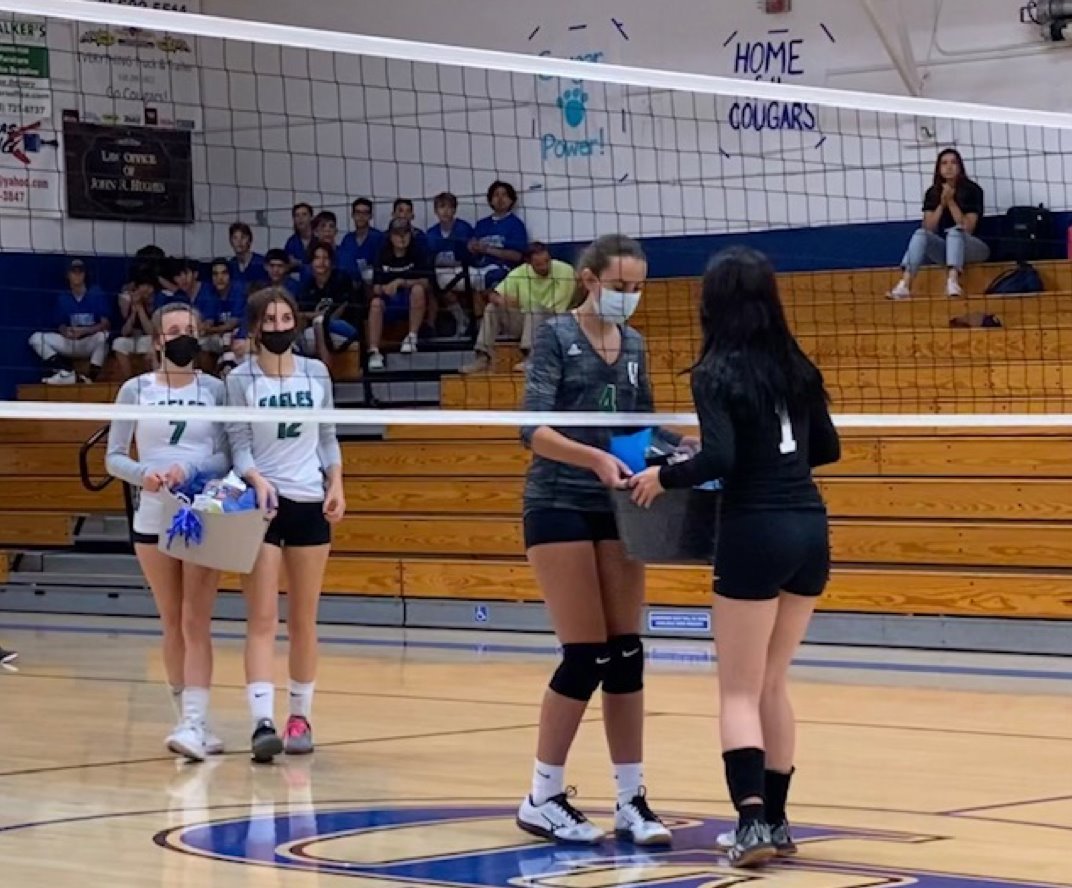 The coach, who has worked at El Camino since 2008 and took over the Eagles girls' program in 2020, shared the sad news with his wife and volleyball "team mom," Robin.
Robin came up with the idea of gift baskets and some items that the girls would need once they are away from home.
The following day, a parent on the freshman team contacted Paul, wanting to help, and the trio decided to coordinate. In the meantime, Kalani discovered that it was not 6, but 13 girls that had been displaced, with one of them even losing her home entirely.
"At this point, I asked the coaches in our program to email our parents and ask for donations (money or gift cards)," said Paul. "Robin went shopping for blankets, razors, hair ties, body wash and lotion, Starbucks gift cards, adult coloring books, socks, nail files, hair products, and more, and put together 15 baskets."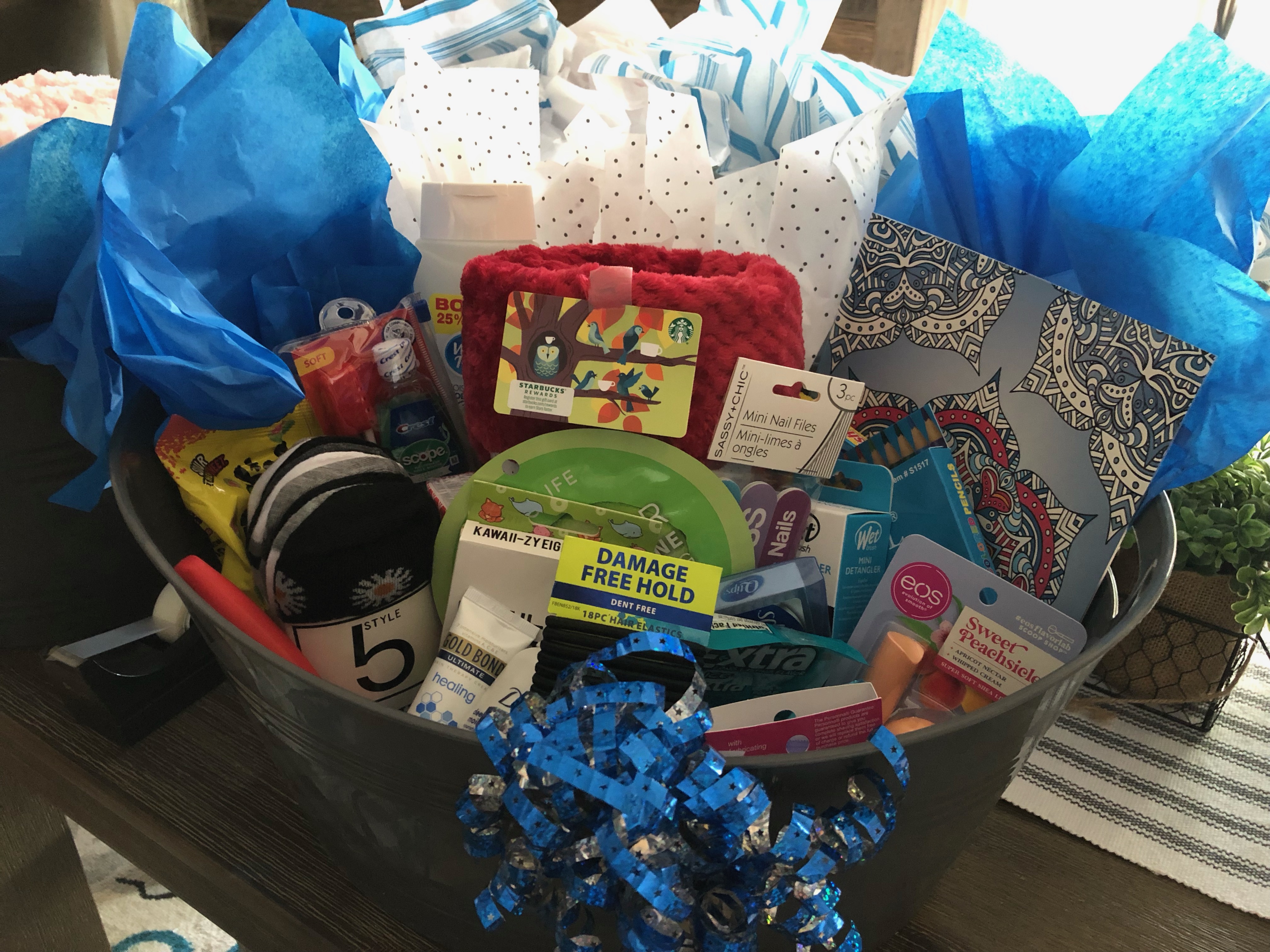 With social media posts helping further the fundraiser, parents went shopping and coaches bought hundreds of dollars worth of gift cards. Meanwhile, others even contributed their own money.
The day before the game, the community had raised over $2,000. "I was so proud of our El Camino families and friends who stepped up so quickly," Paul said.
Between the junior varsity and varsity game on Aug. 24, the El Dorado administration paused proceedings to allow Paul to introduce the gift basket recipients by name. One by one, the girls came to half court to accept their baskets from El Camino players. Gratitude and smiles abounded.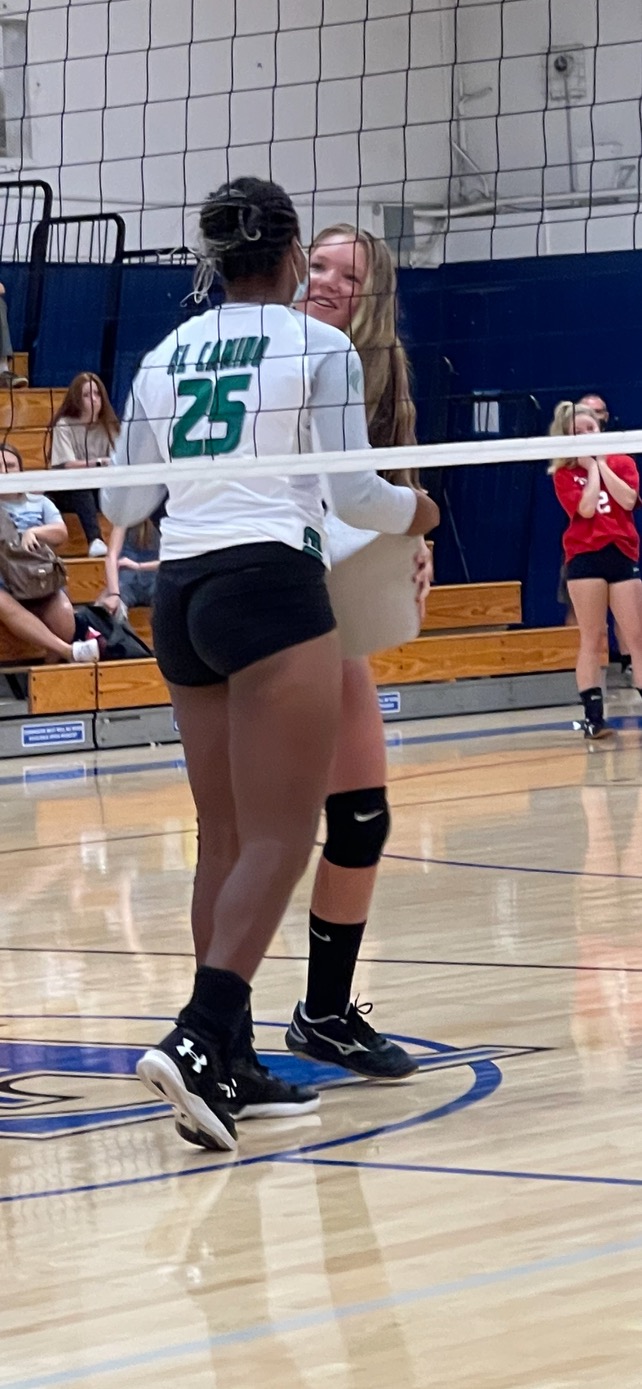 "They're a proud community, so it wasn't the easiest for them to accept the offer of help, but they were gracious," said Paul. "One mom said they're 'financially okay' and didn't think they needed any help, but seeing her daughter light up looking through the gift basket and say, 'Mom, this is so nice,' made her tear up and realize that they try to be tough, but it affects everyone more than they realize."
One family especially hard-hit was the Griffiths. Despite losing their home entirely, Paul observed the mother donating extra clothes to another family in need before the game, and marveled at her generosity.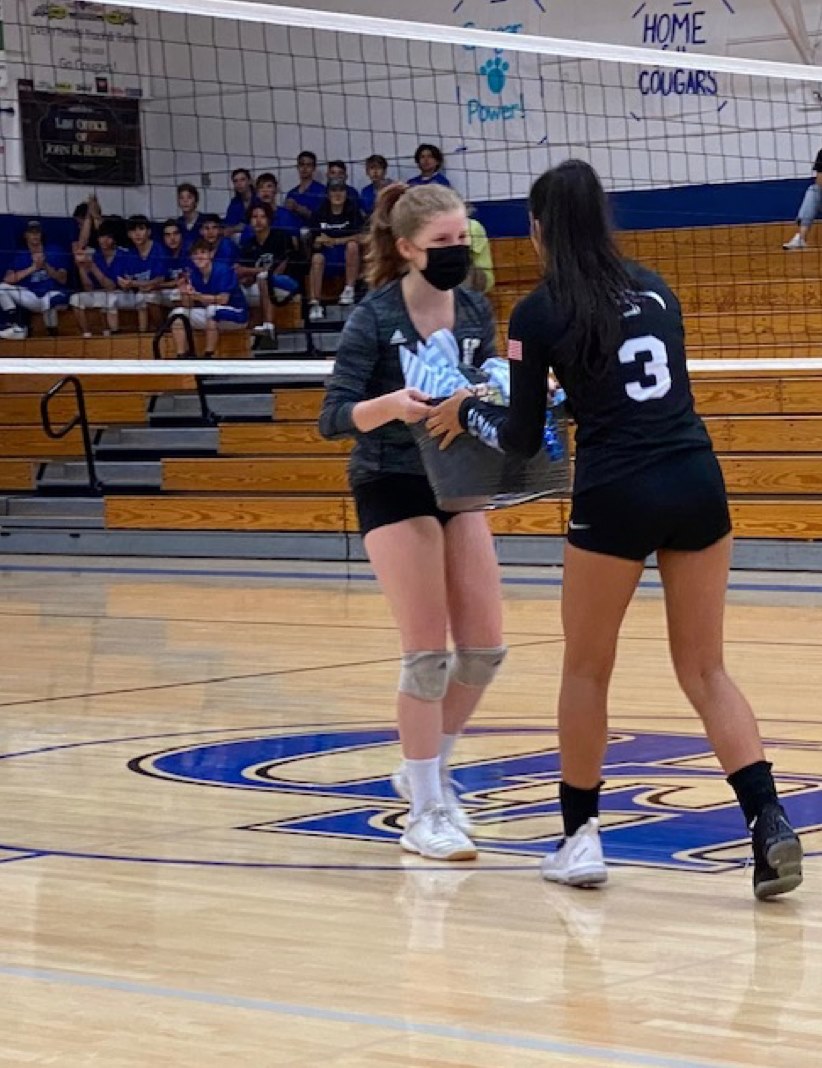 Despite all surplus funds and gift cards going to the Griffiths, the father found Paul after the game to say that he would keep them until he knew the fate of others' homes after the fire. "He wanted me to know he was extremely thankful and would pass it forward. Incredible," Paul said.
San Juan Unified School District shared photos of the gift-basket giveaway on Facebook, reaching thousands of netizens.
At the time of writing, the Caldor Fire is an active wildfire burning in El Dorado and Amador Counties in the Sierra Nevada mountains of California. However, Paul believes that kindness in the community helps overshadow the "scary, disappointing, and divisive" content of the news right now.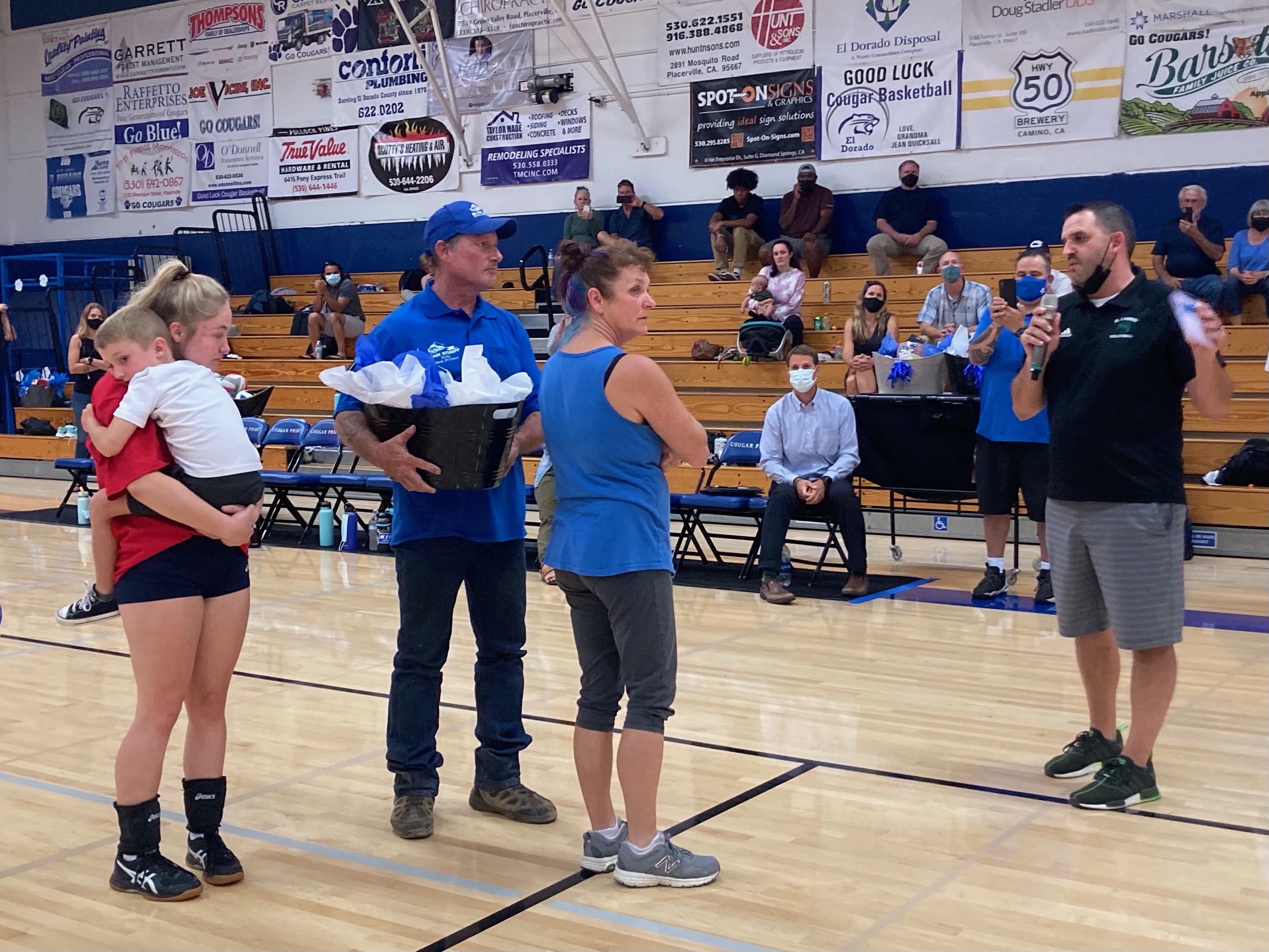 "The Caldor Fire, along with the numerous fires in California, have been difficult and tragic, but this night felt like a breath of fresh air to just celebrate the good," Paul told The Epoch Times. "It feels more natural and welcome to be in a space of community and support than divided by differences."
The El Camino volleyball team's philosophy is that a person is greater than a player, and their attitude reflects this.
"We teach our student-athletes that there's greater value in being a good person than a good player," Paul explained. "Being both is great, but we will always measure who the student-athlete is as a person, first."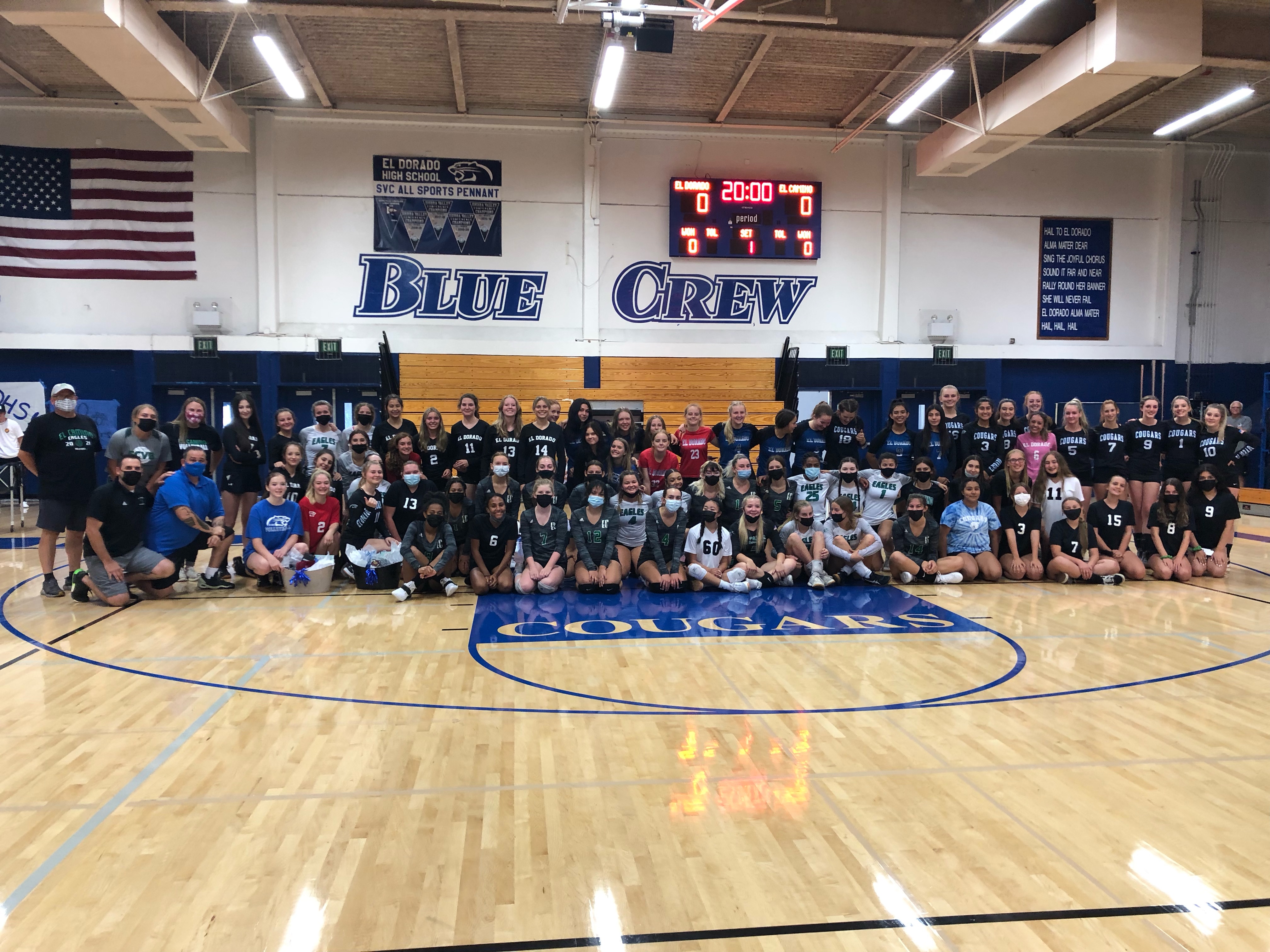 Many former Eagles have graduated to become college players, coaches, doctors, community leaders, and teachers, and most return at some point to support the El Camino program. Paul's own daughter graduated in 2020 and now plays volleyball for Humboldt State University.
"Be a bright light," Paul implored. "Be the spark, and help make those around you better."
Share your stories with us at emg.inspired@epochtimes.com, and continue to get your daily dose of inspiration by signing up for the Epoch Inspired newsletter at TheEpochTimes.com/newsletter