Thanks to a few innovative high school students, a father who lost his ability to walk can now get around, unassisted, with his newborn son in his stroller.
It started when 10 of Matt Zigler's students at Bullis School in Potomac, Maryland, were tasked with coming up with an invention for one of his colleagues. Fellow teacher Chelsie King needed a solution for her husband Jeremy, after brain surgery compromised his balance.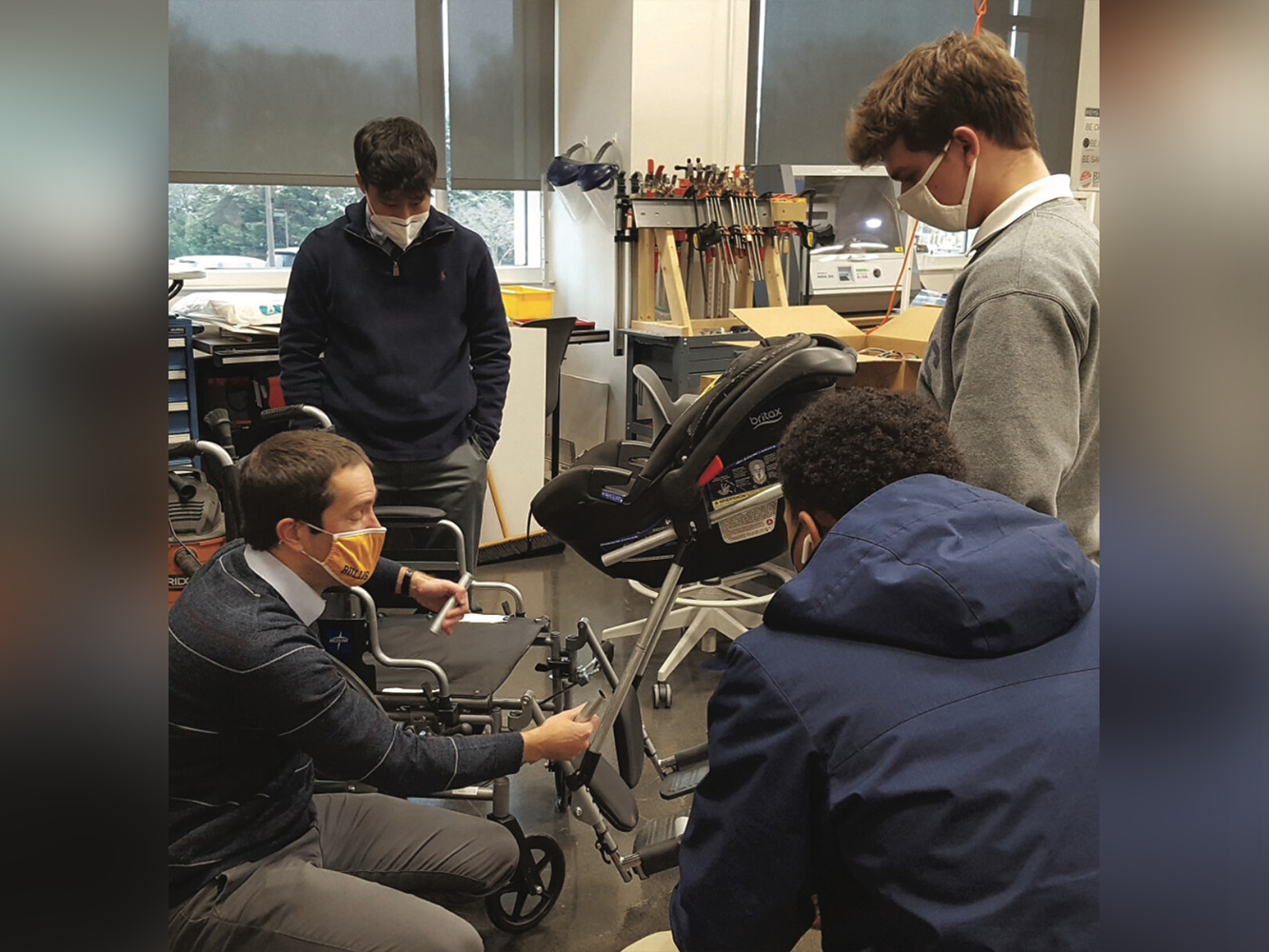 When Chelsie became pregnant with their first child, the couple had worries.
"I was very concerned with the safety of myself and our child, especially with Chelsie having to potentially support both of us," Jeremy, 37, told The Epoch Times. "It played on my mind constantly, which is why it was important for us to find things to help."
Chelsie had reached out to Zigler, whose students consulted the Kings about their needs and began designing prototypes in November 2020. One group of four worked to incorporate a wheelchair and car seat to allow Jeremy to stroll his baby independently; another group of six worked on a stroller adaptation for when the baby grew.

Chelsie, 32, a middle school theater teacher, said they learned he had a brain tumor in fall 2017. He had an 8-hour surgery to remove the cancer on Oct. 6 the same year, just three months after they got engaged.
They thought it was an "amazing idea" when Zigler, Bullis School's BITLab coordinator, tasked his students with designing the wheelchair adaptation. The consultation with his students raised concerns the couple hadn't even considered, and several additional safety features and adjustments were included as development progressed.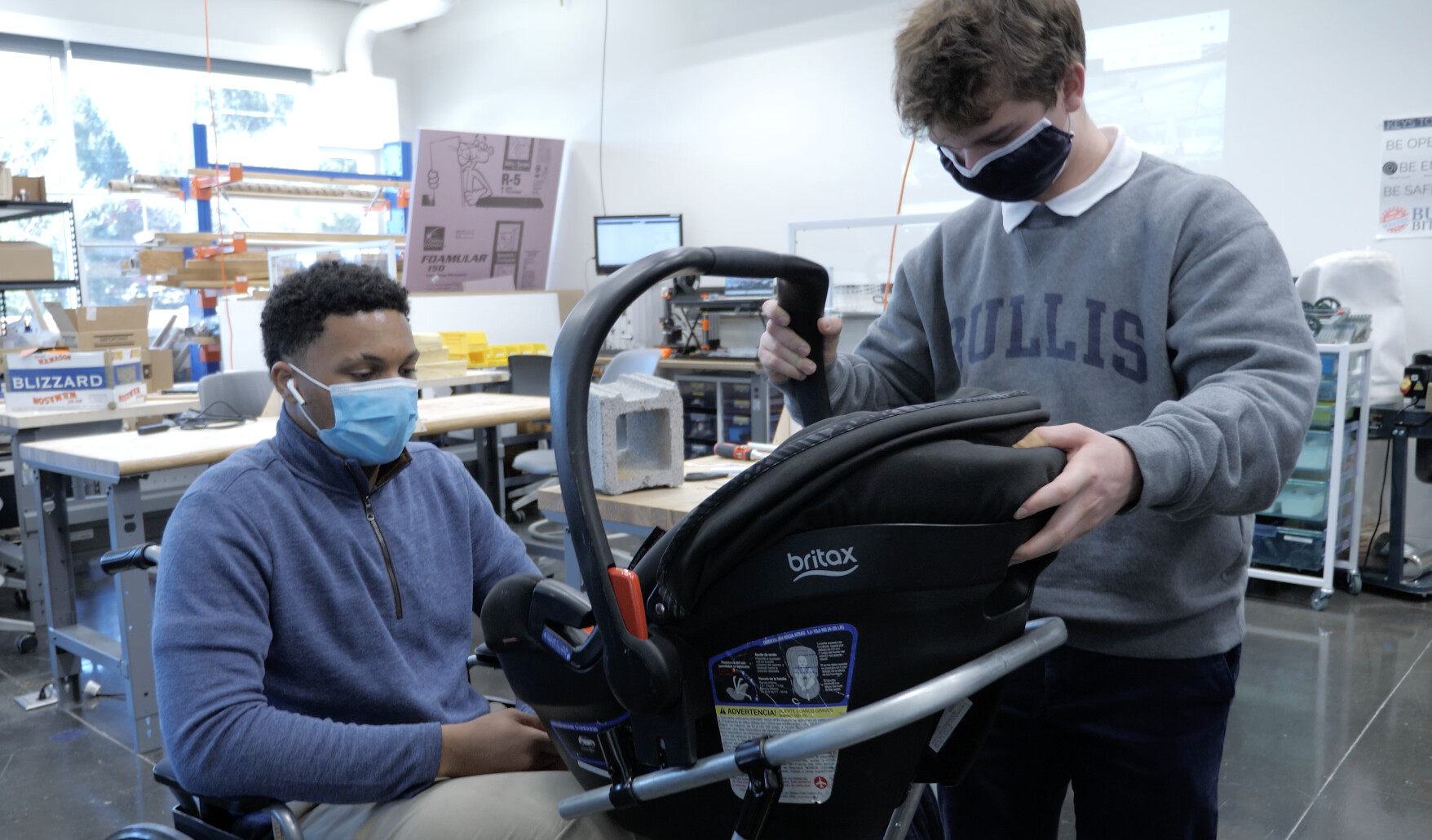 The young inventors used their MakerSpace design lab's 3D printer to manufacture some parts, purchased some from Home Depot, and borrowed a wheelchair from the school nurse as a model. They used cinder blocks to simulate the weight of the baby to test their designs.
A video produced by Bullis School chronicles the project—which Zigler described as an "empathy-driven process" in an interview with Fox News—the goal of which is to encourage the students to grasp their clients' needs, and then design something with wider application in the world at large.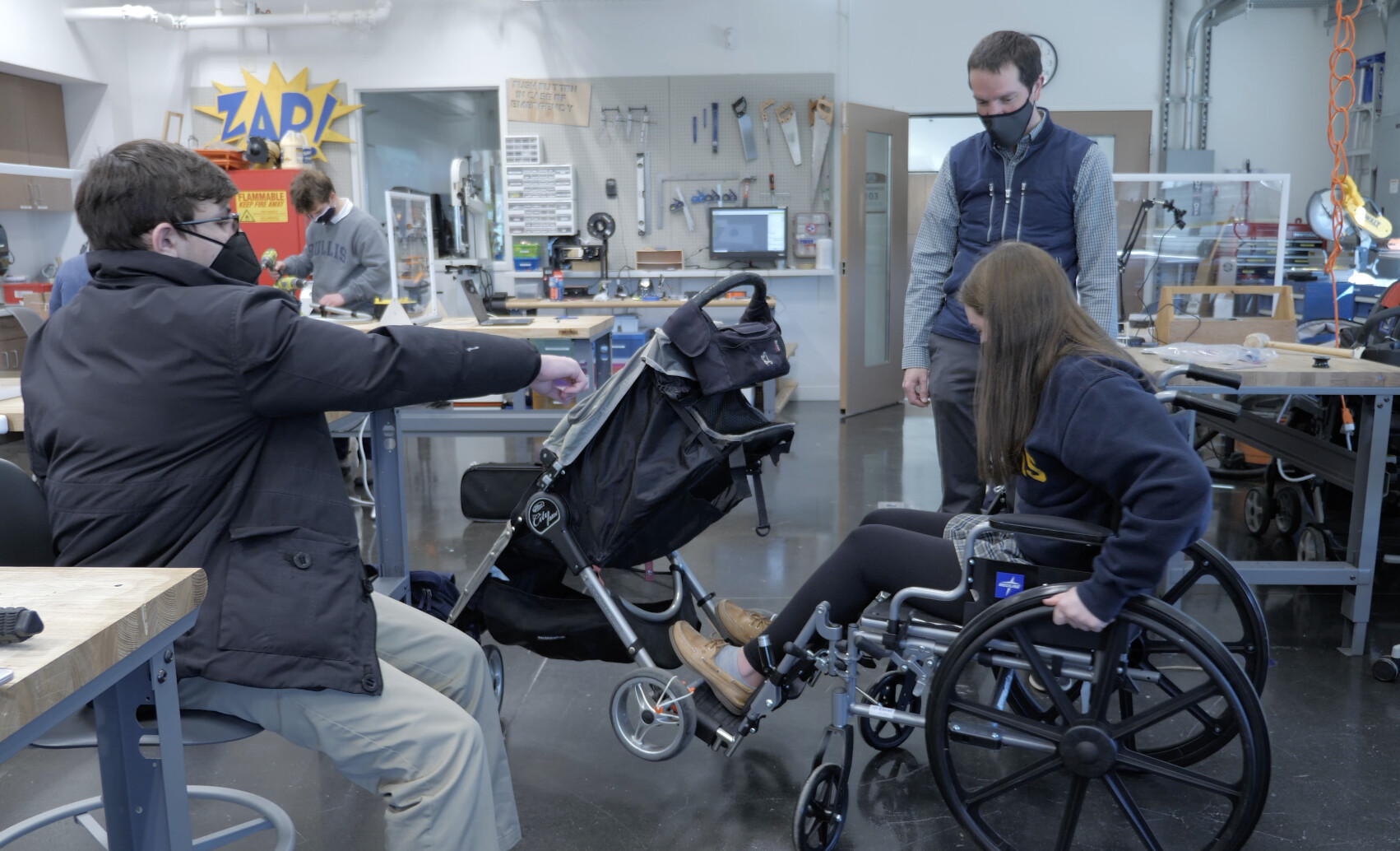 "I've always found a big interest in engineering," student Jacob Zlotnitsky, 18, explained in the video. "But I didn't realize engineering could also be used to solve simple problems and help people in their everyday lives."
Baby Phoenix Royce King was born on March 4. Both the car seat and stroller adaptation—dubbed WheeStroll—were gifted to the Kings a week later. The build instructions were posted online for others facing similar mobility challenges.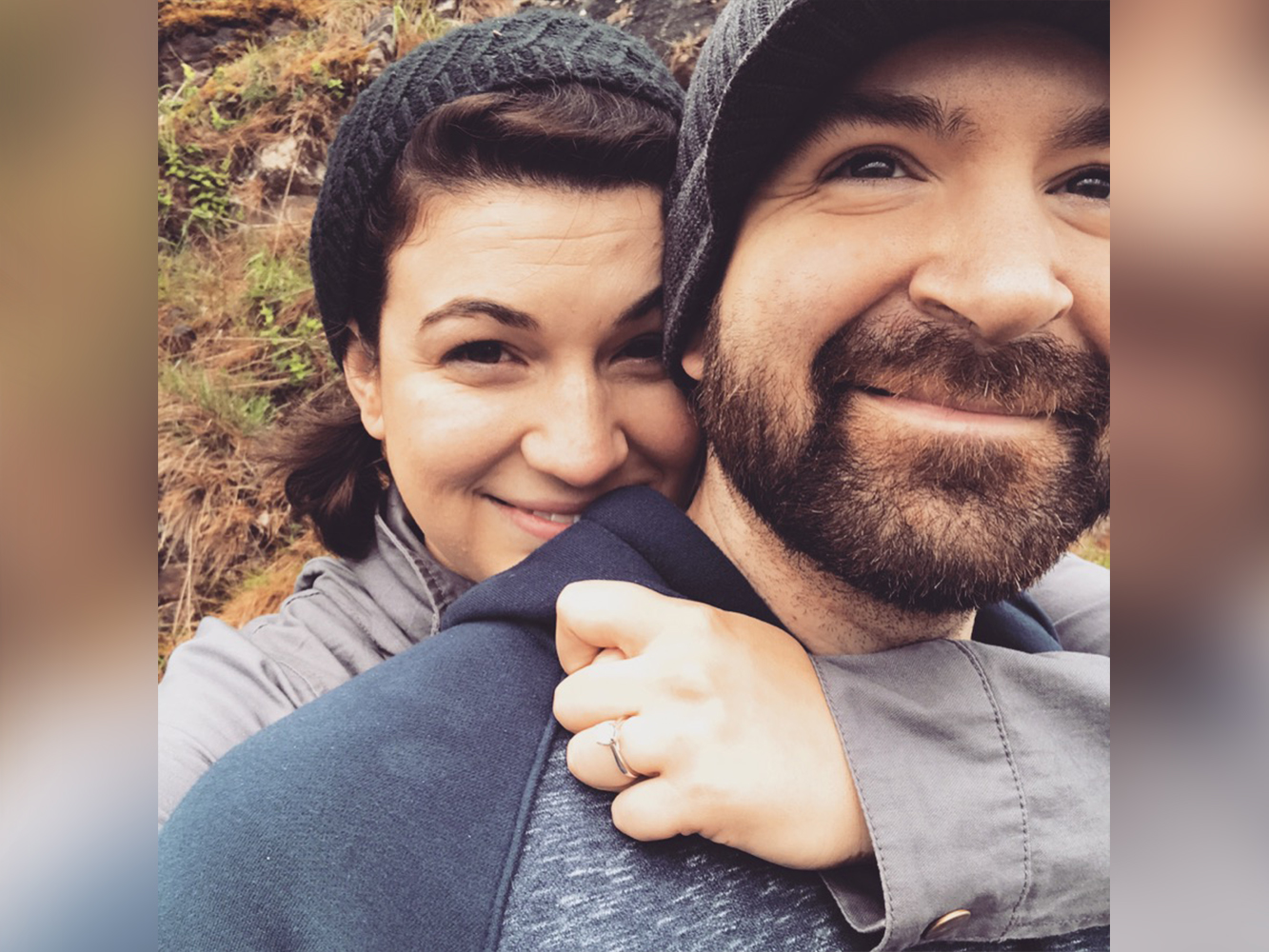 For the Kings, who live in Germantown, receiving the finished WheeStroll was stirring.
"I was emotional and elated, because something like this really increases independence with my child," Jeremy said. "We often walk in our neighborhood, and we are also taking it out to places such as parks this summer … I want to personally thank the students for taking my situation into account and developing this amazing device."
In May, Zigler's students learned they'd even won two international awards—both in PrintLab's 2021 Make:able Design Challenge: one for "Best Inspirational Story," the other for "Best Showcase of Iterative Design."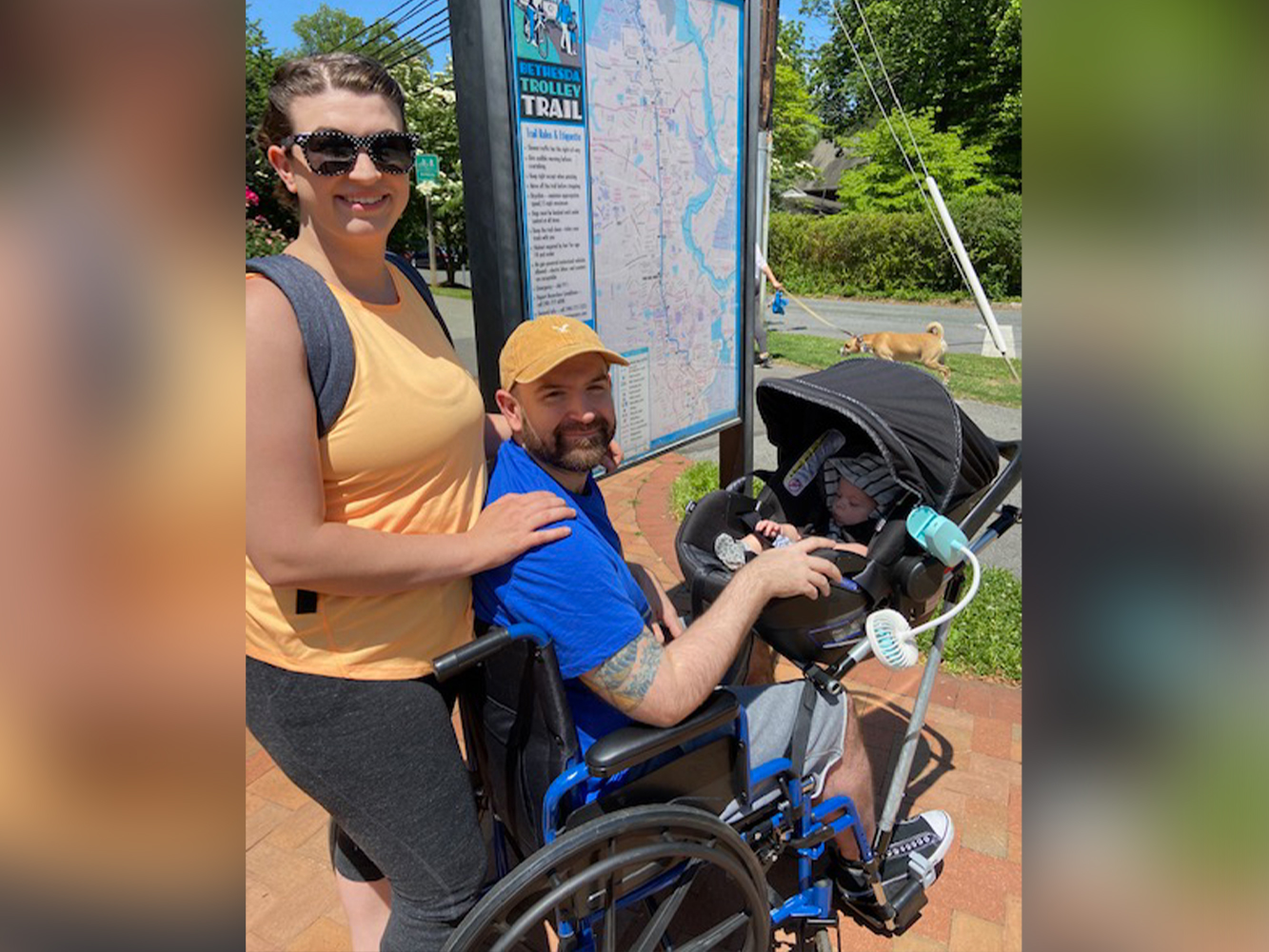 Jeremy, a certified registered nurse anesthetist before his surgery, used to go on medical missions to Africa. Now, he works in administration, supporting other anesthetists.
When he and Chelsie began researching avenues for disabled parents amidst his ordeal, both were disheartened by the lack of options. He hopes WheeStroll encourages others to turn to innovation—or reproduce theirs—as a low-cost solution.
"[Jeremy's] surgery changed our lives drastically," Chelsie reflected, "and we have worked very hard to accept, learn, and overcome those challenges … Anything that can help Jeremy feel confident as a parent is priceless to me."
(Courtesy of Chelsie King)
Share your stories with us at emg.inspired@epochtimes.com, and continue to get your daily dose of inspiration by signing up for the Epoch Inspired newsletter at TheEpochTimes.com/newsletter