War scars in more ways than one, and when our veterans come home, it's not always easy to see at first glance. The stigma surrounding mental health and post-traumatic stress disorder (PTSD) makes it even more difficult to address the trauma our men and women in uniform experience. Sometimes it takes bold action and candid conversation to heal.
Marine Corps veteran Jon Hancock was deployed to Ramadi, Iraq, as part of the 2nd Battalion 4th Marines in 2004. The platoon, known as the Magnificent Bastards, fought honorably and experienced many casualties. One in four Marines was wounded or killed in the fighting. Despite the heavy losses and unimaginable trauma, Hancock would return to Iraq for six more deployments. But the brutality of the war, the loss of his brothers, and the questioning of his own humanity all took a toll when he returned.
Hancock, now 38, left active duty on Sept. 21, 2009, and immediately began attending college at the University of Maryland. The transition into the student, civilian world wasn't a smooth one.
"Probably then is when I started feeling the derision and the anonymity," Hancock said, "because here I am having worked in all these teams, in these groups, in this really awesome career that I've had up to this point, and then all of a sudden now I'm sitting there listening to some kid try to tell me what Iraq and Afghanistan and war is like."
The Walk
Hancock felt alone, and symptoms of PTSD began to surface. He hated himself and others, and anyone outside of the military community experienced his wrath. He drank to try to cope, and that led to one DUI and then a second. He had a young son with his girlfriend but struggled to be a present father and loving partner. His downward spiral culminated with a suicide attempt in November 2014. Afterward, he checked himself into the VA and sought treatment. But he found that the agency was inadequate and unwilling to really help him.
That's when he knew he had to do it himself. He decided to embark on a cross-country journey to visit his fellow Marines and the Gold Star families of his fallen brothers. He wanted to share his experience with them, and listen to and try to understand their struggles in return.
When he began his journey, he was uncertain how it would turn out. On Sept. 11, 2016, after two weeks of walking, he nearly turned around.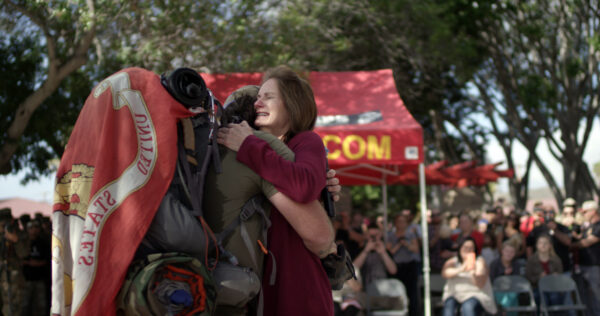 "I think there was still a little piece of me inside that thought I was going to die on this walk," Hancock said. "I thought I was just going to sink into the darkness, into the background, and fade to black."
Hancock called his mother, and she offered to pick him up. But he had quit everything he had attempted after his service. He had quit school and work, and realized at that point that he had to follow through on this journey.
Trying to Understand
During Hancock's nearly 6,000-mile journey, he received both positive and negative reactions from people he encountered along the way. Every military member and veteran he ran into was supportive and congratulatory. Those responses solidified his will to carry on. Others were mean-spirited, and some even threw trash and other debris at him as he walked on the side of the road. In one instance, a woman saw the Marine Corps flag on his back, and screamed at him, calling him a baby killer. But this type of abhorrent behavior only emboldened him. In situations like this, he learned to let these insults roll off of his back.
"It makes no sense to argue with people who are idiots, so I didn't. I just decided that I would agree with anybody that was negative," Hancock said.
While he was on his journey, cinematographer Brian Morrison noticed pieces of Hancock's story on local news outlets. The two had gone to high school together but had never actually met. They were eventually able to connect through mutual friends.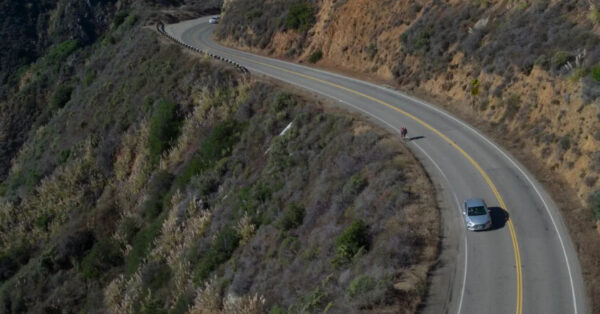 Morrison had always wanted to work on a more profound, longer-term film, and was inspired by Hancock's mission.
"A lot of these stories about veterans coming home, I just feel like they're glossed over, and I wanted to give more attention to what he was going through. I wanted to hear it from him," Morrison said.
His desire and curiosity to truly understand what veterans endure when they come home motivated him to sit down with Hancock and discuss the prospect of filming a documentary about his walk. Hancock agreed, and his trust in Morrison in turned enabled his Marine brothers and their families to trust him and allow him to capture their story. He learned about the strength and resilience of our veterans and the extraordinary nature of the bonds of trust and loyalty in their community.
A New Beginning
When Hancock finally reached Camp Pendleton, members of the 2nd Battalion 4th Marines stood every 50 feet at attention to welcome him. He still struggles to articulate how he felt that day, but remembers a sense of accomplishment, follow-through, and support.
Hancock was lost before he embarked on his 5,800-mile trek, but by the time he reached the end of his journey, he'd discovered a few critical aspects about himself. He relearned how to be accountable to himself, and that he'd been blaming his PTSD and resulting struggles on other people and external factors. He also found out that while some of his fellow Marines seemed to be doing well, it wasn't until he spoke with them that he realized they were struggling too. But overall, he learned that he had to forgive himself if he wanted to begin to heal.
"You have to forgive yourself for the things you've done in your past, otherwise they haunt you, and to see so many of my brothers actually do that, it was something that I was missing," Hancock said.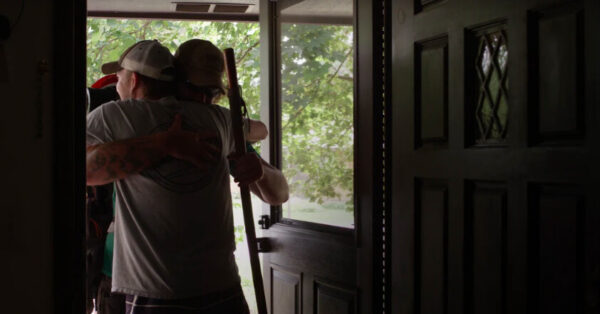 Based on the informal name of his unit, "Bastards' Road" (BastardsRoad.com) chronicles Hancock's cross-country odyssey in a series of road shots, interviews, and candid conversations. Morrison hopes the film gives audiences an intimate look at the lives of veterans, and that the documentary strips away some of the existing stigmas and stereotypes. He wants the film to encourage a conversation to foster understanding and promote healing.
Hancock hopes veterans learn from his story that they're not alone, and that talking about their traumas doesn't make them weak. It's the only way to forgive oneself and heal from combat, and the struggles that follow afterward. For civilians, he hopes the documentary gives them an intimate look into the life of a veteran, which may prevent them from asking some unnecessary questions. He also hopes they get a glimpse of what our service members and veterans have endured for them.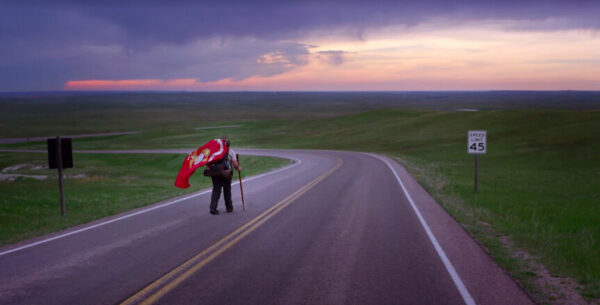 For his son, who is 10, he hopes he takes away the fact that while he wasn't a great man or father early in his life, he's making it up to him now.
"I want to show him the strength in communication, the strength in talking to one another, and that the strength of the military man or woman is unparalleled, and that these are some of the most honored people that I've ever had the chance to work with, and that they're tough, and that if he chooses to go down that road that I'd like for him to understand it's OK to talk about things that he experiences as well," Hancock said.
To view "Bastards' Road," see BastardsRoad.com/watchnow or linktr.ee/bastardsroad